5+ Best Invitation Card Templates for Free
You have a birthday party coming up, or a bachelorette party you have long been planning for. Amidst all the preparation one MAJOR step would be to invite guests! How so? You can compile a WhatsApp message or an SMS and strike the people you wish to invite to your event with a message as simple as:
"Hey, I would love to see you at my birthday party, Sunday, 6 pm- I'll be waiting, XO!"
In a world where inviting others is such an easy-peasy deal, why do we have to consider sending proper, designed invitation cards then?!
No matter how old-timey invitation cards seem, there are several reasons why they haven't been substituted yet. Invitation cards help set a specific mood and manner for your upcoming event. They help leave that first impression on the invitees, making them understand the tone of how professional, or intimate the event is.
The moment a friend of yours receives a purplish, pretty, and nice invitation card to your bridal shower, they will begin to understand that the event will have a theme and is expected to be a casual, light-themed event. You, see? Invitation cards help form an aura and ambiance of your event, even before it has started.
Invitation cards are also helpful in building eagerness and excitement about the event. A better invitation card will them how great the event is expected to be!
An important thing while planning to make invitation cards is how you can structure them. Most of these cards for formal events are organized keeping the following elements:
Name and other contact details of the host such as phone number, location, etc.
Kind of event
Date
Venue
Time
RSVP
Special instructions related to the event (optional)
Download Invitation Templates for MS Word
Download the all-time best designs, specially designed in MS Word with beautiful vector graphics. These formats are designed for different events like Halloween, Thanksgiving, Christmas, and New Year.
#1
Halloween Party Design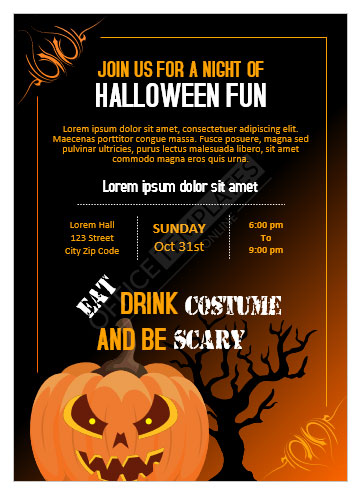 #2
Thanksgiving Dinner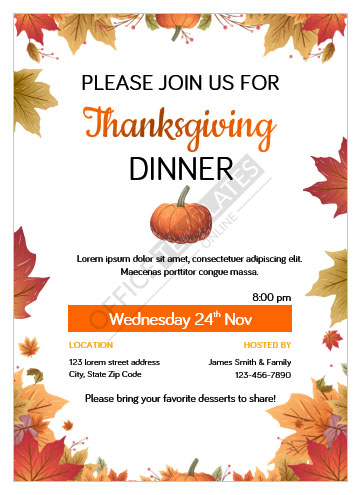 #3
Christmas Get Together Party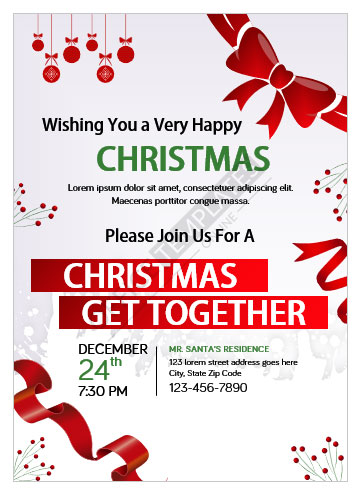 #4
Christmas Eve Dinner Party
#5
New Year's Celebrations Party
A few things to keep in mind while designing an invitation card:
Invitation cards for formal and informal events are structured in different manners. Formal invites for events such as wedding parties and official functions are usually written in a third-person tone rather than first-person. The names and other details of the hosts are spelled out in a proper, detailed manner. The overall tone is kept formal, to the point, and in accordance with official rules.
Informal invitation cards for events such as Halloween get-togethers, Christmas parties, New Year's Eve celebrations, picnic parties, and baby showers can have an informal and casual tone. The words are written in a conversational way, and can also be spelled in first-person.
A few things to avoid to leave a better impression on those receiving your invitation card:
Avoid over-bursting colors
Unwanted details
Proper and sturdy material of the card
Easily comprehendible font
Wrong or misleading information
Unclear information on who is invited for the event and who is not
In addition, This card must be sent keeping a considerable amount of time in mind. Sending in the invitation a little too late might leave the expected guests in rush and might lead to a bad impression of your event management.
Video Tutorials
Watch: Birthday Invitation Card Design for Father's Birthday in MS Word
Watch: How to design Baby Birthday Invitation Card in MS Word | DIY Tutorial