11+ Free Stylish Magazine Cover Page Designs for Your Inspiration
Welcome to a world of captivating magazine cover page designs! We take pride in offering an extensive selection of modern and eye-catching templates crafted to elevate your magazine's visual appeal. Whether you're publishing a College, Cooking, Fashion, Health & Fitness, Pets & Livestock, or Sports & Games Magazine, our fully customizable designs in Microsoft Word are tailored to suit your unique needs. Let your creativity soar as you explore our collection of professionally crafted cover page templates, each designed to leave a lasting impression on your readers. Get ready to showcase your content in style and make a memorable statement with our exceptional cover page designs.
The moment you get your hands on a magazine, it's not a hard job noticing the elements of its cover and how well-structured it is. The ability to design a wholesome magazine is incomplete without its cover manifesting all the fundamental parts. This can be rendered as something no less than art in itself.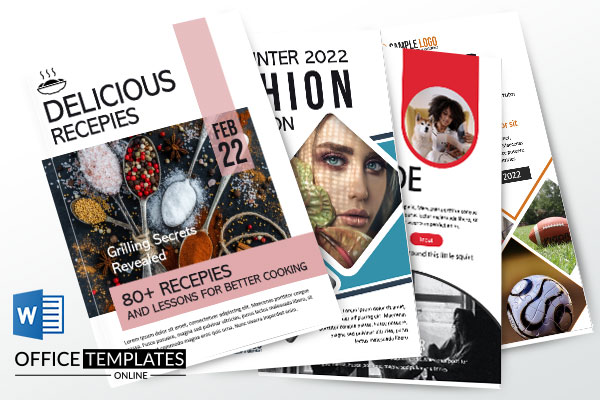 Download Templates
Find below beautifully designed, best cover page designs and formats for any kind of Magazine created in Microsoft Word. These are fully customizable and printable. These designs are created for College, Cooking, Fashion, health, sports, and Pet Magazines.
#01 – Modern College Magazine Cover Page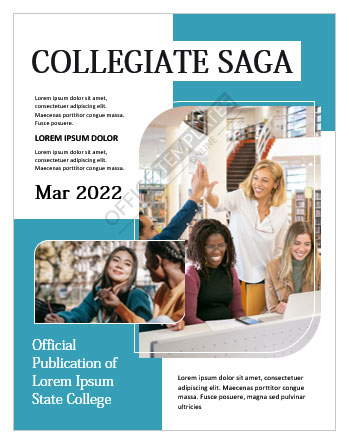 #02 – Tempting Cooking Magazine Cover Page
#03 – Fashion Forward Magazine Cover Page
#04 – Health & Fitness: Magazine Cover Page Inspiration
#05 – Pets & Livestock Magazine Cover Page Design
#06 – Energetic Sports & Games Cover Page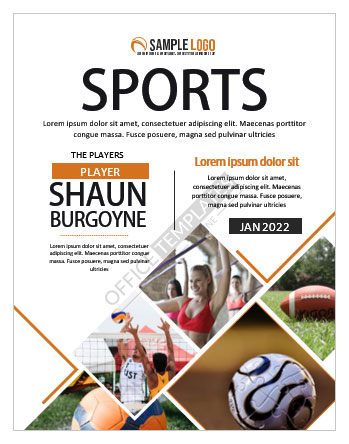 Updated on July 2023
#07: Casino Magazine Book Cover Page
#08: Church Magazine Book Cover Page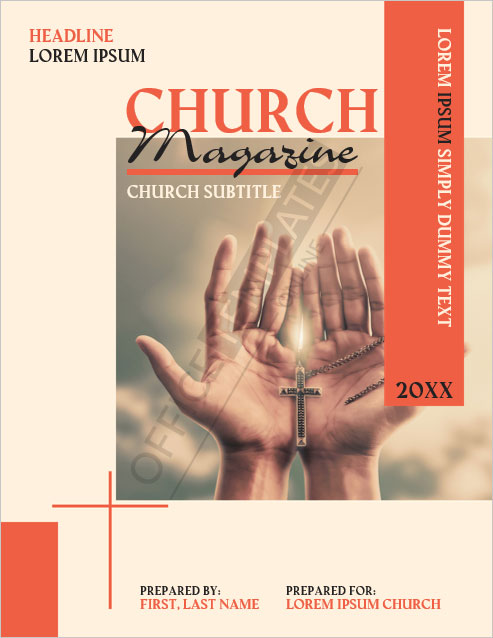 #09: Gaming Magazine Book Cover Page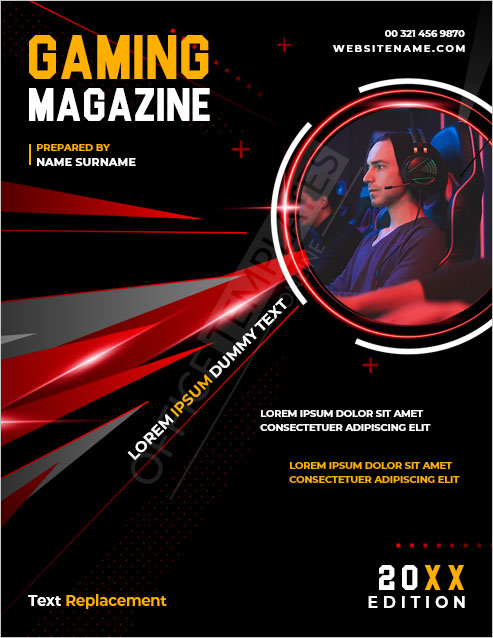 #10: Medical Magazine Book Cover Page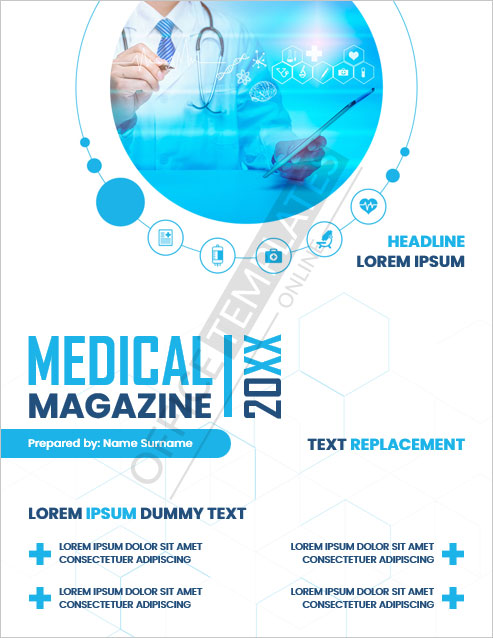 #11: Travel Magazine Book Cover Page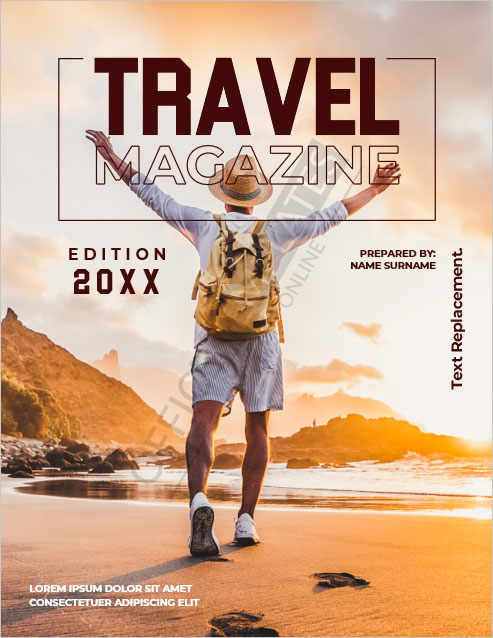 How to Choose the Right Magazine Cover Template
When picking a magazine cover template, follow these simple steps:
Know Your Purpose: Understand what your magazine is about. Is it fashion, travel, or sports?
Think About Your Readers: Consider your target audience. Are they young and vibrant or sophisticated?
Set the Tone: Decide on the vibe you want to convey. Playful or serious?
Make it Engaging: Go for an eye-catching design that captures attention.
Stay Consistent: Choose a template that aligns with your magazine's style.
By keeping these points in mind, you'll find the perfect cover template that fits your needs like a charm. Happy designing!
What Are the Elements of a Well-Designed Magazine Cover?
A magazine cover gives the biggest impression through its image. All of us can easily consider this as the most important element that we might remember for ages. The high-profile celebrity photo in all its glory on the Vogue magazine's cover will stay in the corners of your mind for a long, long time. The elements of a magazine cover can, thus, be broken down into the following:
An appealing, and strong Main image (preferably that related to the most influential part of the magazine content, which must be strong enough to push the reader to take a seat and turn the pages.)
The Banner (the name of the magazine and of the company/newspaper or content-making organization that it has been published by.)
The Tagline (a catchy tagline is a vital element. It has the power to make even the least interested readers into pondering over it for a while and see what the buzz is about.)
The details (a magazine comes with a number of details that specify it, and clarify what is it about. These details include the volume, edition, date, serial number, code, etc.)
A highlight (the contents that the magazine contains can only be understood after all the pages have been turned which might make it too much of work for a clumsy reader. Therefore, the covers give a sneak peek into the inner material and basic information.)
The lead article (this contains the main issue of the magazine.)
The bar code.
A Few Points That Can Make Your Magazine Cover an Absolute Hit
Keeping a specific design template and color tone for all the issues will help the readers recognize your magazine. Remember, Readers like consistency!
Keeping the name in the most prominent manner. Help your readers know you, and remember you!
Keeping a uniform theme or focus point in mind for the entire magazine and for each cover. It might be about fashion, politics, cooking, lifestyle, commerce, and trade.
Being smart with the fonts. You need to remember the fact that the text is your playground. It's the best game you can play. Keep the fonts varied but very specific with what the cover says.
Last but not least, choosing a powerful and talk-of-the-town kind of celebrity or personality for your cover will serve as your magazine's biggest selling point.
What to Avoid in Order to Ensure Your Magazine Cover's Success
A well-designed magazine cover is crucial, and avoiding certain pitfalls can make it even more effective. Here are some key points to keep in mind:
A Busy, Crowded Design: Steer clear of cluttered layouts with too many elements competing for attention. Keep it clean and visually appealing.
Jumbled Up Text: Avoid cramming too much text onto the cover. It can confuse readers and make the design look unbalanced. Opt for concise and impactful headlines.
Carelessly Put Colors: Be mindful of color choices. Colors evoke emotions and set the tone. Avoid using an overwhelming color palette that may clash or distract.
Leaving Statement Aimless and Incomplete: Your cover's main message should be clear and aligned with the magazine's content. Avoid ambiguity and ensure a strong focal point.
Images That Act as Barriers to the Text: While visuals are essential, ensure they complement rather than obstruct the text. Choose images that enhance the message.
Neglecting Typography: Typography plays a significant role in readability and conveying the cover's personality. Avoid using too many fonts or ones that are difficult to read.
Ignoring Branding: Don't forget to incorporate your magazine's logo and consistent branding elements. Brand recognition builds trust and loyalty.
Overusing Effects: Special effects can be tempting, but excessive use can make the cover look tacky. Moderation is key.
Remember, a well-crafted cover will entice readers and set the stage for the amazing content inside your magazine.
Helpful Videos
Watch the video below to learn How to do a Cover Page Design for Assignment in MS Word