6+ Best ID Card/Badge Templates for Doctors in MS Word
Just like any other field out there, proof of identity and recognition is a must for physicians working in the field of medicine. Doctor ID cards are one such documents that show a doctor's association with an organization or medical institution. It makes it convenient for patients and other visitors to recognize the physician through the ID they are wearing.
ID cards everywhere serve the same purpose. However, for doctors, these are even more important. To create a connection with the patients. These serve as the first introduction and people immediately get an idea about their name, position, rank, and field.
Download
In today's post, we have brought you some very professional and easily editable doctors' ID cards. All of these are designed for 2.63 x 3.88 inches size in Microsoft Word so you can easily modify them to create a beautiful badge for yourself. The best part is that they are all built with both front and back sides so that you can write personal information about the doctor on the front and hospital or clinic information on the backside.
#1 – Family Physician ID Card
#2 – Cardiologist ID Card
#3 – Dentist ID Badge Format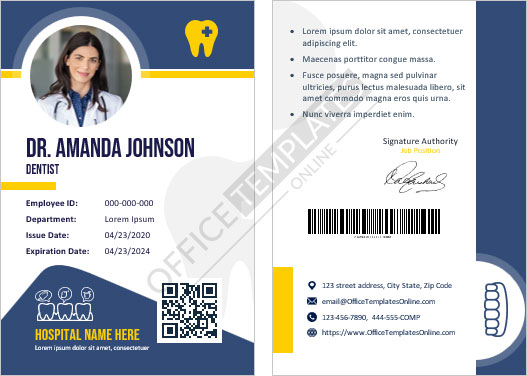 #4 – Obstetrician and Gynecologist ID Card
#5 – ID Card for Neurologists
#6 – Psychiatrist ID Badge Format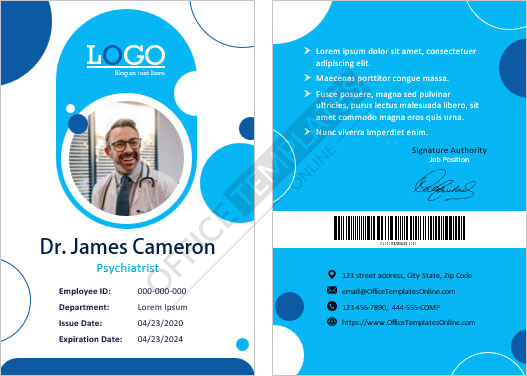 Here are a few things that are necessarily found in a doctor's ID:
A theme that goes with the brand image of your hospital or institution:
ID cards issued to doctors are in almost all the cases issued to the doctor by the institution, hospital, or organization that they belong to. This is primarily why these cards directly reflect the brand identity of the specific institution. The theme, the logo, the font, and the information input, everything reveal the organizational distinctiveness. This is very useful because in this case the colleagues and the children would know that this is the doctor they are looking for. For example, a doctor from the cardiology ward would mostly have a logo that depicts a heart-related image.
This also includes the color scheme of the ID card. The color choice of the card must also be in line with that of the organization.
Detailed and mandatory information about the doctor:
What makes a doctor's ID valid is the accurate and precise information that it contains. Each of these pieces of information must be valid and to the point. Necessary information that should be added is the doctor's name, title, designation, department of work, hospital name, and the logo of the department or the hospital.
Modern security options:
In order to secure the card and prevent unauthorized access to it, there are several possibilities that can secure yours. Bar codes, magnetic stripe cards, QR codes, proximity cards, or microprocessor-containing cards. At places where these cards are required to be swiped for entry or attendance the security features, if enabled, can make sure no one uses these cards for unlawful entry or any other wrong purpose.
Other than these options, medical ID cards are mostly simple PVC ones that do not have the modern option available.
What do doctor ID cards look like from the outside?
For a closer look into the templates that we have and an idea of what doctor cards mostly look like you can swipe down and explore the options we have. For a broader idea, doctor ID cards are horizontal as well as vertical and mostly have dimensions of 2.13 x 3.39. There is a specific theme or color scheme, a picture on one of the sides, an ID number, a doctor's name with the designation, company logo or tagline, terms and conditions, and a barcode at the back along with an address where to send the ID card if found lost.
Video Tutorials
Watch some helpful tutorials below to see how to design ID Cards in Microsoft Word.