6+ Free Teacher ID Card Designs & Templates
While ID cards served a few basic identity-related purposes in the past, ID cards today are meant for reasons way beyond that. ID cards these days have become an integral part of a school's security, be these for students, teachers, or administration.
Educational institutions around the world recognize ID cards as an effective means of ensuring security and of providing convenience and campus amenities to students as well as the faculty. ID cards needed for every school are unique and have specialized needs.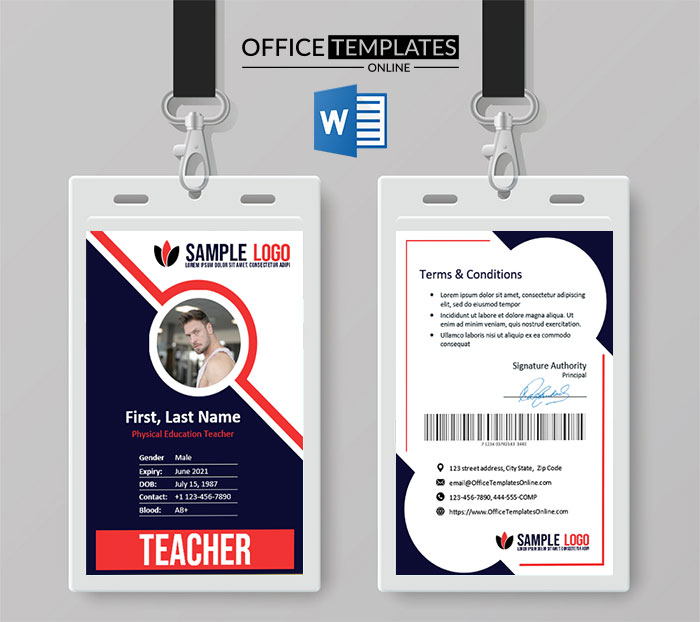 Teacher ID cards must be encapsulated inside a cardholder or cover through a lanyard. This is essential for displaying the identity of the teacher clearly to the visitors, parents, fresh students, etc. This will play its part in ensuring safety measures on campus. Without an ID card, it might be easy for unrelated and suspicious entrants to gain entry inside the campus.
Download Teacher ID Card Templates for MS Word
Download professionally designed, 100% customizable ID Card Templates for Teachers, designed in Microsoft Word. All of these ID Cards are designed at a size of 2.63″ x 3.88″.
#1 – School Teacher ID Card Template
Video Full Tutorial
Watch the video below to see how to design this ID Card in MS Word
Video Source: https://www.youtube.com/watch?v=qh2-kDzzzEU
#2 – Visiting Teacher ID Card Format
#3 – Substitute Teacher ID Card Design
#4 – Yoga Teacher ID Card Template
#5 – Music Teacher ID Card Format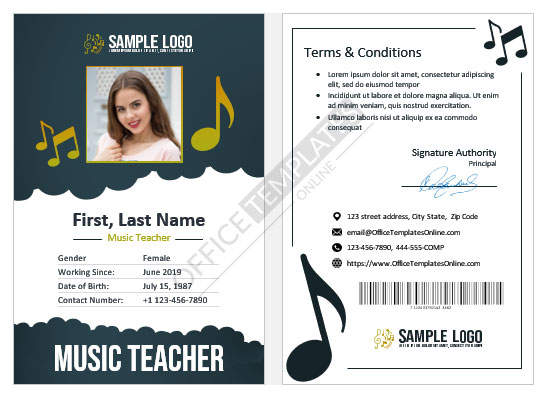 #6 – Sports/Physical Education (PE) Teacher ID Card Design
Why are Teacher ID cards mandatory?
The moment a teacher is about to enter school premises or is on a visit related to the school, his/her badge is what would show his individuality and prove his belongingness. Inability to produce his/her ID card would refer to the fact that this is just another random individual with no connection to the school. Teacher ID cards can thus be considered highly important for numerous reasons:
Security:
As discussed above identity cards are solid proof of a teacher's specification. These also help the teacher in smooth movement and availability of services on campus. From library entrance to representing school outside the campus for competitions and other events, a teacher is supposed to keep the ID card safe.
Supervision and smooth running of operations:
For the campus security officials to identify and efficiently carry out surveillance at the school entrance ID cards are vital. Given a large number of teachers, students, and other members related to the school entering the campus, ID cards make it easier to promptly verify each person. With every individual recognized based on their ID cards, the processes around the campus remain streamlined.
Familiarity and connection:
ID cards are also helpful in providing familiarity to freshly recruited teachers or newly admitted students. Those who are visiting the campus for the first time and are unacquainted with the other teachers or students might feel confused and detached. While teacher ID cards can make it easier for them to know who their teacher or colleague is, learn their names, and slowly develop belongingness.
What are the components of a teacher ID card?
The front leaf must contain:
A professional captured, 2×2 inches, formal, current photo, name, blood group, designation, D.O.B, etc.
Institution details: name, address, contact number, email (optional), etc.
Serial/ID number
Institution's logo
Holder's and authority's signature
The back leaf mostly contains:
A barcode.
Terms and conditions.
Validity date, etc.
Teacher ID cards are therefore an important tool for identity and are also a source of memory and belongingness for the individual wearing them.