7+ Free Photographer ID Card Templates – Fully Editable & Printable
While we are expecting an event in our lives, be it a wedding to come, a birthday party, a celebration, a business meeting, or a product launch, an integral thing to plan would be hiring a photographer. What helps us choose the best photographer for our work would be his/her creativity, uniqueness, professionalism, and talent. These qualities would make it easier for us to get the best person on board for capturing our events. However, another very integral thing while selecting a photographer would be to check his identity.
Photographers who come from nowhere, have no affiliation, or have no separate identity of their own will most likely be considered less trustworthy. Owing to this fact, a photographer's ID or ID card will help them reach a greater number of clients. Besides their reputation through contacts or social media, etc. their identity on its own is important.
Download Templates in Microsoft Word Format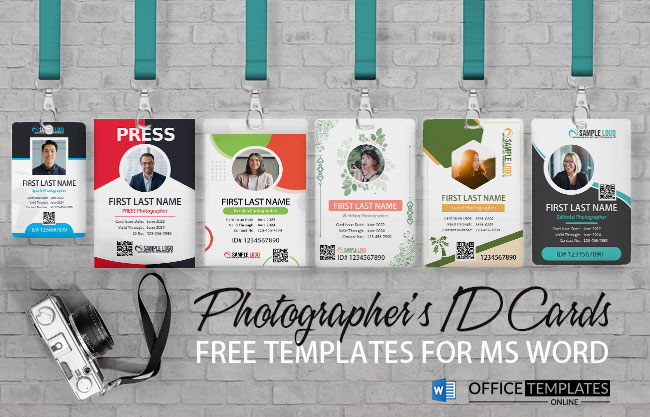 On this page, you can download Modern ID Card Templates for average and professional Photographers. All of these are designed in MS Word with both front and backside with vector and high-quality graphics.
#1 – Editorial Photographer ID Card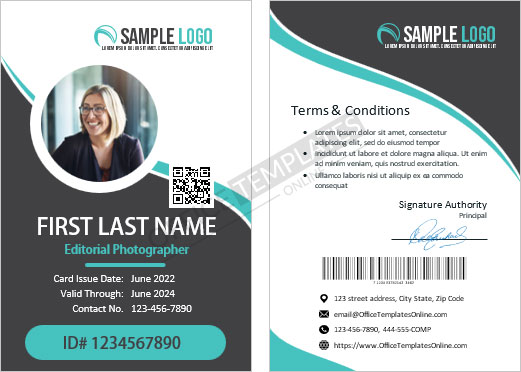 #2 – Fashion Photographer ID Card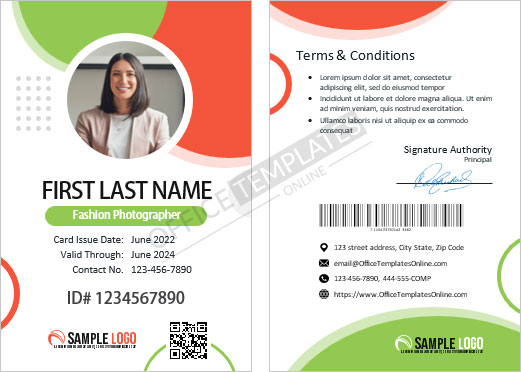 #3 – Press Photographer ID Card
#4 – Sports Photographer ID Card
#5 – Travel Photographer ID Card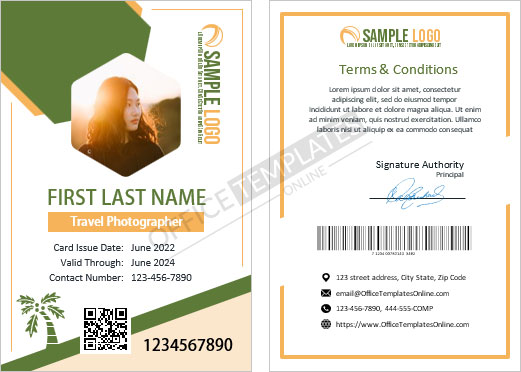 #6 – Wedding Photographer ID Card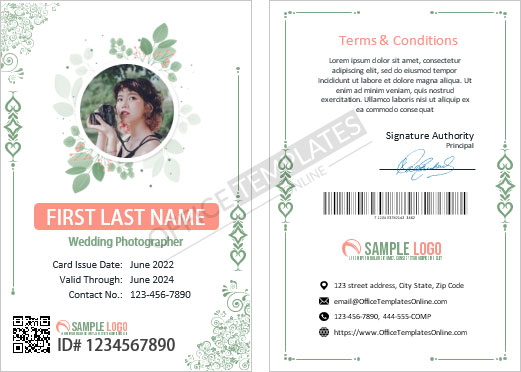 #7 – ID Card for All Types of Photographers
How does an ID card make things better for a photographer?
Professional individuals always start from the bottom line and take things in a very linear manner. For a photographer to be professionally known and gain the right recognition he/she must start with establishing an identity which can be done by creating an ID card. Photographers with a recognized identity are more successful in reaching their clients and becoming part of studios, etc.
ID cards are also useful for helping the public distinguish between photographers, for example, whether they are students pursuing photography as a hobby, pastime, side job, or primary source of their income. In addition, others might also be pursuing photography as a full-time job as well as a passion.
ID cards also help photographers become members of salons, schools, and various groups and leagues that have a number of photographers working with them. These platforms provide membership to certified individuals only that are able to prove their identification.
What are a few basic elements of a photographer's ID card?
Much like other ID cards, the photographer ones contain some very basic elements that are:
Name of the individual
Name of the company/media group/organization/league/group that he/she is working for (if any)
Title or position of the individual if working for a company or organization, etc.
Logo of the individual or of the company
Contact details (phone, email address, website address, office address, etc.)
Signature
A barcode (optional)
The word "press" in bold showing that this photographer works for a media organization so that security checks can be easily passed
How can one photographer's ID card look different from the others?
The theme, the font, and the overall appearance of a photographer's ID should at a glance be able to tell who the person is. An elementary school photographer's ID might have an informal look, whereas that of the photographer from a media agency most probably would have a plain look. Similarly, the ID card of a wedding photographer might give a ceremonial feel.
Licensed photographers are recommended to get a durable, professional ID card printed to leave a better impression on their customers. If you are one and are finding it hard to create an ID card on your own you can make use of our easily customizable templates that are fun, convenient, and modern. Happy creation!
Helpful Video Tutorials
Watch an easy and best way to learn How to Design a Teacher ID Card in MS Word
How to Design Company Employee ID Card in Word