10+ Free Membership Card Templates & Formats for MS Word
Most of the people's wallets are tucked up with several colorful cards. Ever wonder these are? While there might be many credit cards and gift cards in there, a lot of them would be membership cards.
"These are small cards made up of stiff plastic, sturdy paper, or cardboard as proof of an individual's membership with a club, society, organization, establishment, or institution. "
These are issued to specified members only as an element of the business' marketing strategy.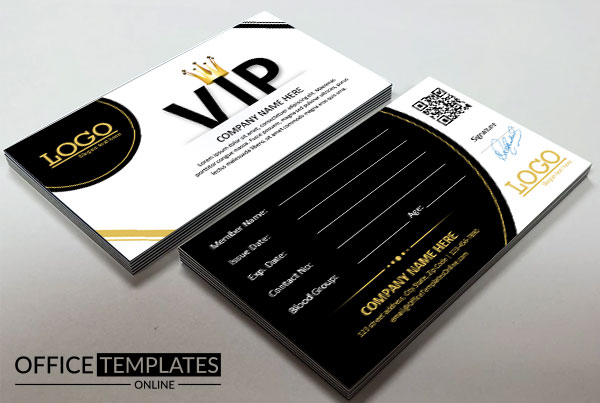 Businesses start membership programs to provide added value and benefit to their customers, to receive customer loyalty in return. These can help businesses earn revenue, customer faithfulness, and business growth surge. Businesses that enroll customers in membership programs are very likely to make them feel special which leads to them being connected and engaged with the business. Businesses can collect customer data through membership cards that can help them personalize marketing policies. Businesses get to create "Repeat Business" by making the customer come back to them again, producing added revenue.
Valued customers can, on the other hand, get smooth access to added benefits such as offers, discounts, promos, services, special programs, etc.
Download Membership Card Templates in Microsoft Word
Download below 10 professionally designed Membership Card Templates at 3.5″ x 2″ resolution/size with both front and backend designs.
Video Tutorial
Use the link below to watch the Tutorial on How to Design a Premium Membership Card in MS Word.
Video Source: https://www.youtube.com/watch?v=a74TgZVMnxE
What are the elements of a membership card?
Membership cards are valuable for rendering specialized services to members who gain their membership. These cards must contain certain information that is vital for customer's identification and security. This includes:
Organization's details: name, logo, address, contact, etc.
Card holder's details: name, signature, contact, identification number/barcode, etc.
Membership details: validity and expiry details, terms and conditions, special offers, etc.
How must a membership card be designed?
A well-designed membership card can help your brand increase brand loyalty and help you get just the right advertisement for your business. Membership card designers need to have a design that keeps the following points in view:
Modest and minimalist
Definitive and imaginative
Attractive and exclusive
Retro and classic
Conceptual and relative
Things to avoid while designing your membership card:
Over crowdedness: The most commonly used size of membership cards is 2.125 x 3.375 and 3.5″ x 2″; it allows very little and basic information to be added to it. Therefore, unnecessary words must be avoided.

Overly big font: Making them look prominent is great, however, overly-flowing words can make it "harder" to read.

Off-toned background: The combination of the backgrounds and the font color must be appropriate!

Quality: Cards must not wear off soon or are prone to damage due to touch or movement. Providing cards that show eminence are always a great option.

Plastic: Owing to the menace of "Plastic Pollution" avoiding plastic cards to shift to eco-friendly cards is a great step towards waste reduction. In addition to the commonly used PVC membership card other options are stick-able cards, biodegradable cards, laminated composite cards, recyclable PVC cards, and rewritable cards.
The best option to ensure a sustainable world for our future is to shift to "Digital cards."
Membership cards are increasingly becoming popular because of the need to encourage customers loyalty and as a business device.