Premium Quality Free Grant Proposal Templates with Subpage Designs
What is a grant proposal and what is the benefit of writing it?
A grant proposal is a brief, carefully written document that is used to obtain money from a funding agency for a project, cause, or research. Usually, the project is focused on issues related to communities – for the greater good. The person writing the grant must know that funding bodies will not be convinced to give money for a project until they see who will get the benefit.
Thus, the writer should focus on the issues that resonate with funding bodies – issues they care about so that they happily spend money on them. Since usually a hefty amount of money is involved in a grant so the grant-giver sees it as an investment toward making a positive difference in the world. The main purpose of such proposals is to get funding for projects which bring positive change in communities.
Pre-designed Grant Proposal Samples in MS Word Format
Download professionally designed, premium-quality Grant Proposal templates in Microsoft Word format. Each of these proposals is designed with a beautiful cover page and nicely laid-out internal pages. Each page is formatted with sample placeholder contents that you can personalize very easily.
Design #1
Design # 2
Design # 3
Design # 4
Who can write it?
Grant proposals are very popular in the academic world almost all research that is done in academia is funded through such proposals. Usually, professors and researchers write them. Nonetheless, it is also very popular with non-profit organizations to carry out community-based projects. However, the business world also uses such proposals to obtain funding for for-profit projects.
What are the elements of a grant proposal?
An attention-grabbing cover letter – It is the most important part of the proposal as it states why the funding agency should fund the project, basically the significance of the project. It is the first impression. Therefore, it needs to be strong and to the point whilst grabbing the attention of the reader  
Introduction or summary – It should be short. It highlights an overview of the project, its purpose, why it's needed, and how it will be conducted
Organizations' background – A summary of the mission and goals of the organization seeking the grant is written under this section and how the proposed project is related to their mission and the funding body
 Problem Statement – Explain the problem, why it needs to be resolved, and how this project will be helpful in doing that. Describe how your proposal stands out among already existing solutions (if any). It is also the most important part of the proposal, therefore, must be composed carefully. Describe the problem using already existing statistics to add strength to the problem
Aims and Objectives – this section should be clear and concise, and state what the project hopes to achieve and how it will achieve it, and what will be the desired outcomes. Follow the SMART approach for writing this section: specific, measurable, achievable, rational, time-limit
Project Implementation – describe methods and strategies that will be used to achieve the projects' objectives. Also, list the things that will be required for the project's execution
Assessment Plan – gauging the success of the project. Describe how projects' success will be tracked to obtain desired outcomes
Budget – state and justify the cost of the resources that will be used in the project
Video Tutorial
Watch How to Create Proposal for Business in MS Word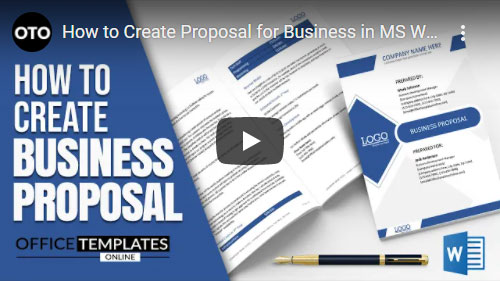 Watch: How to Create Sales Proposal in MS Word | Sales Proposal Example