A Job Proposal is a document that is required sometimes a document when applying for a job or your bid for work somewhere else in the marketplace. Many companies? interviewers and officials demand an additional Piece of Paper reflecting your eligibility for that particular job criteria.
Cover Letter
Sometimes, a client or interviewer asks you to write up a ?Cover Letter? with the requirements of a job you apply for.
It shows some of the following points:
Your specification for the job you have applied for
A more convincing point to the client/Interviewer that you are eligible for the specific post
For example, you have applied for the post of Social Media Advertiser or Content Writer to the Freelance Company. The company demands your job proposal.
What does the purpose of a job proposal ensure?
A job proposal presents your qualifications, skills, and experience in a better way than other competitors. Your Job Proposal shows your client/Interviewer that you meet all the needs you require for this job position.
Writing a good Job Proposal make you eligible for the job. It?s your job how to write an attractive proposal that you and only you are their need and requirement for that particular job.
How to make a winning Job Proposal?
A job proposal should understand a company?s problems and reflect a suitable suggestion or call to the action plan for the audience-that are along with the potential targeted audience- a company wants.
Do Research
Before you make a proposal, research your curriculum for that particular job. No doubt, you are not alone applying for the job, thousands of people are there for it. So make a to-do-aware of your competitors.
Introduction
Introduce briefly your purpose for writing a job proposal.
Position of post
The position or post a company/Industry is demanding should be analyzed in your words. Use strong words to make the company willing to give a job post to you because you have suggested a solution to their problem/requirement.
Answer the question ?Why Should They Choose You??
This is basically what you need the most to elaborate on. You know your worth, try to ink it through the paper. Strat not to say as ?You should choose me because? ?but point out the benefits a company going to get through collaboration with you.
Your qualification and Achievements
This section would elaborate on your eligibility for a particular job. Considering certifications or achievements will make a positive and imperative call to action for a company. These achievements should express your expertise that company is looking for. Be particular!
Closing paragraph
It summarizes you and gives you another chance to describe yourself. You depict yourself are the only productive employee of the company/Industry.
Information to be Included
Sender Information
Contact #
Your name
Town
Email
Date
Company/Interviewer Information
Mr. ABC
Designation
Company name
Body of proposal ?
Closing Lines
Yours Truly Name
You can find here several free templates for ms word that you can utilize and customize in any way you want. These templates are designed to look professional with elegant colors and nice layouts so you can just add your content to create an effective job proposal.

#1 – IT Company Job Proposal Format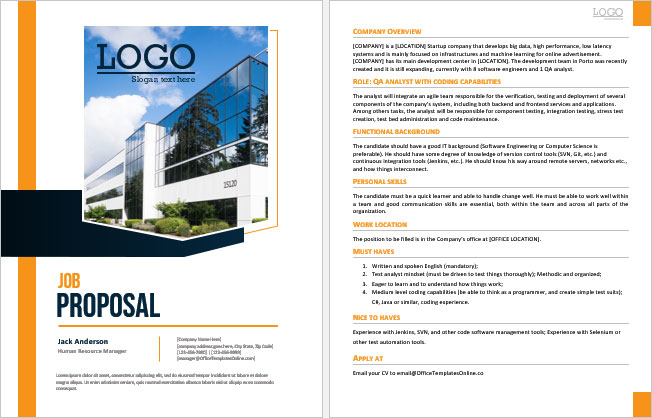 #2 – Job Proposal with Estimate Sample

#3 – Job Shadow Proposal Form

#4 – Marketing Manager Job Proposal Format

#5 – Office Assistant Job Proposal

#6 – Part-time Work Proposal

#7 – Job Proposal for Writers (Content & Technical Writers)
A job proposal is a piece of brief information about job seekers that select an issue within the company and explain how the skills and experience of job finders can resolve that. A job proposal is an important and necessary tool for everyone who is seeking a job.
Before you start to create your job proposal, you have to learn how to write it ideally and flawlessly
Basic Elements in a Job Proposal
If you want to grab the attention of the company you have to keep in mind the following elements
1: The Needs of Company
Make sure to focus on the main points, issues that the company is going through and show the company your abilities to resolve their problems and help them achieve their goals
2: The Role you can Play for the Company
Talk about your experience skills and plan that you will do and play to improve a company
3: How the Company will Benefit having You
Show the company some advantage to hire you, talk about what they gain
4: Keep it Short
For capturing attention, you have to highlight all your important information and don't omit any essential information about you. Sum up everything using some professional and brief words.
5: Maintain Professionalism
Keep in mind that the job proposal is an official document you have to maintain professionalism. Talk about how honest you are and the content of the document must match company standards.
6: Include Your Work Samples and Portfolio
Add up the relevant work that you have done previously, if applicable for the desired job
How to write a job proposal
Write about yourself to introduce yourself and provide your work background/experience information.
Explain why are you writing this job proposal
Define your goals and objectives
Highlight what sets you apart
Briefly discuss the budget and how funds will be used
Finish with a call to action and request a follow-up
Close the letter and provide contact details
Introduce yourself to give your introduction and provide background information.
The motive of your project to seek the attention and interest of the reader this paragraph must include your basic information and overview of the topic to make clear what the reader is receiving
Explain why are you writing this job proposal.
It means that you intend to achieve or what problems exist and you have a solution to it
Define and Highlight what sets you apart
Define the long-term advantages the company gain by having you as an employee and be clear to include specific figures if possible.
Finish with a call to action and request a follow-up.
A call to action means a request to the recipient to move forward and take action. This increases the chances that they will respond.
Close the letter and provide contact details.
Say thanks to the recipient for considering your project and encourage them to contact you end the letter with a professional closing such as sincerely regards your name and signature.