6+ Free Checklist Templates to Simplify Your Inspection Process
Welcome to our one-stop destination for your inspection checklist needs! On this page, you'll discover a valuable collection of six meticulously crafted inspection checklists in MS Word format. Our aim is to simplify your life, whether you're a homeowner, a safety inspector, a restaurant owner, or anyone in need of structured assessment tools.
Here's the deal: You can download any of these checklists that align with your specific requirements. Want to check the safety of your vehicle? We've got you covered. Need a comprehensive home inspection guide? It's here too. The beauty of these resources lies in their flexibility. Easily amend them to tailor-fit your needs. Add or remove items, customize sections, or make notes – it's all at your fingertips.
Imagine the ease of having professionally designed checklists at your disposal, making those daunting inspections and assessments a breeze. Once you've customized your checklist, hit print, and you'll have a hard copy in hand, ready for your next task. Our user-friendly, human-inspired resources are here to simplify your life, save you time, and ensure nothing escapes your scrutiny. Download, customize, and conquer your inspections with confidence!
Download Templates in MS Word Format
Comprehensive Home Inspection Checklist
A thorough guide for assessing the condition of residential properties.
Vehicle Safety and Maintenance Inspection
Ensuring the safety and reliability of your automobiles.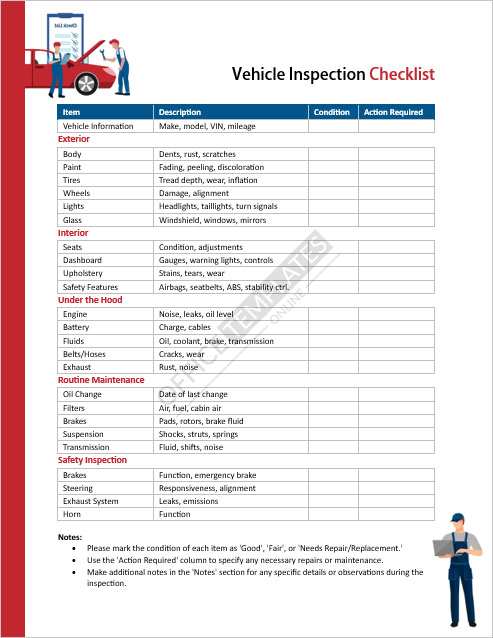 ---
How to Design a Comment/Feedback Card in MS Word
---
Restaurant Health and Safety Audit
Keeping your food establishment compliant with health regulations.
Construction Site Safety and Quality Assessment
Monitoring safety, quality, and compliance on construction projects.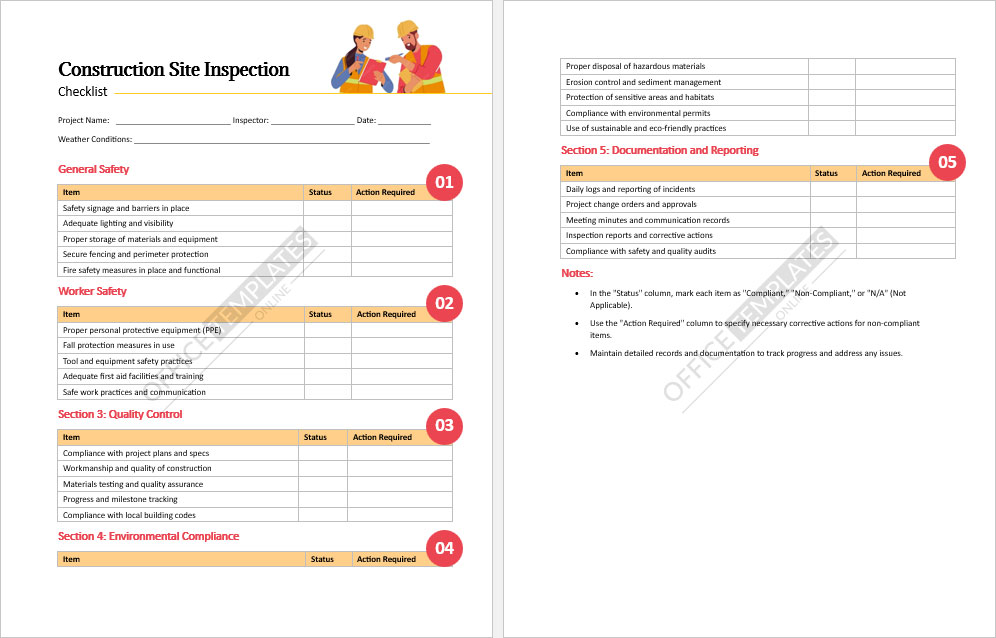 Fire Safety Compliance and Prevention Checklist
Safeguarding against fire hazards and ensuring code compliance.
Workplace Safety and Equipment Inspection
Keeping your workplace safe and equipment in optimal condition.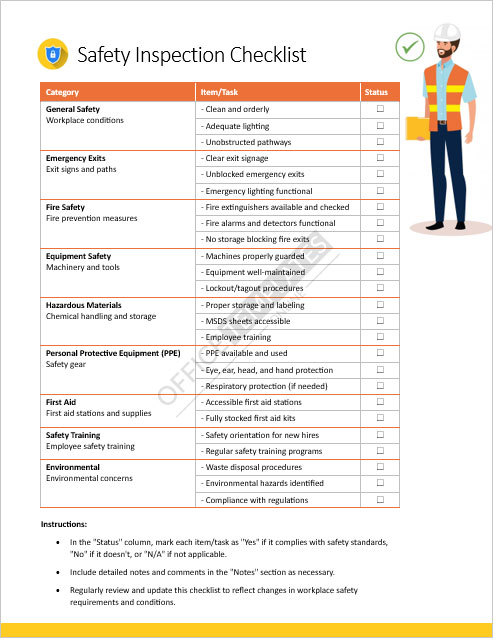 What is an inspection checklist?
Like any other checklist, an inspection checklist is a collection of to-dos or to-check things that are mandatory in organizing tasks and duties. The inspection head or the inspector can keep these checklists handy to ensure no important pointers are missed. It also helps minimize mistakes and keep the inspector in charge on track. These are marked off side by side and all activities to be performed and points to be noticed are dashed.
Managers use these to maintain a safe working environment, keep in touch with procedures, and earn the best reputation and profits. While there are many diverse kinds and uses of inspection checklists most of them are for double-checking that a particular piece of equipment or a part of a facility is working correctly. The checker is there to certify his consistency with the industrial standards or other regulatory policies.
What are the benefits of using an inspection checklist?
In most of the cases, professional inspectors are given the duty to deal with the object or facility under observation. The professional records and documents of the object or structure are checked per the provision guidelines. A few reasons how inspection checklists can help professionally are:
Foster organization and a more disciplined atmosphere.
Offer clear, concise guidelines for easy comprehension and adherence.
Keep employees on course and enhance accountability.
Ensure equipment and structures remain in ideal, safe condition.
Maintain critical security and safety protocols to avert hazards.
Cultivate an efficient working environment for peak output and quality control.
Perform regular occupational audits and checks.
How are inspection checklists created and who does that?
Inspection checklists are almost always a product of some problem and are being proposed to reach a solution or to prevent a situation. In order to create an inspection list the professionals move in a streamlined manner that goes something like this:
To analyze what needs to be checked you begin with keeping the things in mind that SHOULD NOT happen. This includes jotting down threats that need to be mitigated. Calculate potential risks and factors that might lead to unwanted results
After the possible issues have been identified these are divided into categories such are important, unimportant, highly probable, major, minor, etc.
Post-categorization stage the specific needs of projects, equipment, buildings, workplace, or facility are outlined. Working with distinct needs and differences helps carve out the best checklist.
Pointers to avoid errors are listed to make it easier to manage on a regular basis. It is always fruitful to create an inspection checklist that works under almost all situations and does not require major changes.
What does an average inspection checklist look like structure-wise?
It wouldn't be wrong to say that every inspection checklist for different purposes has to be made in a distinct way. The overall structure, however, remains the same. The items that these generic inspection lists would include are:
The header (inspector name and signature, position, name of the site, facility, equipment, workplace, job site, location, etc., date)
Special notes, comments, or instructions
Specific points that need to be checked and dashed off respectively
To make this toilsome job quick, simple, and smart try our easy templates that have been updated with the latest needs and changes. These are absolutely free!
FAQs
How do I create an effective inspection checklist?
Crafting an effective checklist is about being smart and systematic. Begin by identifying potential issues you want to prevent. Then, categorize them based on importance and likelihood. Outline specific needs for your project, equipment, or facility. Finally, list pointers that help avoid errors. It's like building a versatile tool that works in various situations.
What's the typical structure of a checklist?
The structure of a checklist might seem standard, but it's the backbone that holds everything together. It usually includes a header with essential info like the inspector's name and date. You'll find space for special notes or instructions. Most importantly, you've got those specific points to check and mark off. So, it's organized, clear, and efficient.
Who should use checklists?
Checklists are handy for various professionals. Think safety inspectors, facility managers, quality control folks, equipment operators – anyone responsible for compliance, safety, or efficiency. They're like a trusty tool for different tasks.
Can I customize pre-made checklists to my needs?
You bet! Pre-made lists are like a starting canvas; you can paint your own picture. Add or remove items, tweak stuff – they're designed to fit your unique needs. It's all about making them work for you.
How do checklists improve safety in the workplace?
Checklists are safety's best friends. They help spot potential hazards, keep things in line with regulations, and stick to safety rules. It's all about keeping the workplace hazard-free and preventing accidents.
Where can I find free, up-to-date templates?
You'll discover a bunch of free, up-to-date templates on our website. It's not just inspections; we've got you covered from Christmas to cleaning, to-do lists, tasks, inventory, and even wedding planning. We're all about making your life simpler. Give them a click, and you're good to go!