10 Free Job Proposal Templates with Professional Cover Pages in MS Word
Most of the individuals, while applying for a job, submit their resumes, cover letters, etc, however many today pitch their job proposals. In the competitive world of today, this is a marketing document that can earn you the competitive edge. While there are a large number of other applicants with probably more impressive resumes than yours, your job proposal will help the employer explore your strengths better.
Download Job Proposal Templates for MS Word
On this page, you can find 9 nicely laid out sample Job Proposal templates created in Microsoft Word. Each one of these has a beautifully designed Cover Page that makes these Job Proposals very professional.
#1 – Construction Bid Proposal Template
#2 – Employment Proposal Format
#3 – Professional Interior Design Job Proposal Sample
#4 – Graphic Design Job Proposal Template
#5 – Job Proposal Format with Estimate
#6 – New Position Job Proposal Template
#7 – Marketing Manager Job Proposal Format
#8 – Website Design & Development Proposal Template for IT Company
#9 – Professional Company Job Proposal Template for MS Word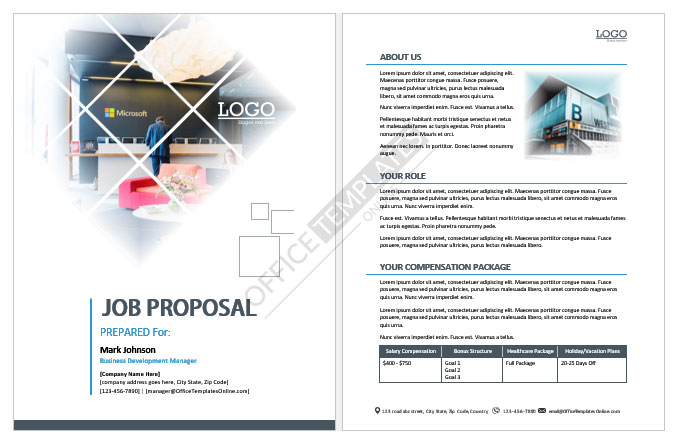 #10 – Job Proposal Sample Format for Receptionist
Why does an individual need a job proposal?
A job proposal puts the employer in a position to consider what "special" talents and qualities you have that can help their organization perform better. The choice of words will help them believe (in most cases), that you can solve their particular problems. This has emerged as a prompt approach of upbeat job seekers who know how to catch the employer's eye for positions that are usually not published.
Job seekers who are highly "sure" of their skills, and are motivated enough to pursue specific lines of interest only, are more likely to write job proposals to their dream companies or organizations.
How to write a job proposal that lands more jobs?
A job proposal is a concise yet rigorous document that in about 3-4 paragraphs will display your strengths and explain why you might prove fruitful for the company. The proposal must start with you addressing the CEO/manager of the company and clearly stating your purpose and the job or problem you are applying for. Displaying that you possess ample knowledge about the company will surely be a winning point.
You can continue by exhibiting your knowledge in the specific area and showing how market trends are changing. Put carefully chosen words on how you hold the right familiarity on how to fix that specific problem. List down your skills and qualifications in a highly relevant manner so that the reader learns that you are truly capable of what you are saying.
Explain how you can do the job and help the company flourish while keeping both personal and enterprise goals side-by-side. The gist of your letter must succeed in proving that you are better than your competitors and are the BEST fit for the job!
How to structure a job proposal?
Title
Purpose
Skills/Talents/Qualifications
Relevancy of your talents with the job
Contact details
Closing.
How are job proposals useful?
The moment your job proposal reaches an employer, it would reveal your confidence in who you are and how useful can you be for their company. It tells that rather than waiting for an opportunity, you "created" one for yourself. Your provocativeness in this regard is your first triumph!
A job proposal will explain the shortcomings of a company unaware of its weaknesses, and how YOU can benefit them. The company might be taken with surprise at how self-confident you are in that particular area. They might be compelled to believe you depending on how impressive your proposal is.
You're selling your talents through a job proposal; determination is the key!