If you want to distinguish yourself as a competitive event planner and want to build the client's trust, you should execute such strategic planning that would reflect your professional behavior. For this, you make a proper event proposal for the company or a client.
An event proposal is a summarized document that outlines the services you are going to make for an event (Photography event, fundraising event, sponsorship event, music event, business meeting?)
Key to success – event planner
An event planner is someone responsible for making an event successful or not. He coordinates all meetings and strategies for the company?s sailing or the buyer's niche. Where the meeting is to be held, and other details are coordinated by an event planner. So an event planner should be professional and statistical.
Purpose of writing an event proposal
Event proposals are created from the blood, sweat, and tears of an event planner. With all research and creative juices following some of the most incredible pieces of paper ever. So the purpose of an event proposal is to build a trust collaboration with the client or a sponsor for allowing you to do things accordingly.
How to get into a winning event proposal
An event business proposal should be properly formulated, contain respective services, and most important, it should illustrate how you are winning in performance than others. Booking a client
To build the client's trust, you first need to book a one-on-one conversation with your client so, what type of event is it. What date and venue they both are looking for? In that way, your first impression of the client is making a trust relation. You need to schedule all the logistic information you going to put in front of your client.
Proposal introduction and purpose
Briefly introduce your event planning business strategies. What you tell your client is your professional background, time, and date for the business, relevant prior experience, your particular achievements, and any certifications you have.
Summarize the client?s needs and wants
You can summarize your client?s basic needs in the description of your document. It should meet the expectations of your client. When a client sees this information right away, it brings reassurance that you understand their desires.
Your expertise and skills as an event planner
Write details about yourself and your company because it is really important to give details of the company while creating an event planning proposal. It helps the client to understand that who you are as well as the experience you have about this business. Ensure that you have mentioned the relevant experience that fits you the best for that event proposal.
You should include:
Business strategy
Contact details (address, name, email?)
Business marketing niche (as to say statistically grown-up)
Offers and Services provided
Here, list all the services you will provide and try not to be specific. Make all the services highlighted as bullet points. List any vendors that you will use and any services that are optional for an added fee.
Budget
The most important, discounts for early booking or discounts for multiple bookings. You want to give yourself an advantage over the competition. In the end, make a computation costs of all the expenses.
Include a timeline
This portion should reflect your actual trust with the client. The client should feel out of stress and you make sure your policies are according to the client?s timeline.

Event Proposal Template
The event proposal can be present to any organization or institute for hosting a specific event for the organization or institute or an individual who is looking for an event organizer for hosting his event. The event may either be small or may cater to a large number of people depending upon the party that is hiring the services of the event organizer.
Normally these organizers have all the details related to any specific event displayed on their website. This website may also include the price at which different events can be organized. But still, doors for negotiations are always open. Once the deal is in process, the price can always be negotiated. Moreover, if you wish to have any change in the settings as defined by the organizing company, it can also be done. Good event organizers always listen to important details of their clients and cater to their needs as they want.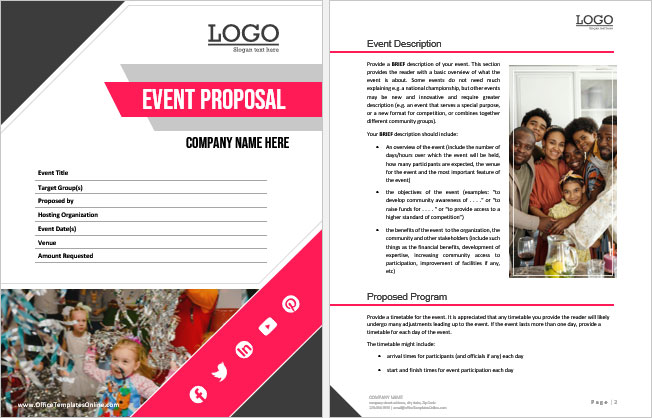 Business Event Proposal Template
The business event proposal is given to any organization for hosting their business-related event. The schedule of the event is given to the host party and everything is detailed through writing. These events are mostly organized when a specific business is either launching a new product for its customers or is adding something new to its current product line or entering into a new venture. These events may also cater to the success party of a business.
As everyone invited to the party is part of the professional league so great care is taken in hosting the event. These events help people in making contacts with each other usually with people who are market-oriented. Moreover, these events help an individual learn new business techniques and current marketing trends.
The place of the event is decided by keeping in mind who are the invites to the event. The event is made spacious by keeping in mind the individuals who come to attend the event.

Fundraising Event Proposal Template
An event proposal is defined as an offer made to an organization or institute to host a specific event for the organization or institute at a specified place and at a specified time. Basically, the organization or institute hires the services of the proposed company for organizing the event.
Fundraising event proposal
Fundraising events are organized for charitable organizations that are dependent upon funds for the smooth running of their organization. By organizing the event, the host is basically supporting the organization and helping it raise more funds for the smooth functioning of the organization. Tickets are distributed among individuals who are willing to attend the event. These tickets are priced at a specific rate and all the money collected through ticketing is given to the charitable organization.
A huge amount is collected in this way as the public at large is invited to attend the event. It is possible that all who have bought the tickets actually did not make it to the event but their money is transferred to the organization which they had given for buying the tickets. In this way, the charitable organization is helped.