14+ Free Business Proposal Templates with Cover Pages
A Business proposal is a document used by companies when they intend to sell their services and products to some other organization or business. These products are then used for resale, running in business, or even in manufacturing. This document is based on direct and personal relations among various businesses.
Purpose of a business proposal
Mainly, it aims to convince your buyer to accept what you offer and ultimately increase the sales pitch. It is important to note that in maintaining and generating relations with customers, the business proposal you send to an organization should be excellent. One has to work very closely to continue good customer service skills and keep it as a top priority at all times. To reach other businesses, this document uses channels like direct mail and other electronic media.
Download Business Proposal Templates in MS Word Format
Down below, you can download 14 professionally designed proposal templates, all with a beautiful cover page and nicely laid out inner pages with sample data. All you need to do is to change the placeholder data with your own and that's it!
#1 – General Business Proposal Template
A general business proposal is a document in writing given by a supplier to a potential or probable client in the process of winning a particular project. This document is prepared in order to persuade an organization to buy a certain product or service. It includes pricing, billing, and bids. Whenever you write a business plan, you must include the following essentials.
A title page.
Table of contents.
An executive summary.
State the problem or need.
Propose a solution.
Share your qualifications.
Include pricing options.
Clarify your terms and conditions.
All the above-mentioned points must be defined properly as any ambiguity may arise as a problem for the reader of the proposal and is likely to make him uncomfortable in accepting your proposal. All the things that you have thought of must be dictated in good terms to the proposed client.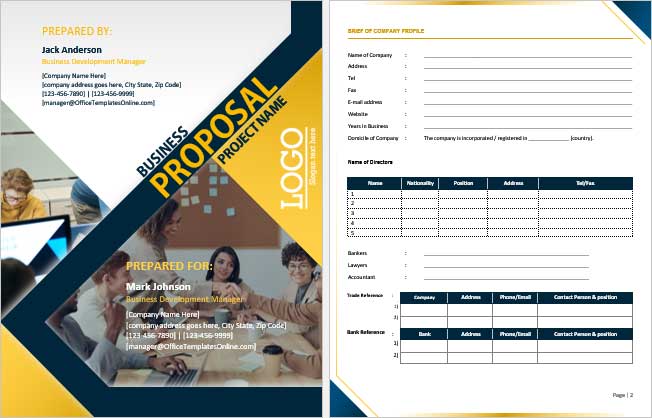 Watch the Video to see how you can modify or design the Cover Page of this Proposal Template OR Click the link below the video to download this template in MS Word format.
#2 – Services Business Proposal Form
The service business proposal is a document in writing that is prepared by a service provider in order to attract a probable client who could buy his services. This is prepared which outlines all the necessary aspects needed to carry out the proposal. It includes the title page, goals and objectives, customer benefit, budget, and review.
This document indicates that you are willing to extend your services to a particular business. You are well-established in the field and would feel privileged to open yourself to new clients. Furthermore, you also make a promise that you would provide the best of your services to your customer and meet their expectations. You also mention that if the customer at any time wants to or wishes to inquire more about your business, he can do so by visiting your website stated in the form.
#3 – Business Project Proposal
The business project proposal is a written document that provides a roadmap of a specific project. It also mentions the outlines needed to carry out the project. With all the information in hand, the owner can easily locate a potential client who would show interest in the project and thus end up investing in it. Potential investors are outlined once you have made the road map of the project.
A description of the project is given in the proposal along with the pricing of individual categories needed to fulfill the project requirement which is termed as the expensive cost of the project. The total cost needed for project completion is then calculated by adding up the price of individual categories made. Expected profit and loss are also mentioned though it totally depends upon the success of the project which brings in either profit or loss to the business.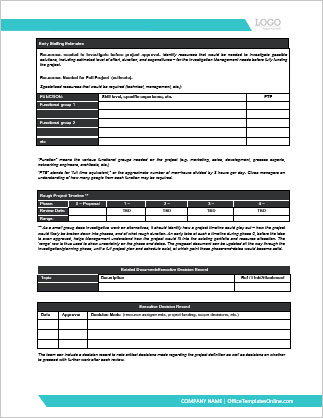 #4 – Sample Business Proposal for Air Ambulance Services
A business proposal for services is a written document through which any service provider attracts possible clients to render his services. It is basically a sales document in which the supplier proposes to offer its services to a client at a certain price.  In a proposal for an air ambulance service, the supplier marks himself as one of the preferred candidates whose services can be utilized in case of any medical emergency on a flight.
It includes the names of medical professionals who would be able to attend to the patient. Furthermore, the supplier may mention the name of any specialized individual who would be able to cater to the needs of the patient in flight. The use of modern equipment for treatment must also be mentioned for promotional purposes and a better reputation. The supplier places his picture in the minds of his clients as one of the best in town.
#5 – Business Proposal with Project Budget Outline
A business proposal with a project budget outline reflects the probable cost of individual items required to complete the project. The cost of each individual item is mentioned separately and at the end, the total of all the individual categories is done in order to reveal the total cost which will be incurred on the completion of the project. This seems a rather good idea when you draft out all the costs to be incurred on the project and then after examination negotiates with the supplier over the price if necessary.
The individual items may include any travel expenses, accommodation expenses, or training expenses if the individuals who are responsible for project completion require any training. All these items are to be kept in mind before proposing the plan to a client to draft out an idea of what price bracket would be best suitable for the plan.
#6 – Life-Coaching Business Proposal
Life coaching is a type of professional wellness that helps you to make progress in life so that you may achieve the desired level of fulfillment. It helps individuals clarify their goals and recognize any obstacle in the way of fulfilling their goals. Life coaches come up with a solution to these obstacles by devising a suitable strategy for you. In the life coaching business proposal, professional wellness will offer its services in guiding and supporting individuals in their routine matters.
It would suggest to them positive ideas that would work in the best interest of the individual. Life coaches provide their clients with encouragement and attend to the needs of their clients with personal care and attention. They image themselves as the person to whom you could go to relieve yourself of any tension and ambiguity. You will find solace in their company.
#7 – Pest Control Business Proposal
Pests are defined as insects that cause damage to crops, food, and livestock. There are certain crops that are most attracted to a particular insect. These insects attack the crop, food, and livestock and become a reason for bringing in damage to the crop, food, or livestock. Pest control medicine is developed to control the damage caused by pests. Normally this form of a business proposal is referred to at the government or state level because you as an individual want to bring in a cure for a problem that is a problem at the state or government level.
The pest control business proposal will design techniques and innovations in the current medication which will help protect the crops, food, and livestock from pests. They may come up with a vaccine that they may have developed for livestock so that it may not get endangered. It may also devise ideas to protect the three categories mentioned thus saving them from pests.
#8 – Pharmacy Business Proposal with a Pretty Colorful Cover Page
The pharmacy business proposal is given by individuals who have a certain professional degree in the field of medicine. These individuals may not necessarily be specialists but they can hire the services of specialists by having them at their medical store. The pharmacy business proposal was given by an individual who intends to run a pharmacy in a particular area that could probably benefit people living around. They intend to provide medicine for the people at a price that is fixed by the government.
Normally these business proposals are given with the intention of opening a pharmacy at a place where people do not have access to medicine or they might have to go further to have one. Its aim is to help people by providing them with medicines covering a wide range of diseases. These companies have a bulk of a particular medicine that they sell to the local public. 
#9 – Project Cost Business Proposal
The project cost business proposal is a proposal that defines the total cost to be incurred on the completion of the project. It does so by individually writing down the cost of all categories and then summing them up. In this way, the total cost of the project is known before starting the project in order to get a rough idea of all the expenses that will be incurred.
This helps in decision making as by looking at the paper containing all the relevant points, one is able to negotiate over terms which he may not require for the completion of a project and may also add up certain items which he may regard as important and then devise the total cost. It is also possible that you tell your project requirements to someone and keeping in mind all the requirements, he may devise the pricing of the overall project.
Watch the video here to see how you can modify this proposal in MS Word
#10 – Recruitment Business Proposal
The recruitment business proposal is aimed at helping organizations find a suitable candidate for any vacancy at the organization. They do so by taking in necessary information from the company of a probable suitable candidate and then matching them with the CVs they have collected or received. In this way, they filter out a list of candidates who are the best fit for the job. This is offered by individuals who want to help organizations in finding a candidate they would hire.
These individuals charge the companies for finding a suitable match for them. It takes time to go through all the CV'S and then filter out the most probable candidate. These businesses help companies find their requirement by lowering their burden of finding a suitable candidate as they take the job of enlisting out the names of candidates who best suit the job.
#11 – Restaurant Franchise Proposal
What is a Franchise? The simplest answer to this question is that it is an act of distributing products owned by a Franchisor who has established a trademark of a business set up and working under the established name of the franchisor company, the individual would pay a royalty to the franchisor for using its name. The individual who wishes to propose a franchise must have significant knowledge of the business. He only uses the business name under which he earns a certain amount of money.
The individual proposing a restaurant franchise will not be able to make any amendments to the given product line. It is possible that the franchisor may limit him to specific products thus not allowing him to use the brand name for other products. The taste of the items offered will have to be maintained well by the franchisee as an act of disruption may lead to a bad reputation for an already established business.
#12 – Renovation Proposal
Individuals who are in the business of renovating either homes or offices come up with new ideas of giving the home or office a new look by renovating it with the available resources. Renovation requires a lot of time and effort and it is not done easily. This document when presented by an individual means that he is interested in giving his expertise services in re-designing the things given to him. He may charge a fee for this as it requires airing certain resources.
All this is detailed in the proposal where charges or rather fees for renovation are mentioned. From renovating a room to a house, everything is mentioned. Renovation may be done totally depending on the ideas of the renovator or you as an individual may suggest ideas as to how you want to change the look of things working within the capacity of available resources.

#13 – Buildings & Facilities Management Service Proposal
This is normally extended to the apartments that are located in a specific building. These apartments require maintenance after a certain period of time and it is the responsibility of the building owner to provide his tenants with the facility of maintenance when required. Maintenance is not only required for the apartments of the tenants but also for the facilities provided by the building owner.
The building and facilities management service proposal is a contractual agreement through which any building and facilities management service provider offers to provide his services for the up-gradation and maintenance of the building. The process of maintenance can take place at different time intervals or when needed as desired by the client. You have to pay a certain amount for rendering the services of the company. It is agreed upon before that either everything will come under maintenance or only particular items.

#14 – Insurance Proposal Form
This is a proposed contract between a client and an insurance company through which the client ensures a particular asset that belongs to him and the insurance company promises to pay him a certain amount of money if any damage is caused to the asset during the insurance period. The terms of payment are decided before agreeing to the terms of the insurance.
In the insurance proposal form, the insurance company lists down the things for which it does the insurance with the individual amount of money that the client will be able to get in case of damage. Other terms and conditions are also mentioned they may say that if it is proved that the asset in hand was damaged willingly then the insurance claim would be considered null and void but if it has happened as part of an accident then only the company will pay the client the sum of money decided at the time of contract.
The Benefits of Using a Business Proposal Template
Are you curious about the benefits of using a business proposal template? Let me share some reasons why it's worth considering:
Firstly, it can showcase your professionalism to potential clients. By presenting a well-crafted proposal, you demonstrate that you're serious about your work and are committed to providing high-quality services.
Secondly, this can help you clearly outline your services and pricing, avoiding any confusion or misunderstandings. This helps establish trust with the client and shows that you're transparent about what you offer and how much it costs.
Lastly, it can help set expectations for the project, outlining the scope of work, timelines, and deliverables. This ensures that both you and the client are on the same page, which can help prevent any potential issues or miscommunications.
In summary, using a business proposal template can be a powerful tool for making a great first impression with potential clients, increasing your chances of winning new business, and setting yourself up for success in the project. So why not create a professional-looking business proposal template today and take your business to the next level?
Types of business proposals
Formally Solicited: This is made in reply to an official request. In this, one simply needs to write a proposal for the buyer with all the information and requirements in hand.

Informally Solicited: This is written without an official request. However, prospective buyers ask you for it to evaluate because they are interested in your services. This requires a lot of research and contains more information.

Unsolicited: Unsolicited business proposals are more like one size fits all. They lack an understanding of the buyer and are often generic. But they are personalized through market research and can become quite persuasive.
How to get started?
Conduct market research: Research is a key part to develop your business proposal. It is all about gaining information about your customer's location, buying patterns, and thinking.

Identify a unique selling proposition: this means you need to find a point as to why the customers will buy from you and not the other competitors. You should know where your edge lies during creating a Business proposal. Make sure you identify and convey it to potential customers. This will ultimately reflect on your skills.

Develop your brand: irrespective of how small or big your business is, you need to have a brand that along with its tagline, color, and logo, connects with your target customers. It portrays what you stand for and who you really are.

Select your proposal avenues: your options for marketing avenues depending on the targeted audience. You can choose from networking events, business websites, blogging, brochure, social media, and emails.

Set your budget and goals: your goals define what you want to achieve. Your goals should include time-based, relevant, measurable, attainable, and specific performance.

Develop relations with your loyal customers: encourage their loyalty and look after them because they are the key to your success. Your excellent customer service will give you an edge over the competitors.
Review before Submitting: it is important to regularly monitor your proposal and how well-written it is to increase sales and get your desired outcome. Your plan should be reviewed every three months initially to support the strategies. Once you are established, you can continue reviewing only when a service is launched. This will also help you in acknowledging when a new competitor enters the market.
Best Practices for Writing a Successful Business Proposal
To create a winning business proposal, follow these tips:
Research the client's needs to tailor your proposal to their specific requirements and pain points.
Use language that resonates with their brand and addresses their unique concerns.
Communicate your services, pricing, and timeline clearly and concisely.
Highlight your competitive advantages and expertise in the field.
Consider using visual aids like tables and charts to make it more engaging and easy to understand.
Proofread for errors and ensure that it looks professional.
Following these best practices will help you create a professional-looking business proposal that impresses potential clients and can help you win more business. Remember to use marketing terminology and keep your sentences short and concise to make it easy to understand and engaging. By taking the time to create a tailored, visually appealing that communicates your expertise and competitive advantages, you can increase your chances of success and grow your business.
Dos and Don'ts for Creating a Winning Business Proposal
| Do's | Don'ts |
| --- | --- |
| Research the client's needs and understand pain points | Don't send a generic one that's not tailored to the client's specific requirements |
| Tailor the proposal to the client's specific needs | Don't use jargon or language that is difficult to understand for the client |
| Communicate services, pricing, and timeline clearly | Don't overwhelm the client with too much information or use long, complex sentences |
| Highlight your competitive advantages and expertise | Don't make unrealistic promises or commitments that you can't deliver on |
| Use visual aids to make it more engaging | Don't use low-quality or irrelevant images that do not add value |
| Proofread for errors and professionalism | Don't neglect to check grammar, spelling, and formatting before submitting the proposal |
How Business Proposal Templates Can Save You Time
These are like superheroes for businesspeople, saving time and helping streamline the proposal creation process. Here's how they can give you a helping hand in your day-to-day business tasks:
Time-Saving: it provides a ready-made structure that saves time and energy by eliminating the need to start from scratch every time. Customization can be made quickly and easily, without breaking a sweat.
Example: A marketing professional can create a proposal for a new campaign by using a template, rather than spending hours formatting the document. So, more time for coffee breaks!
Structured Approach: It provides a structured approach to organizing thoughts and ideas, resulting in a clear and concise proposal. It's like having your very own proposal GPS!
Example: A freelance writer can use a template to structure a new writing project, making it easier for the client to understand. It's a win-win for everyone!
Branding: It can help establish consistent branding across all proposals, making them look more professional and cohesive. Think of it as your proposal's fashion designer!
Example: A graphic designer can use a template with branding elements to create one that matches their portfolio and website. It's like wearing your own designs!
Examples: These templates come with pre-written text and examples that provide a better understanding of the components of a successful proposal.
Example: A consultant can use a template with pre-written case studies to demonstrate their experience and expertise to a potential client. It's like having a trusted ally by your side!
By utilizing these templates, you can save time, structure, maintain consistent branding, and learn from examples of successful proposals. It's like having a sidekick that never fails you!

Video Tutorials
How to Create Sales Proposal in MS Word | Sales Proposal Example
How to Create Proposal for Business in MS Word | Business Proposal Design