Are you looking for professional and stylish ID card templates for your business or organization? Well, you're in luck because we've got you covered! We've compiled a list of 7+ free business and identity card templates that you can easily download and customize according to your needs. These templates are created using MS Word and come with beautiful colors and layouts for both the front and backside. From employee badges to event volunteer ID badges, we've got it all. So, scroll down and check out our templates and download the ones that suit your requirements. It's as simple as that!
Cards are the symbol of the identity of a specific person. They are usually displayed for security/checking purposes. The appearance of a card In-front is mandatory so that the security guard or some outsider has the thing in mind that the specific person is an employee of the company/organization. They usually have a bar code for tracking and verification purposes.
It contains the organization logo, the personal information of the employee, and the company?s copyright claim. These are usually for the recognition of the individual from a particular company. You can simply select a basic design that demands you and modify it from the ready-made formats listed below. Instead, if you are feeling really creative, you can also use one of our special techniques in which you can create a custom business card with your own design and company logo.
These are made up of a special type of paper that enhances their beauty and makes it looks exclusive to all. It is cased in the superior covering which is helpful for the display in Infront of the person. The appearance of a badge attracts the viewer, and it appears valuable to him.
Visiting Cards
These are usually in printed form. Things that matter in appearance are style, texture, font, and color. The beauty of the visiting card casts a magnificent effect on the surrounding. These are used for social purposes in short-term meets. They are usually designed with a font of cheerful color that exaggerates their exquisiteness.
Employee Badges
In an organization, various departments are there working in their routine. Employee cards are used for verification purposes which confirms that the particular person is an employee of the company and is associated with the particular department. These are designed in a very neat manner with the help of paper and plastic combinations. The main focus is to provide a unique design that is loved by the people and is captivated by the eye of the viewer.
Employee Badges play a vital role in everyday life. It alerts the viewer about the identity of the person. Higher authorities have some special badges that are easily recognizable. An elegant design of an ID Badge makes it exceptional among all. The uniqueness further charms the interest of the people. The size and length are usually taken standard so that it meets the requirement of the company. The first impression of everything really matters.
The first impression of the visiting card should be inimitable because it casts a magnificent influence on the environment. The main focus is to provide that type of productive badge that is up to the mark and really serves the attention of the people. We are highly keen on offering trending products for the people who are captivated by society.
All of these designs & formats are created using MS Word with beautiful colors and layouts for both the Front and Backside. Each of these is print-ready and all you have to do is to replace the placeholder information with your own and press the print button, and your ID card is ready!
#1 – For Press Reporter
Decorated with beautiful colors, this identity card is specially designed for people working in the media and press. The special thing about this is that it focuses a lot on the word "press". The main reason for this is that media people usually have to go to sensitive places for news and interviews. And they have to meet special people that ordinary people can't meet.
Therefore, this is used to identify people attached to the media and designed in such a way that security agencies and security personnel do not have any difficulty in identifying them and hence allow them to perform their duty without any hurdles. Designed with this background in mind, this Reporter ID card template has a beautiful layout and is very easy to print. You can easily edit any of the information on it by modifying it in MS Word or any similar software/program.
Watch the making of this Press Reporter ID Card design in ms word in the video below
#2 – Designed for Company Employees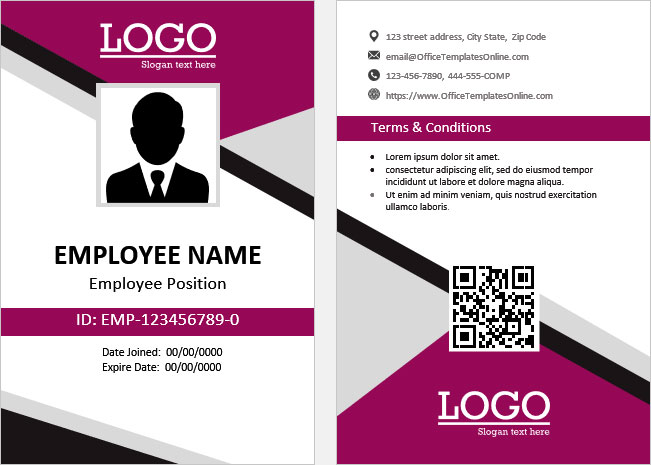 Watch below how to create this Employee ID Card in MS Word
You can download all the images and assets from the links provided in the descriptions of this video.
#3 – Specially Designed for Construction Company Workers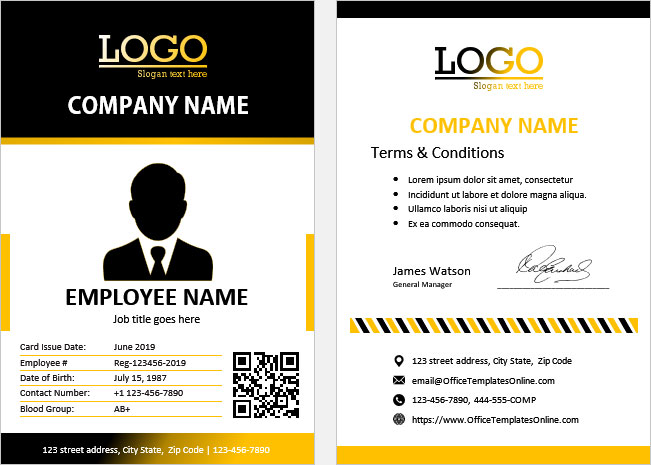 #4 – Event Volunteer Photo ID Badge Format
#5 – Best for Hospital Staff (Doctor)
#6 – Security Guard Format
#7 – Teacher ID Card
Conclusion
Well, congratulations! You made it to the end of this page. We hope you found these ID card templates as useful as a Swiss army knife on a camping trip. Remember, whether you're a student, a professional, or just someone who likes to keep things organized, there's a template here for you. So don't be shy, scroll up, and take another look at these gems. And if you haven't downloaded one yet, what are you waiting for? Don't let these templates be like that gym membership you keep meaning to use but never do. Download one today and start boosting your productivity like a boss!