21+ Free MS Word Invoice Templates for Personal and Business Use
Looking to make your business operations run seamlessly? Let us welcome you to our exquisite range of invoice templates! With 21 professionally designed MS Word templates, you can choose the perfect one for your business or service. Our templates are easily customizable and can be downloaded instantly, leaving you with more time to impress your clients with stunning and user-friendly invoices. Best of all, they're free!
An invoice is a time-stamped document between the buyer and the seller. It contains the list of things along with their prices. It specifies the terms of the deal and provides information about the payment method and the price of specific goods or services.
It maintains the record between the buyer and the seller so that both are well aware of the services. It generally outlines the payment method, unit costs, shipping, and handling during the transaction. It contains the unique invoice number along with the bar code which is useful for tracking the bill.
This document is generally known as the bill which the particular store gives you at the time of the purchase. Invoices keep the person in touch with the local rates of the specific product in the market so that one can remain well aware for the next time. Invoices are commonly printed on paper so that both buyers and sellers keep a record of the services they had with each other.
Download Free Invoice Templates in MS Word Format
Looking for a sophisticated and polished Invoice Template that will give your business a professional edge? Look no further than our collection of expertly crafted templates, available for download at the links provided below. Each template has been meticulously designed with a modern and elegant layout and is exclusively compatible with Microsoft Word. With even just a moderate familiarity with the program, you can effortlessly customize any of these templates to meet your exact specifications.

#1 – Creative Web/Graphics Design Services Invoice
When you purchase web or graphics services, you'll receive a receipt that reflects the price of your purchase. This invoice typically includes the company's logo and name at the top, followed by your name and the date of purchase. The breakdown of the services you've selected, along with the individual price of each service, will be listed below. By totaling these individual costs, you'll arrive at the total cost of your services. With this detailed invoice, you can easily keep track of the specific services you've received and the associated costs.
Watch the Making of this Template Design for the Graphic Designer in MS Word below
Video Source: https://www.youtube.com/watch?v=PLLTTDUH3xk
Download from the link below
#2 – Professional Photography Invoice Template for Your Business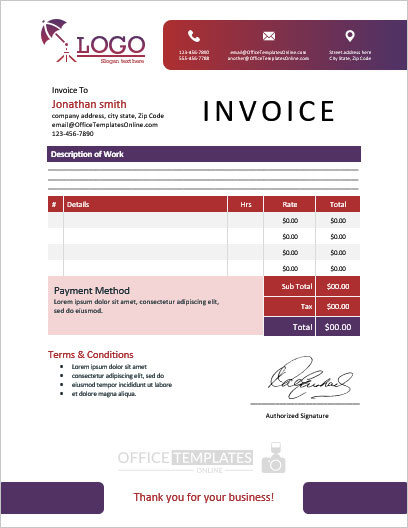 #3 – Streamlined Vehicle Sale Invoice
This template allows you to easily input buyer and seller information, as well as detailed information about the vehicle and its parts. With a sleek and modern design, this is perfect for all your vehicle sales needs. Say goodbye to tedious and time-consuming invoice creation and streamline your vehicle sales with our convenient and easy-to-use template.
#4 – Smooth and Simple Traveling Services Invoice
A travel invoice is a payment request made to a customer after receiving guidance from a professional travel agent. This can include services like ticketing, hotel bookings, and phone arrangements. Travel agents assist in planning your trip by providing guidance on various aspects of your travel. They help you find a hotel that fits your budget and location preferences and conduct research on your desired destination.
#5 – Invoice Template for Small Business Sales & Services
Small businesses are local shops that offer basic necessities to the people living in the locality. To keep track of their sales, business owners maintain invoices. These invoices reflect the purchase of goods made by an individual from the business owner and include the items purchased along with the quantity. The total cost of sales is calculated by adding up the prices of individual items sold by the store.
Watch the video and learn how to modify or design this template in MS Word
Video Source: https://www.youtube.com/watch?v=exJYAvX3NKk
Click the link below to download this Invoice
#6 – Simple and Effective Sales Invoice
Upgrade your sales transactions with our Sales Invoice Template! This professional-looking template is the perfect solution to document your sales in style. Keep track of all the essential information including items sold, quantity, and total cost with ease. Our template also includes space for buyer and seller details, special instructions, and terms and conditions. The best part? It's completely free to download and use! Upgrade your sales game today with our Sales Invoice Template.
#7 – Comprehensive Sales Invoice Template with Tax and Shipping Details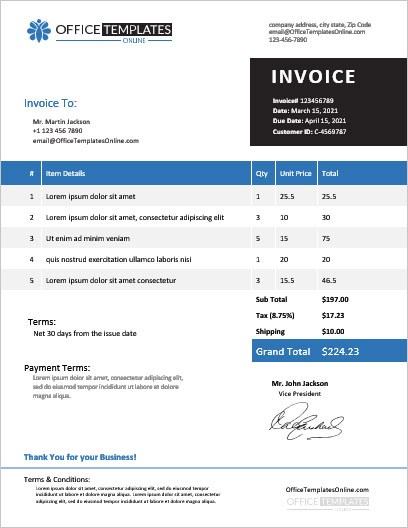 #8 – Minimalist Sales Invoice for Your Business Needs
#9 – Real Estate Consultancy Invoice Design to Keep Your Business Organized
When you work with a real estate consultant, they'll provide guidance and advice as you navigate the process of buying or selling a property. As with any consultant, there's a fee for their services, which is known as the consultancy fee. This fee is reflected in the consultancy invoice, which details whether the property was purchased or sold and the amount paid for the consultant's services. It also includes the date the deal was completed.
This Real Estate Consultancy Invoice Template is designed to help real estate consultants document their services and collect their fees. It includes spaces for buyer and seller information, property details, and consultancy fees. The invoice reflects whether the property was purchased or sold and the date on which the deal was completed. Download this free template now to streamline your billing process.
#10 – Pro Forma Invoice Template for Business Transactions
A pro forma invoice is an initial bill sent to the buyer prior to shipping or delivering goods. It includes a detailed breakdown of the purchase made and important information, such as weight and total cost of shipment. The expected delivery date and time are also included, and the document states the date of shipment. Finally, it specifies the name and address of the person or entity to which the goods are being shipped. With our Pro Forma Template in MS Word format, you can create professional invoices quickly and easily.
#11 – Easy-to-Use Plumbing Services Invoice
#12 – Convenient Hotel Stay & Service Invoice
#13 – Best Invoice Template for Freelance Writers and Creative Professionals
#14 – User-Friendly Freelance Service Invoice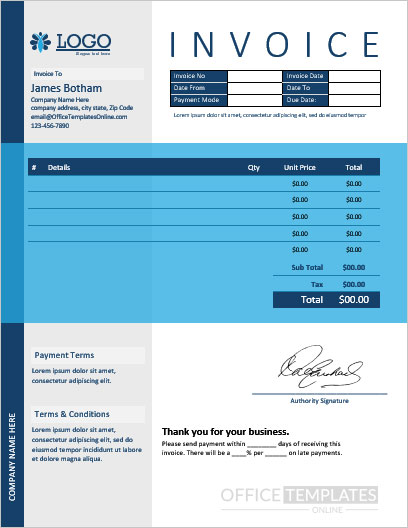 #15 – Fast and Efficient Electronic Repair Invoice Template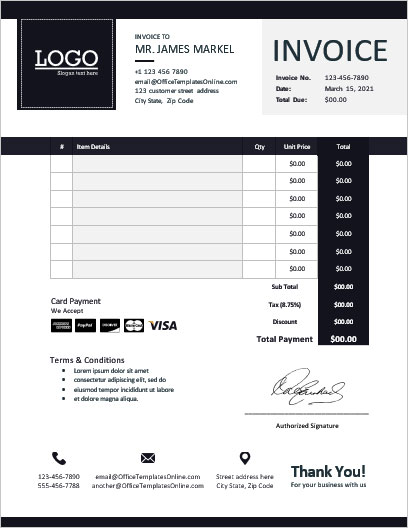 #16 – High-Quality Invoice Format for Digital Marketing Agencies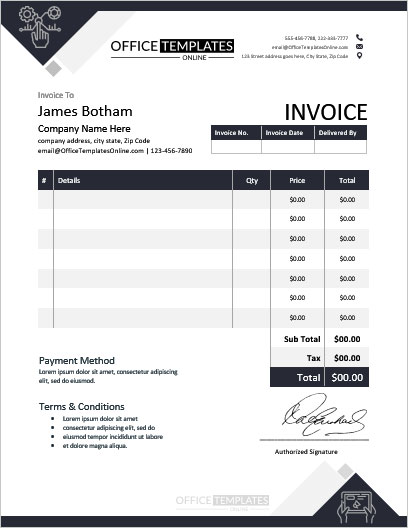 #17 – Professional Invoice Design for Construction Businesses
#18 – Comprehensive Computer Sales and Service Invoice
#19 – Charity Receipt Template to Support Your Cause
#20 – Business Sales Invoice to Boost Your Bottom Line
#21 – Blank Invoice Template to Customize and Meet Your Unique Business Needs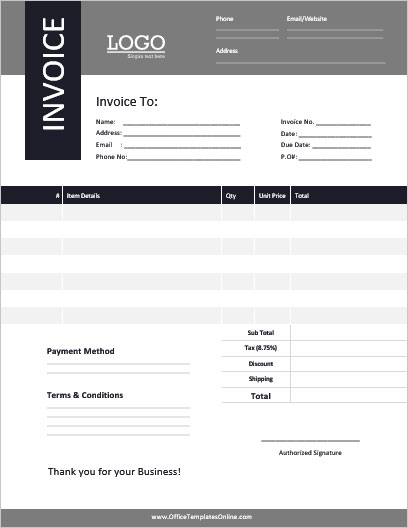 How to Use Our Free Invoice Templates for Your Needs
Using our invoice templates is simple and straightforward. Follow these steps to customize them for your business needs:
Download the template that best suits your business or service.
Open the template in Microsoft Word.
Replace the sample text with your business name, contact details, and logo.
Add your products or services and their respective prices.
Customize the colors, fonts, and layout to match your brand identity.
Save the customized template as a new file.
Send the invoice to your client or customer via email or print and mail it.
Tips for customizing your invoice template:
Keep the design simple and professional.
Include all necessary information, such as invoice number, date, and payment terms.
Use clear and concise language in your descriptions.
Provide a breakdown of the costs and any applicable taxes.
Make sure to proofread and double-check all details before sending the invoice.
By using our free and customizable invoice templates, you can streamline your invoicing process and impress your clients with professional and polished invoices.
Why Creating Invoices from Scratch is a Thing of the Past: Download Free Templates Now!
Using a readymade invoice template created in MS Word and available for free to download can be a game changer in terms of saving your time. Here are 12 reasons why:
Saves you the hassle of creating an invoice from scratch, which can take hours of your precious time.
You can use a pre-designed template that is already optimized for easy customization and input of your business details, which will save you time in formatting.
It allows you to focus on other important aspects of your business rather than spending time creating invoices.
A professional-looking invoice template can enhance your business image and help you impress your clients.
With a ready-made template, you don't need to worry about the structure and formatting of your invoice as it is already taken care of.
It's easy to use, and you don't need to have any special skills or expertise in MS Word to work with it.
You can quickly input all the necessary information, such as client details, billing address, and product or service details, in a fraction of the time it would take to do it from scratch.
You can customize the template to suit your specific business needs, such as adding a logo, changing the color scheme, or adjusting the font size and style.
It's free to download, which means you can save money that you would otherwise have to spend on professional invoicing software or hiring a designer.
It's easily accessible, and you can download it from various sources online or through MS Word itself.
It's available in various formats, such as DOC, DOCX, and PDF, which means you can choose the format that suits you best.
Using a ready-made template can help you avoid mistakes and errors that can occur when creating invoices manually.
The best way to use a readymade invoice template is to customize it to suit your specific business needs. Add your company logo and contact details, adjust the layout and color scheme, and input the necessary information for each client or project. Make sure to save a copy of the template with your customized details so that you can easily use it for future invoices.
Why Invoicing is Crucial for Your Business
Invoicing is an essential aspect of any business, regardless of its size or industry. It is a formal way to document the transaction between the seller and the buyer. Invoices serve as proof of sale, a record of payment, and a reminder of any outstanding debts.
Imagine you operate a small business that sells handmade crafts. You received an order for ten pieces from a customer. You delivered the goods, but the customer hasn't paid you yet. How will you keep track of this transaction? This is where invoicing comes in handy.
By sending an invoice to the customer, you have proof of the sale and the agreed-upon payment terms. It also serves as a reminder to the customer to pay their outstanding debt. Invoicing can be done manually or using accounting software like QuickBooks, Wave, or FreshBooks.
Invoicing has become even more crucial for businesses since the pandemic hit. With remote work becoming the norm, electronic invoicing has become the preferred method of payment. Moreover, invoicing has proven to be a useful tool for cash flow management.
Invoicing is crucial to the success of your business, and a well-managed invoicing system can make a significant difference in your bottom line. So, ask yourself, is your business invoicing system up to par?
What are Different Types of Invoice?
There are different kinds of invoices based on the goods or services provided. Below is a list of a few commonly used terms.
Sale invoice
It contains the lists of items the individual purchase from the particular store. The sale invoice is available in printed form. The format includes the company/store logo at the top, lists of purchases in the middle, and the total bill at the end with pleasant remarks. It is made up of a special type of paper that defines its beauty with a lovely glow.
Service Invoice
Invoices are of different types, designs, varieties, and forms. Service Invoice is mandatory when we get some kind of professional, educational, design, non-profit, creative, technical, information technology, or any other service. It can also include the lists of specific parts whose service is done plus the demolished parts which are replaced by new ones. Invoices play an important role in defining daily expenditures.
Hourly Invoice
The paper contains the lists of working hours per rate known as Hourly Invoices. This keeps the record of how much time the person worked and how much the rate per hour varies. The individual works and get the incentive of that but the way of keeping the record of that is managed by the invoices.
Tax invoice
A tax invoice is that which is sent by the enumerated dealer to the buyer showing the amount of tax owed. It includes the description, quantity, value of goods and services, and the tax charged. Also, it contains details of various products with their prices. We are highly keen on providing invoices that cast a magnificent influence on the environment.
Invoices are supportive in everyday life. It alerts the person about the deals he had done in the past. The end line usually contains the disclaimer about the copyright claim. The beauty of the invoice shows its uniqueness through its appearance. We are unique in providing invoices that are dynamic in their appearance and grab the attention of the people. Our main focus is to provide the type of invoices that are up to the mark and serve the interest of the people and the outside viewer.
Best Practices for Creating Clear and Concise Invoice Terms and Conditions
As a business owner, it's vital to have clear and concise terms and conditions to avoid misunderstandings and disputes with clients during the invoicing process. But creating them from scratch can be overwhelming. No worries! We've got you covered. We've curated a collection of 20 professionally formatted sample terms and conditions that you can modify to your specific needs. Pick the ones that align with your business and use them as a foundation to write your own agreements. Let's simplify invoicing together!
Payment terms – including due dates, late fees, and acceptable payment methods
Itemized list of products or services being provided
Delivery terms – including shipping methods, delivery timeframes, and any associated costs
Return or refund policies – including any conditions for returning products or requesting refunds
Warranty or guarantee policies – including any limitations or exclusions
Ownership and intellectual property rights – including who retains ownership of the products or services being provided
Confidentiality and non-disclosure agreements – including any restrictions on sharing or disclosing confidential information
Indemnification clauses – including who is responsible for any damages or losses incurred as a result of using the products or services being provided
Force majeure clauses – including any circumstances that may result in a delay or inability to provide the products or services
Dispute resolution processes – including how disputes will be resolved, such as through mediation or arbitration
Termination clauses – including any conditions for terminating the agreement, such as breach of contract
Limitations of liability – including any limits on the amount of damages that can be recovered
Jurisdiction and governing law – including which laws will apply and where any legal disputes will be resolved
Independent contractor clauses – including any statements clarifying that the service provider is an independent contractor and not an employee
Non-compete or non-solicitation agreements – including any restrictions on competing or soliciting business from clients or customers
Assignment or transferability clauses – including any conditions for assigning or transferring the agreement to another party
Entire agreement clauses – including any statements that the written agreement constitutes the entire agreement between the parties
Amendment or modification clauses – including any conditions for modifying or amending the agreement
Notices clauses – including how notices will be delivered and to whom they will be addressed
Signatures and execution – including how the agreement will be signed and executed by both parties.