Invoicing is a crucial part of running a successful business, but it can be time-consuming and tedious. That's where our professionally designed invoice templates come in handy! We're thrilled to offer six different templates that can be fully edited and printed using Microsoft Word. Whether you're in Purchasing, Solar Traders, Trucking Services, or Moving Services, or you're an Independent Contractor or have a Professional Commercial business, we've got you covered. Our templates are perfect for any business looking to create a streamlined and efficient invoicing system. You can customize each invoice with your branding and essential information, saving you time and effort. Simplify your invoicing process and download our templates today!
"An invoice is a document issued to the buyer from the seller for the collection of payment. It lists down the goods or services that businesses have provided to the customer."
Invoicing is a crucial accounting process that bound the customers to an obligation to pay within a definite period. Invoices can also be used as legal proof of buying-selling and comprise details related to the products or services to request payment from clients
Download Invoice Templates for Microsoft Word
On this page, you can download professional invoice designs, formats, and templates created in Microsoft Word, for absolutely free of cost. These Invoice templates are formatted for different purposes like Purchasing, Moving services, solar traders, trucking companies, contractors, and commercial services.
#1 – Purchasing Invoice Template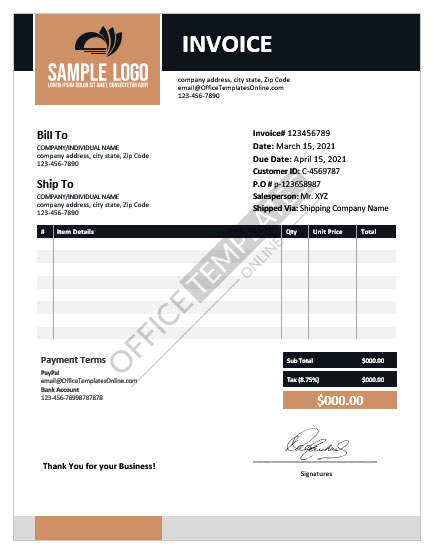 #2 – Invoice Format for Solar Traders
#3 – Clean & Elegant Invoice Design for Trucking Services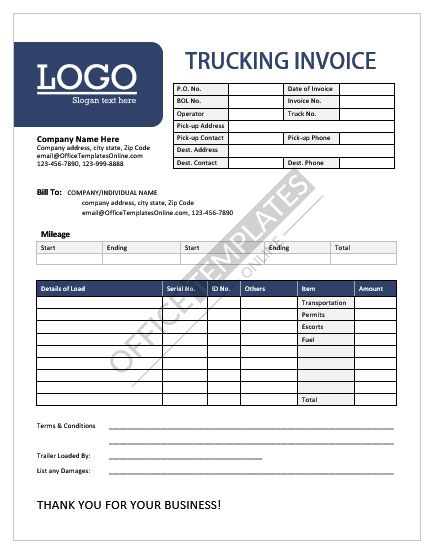 #4 – Best for Moving Services
#5 – Independent Contractor Invoice Format
#6 – Professional Commercial Invoice
The Evolution of Invoicing: From Mesopotamia to Modern Times
The usage of carved stone and clay invoices dates back to 500 BC in Mesopotamia, indicating the early origins of invoicing. As civilizations progressed, invoices were made on paper or animal skin, further highlighting the evolution of invoicing practices. However, in recent times, invoices have undergone a digital transformation, becoming electronic, online, or mobile-based. This has not only simplified the invoicing process but also enhanced its functionality, given its critical role in the efficient operation of businesses.
The shift to electronic invoicing has eliminated manual errors, reduced the time taken to process invoices, and increased transparency in financial transactions. This digital transformation has been fueled by advancements in technology, such as cloud-based computing, machine learning, and blockchain, which have further revolutionized invoicing practices. As businesses continue to embrace these digital solutions, invoicing is expected to become even more streamlined and automated, further driving business efficiency.
How does invoicing work?
Invoicing is a crucial aspect of any business transaction, and understanding how it works is essential. Here are ten points that explain how invoicing works:
The invoicing process begins when a customer decides to purchase goods or services from a specific company or business.
The details of the goods or services, shipment address, shippers' details, and customer details are documented by the company manually or using the software.
The invoice is then generated and issued to the customer either electronically or by hand.
The invoice contains all the necessary information, such as the description of goods or services, price, taxes, and payment terms.
The customer receives the invoice and has to pay for the goods or services within a specified time frame.
Once the payment has been made by the customer, the transaction is completed.
Invoicing software can automate the process, making it more efficient and reducing the likelihood of errors.
Many businesses offer online payment options, making it easier for customers to pay their invoices.
Invoices are usually tracked and managed using accounting software or a customer relationship management system.
Accurate and timely invoicing is crucial for maintaining healthy cash flow and building strong relationships with customers.
Benefits of Using Invoices for Record-Keeping
Invoices play a vital role in accounting and financial management for businesses of all sizes. They serve as an essential tool for recording and tracking payments, outstanding sales, and payments that are yet to be received. Invoices not only help monitor cash flow but also help predict future revenue and expenses.
To illustrate, suppose a business has a monthly subscription service for which it bills customers at the beginning of each month. By tracking the invoice payments received each month, the business can project future revenue for the upcoming months. Additionally, invoices can help identify any late payments, allowing the business to take appropriate action to collect the overdue amount.
Here are some key points that highlight the importance of invoices in accounting:
Invoices serve as legal records of transactions between the business and the customer.
They help manage cash flow and ensure timely payment from customers.
Invoices provide a detailed breakdown of the products or services provided, their prices, and any applicable taxes or fees.
Invoices can include payment terms and conditions, such as late fees or discounts for early payment.
They make the process of filing taxes easier and more accurate, as they provide a clear record of all transactions and payments.
What does an invoice contain?
An invoice is an essential document that records the details of a transaction between a seller and a buyer. It helps businesses keep track of their sales and financial transactions. A typical invoice contains the following components:
Company details: The name, logo, address, zip code, email, and contact number of the seller.
Customer details: The shipping address, customer name, contact number, email, and any other relevant information for the buyer.
Unique serial number: Each invoice should have a unique serial number to keep track of the transactions. This number should be sequential and not repeated for any other invoice.
List of items/goods: The quantity, price, and total amount of the goods or services sold.
Payment terms: This section outlines the payment terms, such as the due date and the mode of payment, as well as any penalties or charges for late payment.
Tax and additional charges: This section includes details of any taxes or additional charges that the buyer needs to pay.
Invoice date and payment due date: The date when the invoice was issued as well as the date when payment is due.
Signature: The signature of the company owner or CEO validates the invoice and confirms the accuracy of the details mentioned.
Billing/payment details: The bank name, mode of payment, and other relevant billing/payment details.
Thank you note: A personalized thank you message to show appreciation to the customer and build a positive relationship.
These components work together to create a professional and accurate invoice that helps both the seller and buyer keep track of the transaction.
Difference between a receipt and an invoice?
An invoice is generated to request payment for several things, whereas a receipt is created to act as proof of a payment that has been made for goods or services. In addition, an invoice contains more legal details than a receipt does. An invoice is generated before the payment has been made, while a receipt is made after the payment has been done.
What makes them alike is their ability to play their role in the documentation of a business's accounting record and sales.
Tips for Using Our Invoice Templates to Boost Your Business Efficiency
Invoicing is an essential task for any business, and it's crucial to have a professional and well-designed invoice to ensure a smooth billing process for both you and your clients. Our readymade invoice templates are here to simplify this process for you.
Our templates are fully editable and customizable, so you can easily input all the necessary details for your business, including the goods or services provided, the shipping address, and the customer's information. Once you've filled in all the required fields, you can print the invoice on paper or save it as a PDF file and send it to your client.
Our templates are designed in Microsoft Word, making them user-friendly and accessible to everyone. We offer six different templates for various types of businesses, from Purchasing and Solar Traders to Trucking Services and Moving Services. We also have templates for Independent Contractors and Professional Commercial businesses.
By using our templates, you can save time and effort that you would otherwise spend designing and formatting invoices. Instead, you can focus on other critical aspects of your business while still ensuring that your invoicing process is professional and efficient.
Examples of Thank You Notes to Use in Your Next Invoice
Here are 24 thank you notes that can be used to write at the end of an invoice:
"Thank you for your prompt payment. We appreciate your business!"
"It was a pleasure doing business with you. Thank you for your purchase!"
"Thank you for your order. We hope you enjoy your purchase!"
"We appreciate your continued patronage. Thank you for your business!"
"Thank you for choosing us. We value your business and look forward to serving you again!"
"Your business is important to us. Thank you for your purchase!"
"Thank you for your trust in our products/services. We appreciate your business!"
"We are grateful for your business. Thank you for your order!"
"Thank you for your loyalty. We look forward to serving you again!"
"We appreciate your business and hope to see you again soon. Thank you!"
"Thank you for choosing our company. We appreciate your business!"
"It was a pleasure working with you. Thank you for your business!"
"Your satisfaction is our priority. Thank you for your purchase!"
"We value your trust in us. Thank you for your business!"
"Thank you for supporting our business. We appreciate your purchase!"
"We are honored to have you as our customer. Thank you for your business!"
"Thank you for your order. Your business is important to us!"
"We appreciate your business and look forward to serving you again. Thank you!"
"Thank you for your trust in our products/services. We appreciate your business!"
"We are grateful for your continued patronage. Thank you for your business!"
"We appreciate your feedback and value your business. Thank you!"
"Your satisfaction is our top priority. Thank you for your purchase!"
"Thank you for your loyalty. We look forward to serving you again!"
"We are thankful for your business and hope to see you again soon. Thank you!"
Helpful Video Tutorial
Watch the video below to learn How to Create a Sales Invoice in MS Word