6+ Invoice Templates in MS Word for Free
"An invoice is a document issued to the buyer from the seller for the collection of payment. It lists down the goods or services that businesses that have been provided to the customer."
Invoicing is a crucial accounting process that bound the customers in an obligation to pay within a definite period. Invoices can also be used as legal proof of buying-selling and comprise of details related to the products or services to request payment from clients
Download Invoice Templates for Microsoft Word
On this page, you can download professional invoice designs, formats, and templates created in Microsoft Word, for absolutely free of cost. These Invoice templates are formatted for different purposes like Purchasing, Moving services, solar traders, trucking companies, contractors, and commercial services.
#1
Purchasing Invoice Template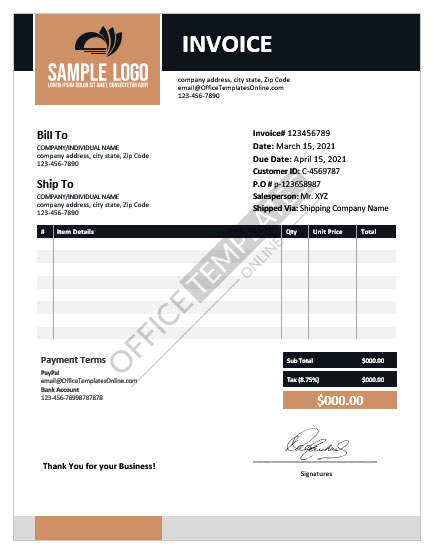 #2
Invoice Format for Solar Traders

#3
Clean & Elegant Invoice Design for Trucking Services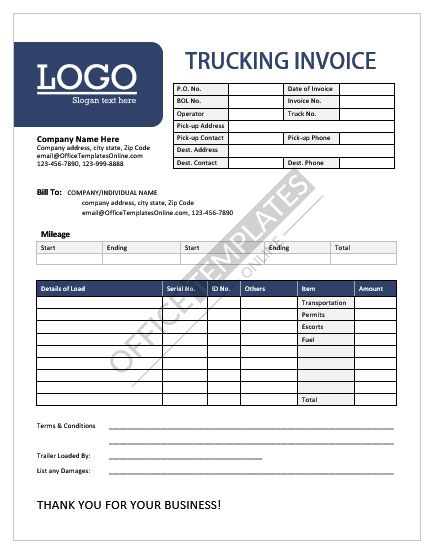 #4
Invoice Template for Moving Services
#5
Independent Contractor Invoice Format
#6
Professional Commercial Invoice Template
History of invoices:
Evidence of the usage of carved stone and clay invoices has been found as early as 500BC in the region of Mesopotamia followed by invoices made on paper or animal skin. Fast-forward to modern times, invoices have been modernized into electronic, online, or mobile-based ones. This has led to the process becoming easier and becoming more functional owing to its vitality for businesses.
How does invoicing work?
A customer chooses a specific company or business and decides to shop goods or services from them
The details of goods or services, shipment address, shippers' details, and customer's details are all documented by a company manually or making use of software
The invoice is issued to the client electronically or by-hand
The customer receives the invoice and has to pay for the goods or services within a specified time
Once the payment has been made by the customer the transaction is completed.
Purpose of invoices:
In accounting, invoices are used to measure and keep a record of payments that are due, outstanding sales, or payments meant to be received. These help track and predict the cash entry and flow in the business and help assume when the sale is due. Moreover, invoices are issued to manage cash flow and list out the terms and conditions for the customers. Invoices make the process of filing taxes convenient.
What does an invoice contain?
Company details: Company name, logo, address, zip code, email, contact number, etc.
Customer's details: shipping address, customer's name, contact number, email, etc.
A unique serial number for each invoice
List of the items/goods: Quantity, Price, total amount, etc.
Terms and conditions of the payment
Tax and additional charges details
The date when the invoice was issued as well as the date when payment is due
Signature of the company owner/CEO
Billing/Payment details: Bank name, mode of payment
A nice thank you note or message for the customer.
Difference between receipt and invoice?
An invoice is generated to request payment for several things, whereas a receipt is created to act as proof of a payment that has been made for goods or services. In addition, an invoice contains more legal details than a receipt does. An invoice is generated before the payment has been made, while a receipt is made after the payment has been done.
What makes them alike is their ability to play their role in the documentation of a business's accounting record and sales.