12+ FREE Quotation Templates for Every Business and Individual Need
On this page, you can download 12 professionally designed quotation templates in MS Word format for free! Whether you're running a construction business, event planning service, hotel, interior design firm, or any other type of business that requires quoting, our templates are designed to help you streamline your quoting process and impress your clients with a sleek and professional appearance. With templates for hourly pricing, maintenance work, sales, services, and general quotations, you're sure to find a template that meets your unique business needs. And the best part? All of our templates are free to download, easy to customize, and compatible with Microsoft Word.
Quotations, also known as 'sales quotes' are provided by businesses providing services to their clients in the form of quotes. These are offered to the clients asking for them to bid an offer for the products or services provided. Quotations are provided in various forms such as hard fillable sheets or emails sent out to the clients.
To put it out there in simple words:
"A quotation will let your potential client know how much will the services or products you offer will cost him/her."
Quotations are required to contain all the necessary information and details that the client might potentially be looking for. This is why it requires a great amount of time and effort to prepare these professional 'estimates' or 'proposals.' The reason why your quote must be able to stand out from the variety of ones that clients have at their hands is that the clients are looking at all of these at the same time. The ability to leave an impression on the client and make them believe that this is the best price quote they have has to be your priority!
Even after you have covered all the vital information that you must have, you must stay prepared to provide any set of additional information the client might ask for, at any stage. Most of the time the quotes produced for all the clients are almost the same with standardized basic information, however, changes and additions might be made when the need arises.
Download Templates
Download professionally designed Quotation Templates in Microsoft Word with beautiful layouts and colors for absolutely FREE of cost. All of these are formatted for A4 paper size (8.27″ x 11.69″). If you need to print it for a US Letter or any other paper size, you can easily amend any of these to do that.
#1 – Construction Quotation
#2 – Event Quotation Format
#3 – Freelance Quotation
#4 – Hotel Quotation Design
#5 – Hourly Price Estimate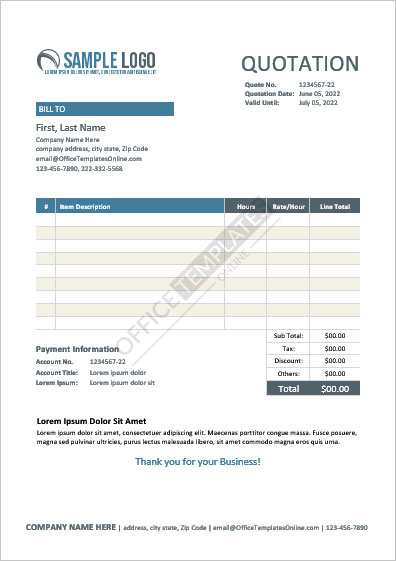 #6 – Interior Design Work Estimate Format
#7 – Labor Quotation
#8 – Maintenance Work Estimate Design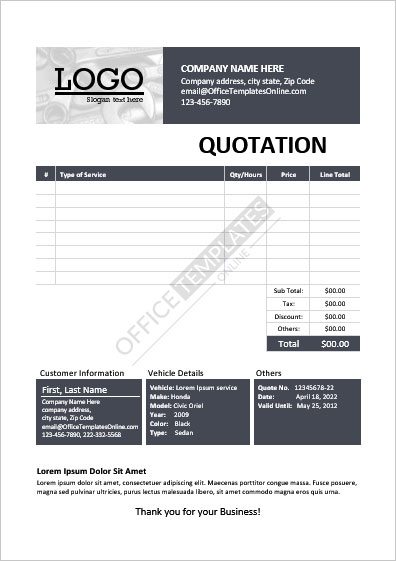 #9 – Price Quotation
#10 – Sales Quotation
#11 – Service Quotation
#12 – General Quotation Template
What information does a standard sales quotation typically contain?
When a client asks for a business quote, he/she expects that yours will very likely have material on the details of products or services offered, the price package that you have, the guaranteed and warranty packages that you might offer (if any), and a legally binding confidentiality agreement. This agreement establishes that the information provided by the company to the client will be kept private and will not be disclosed to other party of parties.
Quotations, as such are not considered to be "legal" documents unless and until they have been made an official part of the contract. However, after the quotation has been accepted it will be generally believed that the client has officially agreed to the price offered and has agreed to the additional terms and conditions.
Imagine if every time you have a potential agreement before you, you go on beginning from scratch and prepare an individualistic and customized quote for each of your clients. Time-taking, right?!
Well, the solution to this is to come up with a standard document that has all the necessary information and helps you reduce your time and energy. For this purpose, you can download one of the templates we have carefully created for you and use them whenever you have to. These templated can be easily edited to meet all your needs for example if you happen to update the price criteria or other policies. Why go on creating a new one every single time?!
Your ideal business quote must have the following information in order to give your potential customers a clear idea of what they are getting into:
The price: Obviously, the sales quotation is incomplete without the price. This will mean the overall amount of money that the client is meant to pay to you in return for the products or services that you have provided. The price statement will look much better if it has been broken down into its constituent parts telling the cost incurred on various segments, such as on labor, manufacturing, transport, etc. The better the price statement, the more impressive your quote looks!
Details of the company: This includes details such as the name of the business, contact details (including official address, email, contact number, fax, website, social media handles, etc.), company slogan, logo, mission, and the registration ID of the company.
Details of the client/customer: It is very important that the client's details are carefully filled out to avoid any inconvenience in the future. This includes the name, company/business name, and contact details (including official address, email, contact number, fax, website, social media handles, etc.).
Description: Just like it is done in a product/service receipt or invoice, a quotation form will also require you to describe the product or services that the client is receiving. This will make it easier for the client as well as the offering company to get context into the deal made.
Special terms and conditions or special instructions: This might be an optional part, but a quotation that clearly states the instructions and conditions is considered an effective one. This might include instructions such as: "please, return the quotation form to the company via email, fax, or post once read, agreed, and signed." The terms might state: "the quote form must not be considered an invoice or a receipt and is purely an estimate or proposal on part of the company."
Signing section: The client, in this section, is asked to sign on part of the agreeing authority to sign after agreeing to the proposal made.
Additional details: There are various details that are vital in every quote document, such as the date of the quotation, the term for which the quote is valid, the serial number of the quote, and a unique ID for the customer or the individual proposal.
What are a few tips to make a quotation win a wider customer base and build a good reputation?
When it comes to sales and supplies, clear communication is essential to avoiding misunderstandings and building trust with customers. While verbal communication may seem like the easiest and most efficient option, relying on written quotations can actually be more effective. Here are a few tips to help make your quotations stand out, win a wider customer base, and build a good reputation:
Use your company letterhead to give your quotation a professional look.
Structure the quotation in a clear and organized way, and be sure to double-check your spelling and punctuation.
Tailor each quote to the specific needs and requirements of the customer, rather than relying on standardized quotations.
Include additional clauses that state your risks and obligations to prevent misunderstandings or legal issues down the line.
By following these tips, you can create a winning quotation that sets you apart from the competition and helps you succeed in your business endeavors. Not only are written quotations more trustworthy and legally binding than verbal agreements, but they can also help you showcase your professionalism and attention to detail.
Advantages of Using Graphically Appealing Quotation Templates
When it comes to creating a quotation, the design and layout are just as important as the content itself. A well-designed quotation not only looks more professional, but it can also help you win more business by making a great first impression on potential customers. Here are a few reasons why a beautiful and graphically appealing quotation can be so effective:
It showcases your professionalism: When a customer receives a beautifully designed quotation, it instantly conveys a sense of professionalism and attention to detail. This can help build trust with the customer and make them more likely to choose your business over others.
It makes the information easier to read: A well-designed quotation is easier to read and understand than a poorly formatted one. By breaking up the text into smaller chunks, using bullet points, and highlighting important information, you can make it easier for the customer to grasp the key details of your proposal.
It sets you apart from the competition: If your competitors are all using basic, unappealing quotation templates, using a beautifully designed one can help you stand out and make a memorable impression on potential customers. This can give you a competitive edge and increase your chances of winning the business.
With these factors in mind, it's clear that investing in a well-designed quotation template is a smart move for any business. Whether you're a freelance writer, a construction company, or a hotel owner, having a professional-looking quotation can help you win more business and build a stronger reputation in your industry.
That's why we've put together a collection of 12 pre-designed, ready-to-use quotation templates that are formatted in MS Word. Whether you need a template for a construction project, an event proposal, or a general sales quotation, we've got you covered. With our templates, you can create a professional-looking quotation in minutes, without having to spend hours designing it yourself. So why not download our templates today and take the first step towards winning more business with a beautifully designed quotation?
20 Sample Quotation Terms and Conditions that Protect Your Business
When writing a quotation, including clear and concise terms and conditions can help build trust with your customers and protect your business. Some key elements to consider include payment terms, delivery timelines, warranties, and any limitations or exclusions on liability. It's also important to use language that is easy to understand and avoid any ambiguity. By taking the time to create detailed and professional terms and conditions, you can demonstrate your commitment to quality and ensure that both you and your customers have a clear understanding of the expectations and responsibilities involved in the transaction.
"All prices quoted are exclusive of taxes and duties."
"This quotation is valid for a period of 30 days from the date of issue."
"Delivery dates are subject to change based on unforeseen circumstances."
"Payment is required in full prior to delivery of goods."
"Any changes to the original order must be made in writing and approved by both parties."
"Cancellation of the order must be made in writing and may result in a cancellation fee."
"Ownership of goods does not pass to the buyer until payment has been received in full."
"All goods supplied remain the property of the supplier until paid for in full."
"The supplier reserves the right to charge interest on overdue accounts."
"Warranties are subject to the manufacturer's terms and conditions."
"The supplier is not liable for any loss or damage arising from the use of the goods."
"All intellectual property rights remain the property of the supplier."
"The supplier is not responsible for any delays caused by third-party suppliers."
"Any disputes arising from this agreement will be resolved through mediation."
"The supplier reserves the right to terminate this agreement if the buyer breaches any terms and conditions."
"The supplier is not responsible for any loss or damage to goods during transit."
"The buyer is responsible for obtaining any necessary permits or licenses for the use of the goods."
"The supplier is not liable for any indirect, incidental, or consequential damages."
"The buyer is responsible for inspecting the goods upon delivery and reporting any damages within 24 hours."
"The supplier is not responsible for any defects caused by improper use, storage, or maintenance of the goods."
Helpful Video Tutorial
Watch the video below to learn How to Design a Quotation/Estimate in MS Word/