12+ Quotation Templates for Businesses & Individuals – 100% Free
Quotations, also known as 'sales quotes' are provided by businesses providing services to their clients in the form of quotes. These are offered to the clients asking for them to bid an offer for the products or services provided. Quotations are provided in various forms such as hard fillable sheets or emails sent out to the clients.
To put it out there in simple words:
"A quotation will let your potential client know how much will the services or products you offer will cost him/her."
Quotations are required to contain all the necessary information and details that the client might potentially be looking for. This is why it requires a great amount of time and effort to prepare these professional 'estimates' or 'proposals.' The reason why your quote must be able to stand out from the variety of ones that clients have at their hands is that the clients are looking at all of these at the same time. The ability to leave an impression on the client and make them believe that this is the best price quote they have has to be your priority!
Even after you have covered all the vital information that you must have, you must stay prepared to provide any set of additional information the client might ask for, at any stage. Most of the time the quotes produced for all the clients are almost the same with standardized basic information, however, changes and additions might be made when the need arises.
Download Templates
Download professionally designed Quotation Templates in Microsoft Word with beautiful layout and colors for absolutely FREE of cost. All of these are formatted for A4 paper size (8.27″ x 11.69″). If you need to print it for a US Letter or any other paper size, you can easily amend any of these to do that.
#1 – Construction Quotation
#2 – Event Quotation Format
#3 – Freelance Quotation
#4 – Hotel Quotation Design
#5 – Hourly Price Estimate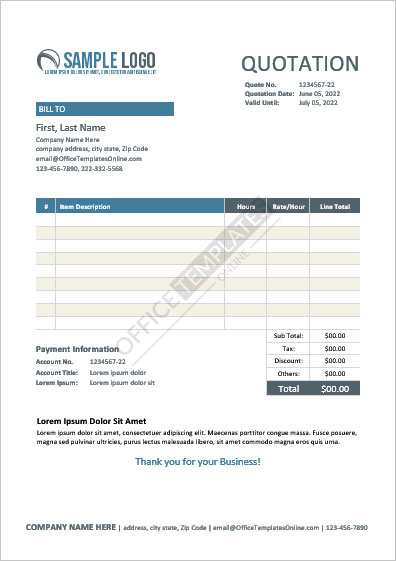 #6 – Interior Design Work Estimate Format
#7 – Labor Quotation
#8 – Maintenance Work Estimate Design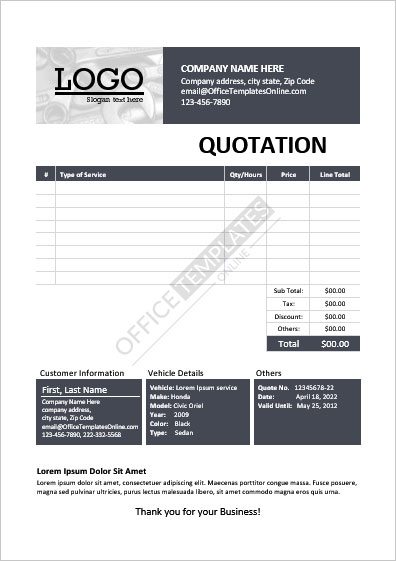 #9 – Price Quotation
#10 – Sales Quotation
#11 – Service Quotation
#12 – General Quotation Template
What information does a standard sales quotation typically contain?
When a client asks for a business quote, he/she expects that yours will very likely have material on the details of products or services offered, the price package that you have, the guaranteed and warranty packages that you might offer (if any), and a legally binding confidentiality agreement. This agreement establishes that the information provided by the company to the client will be kept private and will not be disclosed to another party of parties.
Quotations, as such are not considered to be "legal" documents unless and until they have been made an official part of the contract. However, after the quotation has been accepted it will be generally believed that the client has officially agreed to the price offered and has agreed to the additional terms and conditions.
Imagine if every time you have a potential agreement before you, you go on beginning from scratch and prepare an individualistic and customized quote for each of your clients. Time-taking, right?!
Well, the solution to this is to come up with a standard document that has all the necessary information and helps you reduce your time and energy. For this purpose, you can download one of the templates we have carefully created for you and use them whenever you have to. These templated can be easily edited to meet all your needs for example if you happen to update the price criteria or other policies. Why go on creating a new one every single time?!
Your ideal business quote must have the following information in order to give your potential customers a clear idea of what they are getting into:
The price: Obviously, the sales quotation is incomplete without the price. This will mean the overall amount of money that the client is meant to pay to you in return for the products or services that you have provided. The price statement will look much better if it has been broken down into its constituent parts telling the cost incurred on various segments, such as on labor, manufacturing, transport, etc. The better the price statement, the more impressive your quote looks!
Details of the company: This includes details such as the name of the business, contact details (including official address, email, contact number, fax, website, social media handles, etc.), company slogan, logo, and mission, and the registration ID of the company.
Details of the client/customer: It is very important that the client's details are carefully filled out to avoid any inconvenience in the future. This includes the name, company/business name, contact details (including official address, email, contact number, fax, website, social media handles, etc.).
Description: Just like it is done in a product/service's receipt or invoice, a quotation form will also require you to describe the product or services that the client is receiving. This will make it easier for the client as well as the offering company to get a context into the deal made.
Special terms and conditions or special instructions: This might be an optional part, but a quotation that clearly states the instructions and conditions is considered an effective one. This might include instructions such as: "please, return the quotation form to the company via email, fax, or post once read, agreed, and signed." The terms might state: "the quote form must not be considered an invoice or a receipt and is purely an estimate or proposal on part of the company."
Signing section: The client, in this section, is asked to sign on part of the agreeing authority to sign after agreeing to the proposal made.
Additional details: There are various details that are vital in every quote document, such as the date of the quotation, the term for which the quote is valid, the serial number of the quote, and a unique ID for the customer or the individual proposal.
What are a few tips to make a quotation win a wider customer base and build a good repute?
While most of the sales and supplies around the country are done through verbal communication, these lead to confusion and misunderstandings. You are therefore recommended to rely on written quotations that are more trustworthy, legally binding, and clear.
Make your quotation look professional by using your company letterhead, a formatted and organized structure, and careful spelling and punctuation.
No wonder you want to rely on standardized quotations, each must, however, be tailored to every separate customer's needs and requirements.
Don't forget to add additional clauses that state your risks and obligations.