5+ Free Resume Templates for Teachers in MS Word
Hey there, teachers-to-be! Welcome to our page of awesome and free resume templates in MS Word format, designed exclusively for teachers!
Are you a bit nervous about landing your dream job in the education industry? Fret not, my dear friend! Our collection of five professionally designed templates will give you an edge in the competitive job market. No need to pull your hair out formatting your resume for hours on end. Simply pick the template that catches your eye, customize it to your liking, and voila! You're ready to impress potential employers with your amazing skills and experience. So, what are you waiting for? Scroll down and feast your eyes on our fabulous resume thumbnails. Go ahead and download your favorite templates today, free of charge! Let's get that dream job, shall we?
Our templates are specifically designed for teachers and include features that highlight your skills and experience in the best possible light. The Best for Elementary School Teachers template features a playful design with colorful accents, while the High School Teacher Resume Format is sleek and professional. If you're a preschool teacher, the Designed for Preschool Teachers template is a great choice with its bright, cheerful layout.
The Art Teacher Resume Format is perfect for creative types, with an emphasis on visual elements. And if you're an English teacher, the Specially Designed for English Teachers template is ideal, with a clean, modern design. Each template is fully customizable in MS Word, so you can make it your own with ease. Download your favorite template today and create a resume that will help you stand out in the job market!
Download Free Resume Templates in Word Format
We know job hunting can be a real drag, especially when the competition is tough. But fear not, because we've got your back with our awesome sample resumes! Your resume is like a superhero's utility belt – it's your most powerful tool in the fight for your dream job. That's why we've curated a collection of the best, most stunningly designed templates that you can download for free in Microsoft Word. Scroll down from this point to download your favorite template today and start your journey toward job search victory!
#1 – Best for Elementary School Teachers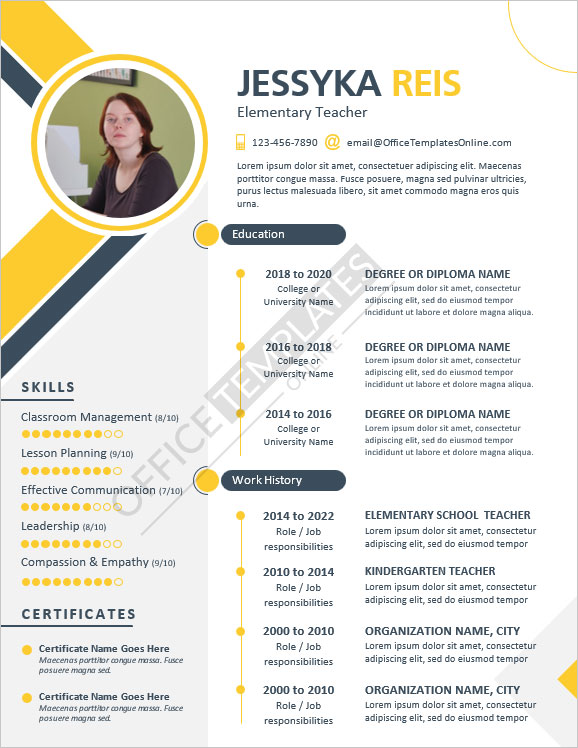 #2 – High School Teacher Resume Format
#3 – Designed for Preschool Teachers
#4 – Art Teacher Resume Format
#5 – Specially Designed for English Teachers
Ready-to-Use vs. Custom-Made: Which is Right for You?
Save time and make your job search easier with our comparison of using a readymade resume template versus creating a resume from scratch.
| | Readymade Resume Template | Creating from Scratch |
| --- | --- | --- |
| Time and Effort | Saved time and effort | Time-consuming |
| Professional Design | Consistently professional | Design skills required |
| Customization Options | Easy to customize | Limited customization |
| Applicant Tracking | Optimized for ATS | No ATS optimization |
| Creative Expression | Limited creativity | Unlimited creativity |
| Confidence Boost | Ready to impress | Uncertainty |
Using a readymade resume template can save you time and effort, as well as provide a consistently professional design that would otherwise require advanced design skills. Additionally, templates offer easy customization options that are limited when creating a resume from scratch.
Templates also allow for the optimization of applicant tracking systems (ATS) used by many employers. While creating a resume from scratch can provide unlimited creative expression, it also comes with the uncertainty of whether it will impress potential employers. With a readymade template, you can be ready to impress with a confidence boost.
Making Your Teacher Resume Pop: Unique Ways to Showcase Common Skills
Want to make sure your resume stands out from the rest? Check out this table where we break down some common teacher skills and show you how to present them in a badass way. Impress those hiring committees and get that dream job!
| Skills | Ordinary Way to Add | Attractive Way to Add |
| --- | --- | --- |
| Classroom management | "Managed a classroom of 30 students" | "Successfully created and implemented classroom management strategies resulting in 80% decrease in behavioral incidents" |
| Lesson planning | "Planned daily lessons for students" | "Designed and executed dynamic lesson plans incorporating interactive activities resulting in a 25% increase in student engagement" |
| Differentiated instruction | "Provided differentiated instruction to students of various learning levels" | "Tailored instruction to meet diverse student needs resulting in a 35% increase in academic achievement" |
| Communication | "Communicated with students and parents on a regular basis" | "Established effective and consistent communication channels with students and parents resulting in a 50% increase in parent involvement" |
| Curriculum development | "Developed and implemented curriculum for subject area" | "Created and implemented a student-centered, inquiry-based curriculum resulting in a 40% increase in student achievement" |
| Assessment and evaluation | "Conducted regular assessments to evaluate student learning" | "Developed and implemented authentic assessments and evaluations resulting in a 30% increase in student mastery" |
Standing Out in the Crowd: Tips for Writing an Impressive "About Me" Section for Teachers
Let me share with you 10 tips to write a killer "About Me" section in your Teacher's resume:
Hook the reader with a personal story or teaching philosophy.
Use powerful language to describe your teaching style.
Keep it short and sweet, highlighting your best qualities.
Avoid generic statements and focus on what sets you apart.
Demonstrate your ability to connect with students and foster learning.
Use academic buzzwords to showcase your expertise.
Show, don't tell. Use examples and anecdotes.
Include your credentials and professional development.
Add a personal touch, such as a hobby or interest.
Always proofread and edit to make a strong first impression.
So, there you have it folks! Ten hot tips to make your "About Me" section stand out in a teacher's resume. Don't start off boring – hook them with a catchy intro. Use strong language, be concise, and avoid the same old clichés. Show, don't tell, and use your expertise to your advantage. And hey, if you want to add a personal touch, go for it! Just remember to proofread and edit, and you'll be on your way to landing that dream job in no time. Good luck!
Making Your Teaching Experience Stand Out: Expert Advice
The experience section in a teacher's resume is a crucial aspect of showcasing your expertise and qualifications. In this section, we will provide you with 15 professional tips to help you craft an impressive and attention-grabbing experience section that will leave a lasting impression on your potential employers.
Tailor your experience to the job description.
Use specific numbers and data to showcase accomplishments.
Focus on teaching-related experience and skills.
Highlight how you made a positive impact on students.
Emphasize your ability to collaborate and work in a team.
Use bullet points for clarity and organization.
Avoid redundancy and repetition in descriptions.
Use action verbs to describe duties and accomplishments.
Be honest and accurate in describing past roles.
Use a reverse chronological format, starting with the most recent position.
Quantify your teaching experience in terms of years, subjects, etc.
Mention any awards or recognition received.
Incorporate relevant technology and software skills.
Show how you adapted to unique situations and challenges.
Focus on the transferable skills gained from previous experience.
Personal Interests and Hobbies
Here are 20 interests and hobbies that can be added to a teacher's resume and how they can showcase your skills and abilities:
| Interest/Hobby | How it can showcase skills and abilities |
| --- | --- |
| Photography | Demonstrates attention to detail and creativity |
| Traveling | Shows cultural awareness and adaptability |
| Music | Displays creativity and a passion for the arts |
| Cooking | Highlights organizational skills and attention to detail |
| Reading | Demonstrates a love for learning and knowledge |
| Writing | Displays strong communication and writing skills |
| Sports | Shows dedication, teamwork, and leadership abilities |
| Gardening | Demonstrates patience, attention to detail, and nurturing abilities |
| Volunteering | Highlights compassion, teamwork, and community involvement |
| Painting | Displays creativity, attention to detail, and artistic abilities |
| Running | Shows dedication, discipline, and goal-setting abilities |
| Dancing | Demonstrates coordination, creativity, and a passion for the arts |
| Yoga | Highlights discipline, focus, and a healthy lifestyle |
| Gaming | Displays problem-solving, critical thinking, and strategic planning abilities |
| Hiking | Shows determination, perseverance, and an adventurous spirit |
| Knitting | Demonstrates patience, attention to detail, and creativity |
| Film | Displays creativity and a passion for storytelling |
| Baking | Highlights organizational skills, attention to detail, and creativity |
| Fashion | Demonstrates creativity, attention to detail, and a sense of style |
| Fishing | Shows patience, focus, and a love for nature |
The Art of Writing an Attention-Grabbing Teacher Resume
Teachers have the capability to help little individuals learn and grow and are required to possess certain skills. However, before applying for a job teachers need to learn how to carve out the best resume to impress the potential institution. The principal and hiring committees of schools are hard to be thrilled with these days. They search for the best skills and capabilities in the academicians they are hiring for their students. As they can build their institutions' future for the better.
The biggest purpose of why you are writing a resume is to inform and aware the school administrators and interviewers about how appropriate you are for the job. This includes this isn't all about saying things you have been meaning to say. Rather, it is very much about the layout of your document, the length of the text, and the extent of information that has been provided.
Let us dig into each one of these, one by one:
How should your resume look?
As a first impression, how well have you manifested your resume is an important thing to work on. We've outlined a few points for your help:
The resume should always be short, concise, and wholesome. A one-pager will help the interviewers go through all details promptly.
the font style must be simple, easily readable, and professional. Neither too big nor too small!
Making headings and sub-headings is something you can't forget!
There must be single line spacing and a margin of around 1 inch
Always keep a soft copy of your resume, employers might ask for it at any time
Always follow a reverse chronological order!
What points must never be forgotten in your teacher resume if you want to land more opportunities?
Start with a header section that highlights THE most important information related to you and who you are. Your name, and contact details such as your email address, social ids, fax, residential address, etc.
Next comes the introductory lines or paragraphs that you choose to add in order to express your appetite for the job.
Details of your professional experiences
Educational history
Key skills that distinguish you from other candidates
Certification and awards
Languages, interests/hobbies (optional)
What differentiates teacher resumes from other kinds?
When you plan to add the professional experiences, keep a separate one for the relevant teaching experiences
Your skills are your cashing points. The services you've done for kids and students in society will earn you a good position.
Additional honors, activities, special languages, and other abilities that you have related to teaching.
Background information that is related to how you can be a useful teacher for the school and also the ways in which you can instill new skills in the pupils.
Video Tutorials
Watch some informative video tutorials below to see how easily you can design a Resume in MS Word.