5+ Free Resume Templates for Teachers in MS Word
We have talked about resumes for fresh and experienced individuals from all fields in general who are interested in attaining a job. In today's post, we talk about teacher resumes, for persons aiming to pursue a career in academics.
Teachers have the capability to help little individuals learn and grow and are required to possess certain skills. However, before applying for a job teachers need to learn how to carve out the best resume to impress the potential institution. The principal and hiring committees of schools are hard to be thrilled with these days. They search for the best skills and capabilities in the academicians they are hiring for their students. As they can build their institutions' future for the better.
Download
Finding a good job is hard work, especially when you're looking for a job where the competition is fierce. For such a job, you have to prepare yourself in every way, because other candidates who are applying for this job are also very well prepared. Your resume is your most useful tool in any job search. If you have prepared your resume well, then consider yourself half done.
On this page, you can download some of the best and most beautifully designed sample resumes. All these formats are designed in Microsoft Word so that you can easily modify them for yourself.
#1 – Best for Elementary School Teachers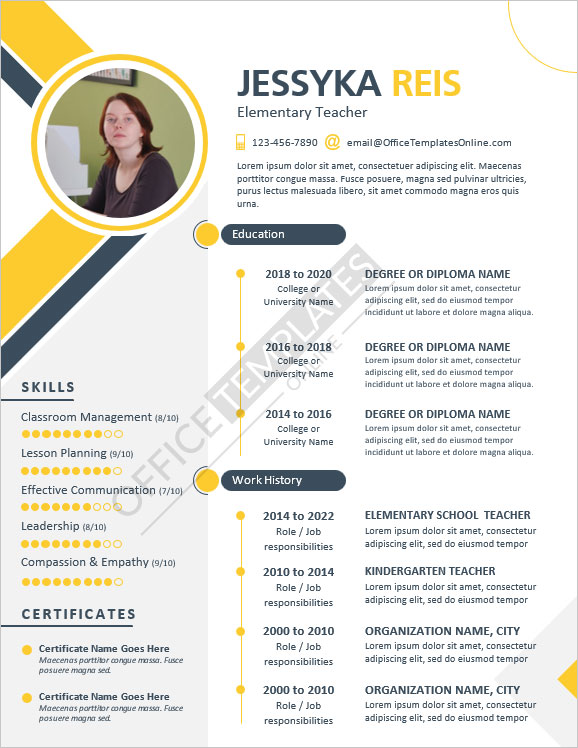 #2 – High School Teacher Resume Format
#3 – Designed for Preschool Teachers
#4 – Art Teacher Resume Format
#5 – Specially Designed for English Teachers
How to create the best resume to turn the employer's head?
The biggest purpose of why you are writing a resume is to inform and aware the school administrators and interviewers about how appropriate you are for the job. This includes this isn't all about saying things you have been meaning to say. Rather, it is very much about the layout of your document, the length of the text, and the extent of information that has been provided.
Let us dig into each one of these, one by one:
How should your resume look?
As a first impression, how well have you manifested your resume is an important thing to work on. We've outlined a few points for your help:
The resume should always be short, concise, and wholesome. A one-pager will help the interviewers go through all details promptly.
the font style must be simple, easily readable, and professional. Neither too big nor too small!
Making headings and sub-headings is something you can't forget!
There must be single line spacing and a margin of around 1 inch
Always keep a soft copy of your resume, employers might ask for it at any time
Always follow a reverse chronological order!
What points must never be forgotten in your teacher resume if you want to land more opportunities?
Start with a header section that highlights THE most important information related to you and who you are. Your name, contact details such as your email address, social ids, fax, residential address, etc.
Next comes the introductory lines or paragraphs that you choose to add in order to express your appetite for the job.
Details of your professional experiences
Educational history
Key skills that distinguish you from other candidates
Certification and awards
Languages, interests/hobbies (optional)
What differentiates teacher resumes from other kinds?
When you plan to add the professional experiences, keep a separate one for the relevant teaching experiences
Your skills are your cashing points. The services you've done for kids and students in society will earn you a good position.
Additional honors, activities, special languages, and other abilities that you have related to teaching.
Background information that is related to how you can be a useful teacher for the school and also the ways in which you can instill new skills in the pupils.
Video Tutorials
Watch some informative video tutorials below to see how easily you can design a Resume in MS Word.