Checklists are a superb way of prioritizing and organizing the tasks you have on your bucket list. All the hype about keeping checklists in today's world is for plenty of reasons. Checklists are created not only for oneself but for events and programs in one's life. These might be about the school sports gala you are heading to, the wedding of a loved one you are going to, family plans for the coming vacation season, and preparing for something new coming in your life.
Why are checklists more popular than ever?
Just like discussed there is a lot of build-up going on about checklists in today's world. You might remember yourself talking to a friend over the phone talking about how you end up missing many things in your routine and how you are unable to succeed because many things tend to slip away from your mind. The friend on the other side would utter words like "you need to organize your priorities and tasks to do. Keeping things simple in your mind is never enough. We are all humans anyway. Try keeping checklists, for practically everything!"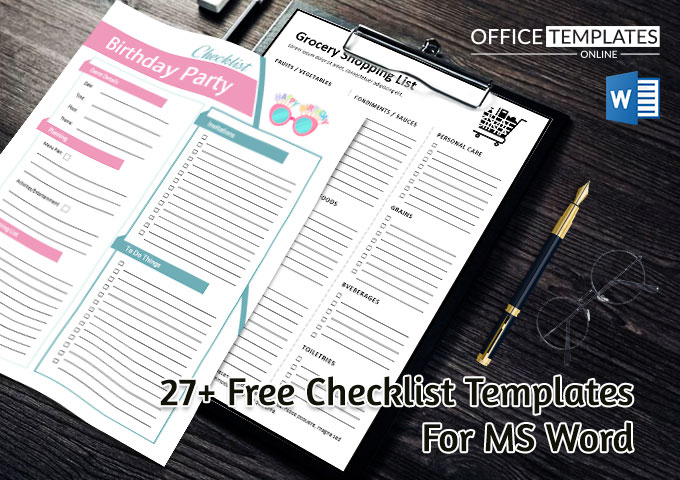 With lives getting busier, duties to perform getting massive, and our ability to remember things getting smaller it might be harder for us to perform all the things we have been meaning to. There are things one can afford to overlook, while others are important. Missing those can cost us a lot! Hence, checklists can be our helpful pals in situations like those.
Checklists can be very satisfying too, ticking maximum tasks off and seeing that you have accomplished things is often very fulfilling. These can be in the form of tick box templates, pictorial checklists, or in the form of blank boxes that can be fulfilled as per your need.
Download
On this page, you can download a professionally designed Checklist template, designed in Microsoft Word, of different types. These include ready-made lists for groceries, internal audits, morning routines, party planners, and right-to-work. Each of these formats is fully editable and freely available to be downloaded.
Types of checklists that can be very helpful in the real life:
Grocery checklist:
Have you entered the superstore intending to buy only a few things but ended up impulse buying tons? Result?! You end up crying looking at your pocket and the cart! Grocery checklists are especially useful when you are on a budget or when you want to make sure you don't buy unhealthy stuff. Grocery lists also help you save some time while at the grocery store. You can quickly pick and put stuff in your cart and not miss out on the essentials. It also helps you avoid clutter in your fridge and the pantry. Grocery lists with categories are super useful!
1:- Grocery Shopping Checklist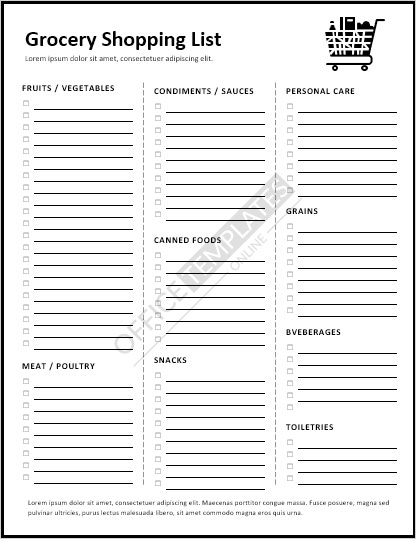 2:- Weekly Grocery List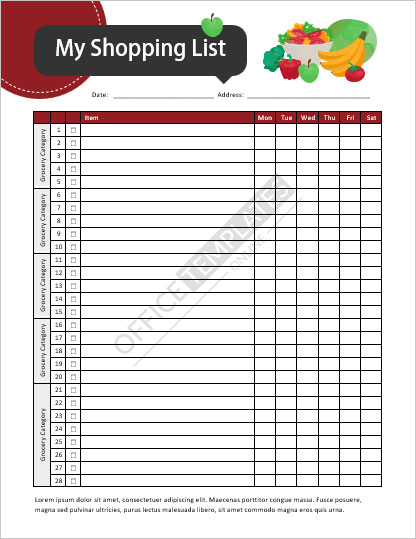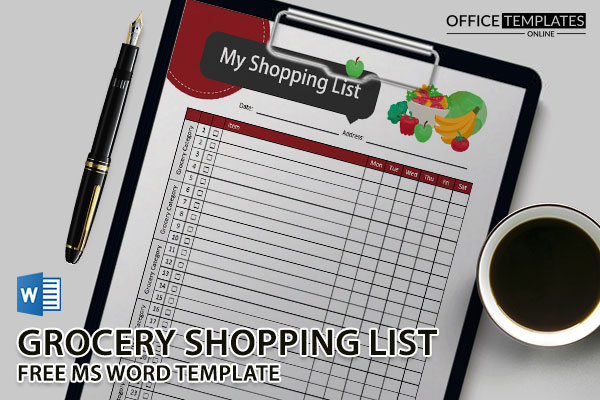 Morning Routine Checklist
How many times have you woken up in the morning way past your time to get up and regret doing that? How many times have you felt bad for missing your morning skincare regime just because you forgot? How often have you gotten late from your morning yoga class because it slipped off your mind? If the answer to these is "a lot of times" then you really need a morning routine checklist. You can prioritize and add things like breakfast, making the bed, taking supplements, setting the to-do list for the day, and do the dishes, etc. The day you begin having an organized start to the day your entire day will eventually feel systemized.
Similarly, you can have a nighttime checklist to have an orderly end to the day.
6:- Morning Routine Checklist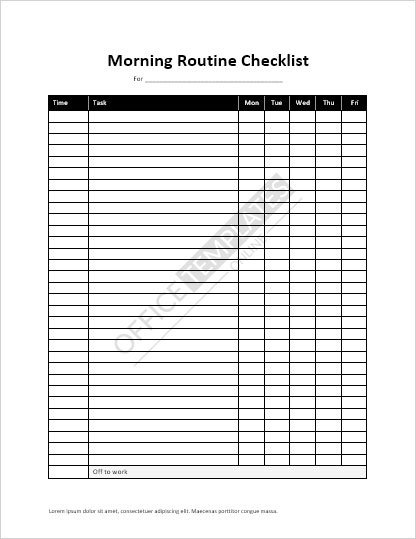 Party planner checklist
To avoid the last-day hassle at your parties and avoid the stress it is suggested to start preparing checklists a safe time before the event. You can keep separate lists for a long time before the party, for when the party is a little close, and when it's the day. You can add things like what theme to choose, what activities to perform, stationary things to buy, food products to be bought beforehand and on the day, guests to invite, goody bags to make, book a venue, etc.
8:- To-do List for a Bachelorette Party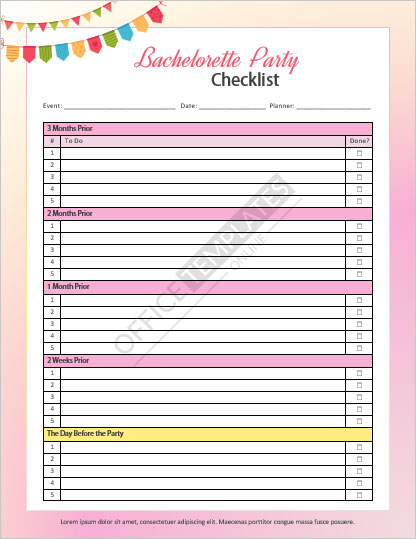 9:- Birthday Party Planning List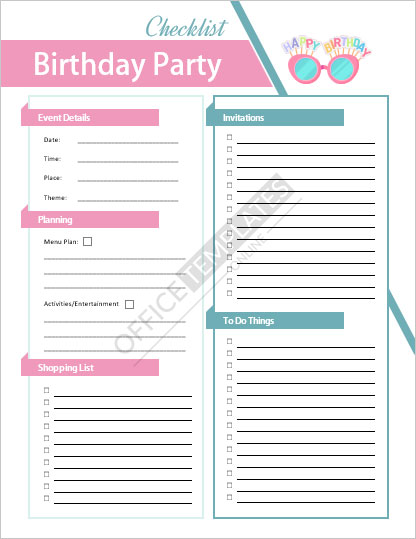 11:- Wedding Planning Checklist
Right-to-work checklist
These checklists are applicable in a few countries and are used by employers to check if the employee applying for the job opening possesses the "right to work" or not. Certain steps are added in this checklist showing the steps that need to be fulfilled to prove one's employment right. This would include documents such as passports, national ID cards, residence permits, immigration documents, birth certificates, work permits, etc. These documents are checked off the list to see the applicant's eligibility.
12:- Pre-Interview Things to Do List
14:- Right to Work Checklist Template # 3
Internal Audit Checklist
This list is used by internal auditors for making preparations for their internal audit projects. They compile a list of audit steps that will have to be taken and considerations they will need to keep in mind. The list would include their goals, risks, previous learnings, things they can expect, major steps they will have to take, etc.
15:- Internal Audit Checklist for Small NGO
18:- Internal Audit Checklist Example
19:- Internal Audit Checklist for Supplies and Fixed Assets
20:- Internal Audit Checklist Sample
21:- Internal Audit for Management Control
22:- Internal Audit for Quality Control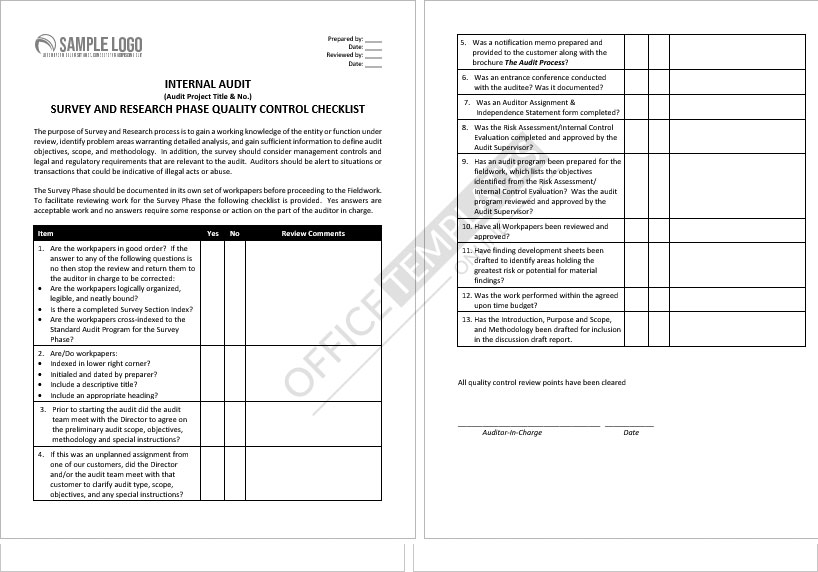 23:- Internal Control Checklist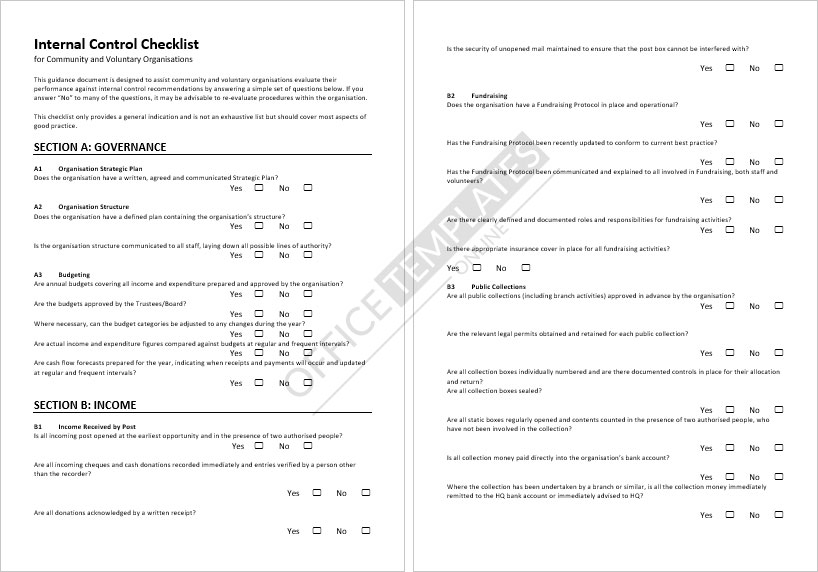 24:- Multisite Pre-Audit Checklist
25:- Petty Cash Imprest Reimbursement Post-audit Checklist
26:- Project Management Audit Checklist