Free Printable Menu Templates for MS Word
Sitting at a restaurant table your favorite thing must be grabbing the menu and ordering food of your choice. However, consider yourself on the other side of the counter, you being the restaurant owner. The situation is that you are required to prepare a nice and wholesome menu for your food place. In the other case, if you're a catering business owner or planning an event for yourself or aiming to create just the right menu for your incoming holiday parties then you're just where you must be.
We are offering a range of stylish to modest to minimal to upbeat menus. Our menus differ in shape, design, and size and are very close to your picky needs.
Download Templates
Scroll down from this point below and find some beautifully, elegantly, and professionally designed Restaurant Food Menus that you can download for Free of Cost. All of these are fully editable and printable using any regular printer you have in your office, home, or anywhere around you.
#1 – Restaurant Food Menu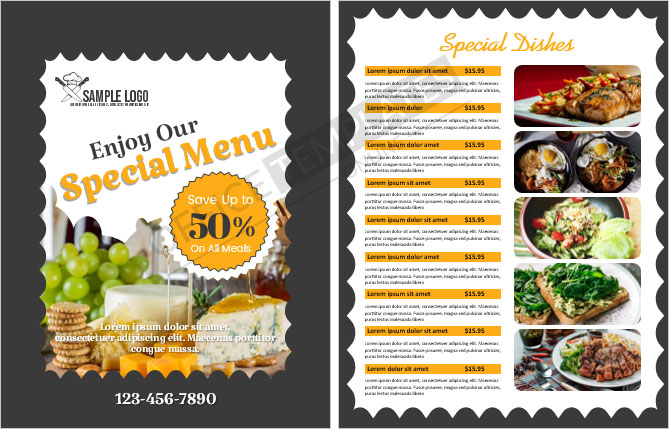 #2 – Ice Cream Menu
#3 – Fast Food Menu
#4 – Club Cafe Menu Design
#5 – Breakfast Menu Format
Why you, at all, should be worried about crafting a perfect menu?
Consider having your waiter go straight to the people's tables and say the menu out loud like "we offer beef, rice, noodles, soup… what do you need?!" Sounds confusing, right?! We all need to have special menus planned for our customers so that they can spend their time choosing the dish. They don't want to be in a rush!
Just the thought of having your food items said to them just like that echoes pretty chaotic. This is why you should be putting all the effort into creating your menu. Choose the right design, the perfect font, the right size and length, and a style that looks delicious. You put plain text, however, accompanying the names of your food items with their pictures will increase your customers' appetite.
If you're good enough at this you can manage to draft a menu by yourself but a highly recommended option would be to choose from our templates. Why do you have to put effort into designing and brainstorming when we're here to help? We've chosen the best ones for you, try them!
Do all food menus look the same? Or at least close?
It all depends on the needs but all menus, be those for food businesses, parties, or private events, look very different from each other. Many things differentiate one from another, such as:
The size: Most of them are A4 in size but may differ greatly. You might want to go for sleek sizes or broad ones.
The shape: Many people want to go for conventional rectangular, vertical menus that are easy to handle and read. While others might want to go for out-of-the-box ideas such as a menu that looks like a burger. Interestingly-delicious!
The material: The pamphlet cum menu pages that customers are offered in their cars are less sturdy, are disposable, and can be taken along. However, others are tough, cardboard ones coated in plastic.
The design: Many people prefer a highly simple design that just states the purpose but many are fond of stylish ones. They might choose simple ones, autumn-styled, Greek-styled, classy, colorful, ones all about food, party styled, basic, and so on.
We would commend menus that go just in line with the need you have. A kid's birthday party menu should be all bubbly and celebratory while that for an office meeting must be very basic and minimalistic. The options are unlimited!
Watch Tutorial Video
Watch the tutorial video below to find out how to design a Food Restaurant Menu Template in Microsoft Word.