10+ Free Cover Page Templates for Thesis and Dissertation Projects
Are you tired of spending hours designing your thesis or dissertation cover page? You are in the right place. We have compiled ten beautifully designed cover page templates that are specifically tailored to various academic disciplines, including Business Administration, Psychology, Education, Computer Science, Nursing, Marketing, Political Science, Environmental Science, Literature, and Law. Our free MS Word templates are easy to use and will save you time while providing a professional look to your project. Download now to see how you can take your front cover design to the next level!
---
Universities and colleges around the world are providing the opportunity of choosing either courses or dissertations for the completion of students' degrees. At a lot of other institutions render it is mandatory to submit a thesis report as the final year research project in order to render the pupils successful in obtaining their degrees. A dissertation has been found helpful in boosting their crucial research skills, aiding them in their professional career, polishing their project management skills, and preparing them to face their business world in real-time. This is one of the many popular teaching methods that make them learn new things and touch newer objectives.
A dissertation is mostly comprised of about 10,000 to 20,000 words and has about 5 chapters in most cases. A final result or findings add up to the research pool and describes in detail a problem under discussion.
Download Cover Pages in MS Word Format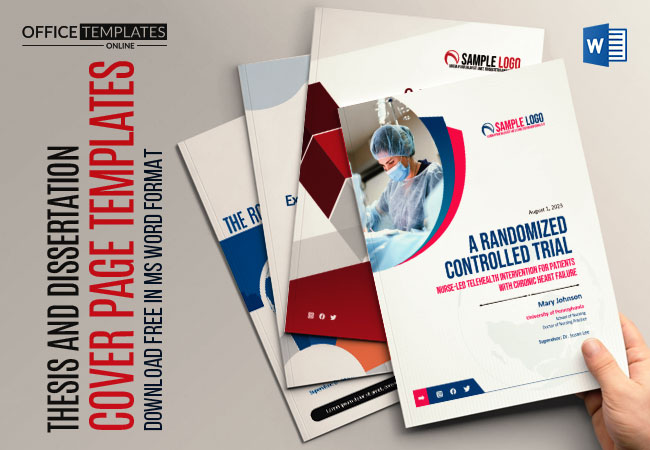 We understand the importance of having a well-designed cover page for your thesis or dissertation project. That's why we have curated a collection of ten unique title page templates that cater to various academic disciplines. Scroll down to preview each design and click the "Download" button to save your preferred template in MS Word format. These templates are completely free and easy to customize to suit your project requirements. Don't miss out on this opportunity to make a lasting impression with a professional front page design!
#1 – Computer Science Dissertation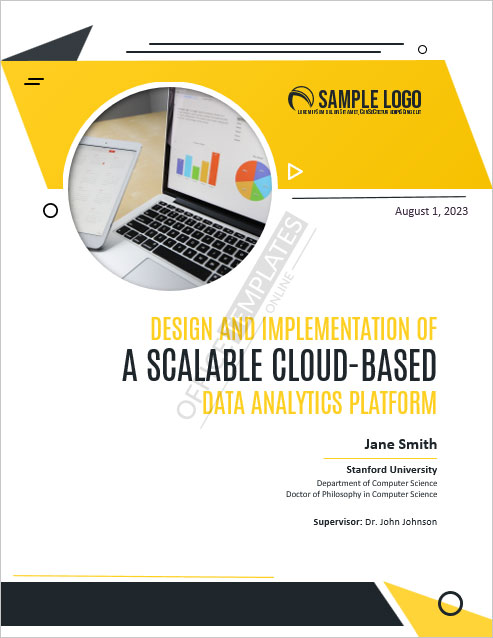 #2 – Business Administration Thesis
#3 – Education Thesis
#4 – Environmental Science Dissertation
#5 – Law Thesis
#6 – Literature Dissertation
#7 – Marketing Dissertation
#8 – Nursing Dissertation
#9 – Political Science Thesis
#10 – Psychology Thesis
We understand that creating a cover page for your Thesis or Dissertation project can be a daunting task, especially when you are short on time and need a professional-looking front page to impress your professor or supervisor. Therefore, we have put in a lot of effort and time to create these 10 different cover page templates, specifically designed for various fields such as Business Administration Thesis, Psychology Thesis, Education Thesis, Computer Science Dissertation, Nursing Dissertation, Marketing Dissertation, Political Science Thesis, Environmental Science Dissertation, Literature Dissertation, and Law Thesis.
Our team of designers has spent countless hours researching and analyzing the best design practices for each field and then implementing those designs into these templates. We have made sure that these templates are not only visually appealing but also user-friendly, making it easy for anyone to replace the text with their own details in MS Word format. By downloading these templates, you can save a lot of time and effort, which you can use to focus on the more critical aspects of your project.
Tips on choosing the right template for your project
With ten different cover page templates to choose from, it can be challenging to decide which one is best suited for your project. However, there are a few tips to keep in mind that can help make the process easier. Firstly, consider the subject of your dissertation or thesis. You may want to choose a template that reflects the subject matter, such as a cover page with a scientific illustration for a thesis in biology. Secondly, think about your personal preferences in terms of style and design. Do you want a minimalist look or something more elaborate? Take a look at all ten templates and see which ones catch your eye.
Another important factor to consider is the formatting requirements of your institution. As we mentioned earlier, different universities have different rules when it comes to formatting cover pages. You should make sure that the template you choose matches the requirements set by your institution. Fortunately, our templates are designed to be easily customizable, so you can edit them as needed to match the formatting guidelines. With these tips in mind, you should be able to choose a cover template that meets your needs and helps your dissertation or thesis look polished and professional.
Tips for Creating an Effective Dissertation Cover Page
The dissertation cover page is the very first thing that your reader will see when they look at your research work. It is the initial impression that you will make on them. Therefore, it is very important to create a cover page that accurately reflects your research topic and conveys the necessary details about your thesis.
Apart from the title and author's name, the front page also includes important details such as the name of the university, the department, the degree program, and the date of submission. Moreover, it may also include information about the supervisor, the committee members, the funding source, and the acknowledgments.
It is worth noting that different academic institutions and departments may have different requirements for the front design and content. For instance, some may require specific font style and size, margins, and spacing. Therefore, it is essential to carefully review the guidelines provided by your institution and incorporate the necessary elements on your title page accordingly. With our readymade cover page templates, you can save time and effort in designing a first page that meets all the necessary requirements for your thesis or dissertation.
What are a few must-haves for your thesis and dissertation cover page?
Listed below are some of the essential elements that every thesis and dissertation cover page should include:
Title of the project: It should be brief yet comprehensive and reflect the essence of your research work.
Author/Student's name: It is essential to mention the name of the author/student who has carried out the research work. This will help in identifying the author of the document.
Roll number/Student number: This is an important identifier that helps the institute maintain the record of the students.
Department/Batch/Class: This information helps the institute to categorize the research work based on the department, batch, or class.
Institution's name: It is important to mention the name of the institute where the research work has been conducted.
Details of the requirements: Mentioning whether it is a thesis, final-year project, or dissertation is crucial for the reader to understand the context of the research work.
Name of the degree: Mentioning the name of the degree (Ph.D. or M.Phil.) will help in identifying the level of the research work.
Date of submission: It is important to mention the date of submission to establish the timeline of the research work.
Session: Mentioning the session will help in identifying the academic session during which the research work has been carried out.
Name of the supervisor: It is important to mention the name of the supervisor who has guided the research work.
How is the thesis cover page formatted?
Formatting the thesis cover page is an essential step in preparing your research work. As different universities, colleges, or institutions have distinct requirements, it is crucial to follow the guidelines given by your supervisor. These guidelines usually specify the formatting rules, which typically involve font type and size, margins, page numbering, and essential information details. Therefore, it is important to carefully read and understand the formatting guidelines before creating your thesis front page.
Some universities follow specific formatting styles, such as APA or MLA, which require their students to align their cover with the particular style. In such cases, students must adhere to the formatting rules of that specific style. By correctly formatting your thesis cover/title, you create a professional and impressive impression on the reader, showing that you have paid attention to detail and followed the instructions provided by your institution. So, make sure to invest time and effort into formatting your thesis cover page according to the guidelines given by your institution.
MLA cover page formatting guidelines:
To conform to the MLA style, there are two options for the dissertation cover page. The first option is to have a separate title page before the main content of the thesis, which includes the same information as the MLA heading. The second option is to have the MLA heading on the first page of the main content.
In either case, the information required is the same, and it includes the title or subtitle, name of the student or author, name of the instructor, course name or class, and the due date. The title page or heading should have a 1-inch margin from all sides, with the text centered and in the title case. The text should be double-spaced and in plain text format.
It's essential to note that different universities and colleges have their own formatting guidelines for the dissertation cover page. It is crucial for students to consult with their supervisors or refer to the institution's guidelines to ensure they adhere to the correct formatting style.
APA cover page formatting guidelines:
To format an APA cover page for a dissertation, the following information should be included in the center of the page, double-spaced:
Title of the dissertation
Author's name
Name of the university and department
Degree information
Date of submission
It's important to note that the specifics of the information to be included on the cover page may vary depending on personal preferences or institutional requirements. However, adhering to formatting guidelines is always a wise idea. With our pre-designed Title cover templates available for free download, you can save time and avoid the stress of formatting your front page. Make use of these ready-to-use templates and focus on the research and content of your thesis or dissertation.
Helpful Video Tutorial
Watch the video below to learn How to Design a Cover Page in MS Word for Business Case Report