10 Amazing Cover Pages for Portfolio in MS Word
You are a fresh graduate, on a job hunt, you finally get an interview call, they expect you to walk in with a resume and a portfolio that contains an impressive cover page. WAIT?! What is a portfolio?
Let us answer this!
Most of the jobs applicants today are asked to produce a resume only while a variety of organizations require them to carry along a professional portfolio, too.
A professional portfolio is a collection that represents the individual's achievements, talents, skills, outstanding performance, milestones, work samples, photographs, certificates, etc. While a resume seems very similar to a portfolio, it is indeed not. A resume documents the experiences, skills, and academics, while a portfolio requires an individual's recent achievements and talents.
It might take you hours, even more, to design a portfolio but the employer is very likely to spend less than a minute on it. You cannot do anything about this. Can you? What you CAN do is to design a strong, and attractive front page that seeks to grab the reader's attention.
Download Templates in Microsoft Word
Find below 10 professionally designed Front Page Formats with Amazing Layouts and Designs for MS Word. Download them, customize them the way you want, and print using any regular printer.
#1
Best for Creative Portfolio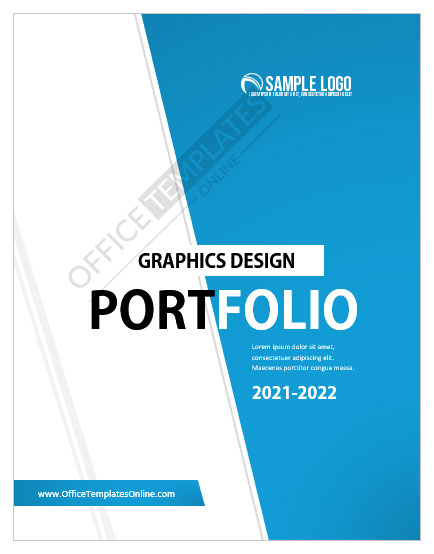 #2
Beautiful Agency Portfolio Format
#3
Suitable for Architecture Portfolio
#4
Business Portfolio Design
#5
Template for Career Portfolio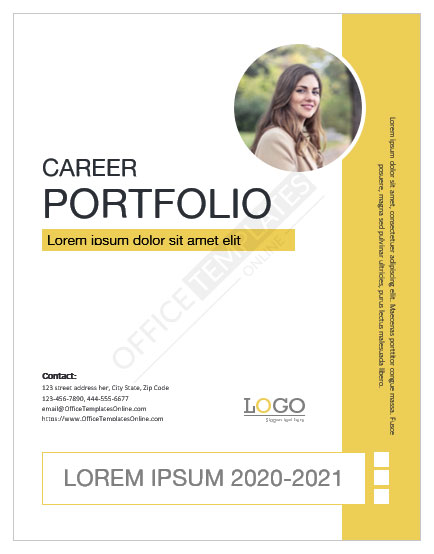 #6
For Fashion Design Portfolio
#7
For Interior Design Portfolio
#8
Best for Photography Portfolio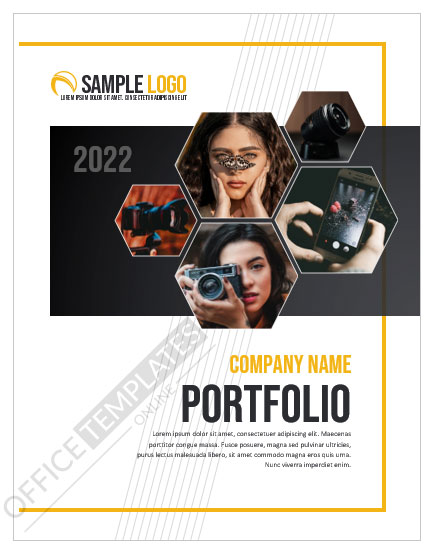 #9
For Programmer/Developer
#10
Modern style for Web Design Portfolio
Those who think that a cover page must look aesthetically appealing ONLY are wrong! It actually needs to be an assemblage of your significant accomplishments and aptitude in such a manner that even in a glance it leaves an image with the employer that might decide your entry into his organization.
Why are cover pages beneficial?
This is indeed your first impression, don't forget to leave an impact!
It reveals a little more than your resume does, make sure both of them complement well
It markets your skills and your worth without you having to say anything
It is highly likely to conserve the employer's time and energy.
It contains all the major details that in a quick look summarizes who you are.
How can you make the readers spend more time on reading?
What contents your cover page contains is a critical matter. There are several templates available online, however, simply thrusting your information into them might look like an amateur's failed effort. Here are a few things you should not miss out on to make your front page last an impression:
Make it as minimalistic as possible. While most of the job applicants competing, you will come with overflowing information and overflooding design, you would not want to be one of those. Try keeping it as simple and as impressive as possible.
Your struggle into creating a customized cove page would certainly be impactful. It shouldn't look like someone else's work!
Don't miss out on the requirements that the employer has. Don't forget to mention keywords.
Go big on all the major achievements you have; these are your capturing points!
Be very consistent, and organizes with the formatting, it shows your professionalism.
Finally, creating your front page in an effort to make it stand alone will surely be useful.
What mistakes in your cover page will push the employer away?
Spelling errors or typos
Overwhelming colors
Childish appearance
Vague information
Too much information in too little space
Missing details.
Helpful Video Tutorials
You can find some very helpful video tutorials on How to design a Cover Page in Microsoft Word at the URLs below.
Tutorial #1:
How to do a Cover Page Design for Assignment in MS Word
Tutorial#2:
How to Design Cover Page in MS Word for Business Case Report
Tutorial#3: