10+ Amazing Cover Pages for Portfolio in MS Word
Imagine stepping into your future job interview armed with not only a resume but a powerful portfolio that leaves a lasting impression. Are you ready to stand out from the crowd? A portfolio is your personal showcase of achievements, talents, and milestones – a testament to your journey. But wait, crafting a portfolio isn't just about content; it begins with an irresistible cover page. This page is your gateway to 10 incredible Microsoft Word Front Page Templates, thoughtfully designed to transform your portfolio into a masterpiece. Dive in, explore, and download the template that resonates with your ambition. Your story deserves a page that captures its essence – let's create that page together!
You are a fresh graduate, on a job hunt, and you finally get an interview call, they expect you to walk in with a resume and a portfolio that contains an impressive cover page. WAIT?! What is a portfolio?
Let us answer this!
Most of the job applicants today are asked to produce a resume only while a variety of organizations require them to carry along a professional portfolio, too.
A professional portfolio is a collection that represents the individual's achievements, talents, skills, outstanding performance, milestones, work samples, photographs, certificates, etc. While a resume seems very similar to a portfolio, it is indeed not. A resume documents the experiences, skills, and academics, while a portfolio requires an individual's recent achievements and talents.
It might take you hours, even more, to design a portfolio but the employer is very likely to spend less than a minute on it. You cannot do anything about this. Can you? What you CAN do is to design a strong, and attractive front page that seeks to grab the reader's attention.
Download Templates in Microsoft Word
Discover a Gallery of 10 Expertly Crafted Front Page Formats, Tailored for Every Portfolio Genre, Featuring Exceptional Layouts and Designs for MS Word. Embrace the Possibilities – Download, Personalize, and Easily Print Using Your Standard Printer.

#1
Unleash Your Creative Genius: Optimal for Crafting Your Unique Portfolio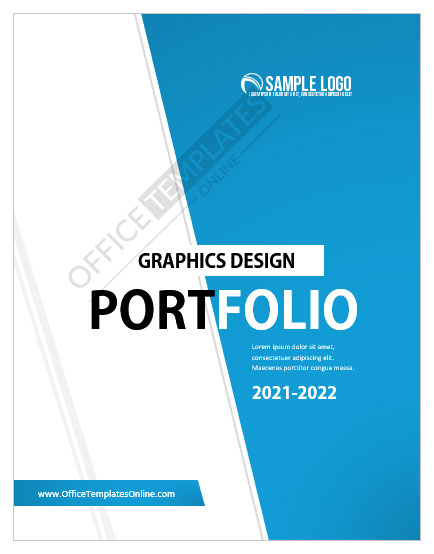 #2
Elegance Redefined: Captivate with the Stunning Agency Portfolio Format
#3
Architectural Marvels Take Shape: Ideal for Your Architecture Portfolio
#4
Empower Your Business Presence: Elevate with the Business Portfolio Design
#5
Pathways to Success: Your Gateway with the Career Portfolio Template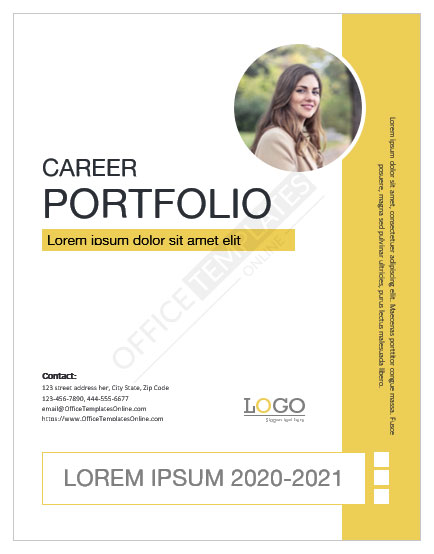 #6
Fashion Dreams Unveiled: The Canvas for Your Fashion Design Portfolio
#7
Interiors Beyond Imagination: Transform with the Interior Design Portfolio
#8
Frames of Life: Perfectly Framed Moments in the Photography Portfolio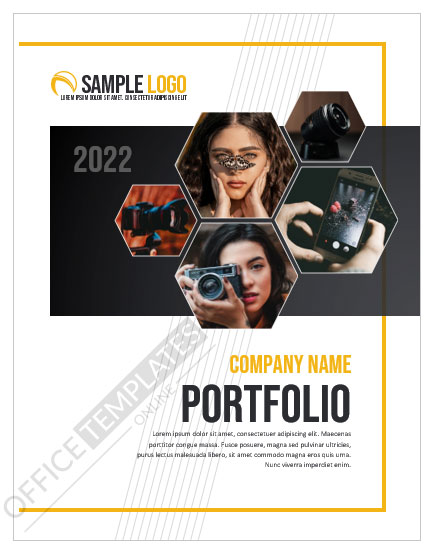 #9
Code Your Dreams: Ignite Innovation with the Programmer/Developer Portfolio
#10
Web Wonders Await: Craft a Modern Legacy with the Web Design Portfolio
Those who think that a cover page must look aesthetically appealing ONLY are wrong! It actually needs to be an assemblage of your significant accomplishments and aptitude in such a manner that even in a glance it leaves an image with the employer that might decide your entry into his organization.
Why are Cover Pages Beneficial?
First Impressions: Leave Your Mark! Think of your cover page as the front door to your professional journey. Making it impressive sets the tone for your entire story.
Beyond the Resume: Show Your Whole Self While resumes are like quick snapshots, your cover page unveils the bigger picture. It's where you share your journey, dreams, and talents, giving a fuller view.
Skills Without Words: Let It Speak for You Imagine your cover page as a quiet advocate for your abilities. It tells employers how capable and creative you are, without needing to say a word.
Save Time, Make Impact: A Double Win Employers have busy schedules. A compelling cover page lets them grasp your worth quickly, saving their time while boosting your impact.
Quick Summary: Who You Are in a Glance A speedy look at your cover page should tell the main points. It's like a snapshot that captures the essence of your professional self.
Curiosity Beckons: Invite Exploration An interesting cover page sparks curiosity. It's like a magnet that pulls employers into your portfolio, revealing more about you.
Lasting Memory: Be Remembered Long after the first look, your cover page stays in their minds. It helps them remember you distinctly among the many applicants.
Visual Tale: Make a Strong Impression Design your cover page thoughtfully. It showcases your sense of style and professionalism, proving your ability to create appealing content.
Show You Care: Attention to Detail A careful cover page displays your meticulous nature. It reveals your willingness to put in extra effort, something companies admire.
Start Conversations: Open the Door to Connection An interesting cover page acts like a friendly handshake. It sparks questions and conversations that go beyond the surface.
Remember, your cover page is more than just a design. It's your canvas for an introduction that grabs attention and opens the door to meaningful interactions.
How can you make the readers spend more time reading?
What contents your cover page contains is a critical matter. There are several templates available online, however, simply thrusting your information into them might look like an amateur's failed effort. Here are a few things you should not miss out on to make your front page last an impression:
Make it as minimalistic as possible. While most of the job applicants competing, with you will come with overflowing information and overflooding design, you would not want to be one of those. Try keeping it as simple and as impressive as possible.
Your struggle into creating a customized cover page would certainly be impactful. It shouldn't look like someone else's work!
Don't miss out on the requirements that the employer has. Don't forget to mention keywords.
Go big on all the major achievements you have; these are your capturing points!
Be very consistent, and organizes with the formatting, it shows your professionalism.
Finally, creating your front page in an effort to make it stand alone will surely be useful.
Avoid These Cover Page Slip-Ups that Could Turn Employers Away
Creating a winning first impression is key, and avoiding common missteps on your cover page can significantly impact your chances. Here are some crucial points to keep in mind:
Spelling Errors or Typos:
Imagine if your cover page had mistakes in spelling or grammar – it could instantly send the wrong signal. Take the time to proofread and use tools like spell-check to catch any sneaky errors. A polished cover page reflects your attention to detail and professionalism.
Opt for Balanced Colors:
While vibrant colors might seem exciting, be cautious not to overwhelm them. Striking a balance between appealing hues and readability is essential. Aim for a color palette that complements your industry and doesn't overshadow the content.
Avoid a Childish Appearance:
Your cover page should exude maturity and confidence. Steer clear of overly playful fonts or graphics that might undermine your credibility. Aim for a design that aligns with your field and presents you as a professional.
Be Clear, Not Vague:
Vagueness is a turn-off for employers seeking clarity. Your cover page should succinctly convey who you are and what you bring to the table. Avoid generic buzzwords and instead, showcase your unique skills and accomplishments.
Find the Right Space for Information:
Less isn't always more – cramming too much information into a small space can make your cover page overwhelming and difficult to read. Prioritize the most impactful details, allowing the page to breathe and engage the reader.
Don't Forget the Details:
Leaving out important information, like contact details or key achievements, is a missed opportunity. Ensure your cover page provides a comprehensive snapshot of your value. It's the little details that can make a big difference.
Remember, your cover page is a glimpse into your professionalism and potential. By avoiding these pitfalls, you'll be well on your way to impressing employers and securing your spot in their consideration.
Helpful Video Tutorials
You can find some very helpful video tutorials on How to design a Cover Page in Microsoft Word at the URLs below.
Tutorial #1:
How to do a Cover Page Design for Assignment in MS Word
Tutorial#2:
How to Design Cover Page in MS Word for Business Case Report
Tutorial#3: