8+ FREE Notebook Cover Page Templates
What is a notebook cover page and why is it important?
These days everyone keeps a journal or a notebook to write things they want to write about but have you ever thought about what makes them choose which notebook to buy? As there are so many options available in the market one can get confused easily. These days selling cool fancy notebooks online has become a trend and you will find every other person selling these books.
Some with cover pages of cartoon characters while others with cool phrases written on them. Some business owners give you the option to customize your notebook's cover page to your liking and you can choose any cartoon character or phrase or any other image that you like to be on the cover page of your notebook. I like cool phrases written on the cover of my notebooks.
What kind of cover page do you like for your notebooks? Let us first find out what it is. So a notebook cover page is the very first formal page of the notebook. This is why it is called a cover page. It is mostly made up of hard paper. It is highly important as it's not only used to attract potential buyers but also represents your brand.
Download Notebook Cover Page Templates in MS Word Format
On this page, you can download beautifully designed cover page templates for different types of notebooks, in Microsoft word format. These are designed for different paper sizes like A4, A5, A6, B5, B6, and US Letter paper sizes. Each of these is fully customizable in any way you want.
#1 – A4 Size
#2 – A5 Size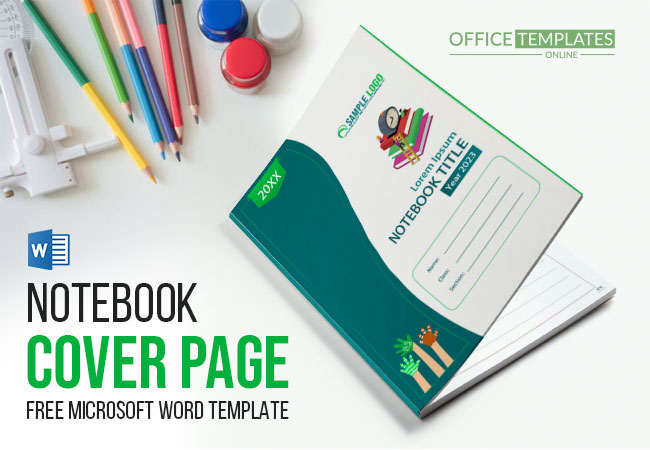 #3 – A5 Size School Notebook Cover Page
#4 – A6 Size
#5 – A6 Spiral Notebook Cover Page Design
#6 – B5 Size, Science Notebook Cover Page
#7 – B6 Size Traveler Notebook Cover Page
#8 – US Letter Size Math Notebook Cover Page
What things to keep in mind while designing a good cover page for your notebook?
 Designing a cover page is the fun part of the whole process of manufacturing a notebook. Every design is special and unique with different color options. Which material to use is also an important decision to make. There are a variety of materials available in the market to choose from such as cardboard, plastic, soft paper, fabric, leather, etc. But make sure you choose the material according to the printing needs and keep in mind the cost as printing on some materials such as leather can be expensive. Here is a list of things to keep in mind while making the decision about designing your notebook cover.
Material of the paper
Printing needs
Cost
Colour theme
Design – other than printing design some covers have space for pen holders or a small pocket on the back to hold stationary or money or a side pocket. You can also add a colorful spiral or a magnetic clip or a fluffy coin pouch  
Size of the paper – A4, A5, A6 and legal are the common sizes
Style of paper – it can be gridded or ruled
Brand logo
What are the different themes of notebook cover pages?
 This totally depends on what kind of notebook you are selling is it a diary, a bullet journal, a writing copy, a drawing copy, a scientific notebook, or a to-do list notebook? Depending on the category of the notebook here is a list of some popular themes for notebook cover pages.
Floral
Animated cartoon images
Nature
Written Phrases
Animated Food icons
Science
Travel
Planners or spirals
Fur covers
3D cartoon characters
Gold foil
Textured covers
Doodle
Vintage
Helpful Video Tutorial
Watch the video below to learn How to design a Cover Page Design for an Assignment in MS Word