15+ FREE Editable Photography Contract & Agreement Templates
What is a photography contract and what is it used for?
A photography contract is a written document that has legal importance. It details terms and conditions and mutual understanding between the photographer and the client. It is drafted to protect the photographer or the photography service company from any fraud, conflict, or unnecessary delay in payment from the client. The purpose of this document is to create a friendly, trustworthy, and protective working environment for both parties.
The parties knowing that they have legal binding between them force them to abide by the rules. Amazingly, such contracts have proven to be useful in promoting good business relationships and are very common among small and big businesses. These types of contracts are very valuable for people in art businesses such as the photography business due to the common conception that they get taken advantage of by people as people don't take their services seriously and delay payments or don't give them the promised money of their hard work.
Download Photography Contract Templates with Sample Data in MS Word Format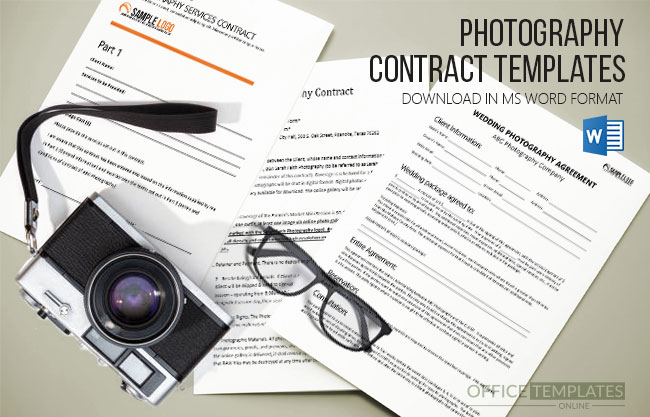 Download these readymade contract and agreement templates for any kind of Photography work and get your Photography Contract with your client in no time. Everything is pre-designed and you get the sample data with each of these to modify with your own.
#1 – Commercial Photography Contract
#2 – Event Photography Contract
#3 – General Photography Contract
#4 – Newborn Photography Contract
#5 – One-page Contract Example
#6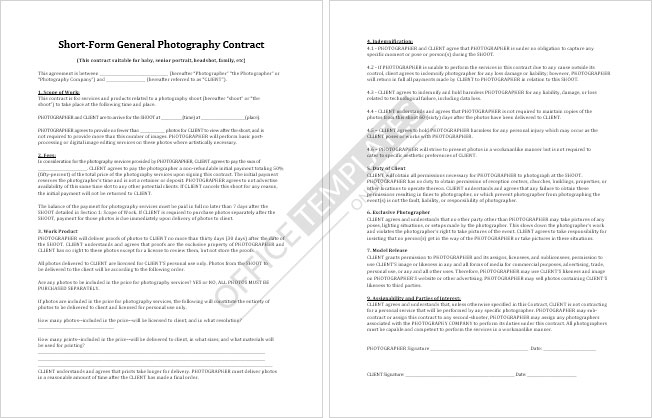 #7
#8
#9
#10 – Portrait Photography Contract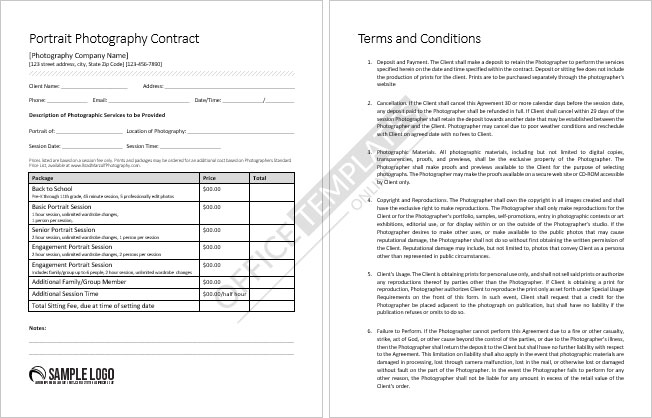 #11 – Product Photography Contract
#12 – Professional Photography Contract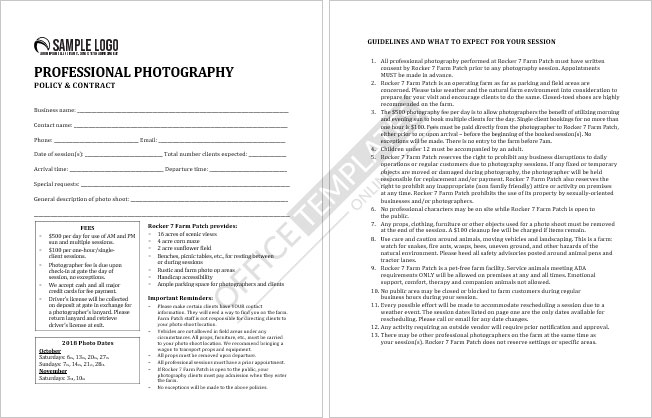 #13 – Session Photography Contract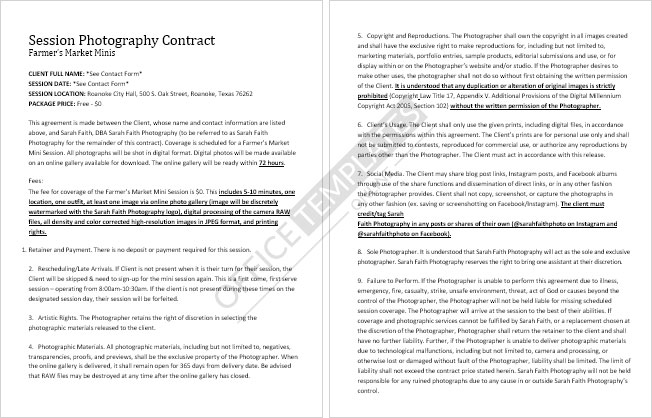 #14 – Simple Photography Contract
#15 – Wedding Photography Contract
What to include in a photography contract?
These contracts are very flexible and editable, it totally depends on the photography and how he wants the contract to look depending on the things he wants to include in it. But here is a list of some common but must-have things to include in a contract.
Full Names of the photographer or the company and the client
Details of the photography service to be given including photo albums, prints, videos, soft copies, raw data
Charges of the photography
Details of the payment including payment method, due date, if in installments write how many installments will be there, how much money will be paid in each installment, and the due dates of the installments
Contact information of both the parties
Information about the event: date, time, and venue
Consideration
Terms and conditions
Copyright clause
Promotional rights clause
Dispute resolution clause
Governing law
Intellectual property rights clause
Cancellation clause
Signatures of both the parties
Date
What are some types of photography contracts?
The type varies depending on the type of photography. Good thing is that the contracts can be tailored according to their needs. Some popular types of contracts are listed below.
Photo session contract – this is used in print media when companies hire photographers to take pictures that they can print for publications
Gallery sale – this is used when the photographer wants his pictures displayed in a gallery
Equipment rental – this is used when cameras or any other props are borrowed by other people for events
Property release – this is used for outdoor events when a photographer wants to take pictures at someone else's place/land
Long-form – this is used when a photographer feels the need for a detailed contract. This depends on the kind of event he is covering
Short form – this is used for a small shoot where there is no need for written details
Wedding photography
Portrait
Film
Fashion
Family
Commercial events
Sports
Editorial
Architectural
Model Release
Helpful Video Tutorial
Watch the video below to learn How to Create a Proposal for Business in MS Word