Boost Your Procurement Efficiency with our 6+ FREE Request for Quote RFQ Templates
Are you tired of spending hours creating custom Request for Quote documents? We've got you covered! Download our FREE MS Word templates with sample data included. Whether you need a construction RFQ form, IT services document, catering services form, printing services sheet, cleaning services example, or plumbing services outline, we have what you need. Simply customize the sample data to fit your specific needs and requirements.
Our RFQ forms are user-friendly and efficient, saving you valuable time and effort. With our templates, you'll have a professional-looking document that will impress your clients and suppliers. No need to spend countless hours designing and formatting your RFQ, simply download our templates today and take your business to the next level!
Download Templates in MS Word Format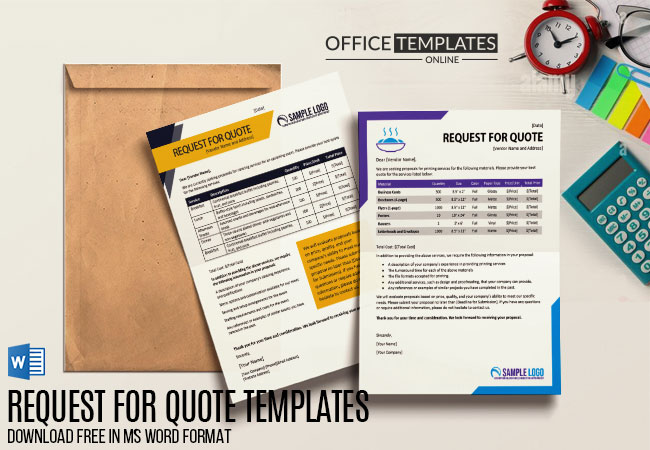 With our high level of sophistication and intricate detail, our templates will enable you to effortlessly create top-notch Request for Quote (RFQ) documents. These are available for download in MS Word format and are incredibly easy to customize and tailor to your specific needs. Download today and experience the benefits of streamlined RFQ creation!
#1 – Catering Services RFQ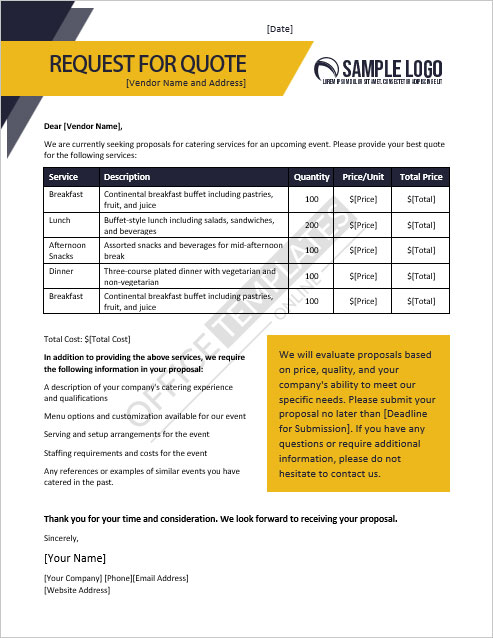 #2 – Cleaning Services Request for Quote
#3 – Construction RFQ Template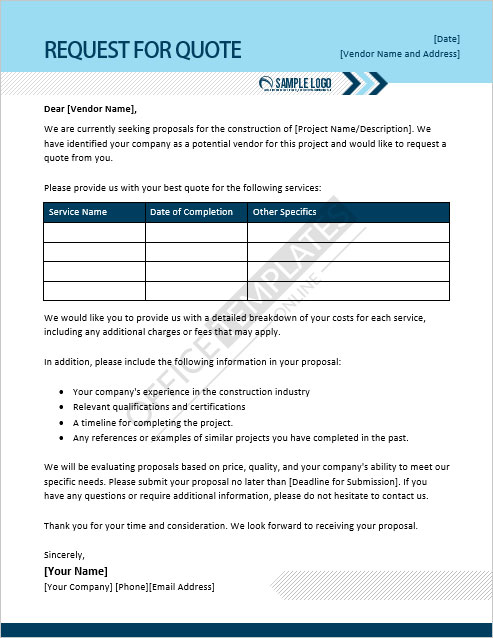 #4 – IT Services Request for Quote
#5 – Plumbing Services
#6 – Printing Services Request for Quote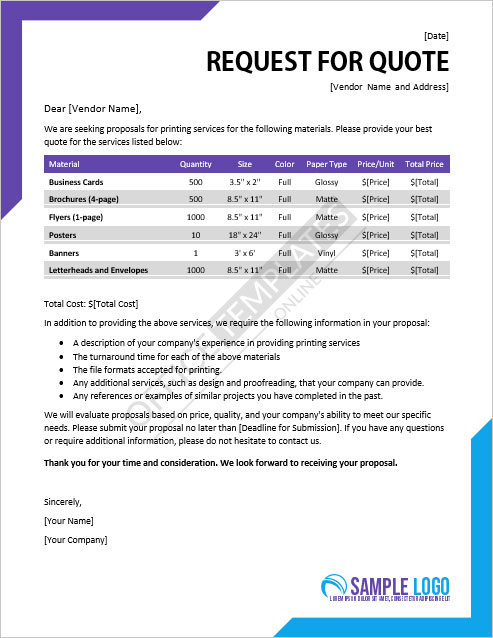 Customize Our RFQ Templates to Meet Your Business Needs
Using the templates is easy and straightforward. First, download the desired template in MS Word format. Then, open the file in Microsoft Word and begin editing it to fit your specific needs. Make sure to fill out all necessary information and double-check for accuracy. Once complete, save the file to your computer.
To customize, start by reviewing the entire document and identifying areas that require editing. Consider changing the fonts, colors, and layout to match your brand. Update all fields with your specific information, such as your company name and contact details. You may also adjust sections based on your unique requirements.
After customizing, you can either print it out and send a hard copy via post to the vendor or save it as a PDF and send a digital copy via email or WhatsApp. Include all essential details and instructions for the vendor to provide an accurate quote for your requested services. Remember to keep a copy of the RFQ for your records.
Using templates can save time and ensure accuracy when requesting quotes from vendors. By customizing them to your needs, you can provide all the necessary information and ensure that your RFQ accurately reflects your requirements. Don't hesitate to use these resources to streamline your business operations and simplify the procurement process.
Are requests for quotes (RFQs) essential?
When a company is working on a project they indulge in the process of direct procurement of resources on its own. However, often times this process of obtaining goods and services is done via other companies and vendors as well. Request for a quote also known as RFQ or invitation for bid (IFB) is an effort to search for the best, cost-effective products as well as services for their projects.
While many might consider this as more of an oral communication matter, this, however, in reality, works differently. In the business world, things progress in a well-defined manner that makes the process easier and less faulty. This is primarily why requests for quotes are needed. You can't contact vendors just like that and state what you need and ask for their quote in return. The process begins with you requesting various vendors, service providers, and related companies to state their prices. After the screening, comparing, and contrasting these price quotes the company can make a well-informed decision and move on to the next steps.
What elements are important for creating an impressive RFQ?
A generic RFQ would not miss the following:
The exact details of the products or services that you are interested in for example the physical shape of the products, quality of products or services, and quantity, etc.
All the nitty-gritty of the contract that you would make with them for example the duration, all hidden terms and conditions, approximate date of delivery for the products, and last date for sending the quotations and bids
Submission requirements such as which documents to be attached, etc.
How does one effectively surf through the RFQ process?
The RFQ process is a critical part of a company's business activities that they require for procuring products or solutions for a project or so. This, however, doesn't work in a haphazard way. The company has to go through the following stage:
Preparation phase: involves internal demand analysis and deciding on the potential suppliers to contact, identification of risk,
Tender phase: involves the request for a quote, answering the vendors' queries related to the bid, viewing and reviewing the choices
Awarding phase: involves the company's final choice of the quote, and confirmation of the order
Closing phase: involves receiving the shipment, bill payment, and finalizing administrative matters.
What is the RFQ template?
While writing an RFQ, the following sections are included by most of the companies that want to leave a good impression:
Introduction to the company and executive summary (stating the requirements of the project)
Introduction to the business nature and market requirements (stating how this procurement is essential for meeting your goals)
Quote and pricing comparison template
Vendor knowledge questionnaire (asking the vendors a few simple questions for your own knowledge)
While we have put down the requirements for you, you don't necessarily have to get into this arduous job. We're here to help! Download the pre-designed templates that don't have the important requirements missing. Check out!
Get Your Answers: Frequently Asked Questions (FAQs)
How do I customize them to suit my requirements?
It can be easily customized by editing the content and adding your own details such as company name, logo, and contact information. You can also modify the layout and formatting according to your preferences.
Can I use the them for multiple vendors?
Yes, you can use the same RFQ template for multiple vendors. Simply make the necessary changes in the content and send it to different vendors.
How many vendors should I send the RFQ to?
It's recommended to send the RFQ to at least three vendors to ensure that you get competitive bids and quality services.
How do I submit the RFQ to the vendors?
You can either print it and send it by post, or save it in PDF format and send it via email or WhatsApp.
What is the procurement process after submitting the RFQ?
After receiving the RFQ responses from the vendors, you should review and evaluate the bids based on factors such as price, quality, and delivery time. Once you select a vendor, you can proceed with the procurement process by signing a contract and issuing a purchase order.
What should I do if I encounter any technical issues?
If you encounter any technical issues, such as difficulty in opening or editing the file, you can contact our support team for assistance. We will be happy to help you resolve any issues and ensure that you have a seamless experience using our templates.
Can I modify them according to my organization's branding and formatting requirements?
Yes, all of them are fully customizable in Microsoft Word, so you can modify them to suit your specific needs.
Can I use them for international procurement processes?
Yes, these can be used for any procurement process, regardless of geographic location. However, it's important to ensure that you comply with any relevant laws and regulations in the location where the procurement is taking place.
Can I add or remove sections?
Yes, these can be customized by adding or removing sections to fit your specific requirements. However, it's important to ensure that all necessary information is included in the RFQ to receive accurate and relevant proposals from vendors.
Conclusion
In conclusion, using RFQ templates can simplify the procurement process and save time. These are easy to use and customize according to the user's needs, various services such as catering, cleaning, construction, IT, plumbing, and printing are available for download on our website.
We encourage users to download these templates and start using them for their business needs. These can be printed or saved in a PDF format for sending to vendors through email or WhatsApp. They also include sections for specifying requirements and terms and conditions, making the procurement process transparent and efficient.
If users encounter any issues or have feedback, they can contact us through the contact us page on our website. Our support team is available to assist with any queries.
We hope that using these templates will simplify your procurement process and save you time and effort. Start using them today and experience the benefits for yourself!