MS Word Booklet Templates
On this Page: you can download professionally designed booklet templates absolutely free. All these booklet templates are designed with beautiful cover pages that not only make them beautiful to look at but also help in getting the attention of their readers.
Over time, we will continue to design and upload more booklet templates for you here. So keep visiting this page from time to time.
Table of Contents
Documentation and writing records were considered to be one of the most cumbersome and difficult jobs in ancient times. People who were given the responsibility of penning down things and writing books and professional records were considered to be the most learned class of society.
They were known to be people of high intellectual capabilities and wisdom. But nowadays the advancement and progress in science and technology have made things very simple and easy. The development of various fields especially related to the internet and computers has positively contributed to the overall development of human living and professional well-being.
Development in Book Writing:
The writer or book developer of the present times does not have to go through such a long list of processes and procedures. Finding information, data, and figures is very easy and convenient through the internet. Sitting at home the writer can draft a book and sometimes even print the manuscript himself.
Software and templates:
The writing process has also been made very easy through the development of various kinds of text writing software and apps. For every document, there are several formats and templates available on the internet. Using the booklet template anyone can start writing their own book. All you need to do is search for the booklet template according to your needs and requirements and download it from the internet. Then you can use it to draft your own booklet and make the necessary modifications.

Printable Booklet for IT Company Created in MS Word
Just as everything has a cover and looks more beautiful in it, so does every book and booklet have a cover. This cover makes it easy to identify this booklet. Just looking at this front cover reveals what this booklet is all about. Therefore, the more beautiful and attractive the cover page of any booklet, the more it will be able to attract its readers.
This Booklet Template
With that in mind, we've designed this booklet for you with a beautiful cover page. You can put your company logo on the top right side. In the middle section, the concept of a digital world is given, which has been applied keeping in view the companies and businesses related to information technology. This image is designed in the shape of a beautiful circle.
On the left side of this image, you can highlight the basic services or products you are providing to your customers. In other words, you can write a short statement about your company here. The space below it is reserved for the company's contact information. Here you can enter your company address, phone number, email and website address, etc.
The next few pages are also designed as a sample in this IT company booklet template. Some placeholder information has been added to these pages so that you can easily see and understand the layout of these pages. All of this information can be easily modified using Microsoft Word or any other text editor.
Print it or Save as PDF
After customizing this booklet and modifying it to the nature of your business, you can print it with any regular printer. If you are using Microsoft Word to modify this booklet template, then you can also export this template in PDF format. This will help you to send it to your customers through Emails or Social Media. You can also place it on your website for your customers.
Cover Page View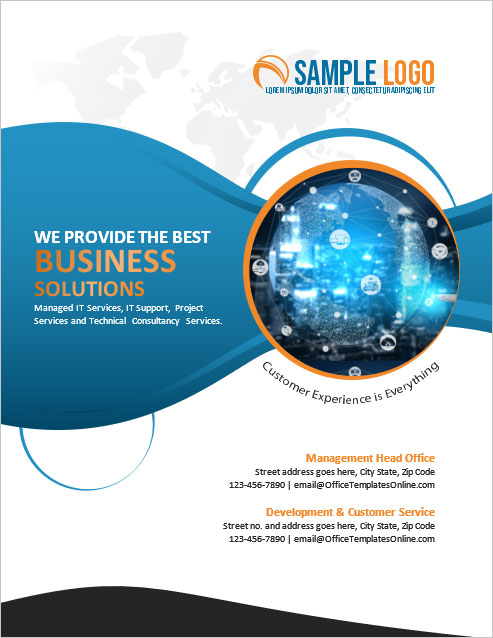 Subpages View
Sample Booklet Template for MS Word
This booklet template is created using MS Word with a beautiful cover page and different layout styles of inside pages. A minimal and simple design with floral borders makes it out-standing and attractive. Subpages of this Booklet templates are designed with single and two columns pages. This will help you to add your content according to your needs using a style that looks good to you.
Below is the screenshot of the cover page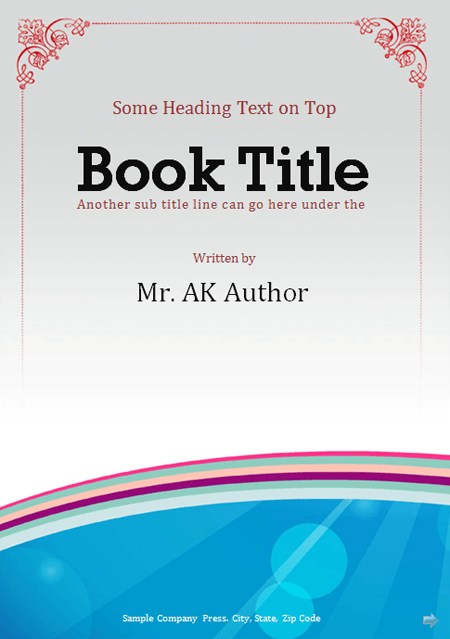 Find below the screenshots of inside pages