On this page, you can find professionally designed invitation templates that you can download and customize for your own business needs. Whether you're organizing an annual members meeting, a business conference, a lunch meeting, a problem-solving session, or a webinar, we've got you covered. Our templates come in MS Word format, making it easy for you to edit and print them right from your computer. Say goodbye to the hassle of creating an invitation from scratch and hello to more time for focusing on the content and success of your meeting.
What is a business meeting invitation card and what is its purpose?
A business meeting invitation card is simply a piece of paper made of hard cardstock material that is sent out to business officials or colleagues informing them about the details of the meeting. As the name suggests invitation cards are used to invite people and this one is no different just like any other invitation card it is used to invite people to a meeting. On the other hand, while most businesses prefer sending these cards in hard form they can also be sent digitally via email.
Most remote businesses use digital invitation cards for their meetings. Sending out invites can help the attendees prepare for the meeting and carve out time for the meeting by rescheduling any other event they may have on that particular day and time. It also helps them with the preparation – any questions they may have, travel arrangements, dress arrangements, or any other requirements of the meeting. As the cards contain all the important information about the meeting.
Download Meeting Invitation Templates in MS Word Format
If you are looking for a readymade design to create a beautiful Meeting Invitation for your next business event, then you are in the exact place! On this page, you can download professionally designed invitation card templates, formatted in MS Word format.
Find all of these below along with a download link to get them to your machine.
#1 – Annual Members Meeting Invitation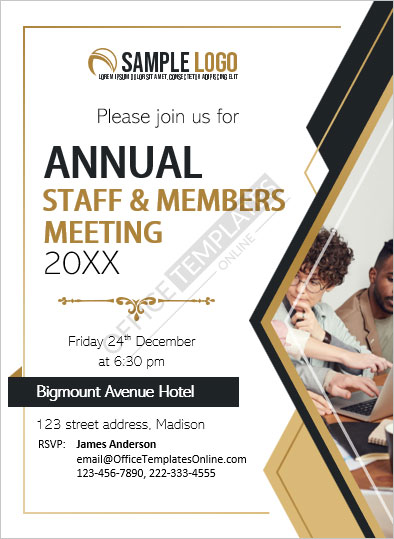 #2 – Business Conference Meeting Invitation
#3 – Business Lunch Meeting Invitation Card
#4 – Problem-Solving Meeting Invitation
#5 – Webinar Online Conference Invitation
What are some important things to consider while writing invitation cards for business meetings?
Before writing invitation cards for business meetings one must consider the 5Ws of any event which are who, what, when, where, and why. These 5Ws are important as all the information written on invitation cards is about answering these 5Ws. It usually includes the following details.
The name of the company and the department or division of the company or it could also be the manager who is inviting so the name of the manager
The agenda of the meeting – what is it about includes minutes of the meeting and proper schedule
The date and time of the meeting
The venue of the meeting
The purpose of the meeting – includes details about the benefits and experiences people will get by attending the meeting. Information about any notable guest speakers, workshops, assessment exercises, and refreshments
Incentives and special offers
It also contains information about the dress code
Request to RSVP
Attendee's names if required or if it is a tight-knit meeting
Signature and company's branding – card should end with the official signature of the host and the company's logo
What are some dos and don'ts of business meeting invitation cards?
Keep it simple, clear, and brief
Keep an inviting but official tone
Share a tip about meeting's easy access
Review your invites and make sure that important information is not missing
Provide accurate information
Make sure to send the invites well before time so attendees have ample time to RSVP
Follow-up on the RSVP
Do not forget the company's branding on the card
Ask the attendees to be punctual to avoid wastage of time
Mention the exact time of breaks and refreshments
Expert Advice for Designing Impactful Meeting Invitations
Make your meeting invitations stand out from the rest with these expert tips. From fonts to content structure, we've got you covered for designing effective and impactful invitations.
Choose a clear and easy-to-read font. Avoid using fancy or overly decorative fonts that may be difficult to read.
Use colors that are professional and align with your brand or organization. Avoid using too many colors or bright, neon colors that may be distracting.
Include an image or graphic that relates to the meeting's topic or purpose. This can help grab the recipient's attention and make the invitation more visually appealing.
Keep the content concise and to the point. Use bullet points to break up long paragraphs and make the invitation easy to scan.
Include all necessary information, such as the date, time, location, and purpose of the meeting. Make sure the details are accurate and up-to-date.
Use a clear and descriptive subject line that accurately reflects the content of the invitation. This can help ensure that the recipient opens and reads the invitation.
Consider the tone and language used in the invitation. Make sure it is professional, polite, and aligned with the culture of your organization.
What are some different types of business affairs that require meeting invitations?
Team meetings – Regular meetings between a team of colleagues or employees to discuss projects, goals, and progress.
1-to-1 meeting – A one-on-one meeting between two individuals, often used for performance reviews, feedback, or personal development.
Client follow-up meets – Meetings with clients to follow up on previous discussions, provide updates, and maintain relationships.
Presentation meeting – Meetings where individuals or teams present their ideas, proposals, or findings to a larger audience.
Board meeting – Meetings between members of a board of directors to discuss and make decisions on company-related matters.
Annual Meeting – A yearly meeting where company shareholders and executives discuss the company's financial performance and goals.
Business seminars – Meetings designed to educate attendees on various business-related topics, often featuring guest speakers or experts in the field.
Official luncheons – Formal business lunches that often involve networking and relationship-building with clients, partners, or colleagues.
Award ceremonies – Events where awards or recognition are given to employees, clients, or partners for their achievements or contributions.
Black-tie affair – A formal event that requires attendees to wear formal attire, often used for celebrations, fundraisers, or charity events.
Choosing the Right Invitation Format for Your Meeting
Choosing the right invitation format is crucial for the success of your meeting. With many options available, it can be tough to choose the best one for your audience and event. We'll explore paper and digital invitations and compare email, social media, and video invitations. Our goal is to help you make an informed decision for your next meeting invitation.
Format
Advantages
Disadvantages
Paper Invitations
– More formal and professional
– Can be personalized
– Tangible and can be kept as a keepsake
– Expensive
– Time-consuming to create and distribute
– Limited reach
Email Invitations
– Quick and easy to create and send
– Inexpensive
– Easy to track RSVPs
– Can be overlooked or sent to spam
– Impersonal
– Limited design options
Social Media Invitations
– Wide reach
– Can be shared and easily forwarded
– Can be designed with multimedia elements
– May not be taken seriously
– Limited formality
– May not reach older or less tech-savvy audiences
Video Invitations
– Engaging and attention-grabbing
– Can convey personality and tone
– Can be shared and easily forwarded
– Time-consuming to create
– May require special equipment or software
– May not be accessible to all audiences
Helpful Video Tutorial
Conclusion
In conclusion, effective meeting invitations are crucial for the success of any business event. By following the tips provided on this page, such as carefully choosing fonts, colors, and images and structuring the content for maximum impact, you can design invitations that grab the attention of your audience and encourage high attendance rates. Additionally, understanding the different types of business affairs that require meeting invitation cards and the advantages and disadvantages of various invitation formats, including paper and digital invitations, can help you make informed decisions for your particular event and audience.
To further assist you in your invitation design process, we have also provided five professionally designed invitation templates in MS Word format, including the Annual Members Meeting Invitation, Business Conference Meeting Invitation, Business Lunch Meeting Invitation Card, Problem-Solving Meeting Invitation, and Webinar Online Conference Invitation. These templates are ready to use and can be easily customized to fit the specific needs of your event.
We hope that the information and resources provided on this page have been helpful to you and that you are now equipped to design effective meeting invitations that contribute to the success of your business events. Remember, the invitation is the first point of contact with your audience, and a well-designed invitation can make a lasting impression and set the tone for a successful event.