27+ Free Envelope Templates & Formats for MS Word
Discover the power of professionally designed envelope templates that will elevate your correspondence to new heights. With our collection of readymade envelope templates in MS Word format, you can effortlessly create eye-catching envelopes for various occasions and purposes. Whether you're sending business letters, invitations, or personal greetings, our templates offer convenience, style, and customization options to suit your unique needs. Scroll down and explore our range of stunning designs, ready for you to download and make your mark. It's time to make a lasting impression with every envelope you send.
Let's recollect the fact that every time we receive an envelope through the post it varies in shape and form (Depending on the Envelope Templates used). The envelope that contained your cousin's wedding invitation looked different from the one that your work colleague sent for inviting you to a conference. Similarly, the envelopes that we find in our grandpa's possession from the past contain unique and specialized envelopes that he received containing precious letters from his friends and family that were different. The basic structure and purpose, however, remain the same.
Let's get a detailed insight into what are envelopes and what motives are they used for.
An envelope is a packaging item that is primarily made out of a thin sheet of paper. It is used for containing a flat letter, a card, or other similar objects inside it. Envelopes are used to enclose these objects inside specifically to keep the contents concealed. Envelopes are easily created by folding the sides of a kite-shaped paper sheet and gumming it up. These are used for keeping letterheads, event invitations, mail pieces, and simple letters.
Download Envelope Templates
Enhance your correspondence with our meticulously crafted envelope designs and formats for Microsoft Word. Elevate the visual appeal of your mailings and leave a lasting impression on recipients. Immerse yourself in a world of 27 beautifully designed envelope templates, meticulously tailored to cater to diverse sizes and styles. From elegant and classic to modern and eye-catching, our collection offers an array of options to suit your unique needs. Scroll down and indulge in the artistry of envelope design as you explore and download these exceptional templates.
#10 Size – (Most Popular)
(104.77 mm x 241.3 mm) | (10.47 cm x 24.13 cm) | (4.125 inches x 9.5 inches)
Watch the video tutorial How to Design an Envelope in Microsoft Word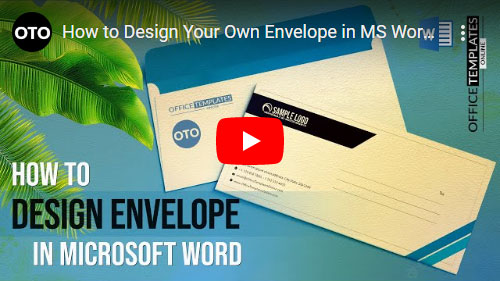 #2
DL Size Envelope Templates
(220 mm x 110 mm) | (22 cm x 11 cm) | (8.66 inches x 4.33 inches)
C5 Size
(162 mm x 229 mm) | (16.2 cm x 22.9 cm) | (6.4 inches x 9 inches)
C6 Size
(114 mm x 162 mm) | (11.4 cm x 16.2 cm) | (4.5 inches x 6.4 inches)
C7 Size
(81 mm x 114 mm) | (8.1 cm x 11.4 cm) | (3.2 inches x 4.5 inches)
C8 Size
(57 mm x 81 mm) | (5.7 cm x 8.1 cm) | (2.2 inches x 3.2 inches)
Discover Unique Envelope Designs for Specific Business Needs
Discover below an additional set of envelope templates designed specifically for various jobs, businesses, events, and fields. In addition to our general templates for different sizes, we've curated a collection of 17 specialized templates. These new additions cater to specific industries such as advertising, architecture, catering, churches, event planning, fashion design, gyms, law firms, marketing agencies, massage therapy, sports, travel agencies, universities, wedding planning, and more. Explore this section to find the perfect envelope template tailored to your specific occasion, business, or event.
#11
Advertising Agency: "Creative Promotions"
#12
Architecture: "Structural Elegance"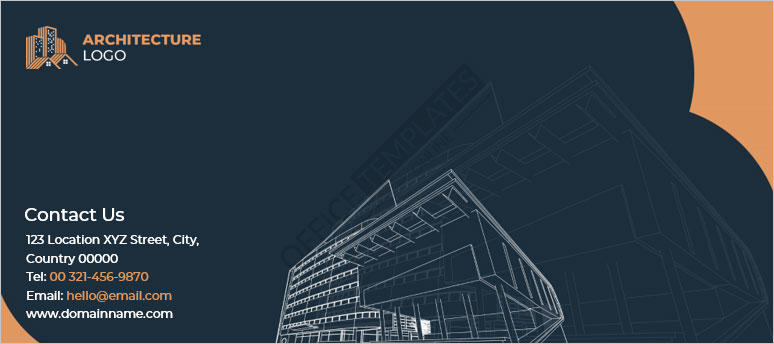 #13
Butcher Shop & Restaurant: "Gourmet Delights"
#14
Catering: "Exquisite Cuisine"
#15
Church: "Divine Messages"
#16
Event Planner: "Unforgettable Events"
#17
Fashion Designer: "High Fashion Statements"
#18
Gym: "Fitness Motivation"
#19
Hostel: "Comfortable Stays"
#20
Law Firm: "Legal Expertise"
#21
Marketing Agency: "Strategic Campaigns"
#22
Massage: "Relaxation Bliss"
#23
Sports: "Victory Celebrations"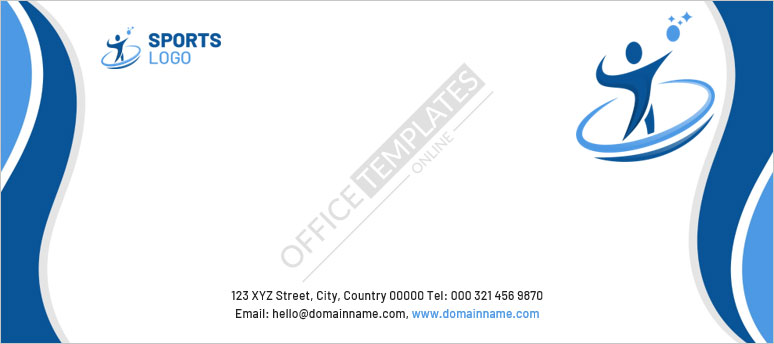 #24
Travel Agency: "Adventure Awaits"
#25
University: "Educational Excellence"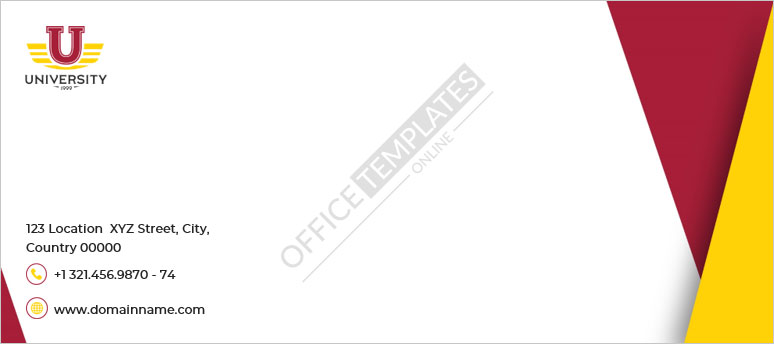 #26
Wedding: "Eternal Love"
#27
Wedding Planner: "Dream Celebrations"
Using the Templates: Step-by-Step Guide
Step 1: Download the Templates Find the envelope template that fits your needs on the page. Choose from various sizes mentioned in the contents. Click the download link for the specific template.
Step 2: Compatibility with MS Word Versions Rest assured, these MS Word templates work with different versions. Access and edit them easily in MS Word 2010, 2013, 2016, or later. Make sure you have the right MS Word version installed.
Step 3: Customize and Use Download and open the template in MS Word. Customize it to your preferences. Modify text fields, add logos, and personalize design elements. Follow any instructions mentioned in the contents. Consider recommended paper size and orientation for printing.
Follow these instructions to create professional envelopes. Enjoy the convenience and versatility of these templates. Streamline your design process and save time and effort.
Types of envelopes:
Envelopes are of many sizes, shapes, and types based on the purpose they are supposed to serve.
A-shaped envelopes: Most of the envelopes are A-shaped and are used for keeping seminar announcements, brochures, etc.
Baronial envelopes: These are used for keeping formal documents such as invitations, birth and death announcements, greeting cards, birthday cards, etc.
Squared envelopes: These are also used for announcements, greeting cards, etc.
Commercial envelopes: Business correspondence-related documents are contained in these.
Booklet envelopes: These are usually bigger in size and keep folders, catalogs, brochures, etc.
Catalog envelopes: When a number of documents are to be mailed, this looks like a good option. This type of envelope is also used when the document is to be opened on spot.
9 ideas for designing envelopes that none can restrict opening:
People receive various envelopes in a month, what makes your envelope stand out and worthy to be opened is an important point. Here are a few ideas on how you can achieve that:
Eye-catching Designs, images, or graphics that intrigue curiosity- visuals, as we all know, are the best way of catching people's attention.
A color theme associated with a cause- red, for example, is the color of urgency
A label or brand sign that immediately signals what the letter is about- a half-bitten apple signifies what? The Apple incorporation.
A sustainable material, packaging, and design- a brown envelope made out of biodegradable material and containing a seed or a plant shoot to signify its eco-friendly approach
Reward- We all love finding gifts, don't we?!
An envelope that says nothing- well, saying nothing is in itself a big message.
A theme like never before: might sound cliché but let's go more unique than ever, shall we?!
Hand-written, customized, and personal- an envelope in your handwriting would definitely leave a nice message.
Window- a window revealing the basic message of the letter's contents.
Components for Proper Envelope Formatting
When preparing an envelope, it's important to consider its format. The format ensures that the necessary information is properly displayed, facilitating smooth delivery and effective communication. Pay attention to the following key points:
Sender's Name: Clearly indicate the sender's name on the envelope. This helps the recipient identify the source of the letter and establishes a personal connection.
Recipient's Name: Prominently display the recipient's name on the envelope. Addressing it to the intended person ensures direct delivery and avoids any confusion.
Return Address: Include a return address in case the letter cannot be delivered. This allows the postal service to return it to the sender if necessary.
Delivery Address: Clearly write the complete delivery address, including street name, number, city, state, and ZIP code. Ensure accuracy to avoid any delays or misdeliveries.
Company's Stamp (if applicable): If you represent a company, you may choose to include a professional stamp or logo. This adds a touch of authenticity and reinforces your brand identity when sending official correspondence.
By adhering to these formatting guidelines, you can ensure that your envelopes are properly structured, organized, and effectively convey the necessary information. This enhances the chances of successful delivery and creates a positive impression.
Make a Lasting Impression with Customizable Envelope Templates
Congratulations on discovering our remarkable collection of envelope templates for Microsoft Word! We have brought together a fusion of functionality and artistry to provide you with an unparalleled envelope design experience. From business correspondences to special occasions, our templates cater to every need and purpose.
With our diverse range of sizes, styles, and formats, you have the freedom to express your unique personality and captivate recipients from the moment they receive your mail. Whether you're aiming for elegance, professionalism, or a touch of creativity, our templates empower you to leave a lasting impression.
Don't settle for ordinary envelopes when you can elevate your mailings to extraordinary. Download our exquisite envelope templates, tailor them to your specific requirements, and witness the transformative power of thoughtful design.
Remember, the first impression counts, and our templates ensure that your envelopes stand out from the crowd. So why wait? Embark on a journey of creativity, enhance your correspondence, and make a lasting impact with our exceptional envelope templates for Microsoft Word.
Unlock the possibilities and start creating today!