10+ Free Envelope Designs & Formats for MS Word
Let's recollect the fact that every time we receive an envelope through the post it varies in shape and form (Depending on the Envelope Templates used). The envelope that contained your cousin's wedding invitation looked different from the one that your work colleague sent for inviting you to a conference. Similarly, the envelopes that we find in our grandpa's possession from the past contain unique and specialized envelopes that he received containing precious letters from his friends and family that were different. The basic structure and purpose, however, remain the same.
Let's get a detailed insight into what are envelopes and what motives are they used for.
An envelope is a packaging item that is primarily made out of a thin sheet of paper. It is used for containing a flat letter, a card, or other similar objects inside it. Envelopes are used to enclose these objects inside specifically to keep the contents concealed. Envelopes are easily created by folding the sides of a kite-shaped paper sheet and gumming it up. These are used for keeping letterheads, event invitations, mail pieces, and simple letters.
Download Envelope Templates
Down below, you can download 10 beautifully designed envelope formats for Microsoft Word of different sizes and styles.
#10 Size – (Most Popular)
(104.77 mm x 241.3 mm) | (10.47 cm x 24.13 cm) | (4.125 inches x 9.5 inches)
Watch the video tutorial How to Design an Envelope in Microsoft Word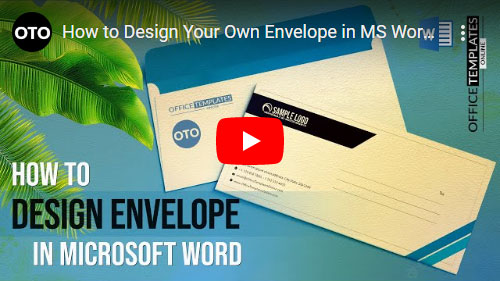 DL Size Envelope Templates
(220 mm x 110 mm) | (22 cm x 11 cm) | (8.66 inches x 4.33 inches)
C5 Size
(162 mm x 229 mm) | (16.2 cm x 22.9 cm) | (6.4 inches x 9 inches)
C6 Size
(114 mm x 162 mm) | (11.4 cm x 16.2 cm) | (4.5 inches x 6.4 inches)
C7 Size
(81 mm x 114 mm) | (8.1 cm x 11.4 cm) | (3.2 inches x 4.5 inches)
C8 Size
(57 mm x 81 mm) | (5.7 cm x 8.1 cm) | (2.2 inches x 3.2 inches)
Types of envelopes:
Envelopes are of many sizes, shapes, and types based on the purpose they are supposed to serve.
A-shaped envelopes: Most of the envelopes are A-shaped and are used for keeping seminar announcements, brochures, etc.
Baronial envelopes: These are used for keeping formal documents such as invitations, birth and death announcements, greeting cards, birthday cards, etc.
Squared envelopes: These are also used for announcements, greeting cards, etc.
Commercial envelopes: Business correspondence-related documents are contained in these.
Booklet envelopes: These are usually bigger in size and keep folders, catalogs, brochures, etc.
Catalog envelopes: When a number of documents are to be mailed, this looks like a good option. This type of envelope is also used when the document is to be opened on spot.
9 ideas for designing envelopes that none can restrict opening:
People receive various envelopes in a month, what makes your envelope stand out and worthy to be opened is an important point. Here are a few ideas on how you can achieve that:
Eye-catching Designs, images, or graphics that intrigue curiosity- visuals, as we all know, are the best way of catching people's attention.
A color theme associated with a cause- red, for example, is the color of urgency
A label or brand sign that immediately signals what the letter is about- a half-bitten apple signifies what? The Apple incorporation.
A sustainable material, packaging, and design- a brown envelope made out of biodegradable material and containing a seed or a plant shoot to signify its eco-friendly approach
Reward- We all love finding gifts, don't we?!
An envelope that says nothing- well, saying nothing is in itself a big message.
A theme like never before: might sound cliché but let's go more unique than ever, shall we?!
Hand-written, customized, and personal- an envelope in your handwriting would definitely leave a nice message.
Window- a window revealing the basic message of the letter's contents.
Format of an envelope:
The sender's name
The recipient's name
Company's stamp (if any)