Free Obituary Card Templates to Express your Emotions
Introducing six professional, user-friendly, customizable, and printable obituary templates in MS Word format. These templates are available completely free of charge. Discover a wide selection of meticulously designed formats that cater to different needs and preferences. Each one offers a seamless experience, allowing you to effortlessly create heartfelt obituary cards. With user-friendly features and customization options, expressing your emotions becomes easier than ever. Download any of these to begin your journey of honoring the memory of your loved ones. These designs are not only convenient but also deliver exceptional quality, ensuring your obituary cards are a true reflection of your sentiments. Let the words flow effortlessly as you personalize these templates, capturing the essence of your loved one's life. Pay tribute to their legacy with these thoughtfully crafted designs.
Announcing the death of a beloved or posting the news on social media can be done with the help of obituary cards. However, choosing the right words for expressing grief at the loss of a loved one can be very challenging for almost all of us. This involves sentiments and requires a lot of care in expressing these difficult emotions in the most appropriate manner. This is often used for this purpose.
For those of us who find it hard to put the right words on this paper can rely on the editable one we are providing, that too for free. Cards that express sympathy, act as memorial cards, and announce the departure of a family member or a friend can be called obituary cards.
Download Readymade Funeral and Obituary Card Templates in MS Word Format
On this page, you can find beautifully designed obituary card formats, designed in MS Word. Each of these designs with both Front and back sides. On most of these, the front end is designed with the person's Photo, Name, date of death and summary of the personality of the person. The backside is designed to write the detail and obituary of the person.
#1 – General Remembrance Template
#2 – Sympathy Design for Children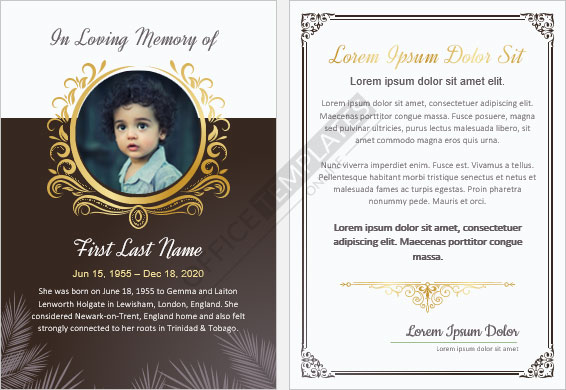 #3 – Father's Tribute Design
#4 – Mother's Memorial Design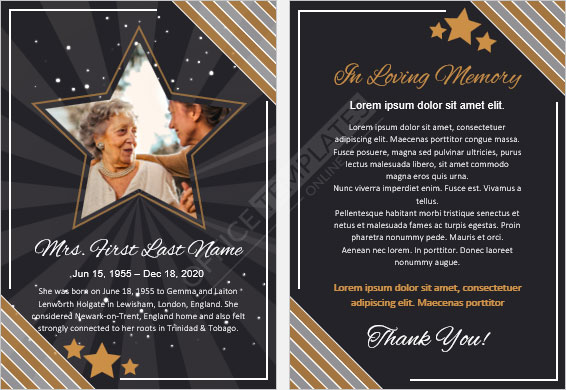 #5 – Friend's Commemorative Template
#6 – Grandparent's Legacy Design
How these Readymade Obituary Card templates can help you save time?
These templates formatted in Microsoft Word provide an easy and efficient way to create and distribute multiple obituary cards for the deceased. Here are the steps to use a template in MS Word to fill in the information about the deceased and create multiple cards:
Download the template: Download any of the above templates that you like.
Fill in the information: Open the template and fill in the relevant information about the deceased, such as their name, dates of birth and death, personal message or tribute, and funeral or memorial service information.
Add photos or images: If desired, add a photo or image of the deceased to the template, either by inserting a picture or by cutting and pasting it into the document.
Customize the design: Customize the design to suit your needs and preferences. You can change the font, color, size, and layout of the text, add borders or graphics and incorporate any other design elements that you wish.
Print the cards: Once the template is complete, print it on high-quality card stock paper. You can print as many copies as you need, making sure to check the quality of the print and make any necessary adjustments.
Distribute the cards: Distribute the printed obituary cards to friends, family, and acquaintances who knew the deceased. You can also send the cards by mail or hand them out in person, as appropriate.
By using these obituary card templates, you can easily create and distribute multiple cards to commemorate the life of a loved one. Using these templates provides a convenient and cost-effective way to honor their memory and provide comfort and support to those who are grieving.
What is the best use of an Obituary Card?
An obituary card serves many purposes, but some of the best uses of it are:
To inform others of the death of a loved one: This is an effective way to notify others of the passing of a loved one. It provides the date, time, and location of the funeral or memorial service, as well as other relevant information, allowing those who knew the deceased to offer their condolences and support to the family.
To commemorate the life of the deceased: It is a tribute to the life of the person who has passed away. It often includes a personal message or tribute from the family or friends, highlighting the deceased's life, accomplishments, and the impact they had on those around them.
To provide comfort and support to the bereaved: This can provide comfort and support to the bereaved. The messages of condolence and support from others can help to ease the pain of loss and provide a sense of comfort during a difficult time.
To keep memories alive: It is a tangible reminder of the deceased and the memories they shared with others. It serves as a keepsake that can be cherished for years to come and helps to keep their memory alive.
To help with funeral planning: This can help with funeral planning by providing important information to those who are planning to attend the funeral or memorial service. It helps to ensure that everyone has the necessary information to be present to offer their condolences and support to the bereaved.
These are some of the best uses of an obituary card. It is a powerful tool for commemorating the life of a loved one, providing comfort and support to the bereaved, and helping to keep memories alive. Whether it is used for personal or professional purposes, an obituary card is an effective and meaningful way to honor the memory of the person who has passed away.
What does an obituary card look like?
The departure of a beloved soul is, definitely, one of the most difficult times of a person's life. At a time like this, the design and creation of memorial cards and obituary notes would, for sure, be hard and trying. No one would have the courage and capacity to sit and talk about the deceased without shedding those tears. Pre-designed obituary templates from our website can be downloaded as per the instruction given above. Most of these have a dark, blackish, white, or grey background appropriate to the nature of these formats. Occasionally, these also have subtle colors such as pink, light blue, and shades of green.
These features will be there in most of the obituary designs that people have validated and liked:
Name of the person
A photograph of the deceased: this will display the love and attachment the particular person had with the dead. This picture in most cases will be the one showing them in a nice mood, radiating the energy that they had. This would surface the sentiments of those receiving this.
The date of birth to the date of death.
Beginning statements of condolence such as "in the loving memory of XYZ" or "the Johns deeply regret the sad demise of XYZ and pray for the peace and forgiveness of the soul. Amen".
A statement of relation that shows who the card is from might be published by the immediate family to inform people of the death of their family member or might also be published by colleagues or friends to display their concern. These cards can be posted over social media or published in the newspaper.
Funeral details: sometimes obituary designs can also have information about the funeral such as where would it be held and at what time and day.
Oftentimes, the obituary formats can look like simple ones that only have a decent background to go with and a concise statement only. No excessive text, no photographs, etc.
How are obituary cards useful?
The death of a loved one leaves us stranded in a vacuum with no clue about what to do. A nice memorial card at a time like this can be helpful in healing those ever-sore wounds:
It can help keep these cards as keep-sakes and remember the departed soul in the form of these cards as a tangible asset
It gives the clearest message to the ones around you on how you are managing your grief in such a nice way
It can gather relatives and friends from around the world to connect on how the person has left a void in their lives.
It seems to be one of the easiest ways of expressing our love for the person in the subject.
Step-by-step guide on how our customizable obituary cards can be used:
While looking for obituary card samples you have reached our website. We will teach you a few basic steps on how to create them. You can start with these basic steps and
Begin with choosing an obituary template that meets your needs
Click for options to create a blank or one with endless editing options
Choose from tons of images, backgrounds, themes, fonts, and templates that we have
Download, edit, and add the statements of your choice
Share, upload, publish, and print.
Just a few steps and your cards are ready! We are positive our templates will help you in such a tiring time and give you a hand in expressing feelings that choke your throat.
How can an Obituary card help the deceased?
An obituary card can play an important role in helping the soul of the deceased in several ways:
Providing closure: It can provide closure to those who are grieving the loss of a loved one. The act of acknowledging and commemorating their life through the creation of this card can help to bring a sense of closure and peace to those who are grieving.
Encouraging remembrance: It can encourage the remembering of the deceased by those who knew and loved them. The information, photos, and personal messages included in the obituary card serve as a tangible reminder of their life and the memories they shared with others.
Providing a source of comfort: It can provide a source of comfort to those who are grieving. The messages of condolence and support from others can help to ease the pain of loss and provide a sense of comfort during a difficult time.
Connecting with loved ones: This can serve as a way to connect with loved ones and friends who may not be able to attend the funeral or memorial service. It provides a way for them to offer their condolences and support, even if they are unable to be present in person.
Celebrating their life: This can help to celebrate the life of the deceased. By highlighting their accomplishments, character, and the impact they had on those around them, the obituary card serves as a meaningful tribute to their life.
Helpful Video Tutorials
How to Design a Love Card for Father's Day in MS Word Format