13+ FREE Organizational Chart Templates for MS Word
On this page: you can find and download free organizational chart templates formatted in Microsoft Word for different kinds of colleges and universities. Whether you're looking for a basic org chart template to visualize the structure of your college or university or a more advanced template to showcase the relationships between departments and positions, you'll find it here. Our templates are designed to be easy to use, so you can quickly create a professional-looking org chart without any specialized knowledge or experience. Simply download the template that best fits your needs, add your own information, and you're ready to go. Browse our selection of templates and find the perfect one for your college or university.
An organizational chart is a diagram that represents the structure of an organization, including the hierarchical relationships and roles of its employees. This typically includes job titles, names of employees, and the reporting relationships between them.
Download Readymade Organizational Chart Templates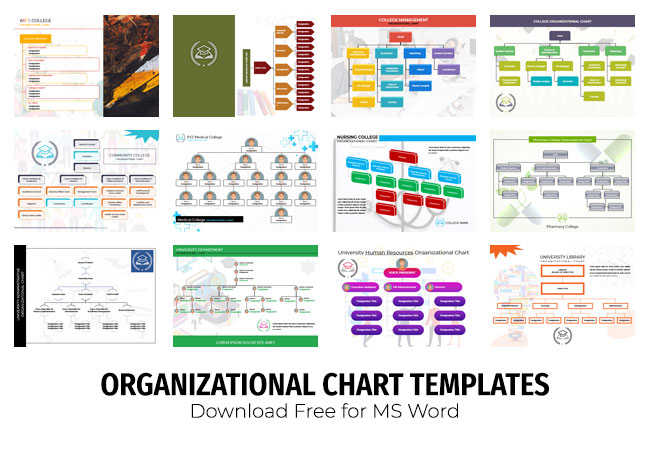 Seeking a FREE and straightforward solution to create organizational charts? Your search ends here! We present 13 editable MS Word templates, absolutely free. These user-friendly and customizable templates accurately represent your organizational structure. Choose from our wide selection to find the perfect fit. Download now to streamline operations and enhance communication within your organization.
#1
# 2
# 3
# 4
# 5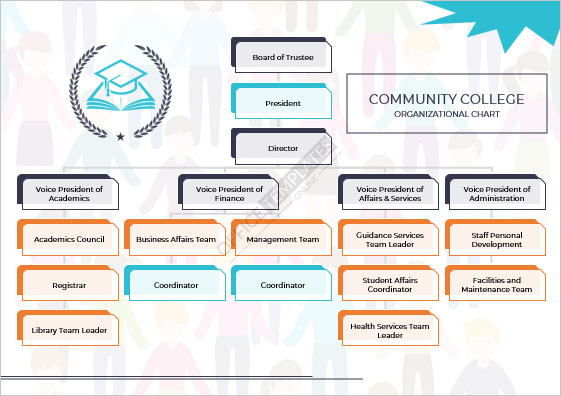 # 6
# 7
# 8
# 9
# 10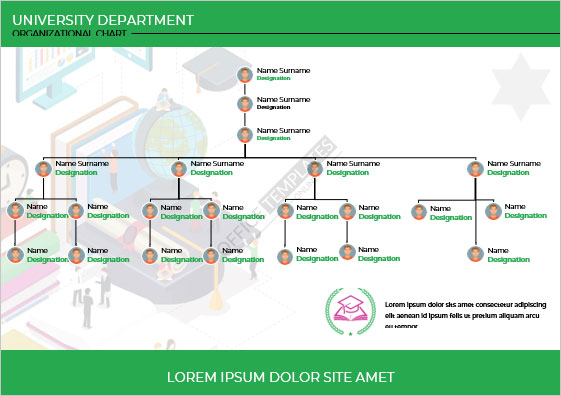 # 11
# 12
# 13
An organizational chart visually represents an organization's structure using tools like flow charts, network diagrams, or specialized software. It can be simple, on a single page, or complex with multiple pages and hierarchical levels. The chart structure can be hierarchical, showcasing higher-level positions at the top and lower-level positions at the bottom. Alternatively, it can be matrix-based, presented in a grid format. Various display formats are available, including traditional tree structures, circular layouts, or network diagrams.
Common Questions about an Organizational Chart
Here are some common questions that people may have about organizational charts:
What is an organizational chart?
It is a diagram that visually represents an organization's structure, showcasing the relationships between positions and the reporting lines from employees to managers.
Why is it important?
It clarifies the company's structure, defines roles and responsibilities, and highlights the relationships between employees and their managers. This enhances communication, and efficiency, and aids new employees in understanding the company's framework.
How is it created?
It can be manually created using diagrams and illustrations, or by utilizing specialized software that enables electronic creation, editing, and sharing.
What information is included?
Typically, an organizational chart includes the names of positions and the corresponding titles of employees.
What is the Need and Purpose of an Organizational Chart?
Creating an organizational chart is an important aspect of defining and communicating the structure of an organization. There are several key reasons why it is necessary to create an organizational chart, including:
Clarifying the Chain of Command: An organizational chart provides a concise representation of relationships and reporting lines, helping employees understand who they report to and who holds responsibility for various tasks and decisions.
Improving Communication: By visualizing the structure and hierarchy of the company, an organizational chart fosters better communication. It also aids in identifying communication bottlenecks and streamlining processes.
Enhancing Decision-Making: Organizational charts offer valuable insights to leaders and managers, enabling informed decisions regarding staffing, compensation, and resource allocation. They promote organizational alignment and goal attainment.
Facilitating Onboarding: It serves as a valuable tool for new employees, aiding their understanding of the company's structure and the relationships between departments and individuals.
Ensuring Compliance: Certain industries require organizational charts for regulatory compliance. For example, in healthcare, it ensures that employees comprehend the chain of command and their respective responsibilities.
Who can use an Organizational Chart?
An organizational chart, also referred to as an org chart, is a visual representation that showcases a company's hierarchical structure and the relationships between employees and positions. It serves as a valuable tool for clarifying roles, responsibilities, and reporting lines within the organization. Regardless of size or industry, these can be utilized by various businesses and organizations.
Small businesses and startups can leverage org charts to establish clear lines of authority and aid new employees in understanding the company's structure. Large corporations can use them to visualize complex reporting relationships and identify areas for improvement in terms of efficiency and communication. Non-profit organizations can benefit from them as well, as they help clarify task distribution among staff and volunteers.
Moreover, government agencies and public institutions can employ org charts to illustrate hierarchical structures and relationships between different departments, divisions, and positions. Service-based businesses, such as law firms and consultancies, can also utilize them to depict relationships between partners, associates, and support staff.
What are the best practices to create an Organizational Chart?
Crafting an impactful organizational chart may pose challenges, yet adhering to best practices ensures an accurate representation of your company's structure and alignment with its goals and objectives. Consider the following best practices when creating an organizational chart:
Gain a clear understanding of the company's structure: Prior to creating the org chart, thoroughly comprehend the company's hierarchy and the roles and responsibilities of each position. This foundation will facilitate the creation of an accurate and representative chart.
Utilize clear and consistent symbols and formatting: Employ easily understandable symbols and formatting techniques to represent different positions. For example, use boxes for managers and lines to depict reporting relationships. Employing a consistent style for all positions reinforces the hierarchy and enhances readability.
Highlight significant positions and relationships: Emphasize key positions and relationships using techniques such as color, labels, or formatting. This will clarify and draw attention to crucial areas of responsibility and decision-making authority.
Keep the chart up-to-date: Organizations constantly evolve, necessitating regular updates to the org chart to reflect structural and relationship changes. Regularly review and revise it to ensure it accurately represents the company.
Leverage software or templates: Employ software programs or templates to create org charts swiftly and easily. These tools often offer pre-designed symbols, formatting options, and other features that facilitate the creation of professional-looking charts with minimal effort.
Seek input from key stakeholders: Prior to finalizing, solicit input from essential stakeholders, including managers and employees. This ensures that the chart accurately reflects the company's structure and relationships and incorporates valuable perspectives.
How to create an Organizational Chart in Microsoft Word?
Creating an organizational chart in Microsoft Word is a straightforward process. Here's how to do it:
Open Microsoft Word and click on the "Insert" tab.
In the "Illustrations" section, click on the "SmartArt" button.
In the "SmartArt" dialog box, choose the "Hierarchy" category and select the type of organizational chart you would like to create, such as a basic or a picture.
After you've chosen the type, click "OK" to insert it into your Word document.
To add text to it, simply click on a shape and type the name and title of the person or position you want to include. You can also add additional shapes to represent new positions or to clarify relationships between positions.
You can also customize the appearance by changing the colors, adding images, or adjusting the layout. To do this, click on the chart and go to the "Design" tab in the "SmartArt Tools" section.
When you're finished, you can save your chart as a Word document or export it to another file format, such as PDF or PNG.
By following these steps, you can easily create an organizational chart in Microsoft Word, a popular word-processing software. With its intuitive interface and robust features, Microsoft Word makes it easy to create professional-looking charts and diagrams.