We all remember those "ever-dreaded" result days or annual meetings, that were usually conducted so as to hand the student's performance document (the report card) to his/her parents. For some it might be a source of accomplishment and success, while for others might be a message, they weren't ready to receive!
These are also known as Result cards or Progress reports have for a very long time acted as the primary means of communication between the child's school and their parents. These are no longer simply about stating grades and marks! Report cards these days are a detailed written record of a pupil's curricular performance over a specified period of time. Besides the oral communication between the parents and the teachers, result cards are an efficient means of providing a "legal" documentary record of their child's performance. These are great for presenting the educational success of a student.
Download Templates
Download below six professionally designed Sample Report Card Templates with awesome designs and layouts in Microsoft Word. All of these are completely editable and printable on a US-Letter size paper.
#1 – Printable Student Result Card Format
#2 – Best Template for High School
#3 – Colorful Preschool Design
#4 – Daily Progress Report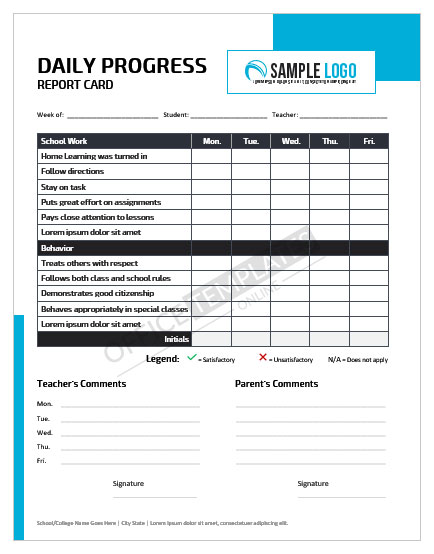 #5 – Weekly Academic Progress Report Format
#6 – Exclusive Folded (Two Fold) Style
Front/Outer Side View
Back/Inner Side View
Actual View
You May Also Like
3+ Download School Report Card Templates
What is a good report card?
A good report while providing grades of student performance in the form of letters A, B, C, D, E, F, also provides a separate section for the child's skills. It states the abilities of the students when it comes to their motor, social, and behavioral skills. Another section is dedicated to the teacher's comments, which in a conversational manner put what the teacher has concluded about the student in a particular study period.
The periods of presenting reports differ from monthly to bimonthly to biannual or annual. These periodically present a teacher's evaluation of student's progress in various courses as well as in general. A good format must be well-developed, consistent, demonstrative, and concise, and contain vital parts such as school contact, grade scale, class, comments, assessment, attendance, skills, etc.
The old-school way of "grading" students into categories is being questioned by many child psychologists and academic experts, lately. Specialists are aiming to question if this is helpful or deteriorative for the students. The pros and cons of these will be explored below:
What are the advantages of conventional report cards?
Providing solid grades for children is a convenient way of presenting what the teacher feels about them. The parents can easily understand where their child stands academically, and what areas need to be worked upon. This also helps students analyze themselves and determine their future actions.
The conventional grading scheme has been found to be an efficient way of mapping one's progress, making students "do good" the next time and achieve higher grades leading to healthy competition.
What are the disadvantages of conventional report cards?
The grading might display itself as highly biased. Teachers might grade students based on individual performance or in comparison. Grades can additionally be never deemed as the "ultimate" criteria for defining a child's progress. A student might have grasped the material taught but might be unable to deliver it in the same way, making grades a "subjective" method leading to students doubting themselves.
Therefore, alternative "Checklist" report cards are better for displaying performance, making it easier to judge student's growth.
Video Tutorials
You can also find some very informative tutorials on our YouTube channel to see how easy it is to create a Result Card in MS Word.
Tutorial 1: https://www.youtube.com/watch?v=vPnU33TltHo
Tutorial 2: https://www.youtube.com/watch?v=i3j_ii29SLU
Tutorial 3: https://www.youtube.com/watch?v=dIQifL80qUo
30 Thoughtful Remarks for Remarkable Students
Education is a journey marked by milestones. Celebrate your child's achievements with these Thoughtful remarks in our beautifully designed Report Card Templates for Preschool, High School, Daily, and Weekly progress reports. Each comment highlights their unique journey.
"Your enthusiasm for learning is truly commendable. Keep up the excellent work!"
"It's been a joy to watch your creativity flourish in the classroom."
"You've shown remarkable progress, and I'm excited to see your future achievements."
"Your positive attitude and strong work ethic are truly inspiring."
"Your curiosity knows no bounds, and it's a pleasure to watch you learn."
"You've demonstrated a strong commitment to your studies. Well done!"
"Your perseverance and dedication have paid off ? keep reaching for the stars."
"Your growth in confidence is something to be proud of. Keep shining!"
"You've achieved so much this year; I can't wait to see your future successes."
"Your kindness and compassion shine through in your interactions with others."
"Your creativity and unique perspective bring a special energy to our classroom."
"Your consistent effort in your studies is truly impressive. Well done!"
"Your ability to grasp complex concepts is remarkable."
"Your problem-solving skills are top-notch. Keep up the excellent work!"
"Your positive presence brightens our classroom every day."
"Your inquisitive nature is a gift. Keep asking questions and seeking knowledge."
"Your enthusiasm for learning is infectious, and I appreciate your dedication."
"Your attention to detail sets you apart. Keep up the great work!"
"Your leadership skills are commendable. Keep inspiring others around you."
"Your ability to adapt to new challenges is remarkable. Keep it up!"
"Your dedication to continuous improvement is truly inspiring."
"Your strong sense of responsibility sets a great example for your peers."
"Your growth in critical thinking is impressive. Keep exploring new ideas."
"Your communication skills have grown by leaps and bounds. Well done!"
"Your teamwork and collaboration are greatly appreciated."
"Your resilience in the face of challenges is commendable. Keep pushing forward!"
"Your resourcefulness in problem-solving is truly exceptional."
"Your creativity knows no bounds. Keep pursuing your passions!"
"Your thoughtful contributions in class enrich our learning environment."
"Your exceptional work ethic and dedication have not gone unnoticed."