18+ FREE Coloring Pages and Coloring Books Templates in MS Word Format to Boost Creativity
Spring is the season of renewal and what better way to celebrate than with these beautiful Easter-themed coloring pages and books? With 18 different templates to choose from, there is something for everyone to enjoy. Whether you prefer traditional religious scenes or cute and whimsical bunny and egg designs, these templates are sure to provide hours of relaxing and creative fun. And because they are formatted in MS Word, you can easily customize them to your liking, changing colors, sizes, and other elements as you see fit.
Coloring is not just a fun pastime; it can also have numerous benefits for your mental health and well-being. According to research, coloring can help reduce stress, anxiety, and depression, as well as improve focus and concentration. It can also promote mindfulness and relaxation, allowing you to escape from the demands of daily life and engage in a calming and meditative activity. So why not give it a try? Download these Easter-themed coloring templates today and discover the joy of coloring for yourself.
Download MS Word Templates in A4, and A5 Paper Sizes
Discover the joy of coloring with our 18 MS Word templates in A4 and A5 paper sizes. Scroll down to view all the templates, including Easter eggs, bunnies, religious scenes, and more. Download and print any template you like to get started on your coloring adventure!
Easter Coloring Books
Here goes our two coloring books, each with multiple pages designed for A5 paper size. Perfectly sized for kids, they won't get overwhelmed with too much coloring and can enjoy the experience to the fullest.
#1 – Bunny with Easter basket Coloring Book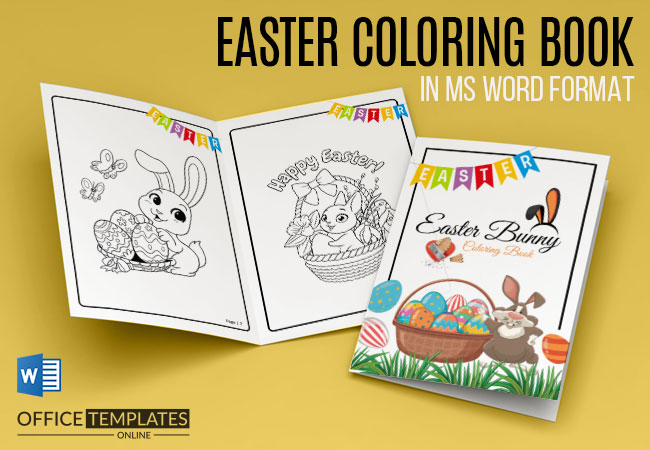 #2 – Easter eggs with patterns Coloring Book
Easter Coloring Pages for A4 Size Sheet
Below, you will find 16 coloring pages, each designed with a specific theme, all fitting onto one sheet. You can print them out individually or compile your favorites into a small booklet. Enjoy coloring and exploring the true meaning of Easter!
#3 – Chick Hatching From an Egg
#4 – Cross with Easter Lilies
#5 – Easter Basket with Eggs and Flowers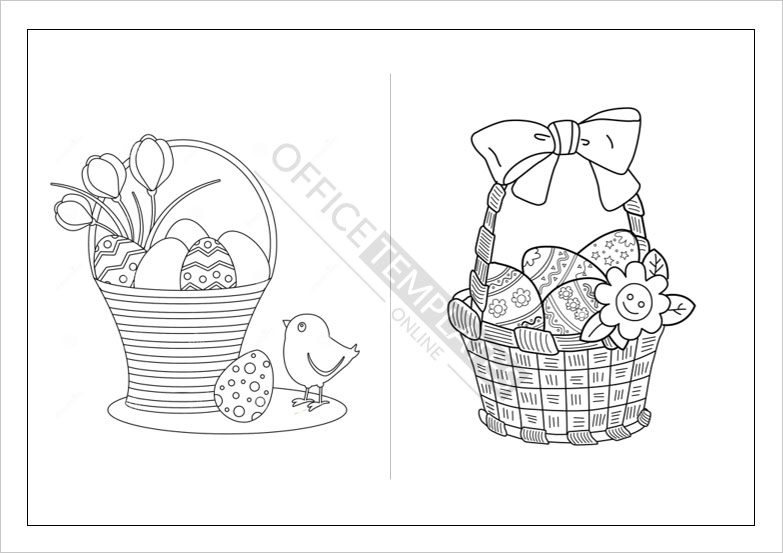 #6 – Easter Bunny With a Basket of Flowers
#7 – Easter Bunny With a Bow Tie
#8 – Easter Bunny With a Butterfly
#9 – Easter Bunny With a Carrot
#10 – Easter Bunny With a Chick
#11 – Easter Bunny With an Easter Egg
#12 – Easter Bunny With Flowers
#13 – Easter Egg Hunt Scene
#14 – Easter Eggs With Letters Spelling Out "Easter"
#15 – Easter Egg With a Heart Design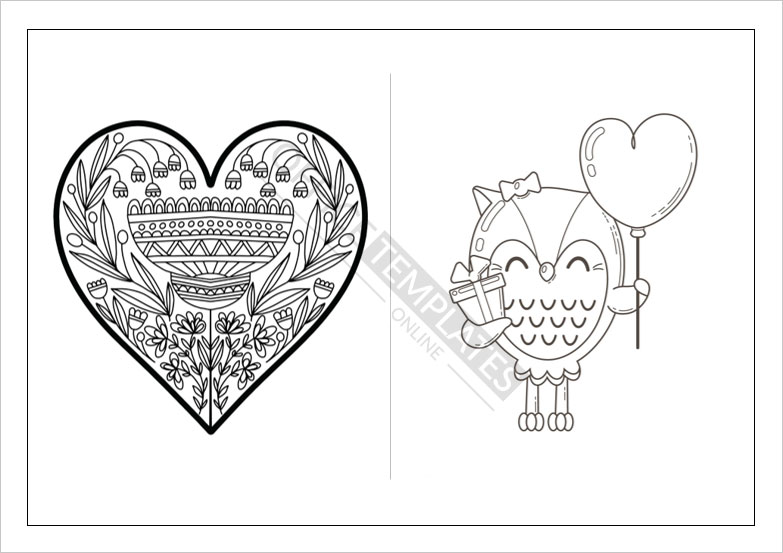 #16 – Easter Wreath With Flowers and Eggs
#17 – Religious Easter Scene With a Cross and Tomb
#18 – Religious Easter Scene With Mary and Jesus
Fun Ways to Use Easter Coloring Pages
Easter is a time for celebration, reflection, and creativity. Using Easter coloring page templates is a great way to engage in all three of these activities. Whether you are an adult looking for a way to relax and unwind or a parent seeking to keep your children entertained, these templates can offer hours of enjoyment. Here are ten tips for making the most of these templates and getting the most benefits from them:
Use high-quality paper to ensure the best coloring experience.
Try different coloring tools, such as crayons, colored pencils, or markers.
Share your creations with family and friends.
Take your time and enjoy the process of coloring.
Discuss the religious significance of Easter with your children while coloring.
Hang your finished creations on a wall or refrigerator.
Use the templates as a way to teach children about colors and shapes.
Create a group coloring session with family or friends.
Use the templates to create handmade Easter cards or gifts.
Frame your favorite finished designs as a keepsake.
By using these templates, you can keep yourself or your children occupied, help them understand the religious significance of Easter, and create lasting memories. Happy coloring!
Free Easter Coloring Pages: A Great Way to Teach Kids about the True Meaning of the Holiday
Easter is an occasion that can be celebrated in many ways, and coloring pages and books have become a popular choices. They offer an enjoyable and informative way for kids to learn about the true essence of the holiday. On this page, you can get a vast collection of free religious Easter coloring pages and templates that you can download and print. There are several ways to utilize them to keep your children entertained and interested this Easter.
Download our Coloring Book templates that are designed based on one theme and print them to compile a small booklet. This way, you can have all the coloring pages in one place and easily share them with your children or students.
Alternatively, you can select and download separate Coloring Pages you want and then print them and compile a small booklet. This option allows you to choose the specific pages that interest you or your child the most.
Download and print any one of these coloring pages and use it to color and enjoy the true spirit of the event. This is a great way to relax and spend some quality time with your family.
If you are a teacher, you can download and print multiple copies of these templates and spread them to your class students for a coloring competition. This can be a fun way to engage your students and encourage them to learn more about the significance of Easter.
You can also use these coloring pages as a part of your Easter decorations. After coloring them, you can display them on the walls or windows of your house to add to the festive atmosphere.
Another way to use these templates is to organize a group coloring activity with friends or family members. This can be a fun way to bond and spend time together while celebrating the occasion of Easter.
So, there are many ways to use these coloring templates, and the possibilities are endless. Whether you use them for educational purposes, as a part of your Easter decorations, or simply for fun, they are a great way to engage with the true meaning of the occasion.
Rediscovering the True Essence of Easter Through Interactive Pages and Books
Christians around the world will be celebrating the occasion of easter on the 9th of April. With a little bit of too much happening in today's world literally all the time, it might become a dainty task to let one's kid understand and cherish the true essence of religious festivals. Adults learned these things from the mouth of their grandparents and parents. They would tell tales, create scenarios, or plan roleplays. However, today's fast-paced life indulges parents in a whole new type of parenting. Easter, Christmas, whatever the occasion parents have figured out new ways of introducing religious knowledge to their children. One of the mostly-used yet largely "questioned" of doing so is through mobile phones and other gadgets. On the very another side, there are parents who prefer more modern yet intriguing ways to keep their children aware of facts that they should be knowing such as coloring and tracing books and worksheets.
Pages and books that in an interactive manner allow children (and adults in a lot of cases) to learn about religious festivals such as easter can be a lot of fun. On our website, we are offering a great number of coloring pages that are communicating as well as informative.
Why is easter drawing all about eggs?
A lot of you out there might have grown up drawing, witnessing, and loving easter eggs and the vibe they bring along. However, "Why the eggs?" is a question many of you might have asked yourself and then ignored.
Easter as a Christian festival represents the cultural and religious festival that stands for the day Jesus was resurrected or brought back from the dead. This was after his crucifixion at the hands of the Romans around 30 AD. His Christian followers, therefore, commemorate this event every year in April. The "eggs" are a sign of rebirth, life, and the bringing back of Jesus.
What makes our easter coloring pages a little more fun?
Stationery shops these days must be flooded with Easter-related color books. What makes us believe you shouldn't get into the rut of picking and choosing those monotonous editions? We believe our designs are a complete package of easter drawings that don't miss out on any of the necessary aspects. Blooming spring flowers, fresh green trees, lush meadows, celebratory signs, happy bunnies, happy singing birds, colorful garlands, cupcakes, doughnuts, quirky ducklings with their fellows, and baskets full of blessings. There's hardly any element we want to miss.

Our pages are so appropriate you can share those with your kids. For getting your house get into the easter spirit, along with the décor, you can get a couple of these printed, and surprise your kids with them. Trust us, sitting in the comfort of your backyard, under the shade of your mulberry, on a nice rug with your kids, coloring these would feel extra special.
Kids appreciate and indulge the most in activities that include their family members, and their parents above all. You can make this easter more artsy, unique, and memorable for you and your family. We have provided you with a way of doing so. Don't wait to jump in!
Helpful Video Tutorial
Watch the video below to learn How to Design a Student Classroom Diary/Planner in MS Word