17+ FREE Agreement Templates to Simplify the Divorce Process
Welcome to our comprehensive collection of divorce agreements, featuring 17 different types of legal contracts expertly formatted in Microsoft Word. This includes uncontested divorce, child custody, prenuptial agreements, and more. Whether you're seeking a mediated divorce agreement or a collaborative divorce agreement, our documents provide detailed guidance to help you navigate the complexities of the divorce process.
These documents are designed to address all legal aspects of divorce, including property settlements, spousal support, and child custody arrangements. They provide clear and concise language to ensure that all parties involved understand their rights and responsibilities. With our selection of agreements, you can feel confident in your ability to navigate the divorce process and achieve a fair and equitable outcome. All of these fully are customizable and easy to use, allowing you to modify them to meet your unique needs. Our team of legal experts has carefully crafted each agreement to ensure that it meets the highest standards of legal clarity and precision. We are confident that our collection of divorce agreements will provide you with the guidance and support you need to move forward with confidence.
Download Ready-to-Use Templates in MS Word Format
To access our Divorce Agreement collection, simply scroll down and browse through the templates. You can download any of them in MS Word format, and modify the sample data with your own information.
#1 – Annulment Agreement
#2 – Child Parenting Custody Agreement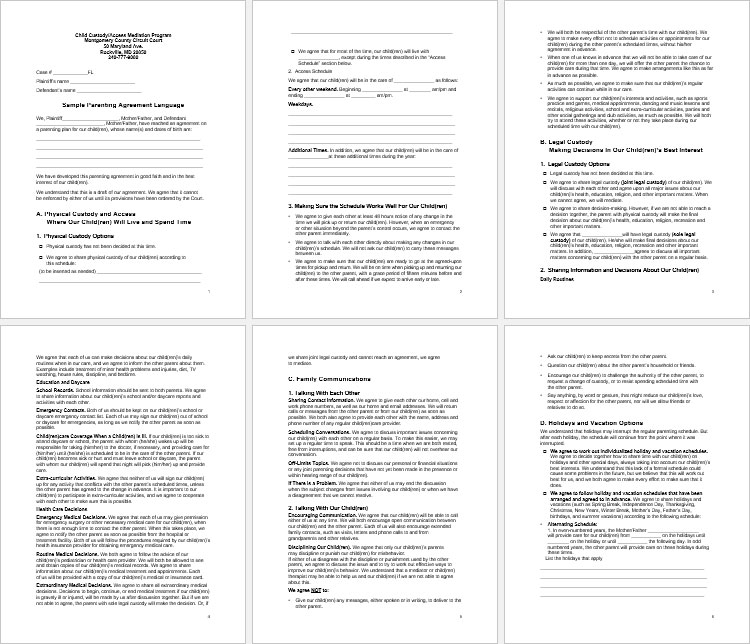 #3 – Child Support Agreement
#4 – Collaborative Divorce Agreement
#5 – Co-Parenting Agreement
#6 – Custody Agreement
#7 – Custody Visitation Agreement
#8 – Marital Settlement Agreement
#9 – Modification Agreement
#10 – No-Fault Divorce Agreement
#11- Postnuptial Agreement
#12- Prenuptial Agreement
#13 – Sample Separation Agreement
#14 – Separation and Property Settlement Agreement
#15 – Shared Parenting Agreement
#16 – Spousal Support Agreement
#17 – Uncontested No-Child Divorce Agreement
What is a divorce agreement and what is its importance?
A divorce agreement is an official document drawn up to finalize the details of the divorce of a couple. The details are usually related to child care, custody, child maintenance, child visitation rights, and other financial matters including debts and the fair division of assets or properties between the couple. The divorce agreement can be drafted and signed by the parties before or after filing for divorce. But once it is signed by the couple it becomes legally binding. It becomes a contract between two parties then. It is often called a divorce settlement agreement or divorce contract.
The agreement is also sent to the court for the judge's approval. The judge decides if the agreement is fair and equitable for both parties. If there are some issues that the couple finds hard to settle and couldn't reach a middle ground, the judge helps with settling that matter for them. The agreement is liable to change if the parties wish to make any changes in the terms of the contract. Divorce is a matter of ugly nature. People can easily get into conflict about divorce over the details concerning the division of assets and child care. Therefore, such agreements are important in promoting amicable divorce between couples which allows them to stay on friendly terms even after divorce especially when a child is involved.
What details are important to include in a divorce agreement?
Information about who is the petitioner and who is the respondent – petitioner is the one who files for divorce and the respondent is the one who responds to the petition
Names of the divorcing couple
Marriage date and place
Status of the couple – whether they are separate or living together
Spouse maintenance information- mentioning the details about the amount of money the spouse received during marriage as allowance or pocket money. The date of payment. Details about the terms of the insurance policy if there are any
Information of Children – the age of children and the arrangement decided for custody – sole, shared, physical, or primary – sole custody means the parent who has custody can make decisions about the child without consulting the other parent. Legal custody means the parent who has this custody decides on the education, religion, and medical needs of the child. Physical custody decides who the child will live with. The parent who has primary custody is the custodial parent which means the child spends more time with the custodial parent and the non-custodial parent gets visitation rights.
All the Details about visitation arrangement – time, days, and hours of visitation as well as holidays and events
Add details of Child maintenance – education, medical, and sustenance
Carefully add details about assets – properties, valuable items, vehicles, and other profits
Manage details about debts and taxes
Details about health and life insurance
Details about pension and retirement plans
Witnesses details
Do's and Don'ts of a divorce agreement? 
Educate yourself about the whole legal process of divorce – so that you can avoid being fooled by a lawyer
Compile all important documents in one place related to your marriage and financials such as marriage certificate, deeds, bank accounts information, property and vehicle documents
Hire a good divorce attorney so that he/she can defend your interests
Disclose complete information about all the assets you have – if you hide information you can get in trouble later and end up losing money as a penalty
Consider mediation when drawing up divorce settlement – someone expert in divorce matters can make the process easier by providing options and resolving legal issues one might encounter
Ask for enough financial support taking tax and inflation into account
Take care of taxes and tax-related issues
Never neglect insurance – insurance can provide a lot of financial benefits
Do not rush the process just to get it over with take time to finalize all the financial matters
Consider the death of the paying partner – avoid long-term money settlements taking death into account and opt for other options such as a lump sum amount upfront
Do not neglect the debts and liabilities of both parties – one spouse must not pay for another spouse's debt
Check carefully retirement plans and accounts- pension and other profits must also be divided between the couple
Power of attorney considerations – if your spouse was named on power of attorney before the divorce consider your options about changing the name. Do not wait for once the divorce is filed do it in the divorce agreement instead
Disclaimer: The templates provided on this page are for informational purposes only and not a substitute for legal advice. Using them is at your own risk. We recommend seeking legal counsel to ensure the documents meet your needs and comply with relevant laws.
Helpful Video Tutorial
Watch the video below to learn How to Design a Printable Business Report in MS Word with Cover Page in a Booklet Style