Printable Free Paycheck/Pay Stub Formats in MS Word
On this page, you can download professionally designed, printable, Free Paycheck / pay stub formats for Microsoft Word.
When you're running an organization and have employees working for you, there are financial matters that are to be handled. It is a necessity to have taxation and payment matters dealt with. No matter which method of payment you wish to use, there are a few items that need to be taken care of. One of these is a "Pay Stub" also known as a Check Stub. What is a paystub? Is it as complicated a document as it sounds? What are its elements? Is it actually a vital document? Let us explore each of these:
What is a Pay Stub?
This is a document that might or might not be attached to the paycheck. However, it is as a document is particularly a separate document on its own. It contains general as well as specific details related to the employee's pay. It mainly contains the details of the wages earned by the employees and quarterly or yearly payroll information. It also shows the deductions and additions made, and the net amount earned by the employee. It avoids "wage theft" which is illegal.
#1
Contractor Form
#2
Employee Format
#3
General Template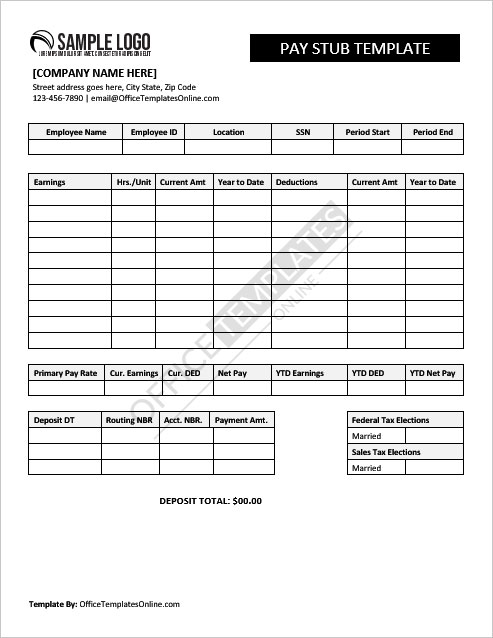 #4
Hourly Wage Form
#5
Sample Paycheck Format
Parts of a pay stub:
It contains the following details about the organization's employee and his/her payment details:
Business name
Employer's address
Employee name
Employee ID or social security ID
Designation
Time or duration of working or dates for which the employee has worked
Net pay earned
Deductions from the wages of the employee
Additions (bonuses, etc.)
Employer taxes
Hourly pay rate
Date and the period
Why are pay-stubs important?
Pay stubs, as apparent, are official documents. They are vital for record-keeping for an employee and necessary for the employer to prove that the employees are being paid fairly. It also provides data on the taxes and fees. They maintain transparency telling the employees what actual amounts they have earned and insurance and social deductions made.
The employees might want to stay clear that they are being provided accurate details of payment of the work they are putting their effort and hard work in.
So, for the next job you get, don't forget to keep your pay stub safe.
It will help you when applying for a loan, saying the gross income that you have.
These also help while renting or buying property, gaining visas and other cards, and filing tax returns.
How to generate a pay stub?
When you plan to prepare it, you don't necessarily have to rely on hardcore accounting software. There are several formats that are easy to edit and customize and can be used for creating pay stubs easily. These can be printed and a copy can be provided to the employee.
Common mistakes to avoid in pay stubs:
There ought to be a difference between the current/temporary period and the yearly period.
Out-dated information
The correct payment periods
Tax details.
On part of the employers, it must be made easier for the employees to access their pay stubs whenever they need them.
---
Video Tutorials
Watch: How to Create Payment Voucher in MS Word | DIY Microsoft Tutorial
Watch: How to Create Sales Invoice in MS Word | Invoice Design | DIY