Employees getting into new companies, getting hold of new jobs, and getting in touch with new employers are very likely to feel confused and lost. They might carry plenty of doubts about their new place, a lot of which might be misunderstandings. In order to deal with this situation, employers craft a communication tool that serves as a resource to clarify these uncertainties. This tool is known as an "Employee handbook" that communicates the history, mission, policies, rules, regulations, and overall nature of the company. Employers use employee handbooks to prevent future troubles through this clear provision of the standards that the employers have.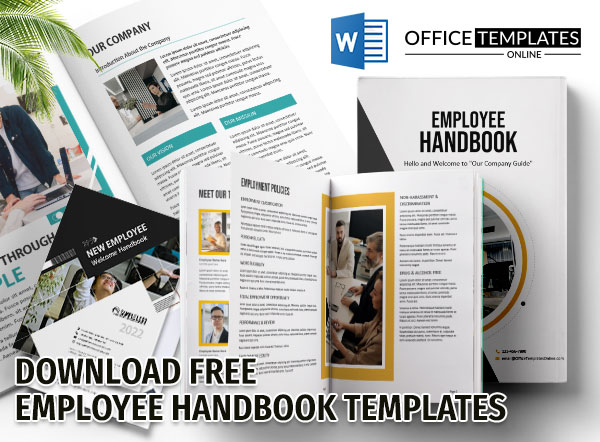 Download
Find below some beautifully designed Employee Handbook Templates designed in Microsoft Word. Each of these contains a nicely designed Cover Page as well as internal pages. These are formatted for a US Letter size page.
#1 – Employee Onboarding Handbook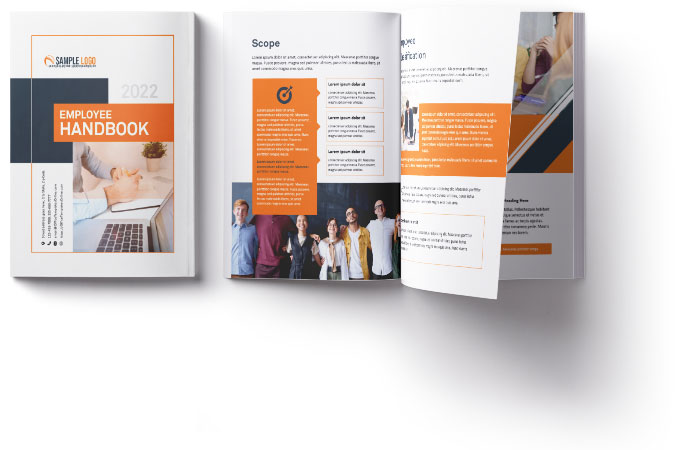 #2 – Employee Handbook
Cover Page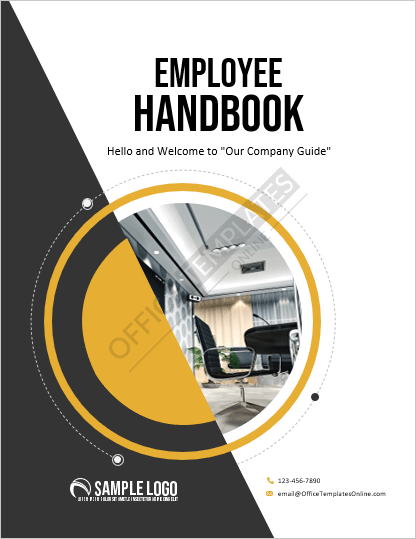 All Pages View
#3 – HR Employee Handbook
#4 – Employee Welcome Handbook
#5 – Company Employee Handbook
What should an employee handbook necessarily contain?
There are things that even the employees working for years for the same company are unaware of. If only the employee handbook is brief yet all-encompassing, the workers will be able to take full advantage of the privileges they have and avoid inconvenience by sticking to the company norms and traditions.
Here are a few basic headings that can make an employee manual complete and inclusive:
The rules and conducts:
Just like any other place, companies have their unique set of conduct that define how an employee must be behaving inside the workspace. This includes their moral conduct, relationships, boundaries, conflict of interest, privacy, and professional policies.
Incentives and aids:
There is a strong chance that employees in many cases are almost unaware of the perks that they can enjoy on behalf of the company. They might not know that their family's medical bills are reimbursed. These handbooks outline health insurance, compensation benefits, general insurance, TA/DA, education allowances, remote working, and other benefits.
Leaves and timings:
To remove confusion related to the vacations, working hours, leaves, retiring policies, and holidays employee handbook is a strong tool to let employees know what number of days they can take off, and the timings they are bound for. This also includes the procedures and rules for employees aiming to resign or take retirement.
In short, all the basic information that a worker must be aware of is included in this manual.
How to carve out the best employee handbook?
There are certain easy-to-follow steps to start with the creation of the best and wholesome employee manual:
Sketch an outline of what do you wish to NOT miss from the handbook
Summarize the basic policies and rules that you have
Divide into clear and separate segments
Get approved from the legal team
Get the book printed
Revise, review, and update if needed.
Why are employee handbooks useful?
These can prove helpful in keeping discipline around the company, having a smooth business environment, and making sure the processes like hiring, resignation, leaves, working, and other things around the company are disciplined.
It might seem an easy job creating a manual, it's just not always a piece of cake doing this. A poorly designed one can land the employer in trouble, create misunderstandings for the employees, and expose the company to judgments and legal pursuits.