24+ Free Business Contract & Agreement Templates for MS Word
A business can never be operated smoothly without the business contract form. No matter which type of business you are going to start, you will always feel the need to sign an agreement with other parties you have to work with.
This form is for all those people who want to sign the business contract but don't know how to layout it. This form contains a number of empty fields that a user is required to be filled. Once the user fills the form, the contract is ready to use.
Payment Agreement Contract
A payment agreement contract is a common business agreement that is generally signed between the borrower and the lender. The purpose of this document is to provide protection of payment to both the parties involved in this agreement. This document becomes evidence that the borrower has borrowed the money from the lender and is liable to pay the money to the lender within a specific time period. The payment agreement is signed between the parties when the lender and borrower both agree to the terms and conditions of the agreement.

#1 – Payment agreement template between purchaser and supplier

#2 -Employee offset repayment contract


Construction Contract
The construction contract can be signed between the owner of the building and the construction company. This can also be used by individuals providing construction-related services. All the parties who are going to participate in the process of construction are required to use this document. In general, the construction company includes the details of the construction work needed to be done, the scope of the construction work, the terms and conditions of the agreement, and a lot more.

#3 – Construction Agreement Form

#4 – Contract between owner and contractor short form

#5 – Owner and Builder Construction Contract

#6 – Residential Construction agreement template

#7 – Sample Construction Contract Template for MS Word

Cleaning Contract
This is another business contract that binds the parties signing this agreement. This agreement is usually concerned with the cleaning services that a cleaning service provider is required to provide. The purpose of this document is to bring the responsibilities of all the parties writing the contract into writing. With the help of this, everyone rendering the cleaning services gets information about those services.

#8 – Cleaning Agreement Contract Template for MS Word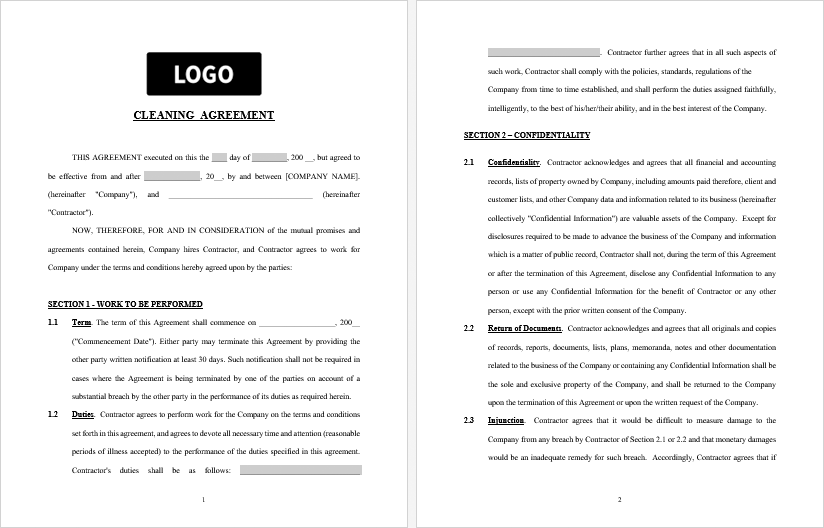 #9 – Cleaning Services Agreement Template
Service Contract
In the business world, whenever you are required to hire any contractor for getting any type of service, you will be required to sign the service agreement. Sometimes, you need to define the work agreement. For this purpose, the service contract is recommended to use. The payment agreement, deadlines to perform services, the process of making the changes in the submitted work, and several other details are specified in it. The use of this document ensures that the disputes between the parties will be handled smoothly

#10 – Bio-Medical Service Contract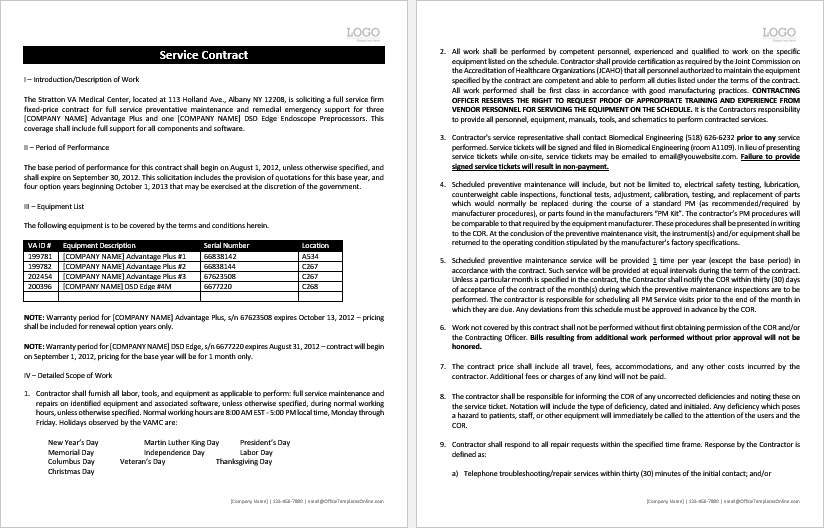 #11 – Circular Service Contract

#12 – Comedian Service Contract Template

#13 – Funeral Service Contract Template

#14 – Maintenance and Service Contract for Window and Split Air-conditioners and Water Coolers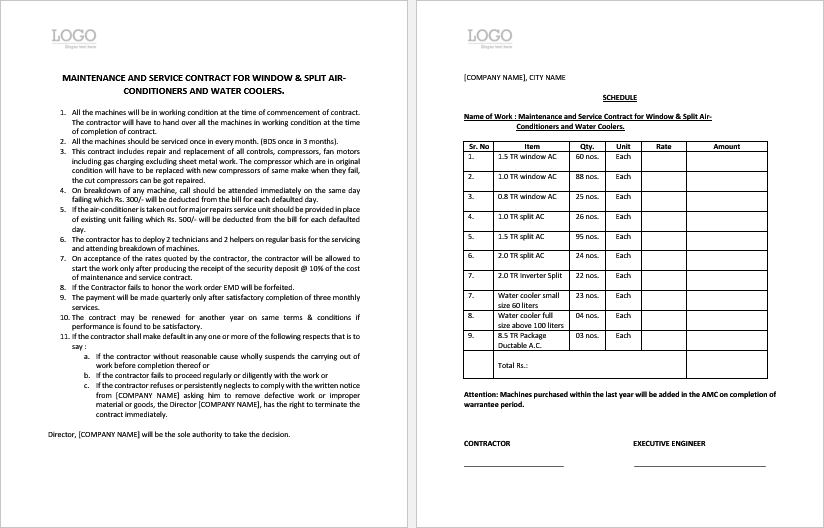 #15 – Model Service Contract Template

#16 – Professional and Technical Service Contract Checklist

#17 – Service Contract for NGO Expenses and Grant Scheme Activities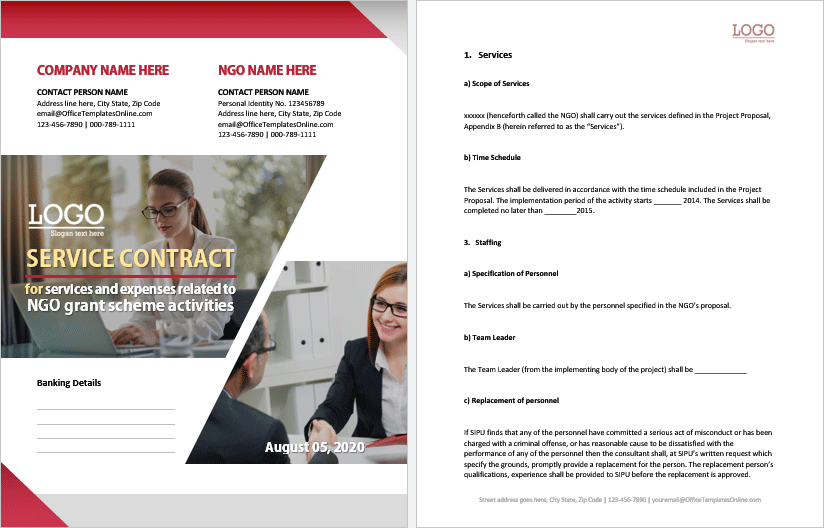 #18 – Service Contract Notice Template

#19 – Temporary Staff/Employee Service Contract

#20 – Trainers Service Contract Template

#21 – Vehicle Towing Service Contract

Employee Contract
When an employer hires an employee, he asks the employee to sign the employee contract. This is also known as the employment contract is a basic legal binding agreement that binds the employee and the employer in a legal relationship. With the help of this, the rights and responsibilities of the employer and the employee are defined in an organized manner. One party can easily challenge the other party in case the breach of contract occurs

#22 – Employee Agreement Template in Ms Word

#23 – Full-time and Part-time Canteens Individual Employment Contract Template

#24 – Part-time Employee Contract Template