On this page, you can download 12 very professionally prepared ready-made construction reports in Microsoft Word. These are all that we need from time to time in any kind of construction work. These report templates can be very helpful in managing your construction-related work.
Construction Business
Construction Business is a vast and more complex business than a normal business in which many things and people from different fields of life are involved. The main purpose of this business is to construct buildings. Superficially, there are two types of buildings, residential and non-residential.
There are many more types of non-residential buildings, such as commercial buildings, industrial buildings, hotels, restaurants, schools, colleges, cinemas, and other people's entertainment buildings. Similarly, there are different types of residential buildings like homes, apartments, flats, housing societies, etc.
Whether the type of buildings is residential or non-residential, their construction has to go through many stages such as building layout and design, construction planning, raw structure construction, mechanical engineering, electrical engineering, civil engineering, interior design, basic facilities, etc.
This whole process requires daily, weekly, monthly, quarterly, half-yearly, and annual reporting. Based on this, the planning, strategy, and budget situation of any project is maintained by the people managing these construction projects.
Construction Business Reports
Find below professionally designed, with fine layouts and designs, 12 Construction Report templates including Daily, Weekly, Monthly, On-Site, Closeout, Concept, progress, and status reports.
#1 – Daily Construction Report Format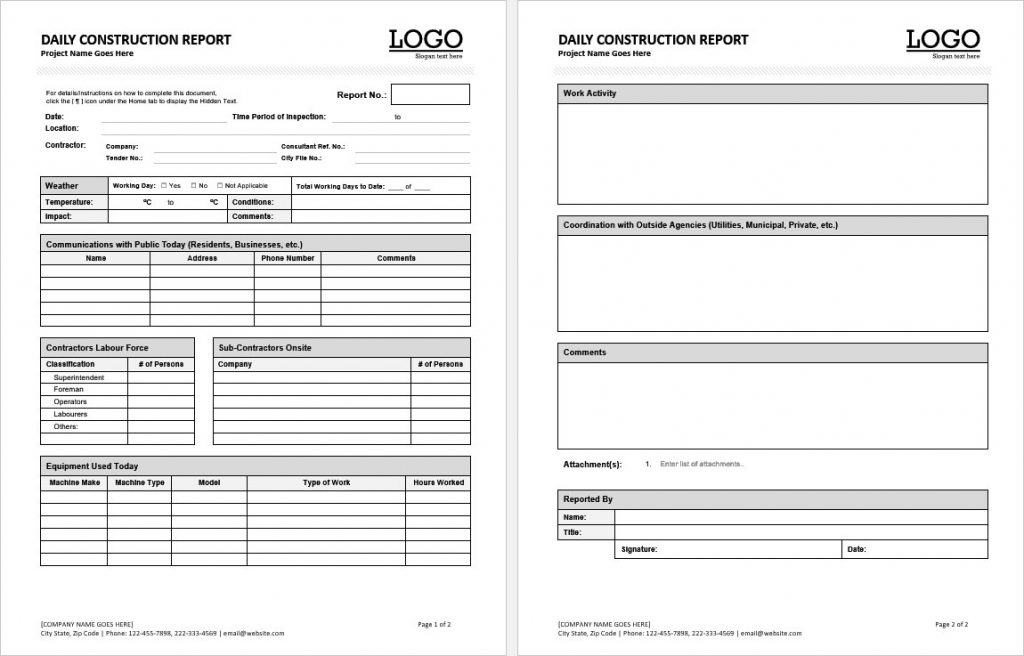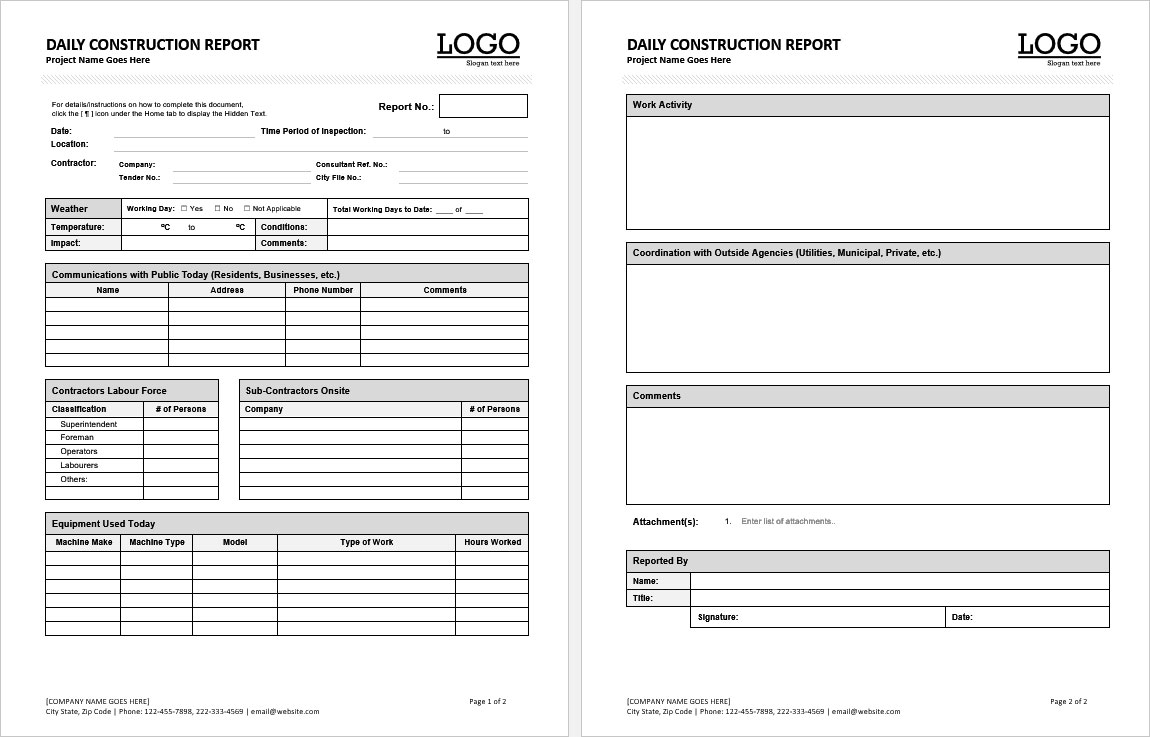 #2 – Month-end Status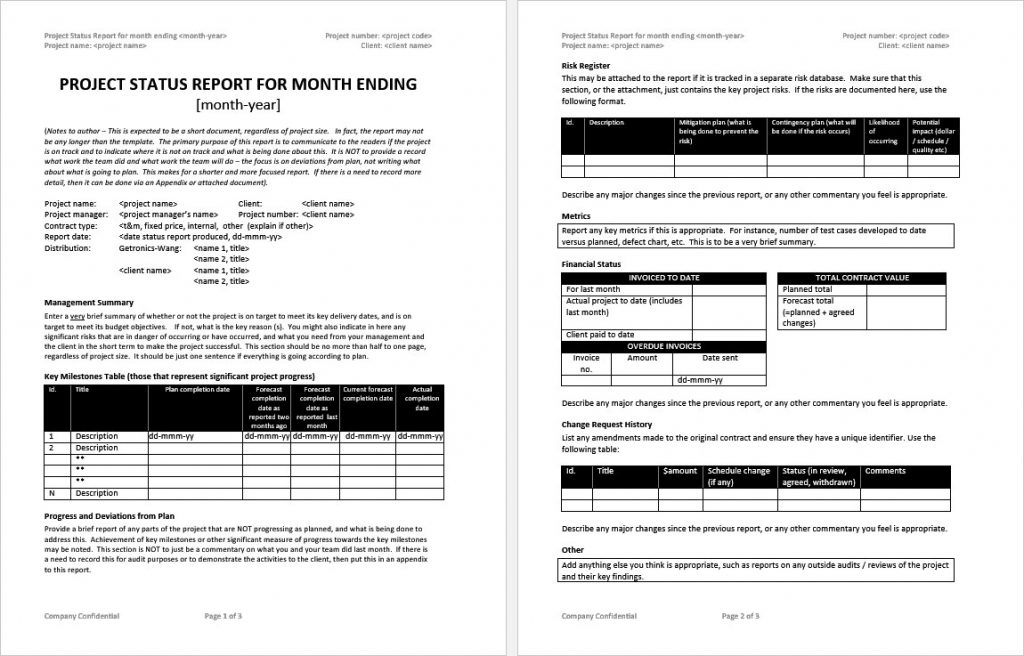 #3 – Monthly Construction Status Format with Cover Page Design
#4 – Monthly Project Report Performa in MS Word
#5 – One-page Monthly Construction Report Template
#6 – On-site Daily Construction Report Template for Microsoft Word
#7 – Project Charter Template in MS Word
#8 – Project Close-out Template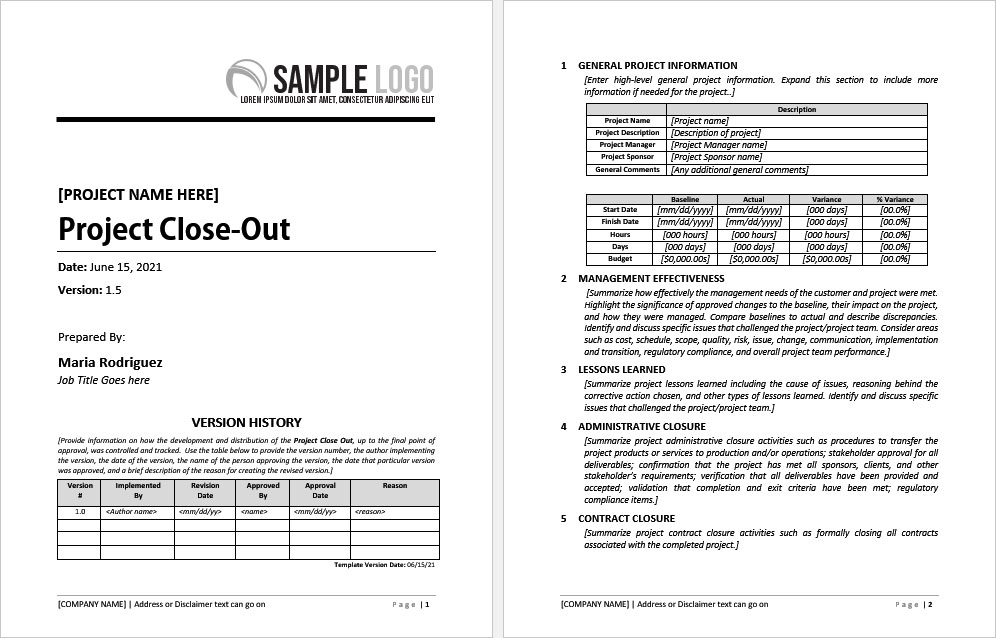 #9 – Project Completion Report Template with Cover Page Design
#10 – Project Concept Report Template with Cover Page
#11 – Project Progress Report Template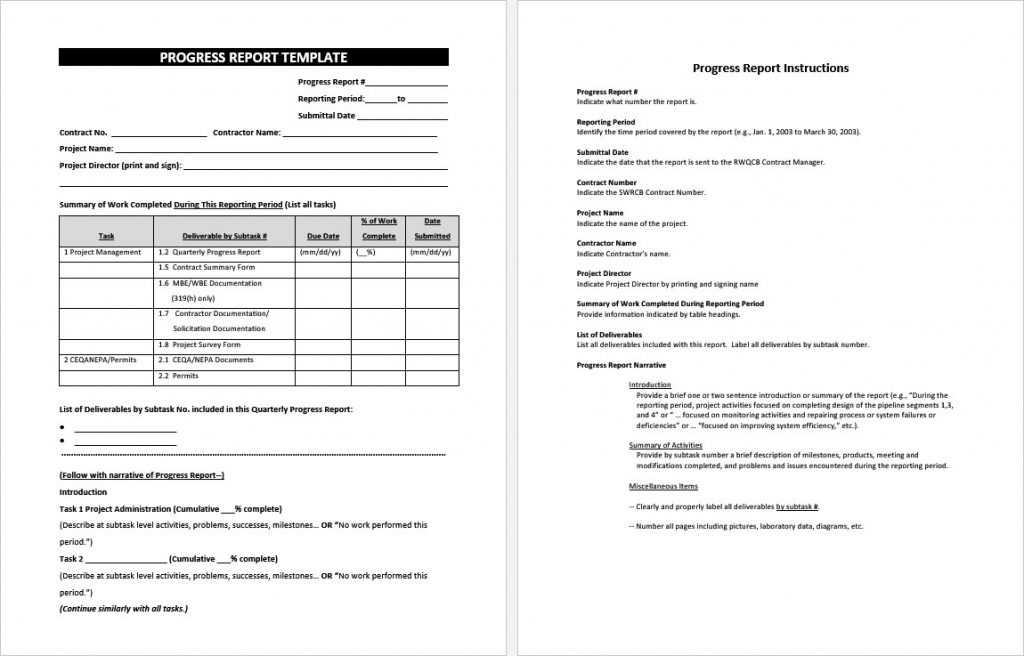 #12 – Weekly Status Report Template – RAG Style
Construction Project Report
This is a written document that contains information regarding the overall picture of the business proposed. It contains information that leads to investment decisions. This covers the managerial, economic, and financial aspects. It lets the entrepreneur discover all the inputs which in turn help him obtain a loan from financial institutes. It provides detailed information on:
Land and building requirement
Manufacturing capacity per annum
The process to be used for manufacturing
Electricity and water requirements
Raw materials requirement
Machinery and equipment to be used for manufacturing
Rice and other specifications of the machinery to be used.
Labor needs
Marketing cost
Financial and production analysis
Contents of a Project Report
General information: It must detail information about the industry to which the project belongs to. It must provide with past, present, and future prospects of the industry. Information regarding the product to be manufactured along with the reason behind selecting the specific product for manufacturing must be stated.
It must also highlight the demand for the product in the local, national, and global markets. Business alternatives must also be mentioned with the reasoning of starting the business.
Executive summary: It must detail business objectives along with the methodologies used by the business in order to seek success. The amount of capital, the methods used for smooth functioning and execution of the business must be detailed. It must also provide information on the risks and assumptions faced by the business.
Organizational Summary: A project report must define the organizational structure. It must define that whether the owner of the business is a sole proprietorship, partnership, or joint-stock company. It must state the name, age, qualification, address, and experience of the proprietors.
Project description: A brief information on the project description must be given which includes the following:
Site location
Fuel requirement
Production target
Skilled and unskilled labor
Forecasted production
Technology used
Marketing plan: A project report must disclose the demand for the product in the market. It must tell the cost at which the product can be sold in the market. The process used to meet the marketing demands must also be stated. The channels of distribution used must also be stated. Other information to be included is:
Type of customers for whom the product has been designed,
Target markets,
Market segmentation,
Future prospects of the market,
Sales objectives of the project must be stated,
Market share of proposed business must be mentioned.
Capital: The total amount of capital used to start the project must be mentioned. It should state clearly the money which has been brought forward by the owner and the money which has been borrowed.
Financial aspects: Income statement, profit & loss statement, and a balance sheet must be prepared in order to reveal the true financial picture of the business proposed.
Technical aspects: Information regarding the technical aspects of the project must be provided.
Implementation: It must disclose the time frame during which the project will be completed.