10+ Free Father's Day Card Templates & Designs for MS Word
Welcome to our Father's Day Card Templates Collection! Here, you will discover an assortment of 10 exquisite card designs, meticulously crafted with utmost beauty and sophistication, exclusively tailored for the celebration of Father's Day. These templates are thoughtfully created in MS Word, ensuring effortless customization and effortless printing. Our goal is to provide you with the perfect canvas to express your love, admiration, and appreciation for your Dad, not only on this upcoming Father's Day but also throughout the year. With these remarkable templates, you can create heartfelt gestures and surprises that will leave a lasting impression, making every day a special occasion to honor your extraordinary dad. Let's explore the remarkable possibilities and make each moment count!
You can easily modify these cards in Microsoft Word and print them with any regular printer. As well, you can download the image of any of these cards on your Facebook, Twitter, WhatsApp, or any other social media website.
This is a day in which people honor their fathers. It is the day that is celebrated by 111 countries across the world. In Europe, it is one of the public holidays of its people. Countries across the world celebrate the occasion in accordance with their traditions. Children express their love for Dad by giving them beautiful gifts and letting them know through them how much they love and care for their Dad. Many times families make something special to make the day of their parents. Children may also prefer to hang on with their father on this day and create memories.
Many times children spend the whole day bestowing love on their father. They show respect and care for them by giving them gifts of their choice. In this way, your parent sees the effort you had made for him and showers his love for you.
Download Father's Day Card Templates in MS Word Format
Download below 10 beautifully designed, fully customizable, and Printable Father's Day Cards for Microsoft Word.
#1 – Best Dad Ever: Exquisite Father's Day Card Design
#2 – My Hero: Love & Gratitude Card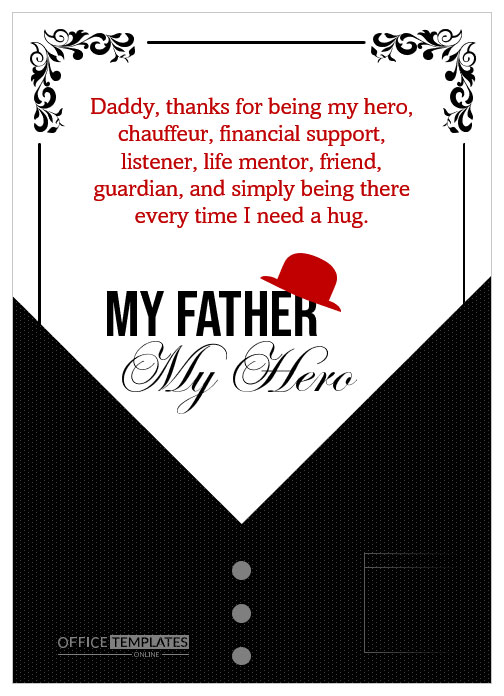 ---
Video Tutorial
Source: https://www.youtube.com/watch?v=oAS131GpYi0
---
#3 – Celebrating Your Special Bond
#4 – Simplicity at Its Finest: Elegant & Heart-touching
#5 – Love You Always: Beautiful Father's Day Card
#6 – Fond Memories
#7 – Wise Counsel: Card for My Guiding Light
#8 – My Role Model: Best Wishes Card
#9 – Heartfelt Appreciation: Love Card for You
10 – Unmatched Dedication: Card Design for a Special Someone
Also Download: Invitation Card for Father's Birthday

Customize Your Father's Day Cards: Step-by-Step Instructions
Customizing the Father's Day card templates in Microsoft Word is a breeze with these simple tips. Follow these step-by-step instructions or watch our video tutorial for a visual guide. Start by opening the template in Microsoft Word.
To make each card unique, experiment with different colors and fonts. Click on the text boxes and choose from a wide range of font styles and sizes. Feel free to get creative and mix and match to find the perfect combination.
Personalize the cards by adding your own photos. Simply click on the image placeholders and insert your favorite pictures of you and your dad. It's a wonderful way to capture precious memories.
If you want to change the layout, go to the 'Page Layout' tab and explore different options such as portrait or landscape orientation. You can also adjust margins and spacing to achieve the desired look.
Remember to save your customized card before printing. Once you're satisfied with the design, hit the 'Save' button to keep your changes intact.
With these tips, you'll be able to create heartfelt Father's Day cards that truly reflect your love and appreciation for your dad.
How did Father's Day come into being?
History has recorded the first Father's Day on 5th July 1908 which occurred after hundreds of men lost their lives in the worst mining accident in the U.S. A lady named Grace Golden Clayton proposes the idea of honoring fathers especially those who had lost their lives in the accident. The idea was at that time not encouraged by all.
A year later in 1909, Senora Smart Dodd of Washington introduced the idea of celebrating Father's Day. She and her five brothers were raised single-handedly by their father as their mother had died in childbirth. Senora proposed the concept of honoring fathers on the third Sunday of June. This special day is now recognized as a national holiday in some countries, dedicated to expressing gratitude and admiration for the hard work and dedication of parents in raising their children.
How is Father's day celebrated?
People on this day avail themselves of every chance of expressing their love and gratitude for either their fathers or caretaker figures. Some of them are:
Sharing a Memorable Meal: Families come together to prepare and enjoy special meals, be it a heartfelt breakfast, a delightful brunch, or a delicious dinner. It's a time to bond over favorite dishes and create lasting memories.
For Example, You can surprise your father with his favorite homemade breakfast, complete with fluffy pancakes, sizzling bacon, and freshly brewed coffee.
Handmade Cards with Love: Crafted with care and creativity, handmade cards are a beautiful way to convey appreciation. They allow personalization and heartfelt messages that speak volumes about the love shared.
For Example, Spend time crafting a card using colorful paper, stickers, and heartfelt messages that express your gratitude and admiration for your father's unwavering support and love.
Fun-filled Activities: Engaging in fun activities adds an element of excitement to the day. It could involve participating in races, outdoor games, or enjoying recreational activities that bring smiles and laughter.
Idea: Plan a friendly family race in the park, complete with fun challenges and rewards. Let the friendly competition ignite laughter and create cherished memories.
Thoughtful Presents: Gift-giving is a common practice on Father's Day, where individuals choose presents that reflect their fathers' interests, hobbies, or desires. It's a way to show appreciation and make them feel special.
Example: Surprise your father with a new set of golf clubs if he enjoys golfing, or a collection of books from his favorite author to indulge his passion for reading.
Shared Experiences: Spending quality time together is invaluable. Taking your father to a movie, a park, or a zoo allows for shared experiences and meaningful conversations, strengthening the bond between generations.
Idea: Treat your father to a movie outing, watching his favorite genre or the latest blockbuster, followed by a leisurely stroll in the park, reminiscing and sharing stories.
Each activity has its role in depicting love and appreciation for a father. Some people also organize a party at their place to celebrate Father's Day, inviting close friends and family members to make the occasion special. However, there are many individuals whose Dads live far away. In such cases, children may choose to send their father a heartfelt card via email or deliver gifts to their father's location.
In some countries, on this day museums are open for people free of any charge.
It is a day that is celebrated to shower love on their fathers by doing various activities involving them and making their day a special one to remember for days to come.
Express Gratitude and Appreciation with Customized Father's Day Messages
Express your heartfelt sentiments with personalized messages for your special Father's Day cards. Choose from a selection of 30 thoughtful messages and greetings that capture the essence of your relationship. Whether you're celebrating a loving father, a guiding mentor, or a cherished role model, these heartfelt messages will convey your gratitude and appreciation. Select a message that resonates with your bond and let your Father's Day card be a beautiful tribute to the remarkable person in your life.
"To the one who has been my guiding light and source of inspiration, this message comes with heartfelt appreciation."
"Sending warm wishes to the person who has played a significant role in shaping my life. You are truly cherished."
"May this message serve as a reminder of the love and admiration I hold for you. You are an extraordinary presence in my life."
"Reflecting on the beautiful moments we've shared, I want to express my deepest gratitude for your unwavering support."
"In your embrace, I find comfort and strength. Thank you for being a source of endless love and understanding."
"To the person whose wisdom has guided me through life's ups and downs, I am forever grateful for your unwavering presence."
"This message carries my heartfelt appreciation for your unconditional love and the countless sacrifices you've made."
"On this special occasion, I want to express how fortunate I am to have you as a role model. Your influence is immeasurable."
"Through your love and guidance, you have instilled in me values that will last a lifetime. Thank you for being my compass."
"In every step I take, your belief in me has been a driving force. Today, I celebrate you and the profound impact you've had on my life."
"To the person who has filled my life with warmth and laughter, I send heartfelt wishes on this special occasion."
"Your love and support have given me the confidence to pursue my dreams. Thank you for always believing in me."
"This message comes with a deep appreciation for the love, guidance, and encouragement you have shown me."
"In every challenge I've faced, you have been my pillar of strength. Today, I celebrate your unwavering presence in my life."
"Your words of wisdom and gentle guidance have shaped me into the person I am today. Thank you for being an incredible mentor."
"On this day, I want to honor the bond we share and express my gratitude for your unconditional love and support."
"Your love is a precious gift that has enriched my life. Sending heartfelt wishes on this meaningful occasion."
"Through your kindness and compassion, you have taught me the true essence of love. I am forever grateful."
"In your footsteps, I have found inspiration and courage. Thank you for being an extraordinary role model."
"To the person who has been my biggest cheerleader, this message is a tribute to your unwavering belief in me."
"Your love has been a guiding light that has illuminated my path. Wishing you a day filled with joy and happiness."
"Today, I celebrate the incredible person you are and the immeasurable impact you have had on my life. Happy day!"
"Your love has created a haven of warmth and acceptance. Thank you for being a source of comfort and reassurance."
"In your embrace, I have always found solace and unconditional love. Sending heartfelt wishes on this special day."
"Through your nurturing spirit, you have taught me the power of compassion and empathy. I am forever grateful."
"This message carries my deepest appreciation for the love, sacrifices, and unwavering dedication you have shown me."
"Your presence in my life has filled it with joy and laughter. Thank you for being an irreplaceable part of my journey."
"Today, I celebrate the bond we share, built on love, trust, and understanding. You are truly a remarkable soul."
"In every smile and every encouraging word, your love for me shines brightly. Wishing you a day filled with happiness."
"This message is a testament to the deep gratitude and love I hold for you. Thank you for being an extraordinary presence in my life."
Customize these heartfelt messages to reflect the unique bond you share and tailor them to complement the design of your Father's Day card. Allow your words to eloquently express the depth of your emotions and profound appreciation for that extraordinary individual in your life.
Father's Day Gift Guide: Thoughtful Tech Gadgets for Dad's Delight
Finding the perfect gift for your beloved dad is an enjoyable experience. Here are unique and thoughtful gift ideas that beautifully complement the card templates, catering to various interests and hobbies:
Personalized Accessories: Customize stylish leather items, engraved cufflinks, or a monogrammed watch, adding sophistication and sentimental value to everyday essentials.
Tech Gadgets: Explore cutting-edge gadgets like smartwatches, wireless headphones, and portable Bluetooth speakers. Popular options include the Apple Watch, Samsung Galaxy Watch, Apple AirPods Pro, Sony WH-1000XM4, JBL Flip 5, and more.
Books and Literature: Delve into your father's favorite genre and choose compelling novels, inspirational autobiographies, or thought-provoking essays. Select titles that resonate with his interests, fostering new literary discoveries and meaningful discussions.
Experiential Gifts: Create lasting memories with tickets to concerts, sports events, or plan a weekend getaway together. Quality time spent exploring shared interests is a priceless gift.
Gourmet Treats: Indulge your dad's taste buds with a selection of gourmet delights. Curate a gift basket filled with favorite chocolates, fine wines, artisanal cheeses, specialty coffees, or a personalized grilling set for culinary enthusiasts.
Hobby-Related Gifts: Identify your father's passions and choose gifts that align with them. Consider golfing equipment, painting sets, drones for aerial photography, or virtual reality headsets like the DJI Mavic Air 2S, Meta Quest 2, and more.
Smart Home Devices: Simplify your dad's life with smart home devices like Amazon Echo, Google Home, or Samsung SmartThings, automating tasks and enhancing convenience.
Streaming Service Membership: Gift a membership to popular streaming services like Netflix, Hulu, or Disney+, ensuring a seamless entertainment experience for your dad.
Gift Card to Favorite Store: Provide your dad the freedom to choose his own gift with a gift card to his favorite store, allowing him to indulge in his personal preferences.
Remember, the best gift resonates with your dad's personality and brings him joy. Consider his preferences, hobbies, and aspirations to find a gift that captures his essence. Let your gift reflect thoughtfulness, love, and appreciation on this special occasion.
Conclusion
As we conclude our collection of Father's Day Card Templates, we invite you to explore the beauty and versatility of these 10 unique designs. With their customizable features, you can surprise and delight your Dad not only on this special occasion but every day.
In Microsoft Word, personalize each card with heartfelt messages and cherished memories. Let these templates serve as a constant reminder of your love and appreciation for your father. Strengthen the bond you share by expressing your admiration in the most heartfelt ways.
Thank you for visiting us. May they bring joy and happiness to your celebrations, allowing you to convey your love in a meaningful manner. Celebrate the extraordinary bond between fathers and children—a bond that brings endless love and cherished moments.