10+ Free Father's Day Card Designs & Formats for MS Word
On this page: you can download 10 lovely cards designed with great beauty and sophistication, specially made for the occasion of Father's Day. All of these cards are fully customizable and printable. In some of these cards, we have used pictures, which you can easily replace with your favorite picture.
You can easily modify these cards in Microsoft Word and print them with any regular printer. As well, you can download the image of any of these cards on your Facebook, Twitter, WhatsApp, or any other social media website.
Father's day is a day in which people honor their fathers. It is the day that is celebrated by 111 countries across the world. In Europe, it is one of the public holidays of its people. Countries across the world celebrate the occasion in accordance with their traditions. Children express their love of fathers by giving them beautiful gifts and letting them know through them that how much they love and care for their father. Many times families make something special to make the day of their parents. Children may also prefer to hang on with their father on this day and create memories.
Many times children spend the whole day bestowing love on their father. They show respect and care for their father by giving them gifts of their father's choice. In this way, your parent sees the effort you had made for him and showers his love for you.
Father's Day Card Templates
Download below 10 beautifully designed, fully customizable, and Printable Father's Day Cards for Microsoft Word.
#1 – Best Dad in the World Card Design
#2 – My Father My Hero Love & Thank You Card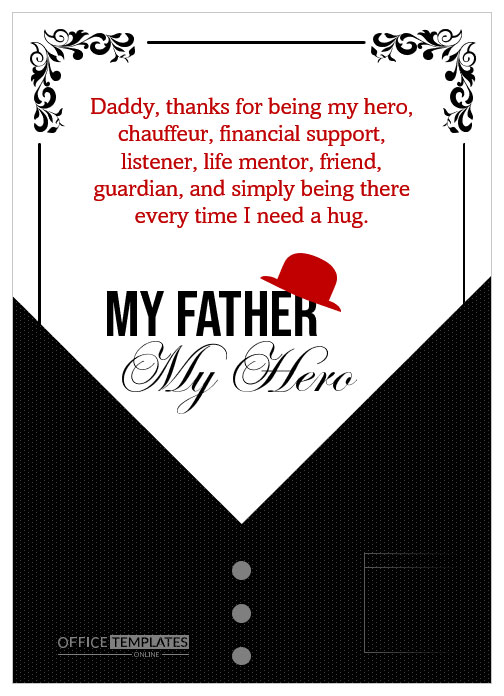 ---
Video Tutorial
Source: https://www.youtube.com/watch?v=oAS131GpYi0
---
#3 – Father's Day Celebrations Card Template
#4 – Simple yet Elegant Happy Father's Day Card Format
#5 – Beautiful I Love You Father Card Design
#6 – I Miss You Father Card Template for Father's Day
#7 – My Dad My Advisor Card for Father's Day
#8 – My Father is My Hero – Best Father's Day Card
#9 – Thank You, Dad! – Father's Day Love Card
#10 – You are the Best Father In The World – Father's Day Card Design
Also Download: Invitation Card for Father's Birthday
How did father's day come into being?
History has recorded the first father's day on 5th July 1908 which occurred after hundreds of men lost their lives in the worst mining accident in the U.S. A lady named Grace Golden Clayton proposes the idea of honoring fathers especially those who had lost their lives in the accident. The idea was at that time not encouraged by all.
A year later in 1909, a lady name Senora Smart Dodd of Washington came up with the idea of celebrating father's day. This lady along with her five brothers was raised single-handedly by their father as their mother had died in childbirth. She proposed the idea of celebrating father's day thus this day is now celebrated on the third Sunday of the month of June where every father is honored by their children for the hard work and effort the parent has made in raising his children along with his wife. In some countries, it is marked as a national holiday.
How is father's day celebrated?
People on this day avail themselves of every chance of expressing their love and gratitude for either their fathers or father figures. Some of them are:
Preparing lunch, brunch, and dinner for fathers.
Gifting handmade cards.
Participating in father's day fun race
Buying presents for fathers.
Taking fathers to either a movie or park or zoo for the day.
Each activity has its role in depicting love for a father. Some people also organize a party at their place for father's day by inviting their close friends and family members in order to make their father feel special while there are many whose fathers live at a distant place. Here the children may send their father a card through email or deliver gifts at their father's place of living.
In some countries on this day museums are open for people free of any charge.
It is a day that is celebrated to shower love on their fathers by doing various activities involving fathers and making their day a special one to remember for days to come.