Everyone does get excited about their big day especially children who do not wait to celebrate their birthday by inviting their friends over to a party. Whether it be a child or an adult, everyone has to be done before going for a celebration for the birthday by sending invites to people whom you wish to be with you on this day. The invites which you make for inviting your close ones are known as invitation cards for your birthday.
Process for preparing the card
Names of invites:
The first step is to write down the names of all those people whom you wish to invite.
Decide on the date and time:
After having a list of people to be invited, the next step is to mark a specific date for the birthday celebration. You must write down the date and time which you think would be convenient for all to come.
Place:
The place where you wish to celebrate your day should be written. If you wish to invite everyone at home, then there is no need in determining the place.
Prepare the birthday card after deciding the venue, date, and time and send the invitation to all whom you wish to join for the celebrations. You may also give a theme for your birthday and request all the invites to be dressed up according to the theme designed by you. A theme-based birthday would do wonders. And if you are to follow a theme, it is advisable to mention it on your invitation cards for your guests.
How the card should appear?
The birthday invitation card should read like this:
I (your name) wish to have my Disney-themed birthday graced with your presence on (date)(time)at (place). It will be my pleasure to have you on my birthday. I wish to celebrate my big day by having you aside by me. Don?t forget to join me on my big day.
Games and gifts
If the celebration is for a child, then it is a very good idea to write down about fun-loving games and gifts to be given to fellow friends on their birthday. You may mention on the card that there will be fun-loving games for children and exciting gifts will be given to the winners of the game.
Mention the Age
If the birthday is of a child, then the age of the child is to be mentioned on the card. The card may read as Anna turns 1. Make your B-Day card invites impressive and full of love by choosing the appropriate words that reflect love and care for all. Design the birthday card according to the age of the person whose b-day is to be celebrated. If it?s an adult for whom the accession is decided, then design the card with pictures that reflect the love of an adult person. It should be so that the warmth of the love is felt. And if it is for a child, then go for colorful graphics.

#1 – Birthday Invitation Card for Baby
Celebrating young children's birthdays is not as happy for children as it is for their parents. Arranging for a birthday, decorating the house with balloons, flags, and lights in a very nice way is a very enchanting and joyful thing to do.
If you are also preparing for your child's birthday, this invitation card template can be very helpful for you. You can use this template to invite your guests and send them invitations. Designed in pink and blue, this template, which is beautifully made using balloons and cakes, is very easy to modify. You can easily modify this template in MS Word for you.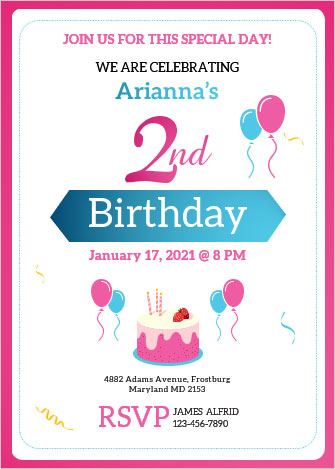 Watch the video below to see how you can modify or create this Baby Birthday Invitation Card in MS Word
#2 – Invitation Card for Father's Birthday
The greatest blessing in all of our lives is the Father. The role of our father in our lives is very important in every part of our life from childhood to every age we are in. The Father endures every hardship for our good future and strives to bring us happiness and easy life. He holds our fingers and teaches us to walk and guides us in every step of life in good and bad situations. He strives all his life for our happiness.
That is why we love our father so deeply that we rejoice in his every joy and wish that every joy of him be celebrated in a very enthusiastic way. One of the father's joys is his birthday. Our heart wants us to celebrate his birthday with him just as he celebrated our happiness in our childhood.
We have prepared this invitation card template for you to celebrate your father's birthday and to invite yours and his friends and relatives to the birthday party. So that you can save a lot of time and effort by using this beautiful readymade invitation card.
Watch the Tutorial video below to see how to design or modify the Father's Birthday Invitation Card in Microsoft Word
Video Source: https://www.youtube.com/watch?v=IKu29WJjtFg
Also Download: 10 Father's Day Cards for MS Word

#3 – Friend's Birthday Invitation Card Template
Every party and every event with friends is great, whether it's going out somewhere, a college trip or an office job or a movie-watching program, everything is just fun with friends. Similarly, if there is a program to celebrate a friend's birthday, then it becomes much more fun. And the party can't be complete until all the other friends have joined the birthday party.
This invitation card is designed for this purpose so that you can invite your friends to your birthday party. Designed with yellow and black colors, this template is very beautiful and attractive. You can change the temporary information written on it as you wish by replacing it with the information you want.
#4 – Birthday Invitation Card Template for Kid
Celebrating children's birthdays is very exciting. It is even more fun to do the preparations, especially with older children between the ages of 5 and 15, as they can participate in everything for their special day's Celebrations. This birthday invitation card is specially designed for such children.
You can also add a picture of your child in this template which makes the look of this card even more beautiful. It also uses beautifully colored balloons and fireworks to give the template an entertaining look. An image of a beautiful cake is used on the bottom side which highlights the birthday look in this template. Overall it is an awesome invitation card to be used for your Kid?s Birthday.
#5 – My Birthday Invitation Card Template
From childhood to old age, the one day we love the most is our birthday. This is a day with which many of our memories are associated since our childhood. It is a great pleasure for us to celebrate this day. Especially when we have so many of our loved ones with us to celebrate our birthday. This invitation card is designed for the same purpose so that you can invite all your loved ones on your special day.
The best highlighted part of this template is the beautiful flower corners which make the look of this template very decent, elegant, and attractive. The combination of balloons and cakes in light colors makes this template even more appealing which is good-looking and heartwarming. You can customize this template and print it on any 5×7 paper/card and send it to your friends and family.
#6 – Invitation Card Template for Son's Birthday
Loving your children is a natural process that we cannot ignore whether we like it or not. Joining in their joy and celebrating their joys with them is a source of great happiness not only for the children but also for the parents. Especially when it is your son's birthday and you have organized a party to celebrate it to which many people are invited, then it becomes a very happy event.
For one such event, we have designed this birthday invitation card for you that you can use to invite your friends and family. Designed in MS Word with colorful balloons and flags, this blue template is so beautiful to look at and it will add new colors to your child's B-Day event.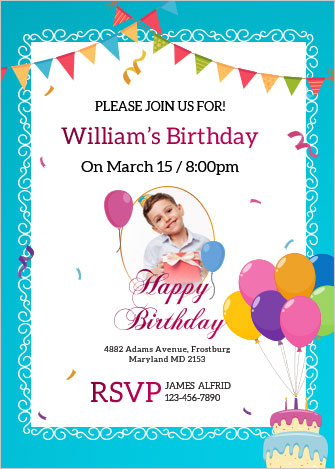 All these ready-made birthday invitation cards are made in Microsoft Word using great designs and graphics so that you can easily change them and use them to make your own or your loved one's birthday invitation cards very easily in a very short time.