18+ Premium Quality Free Party Invitation Templates for any type of Party in MS Word
Who doesn't love to party and send out a party invitation to their loved ones? While you might be thinking that partying is something started by the new generation and it is the thing of the new era. Well, you will be surprised to hear the truth which is pretty fascinating because partying goes way back – to the ancient era. Up until now, we are pretty sure most people thought that the new generation or new era has everything to do with organizing parties, going to parties, and having all the fun, but who would have thought that the ancient people loved to party just as much?
As it turns out that they were not just the hunters and gatherers, they were also party-goers and doers. The interesting thing is that social science offers some valuable insight into why that is. Why do people of all times love to party? The answer is no surprise, it is as basic and simple as it gets, and has everything to do with the intrinsic nature of humans.
Download Party Invitation Templates
This page is dedicated to providing you with a bundle of beautifully designed, premium quality yet FREE party invitation templates for Microsoft Word. All of these are designed with high-quality graphics that make these formats highly print-friendly. You can customize any of these and either print them on 5″ x 7″ paper or, save them in a PDF format and send them to your loved ones.
#1 – Beach Party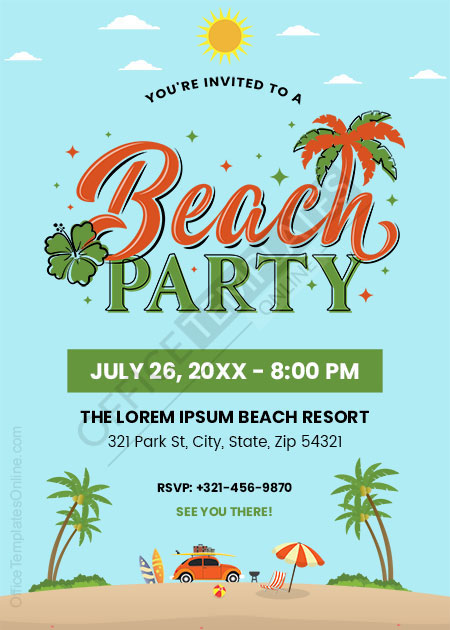 #2 – Bowling Party Invitation
#3 – Bridal Shower Party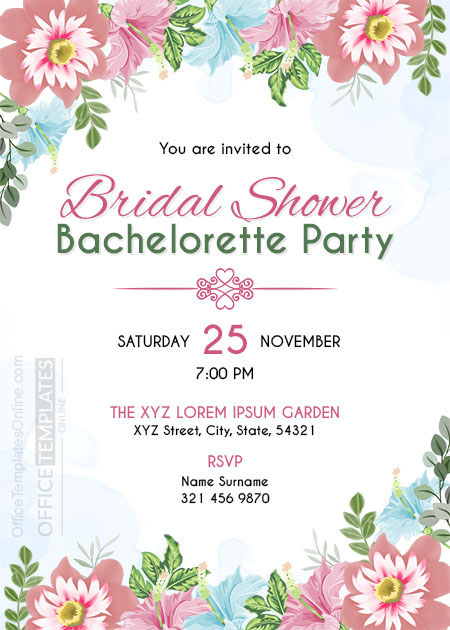 #4 – Business Cocktail Party
#5 – Business Launch Party
#6 – Carnival Party
#7 – Children's Party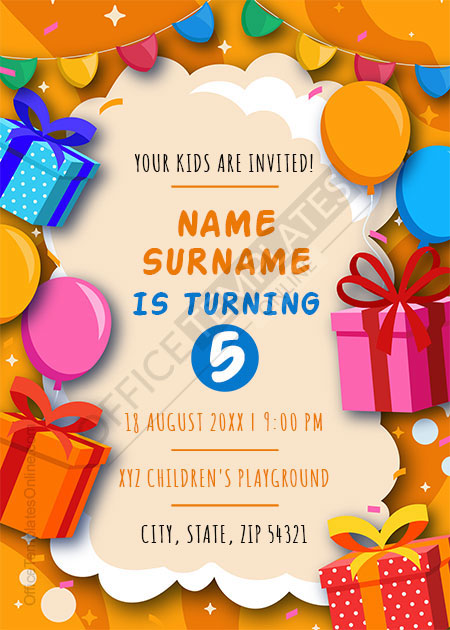 #8 – Invitation Design for Construction Company
#9 – DJ Party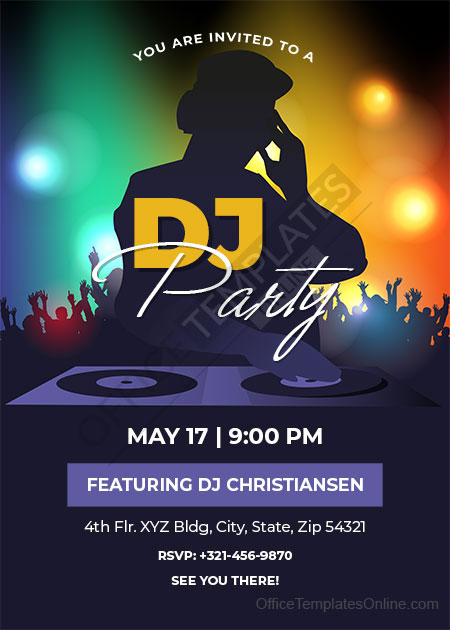 #10 – For BBQ Party
#11 – Funny Kid's Party
#12 – Graduation Party
#13 – Hello Kitty Party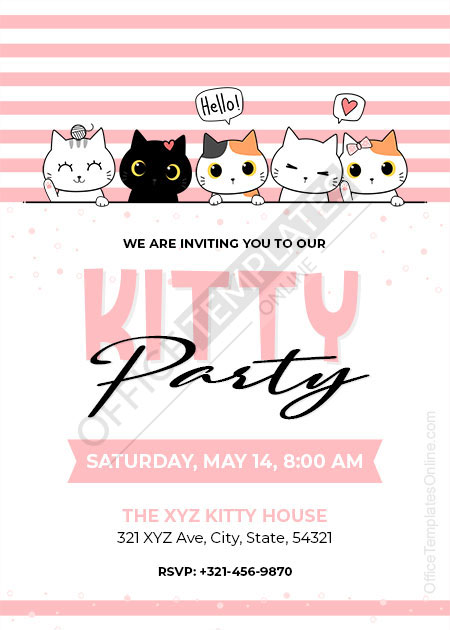 #14 – Music Party
#15 – Pool Party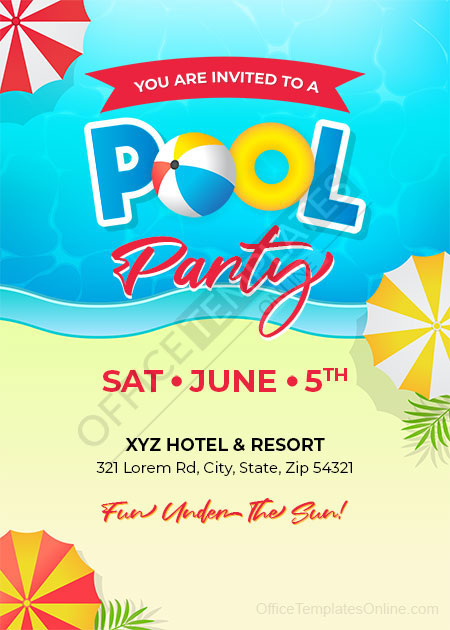 #16 – Invitation Design for a SPA Party
#17 – Surprise Retirement Party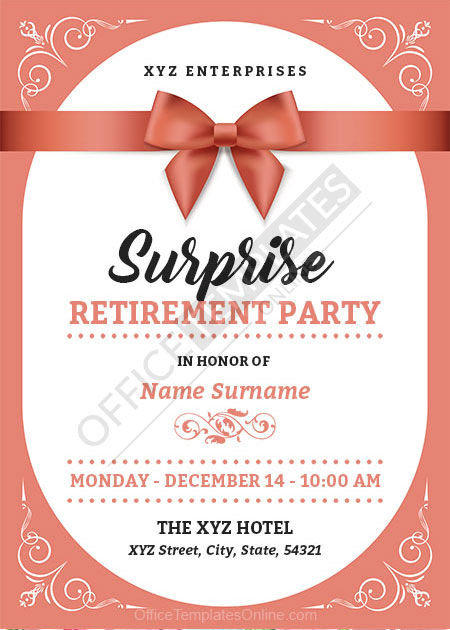 Since evolution, humans have been striving for connection and communication, and partying is just the means to achieve it. As it usually involves engaging with each other in different activities such as dancing, singing, drinking, eating, and gaming. All these things are just different ways for humans to bond with each other while also having fun. But to have fun you need people, and for people to come to the party, you need party invites, and that brings us to the next cool element of a party – party invitation cards. Let us explore all about party invites below!
What is a party invitation card and what is its purpose?
A party invitation card is simply a piece of paper, usually cardboard paper that is hard or stiff, which contains detailed information about a party. However, one can get very creative and artistic with it. All kinds of flashy and fancy materials can be used to create it. It is very easy to customize them according to one's desire and requirements. These days online cards are more popular among people. They are easy to create and send. They also save time and cost. You can easily make them via different online tools available on the internet, and send them via different social media platforms to your contacts.
There are a few reasons why they are used:
Simply put, to invite people to the party
It contains details about the party
They also hold importance as they are used to invite people to a special occasion and people associate fond memories with them
A lot of people also keep them as a memento
What information does it contain?
All the information about the party must be included in it:
What kind of party it is
Details about its theme and dress code (if any)
Name of the party host
Date and time
Venue details
Name and contact information of RSVP
Name of the guest you are inviting
If it is a plus one, with, or without a family invite
Are you wondering if there is a right protocol to send the party invitations to people? Well, guess there is, courtesy dictates that you send your invites to people at least three to four weeks prior to the party. As it will give them enough time to respond to RSVP. And if it is a dress code party then they will have enough time to arrange for it. But that is not the only advantage to send the invites well before the time, it will also greatly benefit the party hosts, as they will have a better idea of the number of people who would be attending the party, hence, better management.
What are some do's and don'ts' of a party invitation card?
DO's
Must be clear and concise
Writing style and font must be readable, if it is a formal invite then use a more formal font
Use full names if it is a formal invite
Must have RSVP details
Must mention if it is a luncheon, banquet, or reception, and its start time
Don'ts'
Forget to mention the dress code
Using too fancy font or writing style
Not providing the complete address of the venue
Not stating how many people are invited
What are some popular themes for party invitation cards?
Themes can be customized according to the party. Here are some popular themes that are both chic and elegant, and loved by almost everyone.
Floral
Tropical
Animated
Disco
Laser cut
Helpful Tutorial
Watch this helpful video tutorial to see How to Design an Invitation Card for Father's Birthday in Microsoft Word.