18+ Premium Quality Free Party Invitation Templates for any type of Party in MS Word
Welcome to our treasure trove of creativity and celebration! Here, we proudly present 18 meticulously crafted Party Invitation Templates, available for free download in Microsoft Word format. Each template has been thoughtfully designed to capture the essence of different occasions and themes, ensuring that you find the perfect match for your upcoming event. From lively beach parties to elegant bridal showers, from vibrant music gatherings to delightful children's parties, our collection covers a wide spectrum of festivities to suit every taste and style.
These premium-quality templates boast captivating graphics, making them not only visually appealing but also print-friendly. With just a few clicks, you can easily customize the templates, personalizing them with your event details and heartfelt messages. Whether you choose to print them on 5″ x 7″ paper or save them as PDFs to send electronically, these templates will set the stage for a truly memorable celebration. So, without further ado, dive into our treasure trove, select the template that resonates with your party spirit, and let the festivities begin!
Who doesn't love to party and send out a party invitation to their loved ones? While you might be thinking that partying is something started by the new generation and it is the thing of the new era. Well, you will be surprised to hear the truth which is pretty fascinating because partying goes way back – to the ancient era. Up until now, we are pretty sure most people thought that the new generation or new era has everything to do with organizing parties, going to parties, and having all the fun, but who would have thought that the ancient people loved to party just as much?
As it turns out that they were not just hunters and gatherers, they were also party-goers and doers. The interesting thing is that social science offers some valuable insight into why that is. Why do people of all times love to party? The answer is no surprise, it is as basic and simple as it gets and has everything to do with the intrinsic nature of humans.
Download Party Invitation Templates
Introducing our exclusive selection of beautifully designed party invitation templates, available completely free of charge. Immerse yourself in the world of premium-quality templates crafted for Microsoft Word. Each template is meticulously designed with high-quality graphics, ensuring exceptional print-friendly formats. Customize any of these templates effortlessly and choose to print them on 5″ x 7″ paper or save them as PDF files to easily share with your loved ones. These templates offer endless possibilities to create personalized invitations that capture the essence of your event. Get ready to explore our collection and discover the perfect invitation that will set the tone for your upcoming celebration.
#1 – Beach Celebration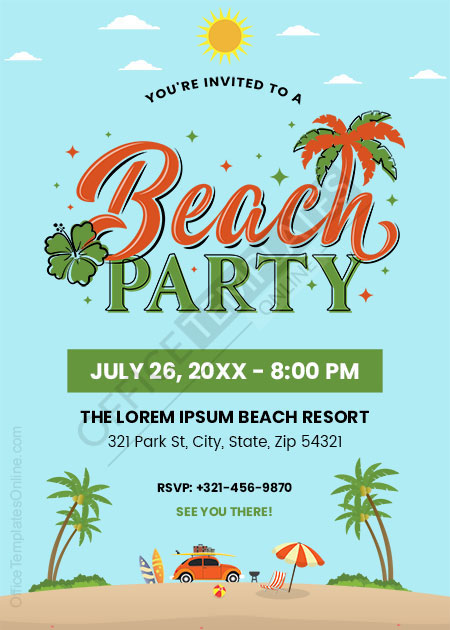 #2 – Bowling Invitation Bash
#3 – Bridal Shower Gathering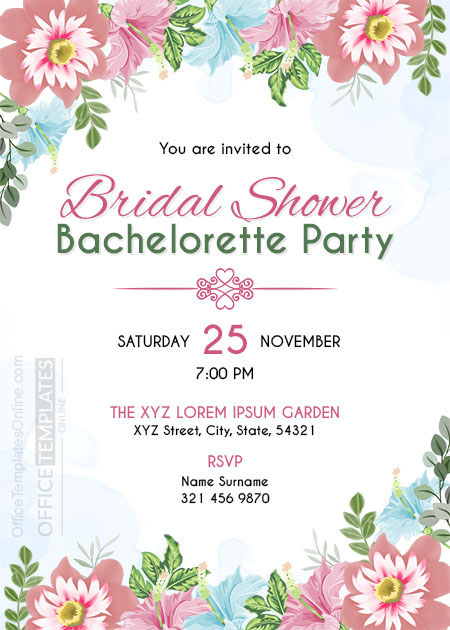 #4 – Business Cocktail Event
#5 – Business Launch Celebration
#6 – Carnival Festivity
#7 – Children's Fun Get-Together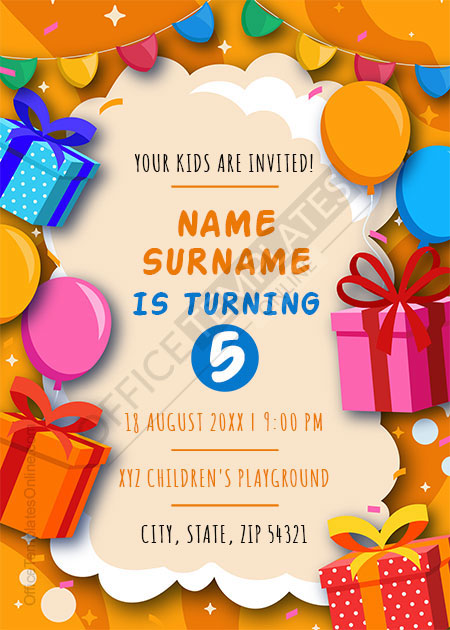 #8 – Invitation Design for Construction Company Gathering
#9 – DJ Celebration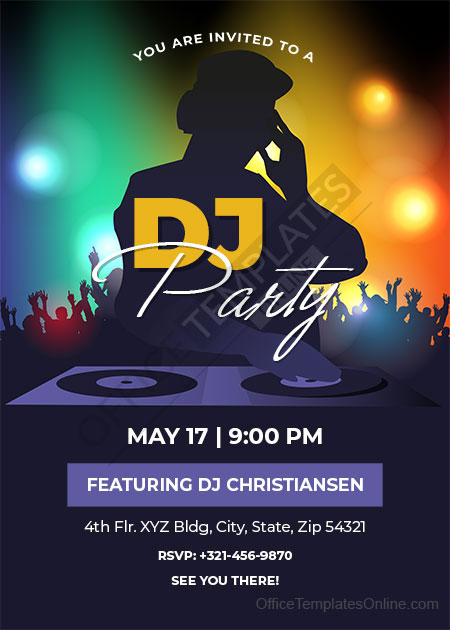 #10 – For BBQ Get-Together
#11 – Funny Kid's Fest
#12 – Graduation Celebration
#13 – Hello Kitty Themed Get-Together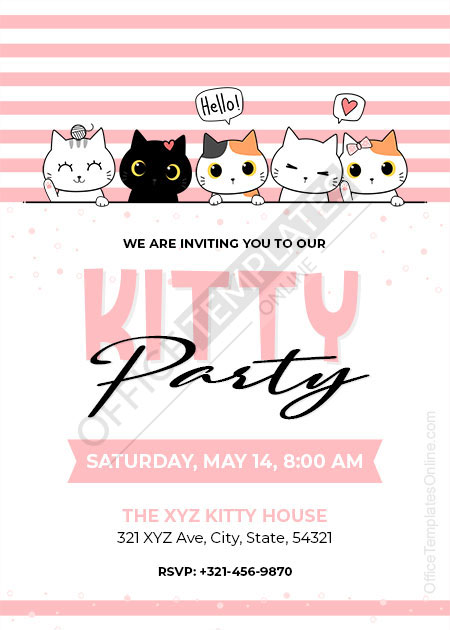 #14 – Music-themed Gathering
#15 – Poolside Get-Together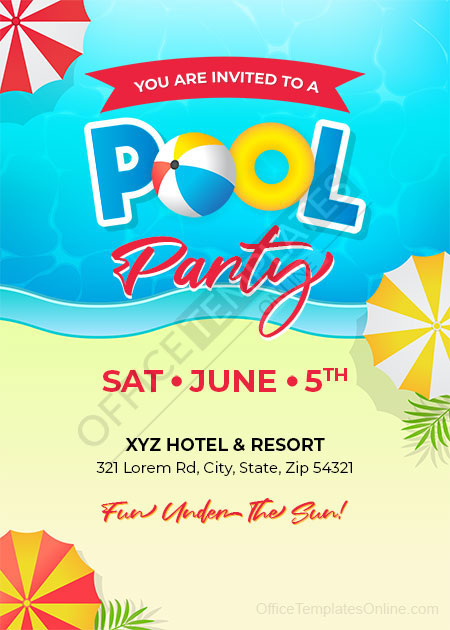 #16 – Invitation Design for a Relaxing Spa Event
#17 – Surprise Retirement Social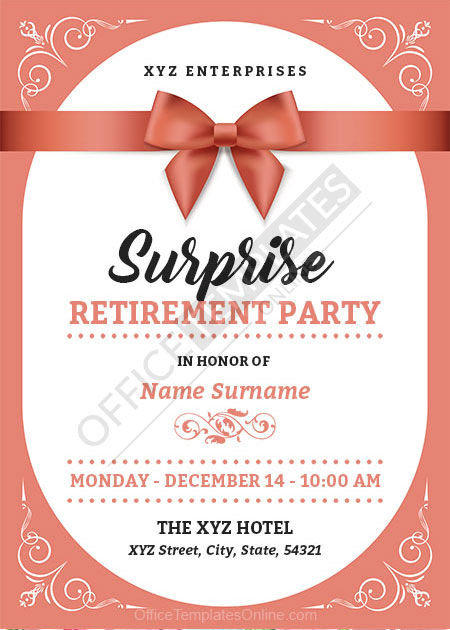 Since evolution, humans have been striving for connection and communication, and partying is just the means to achieve it. As it usually involves engaging with each other in different activities such as dancing, singing, drinking, eating, and gaming. All these things are just different ways for humans to bond with each other while also having fun. But to have fun you need people, and for people to come to the celebration, you need invites, and that brings us to the next cool element of a party – the invitation cards. Let us explore all about this below!
What is a party invitation card and what is its purpose?
This is simply a piece of paper, usually cardboard paper that is hard or stiff, which contains detailed information about a party. However, one can get very creative and artistic with it. All kinds of flashy and fancy materials can be used to create it. It is very easy to customize them according to one's desire and requirements. These days online cards are more popular among people. They are easy to create and send. They also save time and cost. You can easily make them via different online tools available on the internet, and send them via different social media platforms to your contacts.
There are a few reasons why they are used:
Simply put, to invite people to the party
It contains details about the party
They also hold importance as they are used to invite people to a special occasion and people associate fond memories with them
A lot of people also keep them as a memento
What information does it contain?
All the information about the party must be included in it:
Type of Event: Clearly state the nature of the event, whether it's a birthday, anniversary celebration, graduation party, or any other special occasion.
Theme and Dress Code: Provide information about any specific theme or dress code for the party. This could include costume requirements, color themes, or any other instructions related to attire.
Host's Name: Mention the name of the person or group hosting the event. This helps guests identify the organizers and establish a personal connection.
Date and Time: Specify the date and starting time. Include both the day of the week and the date to avoid any confusion. If the event has a specific end time, mention that as well.
Venue Details: Provide the complete address of the venue, including the street name, building number, city, and zip code. If the party takes place in a specific room or area within the venue, mention that too.
RSVP Contact Information: Clearly state the name and contact details (phone number or email address) of the person responsible for handling RSVPs. This allows guests to respond and confirm their attendance or communicate any other necessary information.
Guest's Name: Address the invitation specifically to the individual or individuals invited. This personal touch makes guests feel valued and recognized.
Plus One or Family Invite: If the invitation extends to additional guests, such as a plus one or a family, mention this explicitly. Specify whether they are welcome to bring a guest or if the invitation is limited to the named recipient(s).
Are you wondering if there is a right protocol to send the invitations to people? Well, guess there is, courtesy dictates that you send your invites to people at least three to four weeks prior to the celebration day. As it will give them enough time to respond to RSVP. And if it is a dress code party then they will have enough time to arrange for it. But that is not the only advantage to send the invites well before the time, it will also greatly benefit the hosts, as they will have a better idea of the number of people who would be attending, hence, better management.
What are some do's and don'ts' of a party invitation card?
DO's
Clarity and Conciseness: Ensure that the invitation is clear and easy to understand. Avoid excessive wording and keep the message concise. Use simple and straightforward language to convey the necessary information.
Readable Writing Style and Font: Choose a font style that is easy to read. For formal invitations, opt for a more elegant and traditional font. Avoid overly decorative or difficult-to-read fonts, as they may hinder readability.
Formal Invitations: If the event is formal in nature, use full names when addressing the recipients. For example, instead of using nicknames or abbreviations, write "Mr. John Smith" instead of "John Smith" or "John."
RSVP Details: Provide clear instructions for RSVP, including the name and contact information of the person to whom guests should respond. Specify the preferred method of RSVP, such as phone number or email address, and indicate the deadline for responses.
Event Type and Start Time: Clearly indicate the nature of the event, whether it is a luncheon, banquet, reception, or any other specific type of gathering. Additionally, mention the exact start time of the event to avoid any confusion regarding the timing.
Don'ts'
Forgetting to Mention the Dress Code: Make sure to include the dress code information in the invitation. Whether it's formal attire, casual wear, or a specific theme, specifying the dress code helps guests prepare appropriately and feel comfortable at the event.
Using Too Fancy Font or Writing Style: While it's important to choose a readable font, it's equally crucial to strike a balance between elegance and readability. Avoid using overly fancy or intricate fonts that may be difficult to read. Opt for a font that is both visually appealing and easy to comprehend.
Not Providing the Complete Address of the Venue: Ensure that the invitation includes the full address of the venue where the event will take place. Include the street address, city, state, and zip code to help guests easily locate the venue. If necessary, provide additional directions or landmarks to assist guests in finding their way.
Not Stating How Many People Are Invited: Clearly communicate whether the invitation extends to the recipient alone or if they are allowed to bring additional guests. Specify the number of people invited and if it is a plus-one invitation, make that clear as well. This information helps guests understand the scope of the event and make appropriate arrangements.
What are some popular themes for party invitation cards?
Themes can be customized according to the party. Here are some popular themes that are both chic and elegant, and loved by almost everyone.
Floral: Bring the beauty of nature to your party with a floral theme. Incorporate vibrant blooms, elegant floral patterns, or even pressed flowers on your invitation cards. This theme evokes a sense of freshness and elegance, making it perfect for various occasions, from garden parties to bridal showers.
Tropical: Transport your guests to a tropical paradise with a vibrant and lively theme. Use bright colors, palm leaves, exotic fruits, and imagery of sandy beaches or palm trees. This theme creates a fun and relaxed atmosphere, suitable for summer parties, pool parties, or even destination-themed events.
Animated: Add a playful touch to your invitations by incorporating animated elements. Utilize colorful illustrations, cartoon characters, or animated graphics that match the theme of your party. This theme is particularly popular for children's birthdays, themed costume parties, or any event aimed at bringing out the inner child in everyone.
Disco: Take your guests back to the groovy era of disco with a retro-themed invitation. Use disco balls, vibrant disco-inspired patterns, and funky typography to set the mood. This theme is perfect for disco-themed parties, milestone celebrations, or any event where you want to create a lively and nostalgic ambiance.
Laser cut: For an elegant and sophisticated touch, consider a laser-cut theme for your invitation cards. Choose intricately designed laser-cut patterns that showcase precision and artistry. This theme is often associated with formal events such as weddings, galas, or high-end celebrations, adding a touch of luxury and refinement.
By selecting one of these popular themes, you can infuse your party invitation cards with creativity and style, setting the tone for an unforgettable event. Remember to customize the design elements to match your specific occasion and create a cohesive visual experience for your guests.
DIY Party Decoration Ideas: Elevate Your Party with Personalized Touches
Get ready to unleash your creativity with our DIY Party Decoration Ideas! We have curated a collection of unique and budget-friendly projects that perfectly complement the themes of our invitation templates. Let's dive in and discover how you can add a personal touch to your event's decor.
For a floral-themed party, create stunning paper flower backdrops using colorful cardstock. Follow our step-by-step instructions and watch your venue transform into a blooming paradise.
If you're hosting a tropical-themed bash, design vibrant and eye-catching fruit centerpieces. With a few simple materials and our easy-to-follow guide, you'll have a table bursting with tropical vibes.
For an animated party, craft adorable character-inspired banners using felt and ribbon. Hang them around the venue to bring your favorite characters to life.
To create a disco atmosphere, make your own glittering disco ball decorations using reflective materials. Follow our instructions and let the disco fever shine at your event.
And for a touch of elegance, try your hand at crafting delicate laser-cut paper lanterns. These intricate decorations will add a touch of sophistication to any celebration.
Each DIY project is accompanied by high-quality images to inspire your creativity and guide you every step of the way. Get ready to impress your guests with personalized and budget-friendly party decorations that will leave a lasting impression!
Helpful Tutorial
Watch this helpful video tutorial to see How to Design an Invitation Card for Father's Birthday in Microsoft Word.