14+ Free Ready-to-Use Concert Ticket Templates & Designs
If you are a music lover, then you must also love concerts and go after getting the Concert Ticket as soon as possible! Well, who doesn't? As it is reported that concerts and music festivals are one of the top-selling events in the world. There are a few reasons why concerts are most popular among people and that is because music is a love language for most, it brings people closer.
There is a song for almost every mood and occasion in one's life. Science has also proved that listening to music triggers happy feelings in one's brain. So, it is safe to say that most people in the world enjoy music. However, it is important not to forget that team effort makes a concert sell out. There are a lot of people involved, to name a few, organizers, music agents, promoters, ticket sellers, and consumers. They all contribute to a successful show. Another important instrument that makes it successful is a concert ticket. Without it, no show can be a hit.
Download Templates for Microsoft Word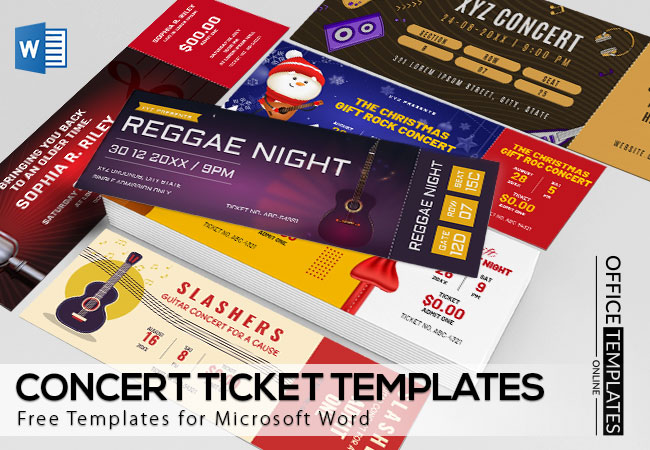 Before designing anything you have to prepare your mind and think accordingly so that good and best ideas related to that design come into your mind. This can be a daunting job when your mind is already busy with so many tasks. That is why we strive to help you make your work easier. Keeping this effort in mind, we have designed some very beautiful and impressive-looking concert ticket templates for you which you can download absolutely free from this page. All these ticket designs are formatted in Microsoft Word so that you can use them easily.
#1 – School Prom Concert Ticket
#2 – Worship Concert Design
#3
#4 – Admit One
#5 – Annual Concert Ticket Template
#6 – Birthday Concert Ticket
#7 – Christmas Gift Concert Ticket Design
#8
#9
#10 – Wedding Party Concert Ticket
#11 – Gift Concert Ticket
#12
#13 – Music Concert Ticket
#14
What is a concert ticket and what is its purpose?
A concert ticket is simply a piece of paper that one can purchase which permits one to attend a concert. Usually, they can be bought online as well as physically by visiting the companies or the store selling them. For online purchases, there are different sites that you can visit. The very purpose of them is to make revenue. However, it is also important for security reasons and to limit the audience to a certain number.
They are also a way of knowing how many people will approximately attend the event, this helps management in managing the event efficiently. Not only this, but it also helps in promoting the event by telling people the number of tickets sold and insinuating that the event is in demand and that only limited seats are up for grabs. This marketing strategy is most successful as it feeds on the mentality of people that they will miss out on something big.
What does a concert ticket look like?
It is a rectangular piece of paper in a bright color, mostly an icon of a mic printed on it. It can either be flashy or simple, but all have the following information about the concert mentioned in it:
Name of the Artist: It prominently displays the name of the performing artist or band. This helps attendees identify and confirm the artist they are excited to see.
Date and Time of the Concert: It specifies the exact date and time of the concert, ensuring attendees arrive at the venue at the right moment to enjoy the live performance.
Location: It indicates the venue where the event will take place. It provides important information about the city, venue name, and sometimes even the specific stage or area within the venue.
Price: Concert tickets feature the ticket price, enabling attendees to know the cost of admission. It helps them plan their budget accordingly and make informed decisions about attending the event.
Type: Some concerts offer different types, such as general admission or VIP tickets. The ticket indicates the specific type purchased, granting access to the corresponding areas or privileges.
Name of Sponsors: These may display the names or logos of event sponsors or partners. This showcases the support and collaboration between the organizers and sponsors.
Number of People Allowed: To ensure a safe and controlled environment, the ticket may indicate the maximum number of people allowed to attend the concert. This helps maintain crowd management and ensures compliance with venue capacity limits.
Gate, Row, and Seat Number: For concerts with assigned seating, the ticket specifies the gate, row, and seat number. This information guides attendees to their designated seats, providing a hassle-free experience.
Barcode: They often include a barcode, which is scanned at the venue entrance for validation and access control. The barcode technology streamlines the check-in process and enhances security measures.
What are the different categories of concert tickets?
There are different types of tickets and they vary in their prices as well. These categories are purposely designed in a way to attract all audiences. Some like to come in groups so they enjoy a discounted price whereas some enjoy the perks of VIP seats. They fall into the following categories:
Regular: Regular concert tickets are the standard tickets available to the general public. They offer access to the event with no specific additional perks or privileges.
VIP: These provide an elevated concert experience. They often include exclusive benefits like access to VIP lounges, dedicated entrances, preferred seating areas, meet and greets with the artist, or other special amenities.
Front Seats: They offer the opportunity to be in close proximity to the stage, providing an immersive and up-close view of the performance. These tickets are highly sought after by fans who want an intimate concert experience.
Reserved Seats: These allow attendees to have a designated seat within the venue. This ensures a specific seat is secured, offering comfort and convenience during the concert.
Early Bird Discount: Early bird tickets are offered at a discounted price for those who purchase them well in advance of the concert date. This encourages early ticket sales and rewards early supporters of the event.
Sponsored: These may be provided by event sponsors as part of promotional initiatives. These can be obtained through contests, giveaways, or partnerships, allowing attendees to enjoy the concert at no cost or a reduced price.
Group Discount: These are available for attendees purchasing tickets in bulk. This incentivizes attending the concert with friends or a larger group by offering discounted rates per ticket.
Tickets at the Venue: Some concerts offer tickets for purchase directly at the venue, often on the day of the event. These may have a higher price compared to pre-purchased tickets, catering to last-minute attendees or those who prefer to buy on-site.
Helpful Tutorials
Watch a couple of tutorial videos listed below to learn How to Design an Event ticket in Microsoft Word