5+ Free Editable Marriage Certificate Templates
Marriage is the most important part of a human's life and everyone wants their big day to be perfect. They invest their time, money, and effort into marriage preparations to enjoy their big day to the fullest. However, most people would not know that an important part of marriage is marriage documents. Marriage documents are required to officiate one's marriage which is as important as the big day.
Let us look into what is needed to officiate one's marriage. The most important document is the marriage certificate also known as the registration of marriage or commonly known as the marriage registration certificate (MRC). So as the name suggests it is a document that is given when an individual registers one's marriage.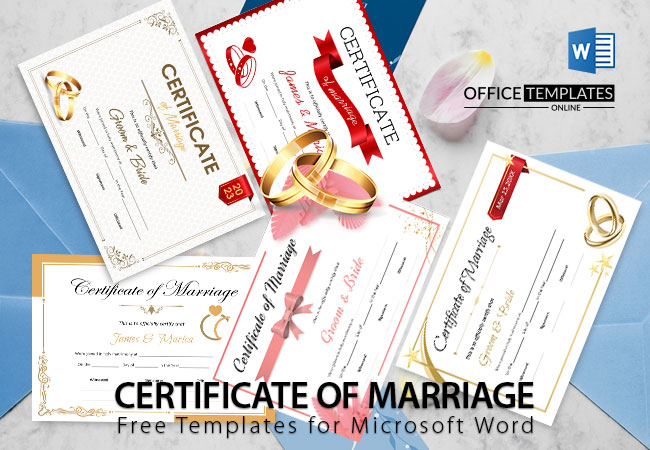 Download Free Design Templates for Microsoft Word
Designing a certificate from scratch can be a difficult and time-consuming task. How cool would it be if you could get your desired certificate that is already designed for you? Yes, on this page you can find many such pre-made designs that can make your work much easier. On this page, You can download Free certificate of marriage templates, designed in MS Word with high-quality graphics. These formats are fully editable.
#4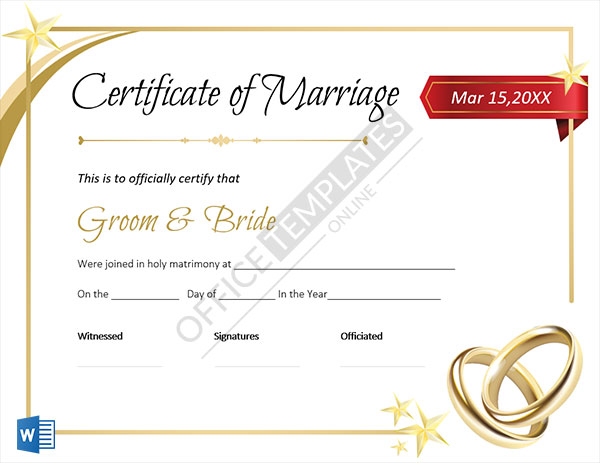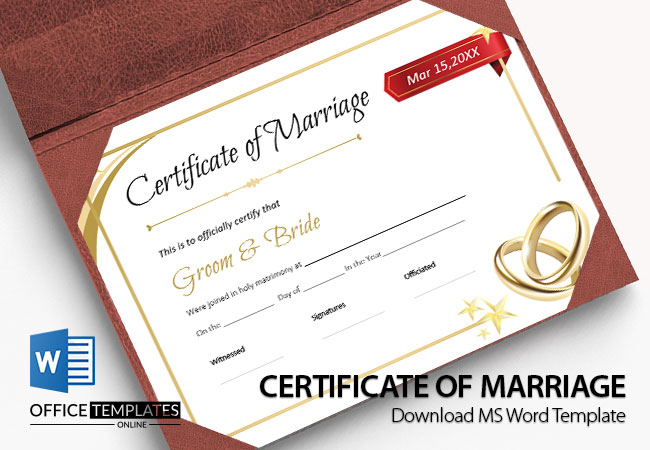 What is a marriage certificate?
It is a legal document showing that two people are legally married. It is simply proof that an individual is married. It is either officiated by a religious person or a judge. The person then submits the document to a designated government body to register the marriage and obtain this document. In some parts of the world, one would need a marriage license first to obtain the certificate. Now one could get confused about the difference between a marriage license and a certificate.
So to clear the confusion marriage license is simply a document that is obtained that allows one to get married. In other words, it is more like permission to get married. On the other hand, the certificate is legally obtained proof of one's marriage. However, not every country has the prerequisite of a marriage license so if you are looking to get married you might need to check your country's requirements for marriage documents.
Why do people need it?
This document is important as it is an official document that represents the identity and affiliation of a person. Nonetheless, it can be required for different purposes in an individual's life. Therefore, it is always beneficial to obtain it. Some common things for which it is needed are as follows:
To change surname
Immigration
For job purposes
Inheritance
Pension
Dissolution of marriage
Life insurance claims
Social security claims
Child custody issues
What contains in a marriage certificate?
It can be printed on a flowery pretty looking template or it can be printed on a simple template with borders. You can take your pick! However, in all marriage certificates, the center top of the paper has "certificate of marriage" written in a fancy font. There are a lot of choices available for fonts as well. However, generally, all of them have the following information included in them:
Names of married individuals
Date of the marriage
Place of marriage
Signature of the couple
Names of witnesses
Name and signature of the officiant
Registration number
Date of issuance
On the contrary, to register a marriage some extra information can also be required such as:
Couple's personal details such as age, religion, etc.
Couple's Identity card numbers
Name of couple's fathers
Witnesses' identity card numbers
Helpful Tutorials
Watch the video below to see How to Design a Certificate of Appreciation in Microsoft Word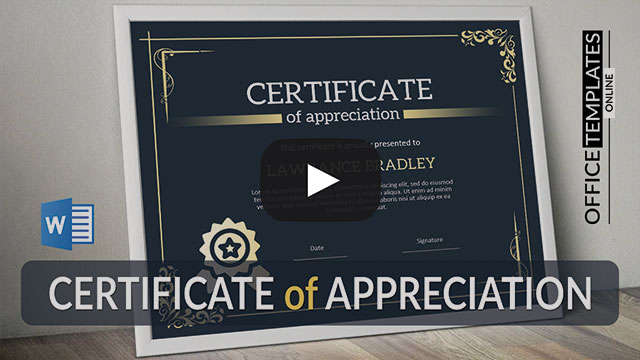 Watch the video below to see How to Design a Rising Start Certificate of Appreciation in MS Word