5+ Free Project Completion Certificate Designs in MS Word
Discover a wide range of professionally designed and visually stunning Project Completion Certificate Templates available for free download in MS Word format. These templates are meticulously crafted with high-quality vector graphics, ensuring exceptional print quality and the ability to create hard copies of your desired certificates. Whether you need a certificate for academic projects, professional accomplishments, or personal achievements, our collection offers a variety of beautifully laid-out options to suit your needs. Take advantage of these wonderful templates and create impressive certificates with ease.
Many of us look forward to completing our projects, courses, or contracts not only for acquiring the learning and achievement we do but also for the official record of documentation that we are awarded.
After the completion of a project the project head, contractor, or manager confers a certificate of project completion for the attendees. The document officially certifies that the person under discussion has successfully completed all the requirements related to the course and met all the terms and conditions.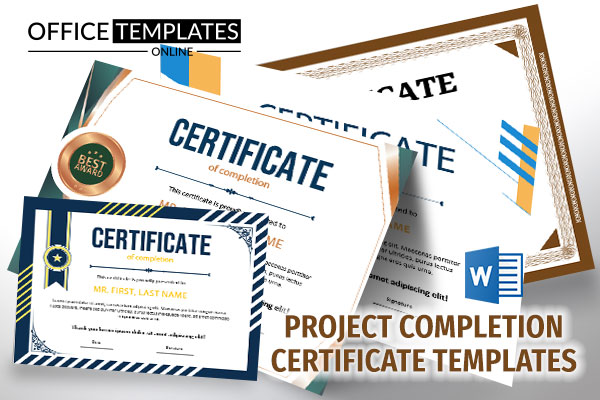 These certificates are also awarded once contractors or project owners successfully get done with another task, to boost their confidence and provide them with a documentary record of their performance. Additionally, employers can use these under a number of circumstances to encourage the employees working under them to work even better in the future.
A project completion certificate is proof of the fact that your efforts are not going in vain!
Download Templates
Find below some nicely laid-out, beautifully designed Certificates of Project Completion Templates in Microsoft Word. Each of these is designed with high-quality vector graphics that makes it very good for printing and creating a hard copy of your desired Certificate.
#1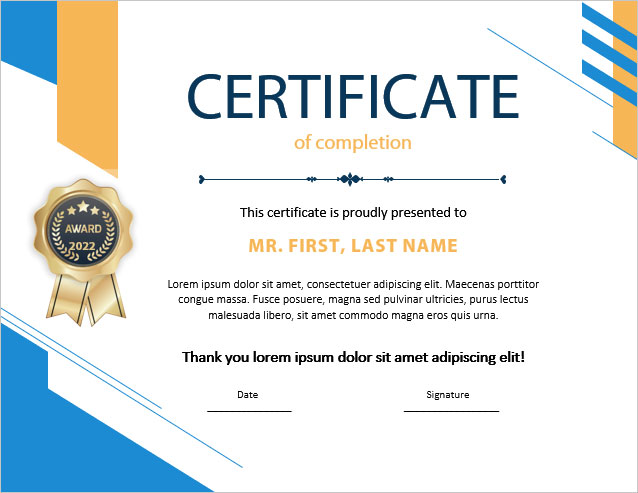 #2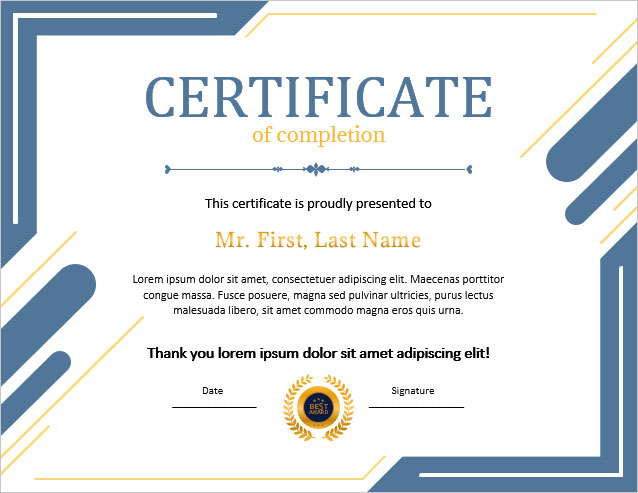 #3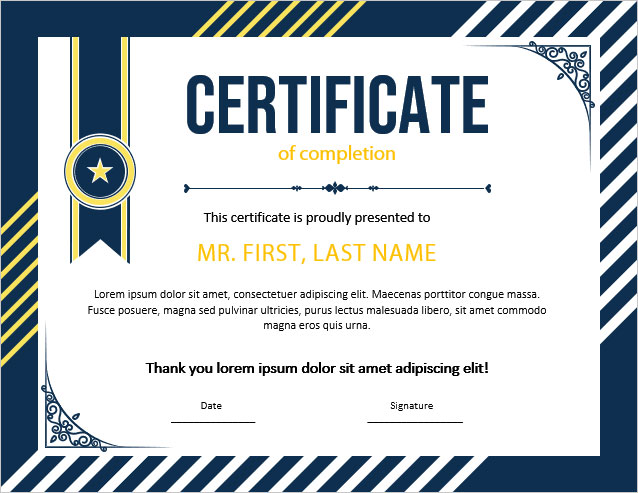 #4
#5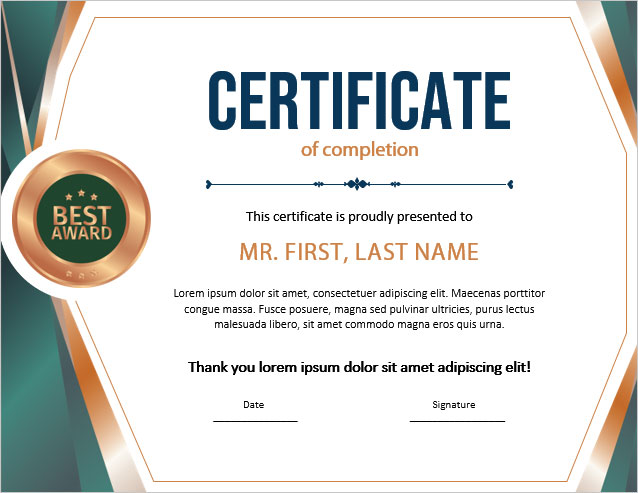 How Can Project Completion Certificates Be Designed?
There are dozens of ways that these certificates can be designed. You might want to keep them really minimalistic with the least information and only the most vital information. Others, however, might want to put in every possible related detail so that none of the facts are missed for future reference.
Here goes a very basic format that you might want to keep in mind while designing a certificate of project completion:
Letterhead of the company/institute/university awarding the certificate
The statement: "To whom it may concern" or "Certificate of project completion."
Followed by the words: "This is to certify that this certificate is conferred upon Mr./Mrs./Company/Group ______________upon the successful completion of the project titled _______________ for a duration of _____________ months extending from period _________ to ______________ under the guidance and supervision of _____________."
This is to be certified that this individual has met all the terms and conditions of the project.
In addition, all the learned courses and expertise can be provided in a detailed tabulated manner to show the primary benefits of the course.
Signature of the concerned authorities.
Why Are Completion Certificates Significant?
Discover the significance of completion certificates, which validate your achievements and contribute to personal and professional growth. These credentials serve as a testament to your skills, open doors to career opportunities, and provide a record of your progress. Explore how they enhance your profile, boost confidence, and foster a mindset of lifelong learning.
Work Achievement & Project Completion: These help you remember the work you achieved and the project you completed and also serve as a record for the future.
Showcase Skills in Job Interviews: While going out for a job interview, you might want to take your completion documents along, they act as a great way of showing what skills you possess.
Testimonials of Skill Acquisition: These certificates are credible proof of your ability to acquire new skills and develop dedication in life.
Recognition of Achievement: These documents recognize and validate your hard work, dedication, and expertise, adding credibility to your professional profile.
Career Advancement: Possessing a collection of completion credentials enhances your career prospects by demonstrating your continuous learning, adaptability, and commitment to self-improvement.
Networking Opportunities: Showcasing your credentials can spark conversations and connections with like-minded individuals, opening doors to new professional relationships.
Personal Satisfaction: Receiving recognition for your accomplishments boosts self-confidence, validating your efforts and serving as a source of personal pride.
Documented Progress: These credentials provide a documented record of your growth and achievements, enabling you to track your advancement and reflect on your journey.
Industry Recognition: Completion credentials from reputable sources carry industry recognition, validating your expertise and competence within a specific field.
Educational Advancement: These credentials can be valuable for academic pursuits, highlighting your commitment to ongoing education and professional development.
Skill Validation: By earning credentials, you demonstrate your competence and mastery of specific skills, making them valuable for employers and clients.
Motivation and Inspiration: Receiving recognition for your achievements serves as motivation to continue learning and striving for excellence in future endeavors.
Personal Branding: Including your credentials in your professional portfolio or online profiles strengthens your personal brand and highlights your commitment to excellence.
Competitive Edge: Possessing a collection of credentials gives you a competitive edge in job applications, promotions, and career transitions.
Lifelong Learning: Completion credentials encourage a mindset of continuous learning, emphasizing the value of acquiring new knowledge and skills throughout life.
How to Design an Impressive Completion Certificate?
Enhance the recognition of project achievements with our guide to designing impressive completion certificates. Ensure accurate details, include essential terms and conditions, specify correct dates, utilize a professional format, and highlight project authorities. Create certificates that captivate recipients and commemorate their successful project completion.
Make sure that the details are provided without an error:

Double-check all the information, including the project title, participant's name, and completion date, for accuracy.
Ensure that any additional details, such as project duration or milestones, are correctly stated.
Proofread the certificate content thoroughly to eliminate any spelling or grammatical errors.

Don't forget to specify the terms and conditions:

Clearly outline any conditions or criteria that need to be met for the certificate to be awarded.
Include any relevant disclaimers or limitations regarding the scope or validity.
Provide instructions or contact information for any inquiries or clarifications.

Don't forget to provide the right dates:

Include the precise completion date of the project to acknowledge the specific timeframe of accomplishment.
If applicable, mention the project start date to provide a comprehensive overview of the duration.
Ensure that the dates are accurate and consistent throughout the certificate.

Make sure to use a professionally appropriate format/layout:

Choose a standard size, such as A4 or letter size, for easy printing and framing.
Maintain consistent formatting, including font styles and sizes.
Organize the information in a logical and visually balanced manner to create an aesthetically pleasing layout.

Make sure that the names of the project's authorities are provided:

Include the names and titles of the individuals or organizations responsible for overseeing the project.
Highlight the names of project managers, supervisors, or mentors who played a significant role in the completion.
Acknowledge the contributions and support of key stakeholders or sponsors, if applicable.
If you want to succeed in making a project completion certificate that is professional as well as brief by all means possible, don't forget to take benefit from the ready-to-download templates that we have provided for you here.
Helpful Tutorial
Watch the tutorial below to learn what is the Best and Easy way to Design a Certificate of Appreciation in MS Word