Certificate of Appreciation
Definition of a certification:
A certification is actually the attestation of an action or act. It allows one party to attest a document or any other act that the other party might have completed as per the standards set.  A certificate is a document that provides a proof of this attestation.
Certificate of Appreciation:
This kind of certification is awarded to those individuals who might have performed an activity with outstanding results.  This may be something academic, professional or vocational. In all fields of work and life, appreciation of good work is very important. It is not only a need of a person but also required to enhance his motivational level and morale. This way the person who appreciated will not only feel awarded for his work but will also be more dedicated and motivated for the future goals and objectives.
Benefits of Certificate of Appreciation:
There are several reasons and benefits for giving a certification for appreciation. Some of the very common ones are given below:
It is given to make a person feel recognized for all the efforts that he has made
It is an award that acts as a reward of honor for many individuals
It makes the person satisfied and motivated for future efforts
So if you want to create a certificate of appreciation for any cause, you can download and use this certificate of appreciation template. This is created using Microsoft Word. So according to your needs and requirements make the necessary changes in this template and print it on a letter size page using any available printer.
Find below the screenshot of this certificate and download link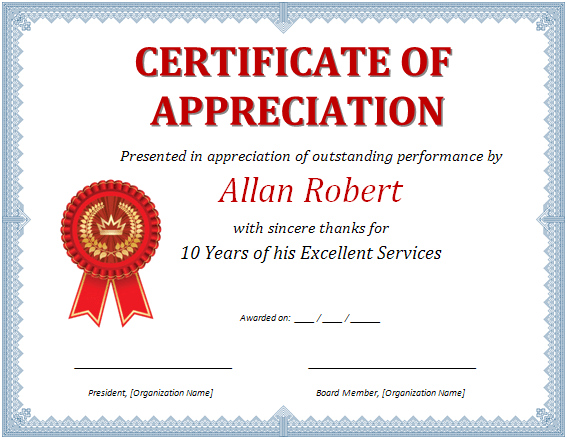 Download This Certificate Template