Download 8+ Insurance Certificate Samples and Templates for MS Word
An insurance certificate is an important document that states all the vital details related to an insurance policy. These details are mainly about the status, coverage, criteria, and other particulars about the insurance policy. This is a brief yet detailed document that in a very precise manner provides a representation of the insurance.
This document is issued from an insurance company or an insurance broker to verify the policy. A lot of companies need to provide proof of their insurance while taking a bank loan, conducting an event, and leasing equipment or products. In this case, they will produce an insurance certificate to show their insurance coverage. This will help the client stay informed and assured of your insurance and can decide if they can trust your company or not.
Many independent contractors and big investors tend to ask for an insurance certificate before getting into contact. The inability to produce your insurance certificate will most likely end you up in trouble. You might have to lose a few critical contracts or fail in winning your dream client's trust.
There are many different kinds of insurance certificates, some contain very basic details about the liability coverage only, while others might need accident coverage, compensation policies for the employees, etc.
Download Free Samples & Templates for Microsoft Word
On this page, you can download the insurance certificate samples & templates created in MS Word for different formats. Find them below along with a preview image and download link.
#1 – Insurance Certificate of Group Health Plan Coverage
#2 – Certificate of Insurance Template for Closure and/or Post Closure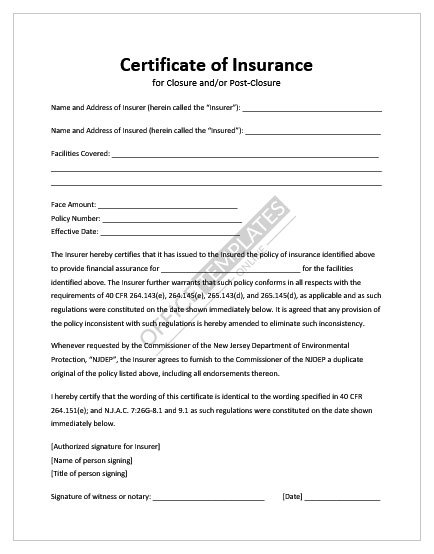 #3 – Certificate of Long Term Care Insurance Template
#4 – Sample Construction Certificate of Insurance
#5 – Contractor Insurance Certificate Requirements Checklist Template
#6 – Owner and Protective (OCP) Insurance Certificate Template
#7 – Sample Certificate of Liability Insurance Form
#8 – Standard Certificate of Insurance Template in Word
When do I need an insurance certificate?
The extent of sensitivity and risk related to companies differs from each other. Companies that work in fields with greater risk and damage chances are very much recommended to get their hands on an insurance certificate as soon as possible. You will know you need an insurance certificate when you want to secure your services, avoid risks, and satisfy the clients as well.
While a company manages to hire you for their job you will have to provide the insurance certificate. This is because if your company accidentally causes damage to the health of a worker or leads to financial loss, they can take benefit from your insurance policy. In the opposite case, this damage would go into their account.
What elements do you generally add to an insurance certificate?
An insurance certificate typically contains the following details:
Name, address, fax, email, postal address, and other contact details related to your company i.e. the insured company
The type of insurance policy that you are opting
Operations/jobs performed by the insured party
Coverage or liability limits
Legal provisions related to the policy
Insurance company's address and contact
Signatures of the official authorities and representatives
Dates of the effectiveness of the policy
Terms and conditions
How do I obtain an insurance certificate when needed?
Upon receiving a request from your clients to showcase your insurance certificate, you can start by asking them for their needs and terms. The next step would be to contact your business insurance agent or provider to confirm the policy you need, provide the documents required, and provide all details. Upon completion of the paperwork, a standardized insurance certificate is printed and sent your way!