7+ Free Printable Movie Ticket Templates for Cinema and Theater Events
Are you tired of using plain and boring movie tickets? Do you want to give your customers or guests a professional and eye-catching ticket that matches the theme of your movie or event? Get ready to elevate your movie-going experience with our premium ticket designs! We have got you covered with our collection of customizable Movie Ticket Templates. From action-packed movies to romantic date night movies, from cartoon movies to Christmas specials, our templates cover it all. All of our templates are designed in MS Word, making them easy to use and customize. Impress your audience with a sleek and professional-looking movie ticket. Download our templates now and give your event the extra edge it deserves.
In this era of Netflix, one might think going to cinemas for movies is yesterday's thing. While that might be true for some but most people still enjoy going to cinemas. So, we are safe to say that there are two kinds of people, one who prefers to watch Netflix or Online Movies and the others who go to the cinema. But, watching movies is everyone's favorite sport. As it is not only a great way to spend some quality time with one's friends and family but also extremely entertaining.
And that is because we can easily relate to the characters, emotions, songs, actors, and stories of movies, all these elements together make it a pleasant experience. The movie genre is vast. You can choose your pick from action to sci-fi to comedy to romance to drama, and many more depending on your liking. Movies are also a great way to bond with people. This is why we suggest you buy your favorite movie tickets and take someone on a movie date.
Download Movie Ticket Templates
From this point below, you can download a number of ticket templates absolutely free which are designed for different types of movies. All these designs are prepared in Microsoft Word so that you can easily use them without the help of any designer and print your own custom movie ticket.
Action Movie Ticket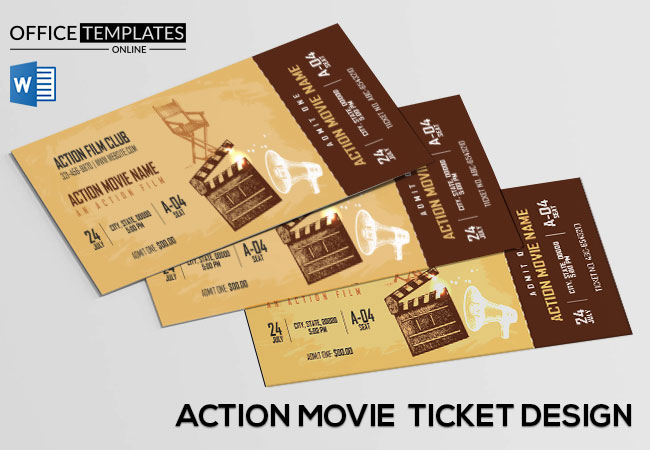 Cartoon Movie Ticket
Christmas Movie Ticket
Date Night Movie Ticket

Movie Theater Ticket Design
Best Ticket for any Type of Movie
School Movie Ticket Design
What is a movie ticket and what is it used for?
A movie ticket is an official rectangular piece of paper that is bought to watch a movie; it allows you to enter the cinema house or theatre. Every movie has a different ticket and it is usually priced differently as well. Generally, everyone can afford to buy a regular ticket. You can either buy tickets online or at the cinema. Interestingly, this gives us another division of people, ones who buy online and the others who buy at the cinema. Prices though remain the same, whether you decide to buy them online or at the cinema.
Why Our Movie Ticket Templates are Better Than Regular Tickets
Are you tired of buying expensive movie tickets that don't quite fit your event? Try using Movie Ticket templates instead! Here are some benefits:
Customizable templates: You can easily personalize and edit the templates to fit your needs.
Cost-effective: You can print the tickets at home or your office, saving you money on expensive printing services.
Convenience: You can create tickets anytime and anywhere you want, without the hassle of going to the ticket office.
Variety: There are different types of templates available, such as blank templates, pre-designed templates, and templates for special events.
Professional look: Using templates will give your tickets a more polished and professional look.
Easy to use: Our 7 Movie Ticket templates, available in MS Word format, are easy to use and can make your work easy.
Overall, using Movie Ticket templates can make your ticketing process easy, cost-effective, and convenient.
What consists of a movie ticket?
Usually, it is not fancy-looking paper but rather a simple piece of paper with the logo of the movie camera or sometimes a picture of a bucket of popcorn drawn on it. It has details about the movie screening printed on it. It has the following information:
Movie name: This is the name of the movie that you're going to watch.
Cinema house or theatre name: This is the name of the cinema or theatre where the movie is being screened.
Date and time of screening: This indicates the date and time that the movie is scheduled to begin.
Row and seat number: This tells you where in the theatre you'll be sitting so that you can find your way to your seat easily.
Hall or cinema room number: This indicates the specific theatre or hall where the movie is being screened within the cinema complex.
Terms and conditions: These are the terms and conditions that you're agreeing to by purchasing the ticket.
Type and cost of the ticket: This indicates the type of ticket you've purchased (e.g. adult, child, senior citizen, etc.) and the cost of the ticket.
Number of people allowed: This indicates how many people are allowed to enter the theatre with the ticket you've purchased.
Evening or morning session: This tells you whether the movie is being screened in the evening or morning session.
Bar code: This is a unique code that's scanned at the entrance to the theatre to validate your ticket.
What are some categories of movie tickets?
Every cinema house has different types of tickets depending on the deals, seating arrangement, and prices. Ticket prices also vary on weekdays and weekends. However, some common types are as follows.
Economy or Standard: These are the most basic movie tickets and usually the least expensive.
Family: Family movie tickets are typically available for larger groups and offer discounted rates for families.
Advanced Screening: Advanced screening tickets are usually for special screenings of movies before their official release date.
Premium or Executive: Premium or executive tickets offer a more luxurious movie-going experience with additional amenities, such as larger seats or access to exclusive areas.
Gold: Gold tickets usually offer similar amenities to premium or executive tickets but are typically less expensive.
Platinum: Platinum tickets are the most expensive and offer the most luxurious experience, such as access to private lounges or gourmet food and drinks.
Tips for Using the Templates Effectively
Choose the movie ticket template that best suits your needs.
Download the template and open it in MS Word.
Customize the template by editing the text fields with the movie title, cinema name, screening date and time, seat numbers, and other relevant details.
Adjust the font size, color, and style according to your preferences.
You can also add your logo or any other graphics to make the movie ticket more visually appealing.
Once you are done with customizing the movie ticket, save the document.
Now you can print movie tickets on standard card stock or paper.
After printing, cut along the dotted lines to separate the tickets.
The right part of the template can be used to record the sales, date, time, and other details of the ticket sale for record-keeping purposes.
By following these simple steps, you can easily create customized movie tickets that are professional-looking and tailored to your specific needs. With the use of MS Word and these pre-designed templates, creating movie tickets has never been easier or more cost-effective.
Conclusion
Lights, camera, action! You have now reached the end of our page and hopefully have found the perfect movie ticket template for your upcoming movie night. With our diverse range of designs, you can choose the perfect ticket for any occasion – from a date night to a family outing, and everything in between.
By using our professionally designed templates, you can save time and money while still creating a customized ticket that will impress your guests. And with the ease of Microsoft Word, you can easily edit and personalize your tickets to make them truly unique.
So why wait? Start downloading our free templates now and make your next movie night a blockbuster hit! Whether you're watching an action-packed thriller or a heartwarming holiday classic, our ticket templates are the perfect way to add a touch of professionalism and style to your event.
Remember, the ticket is the first impression of your event, and with our templates, you can make it an unforgettable one. Lights out, movie lovers!
Helpful Video Tutorial
Watch a couple of video tutorials below to see how to design a Ticket in MS Word
How to Design an Event Ticket in MS Word