10+ Free Announcement Flyers & Brochure Templates
What is an announcement flyer and what is its purpose?
In this age of information, where a variety of tools are available to disseminate information to people. One of the most common as well as popular tools that are used to convey information to people at large is a flyer or an announcement flyer. This is impossible to miss information if it is being spread via flyers. In simple words, it is a piece of paper that has a message or information printed on it such as a notice or public service message, any information about an event or a product, etc.
A Flyer is used to grab people's attention or convey a message to them. Its' sole purpose is advertising; it is only used when information needs to be publicized. And there are a lot of different ways to make that happen such as distributing them among people in both public and private places, door-to-door distribution, newspaper attachments, pasting them on walls and other appropriate places, and you can also send them via email.
Download Announcement Flyer Templates for Microsoft Word
General Announcement Flyer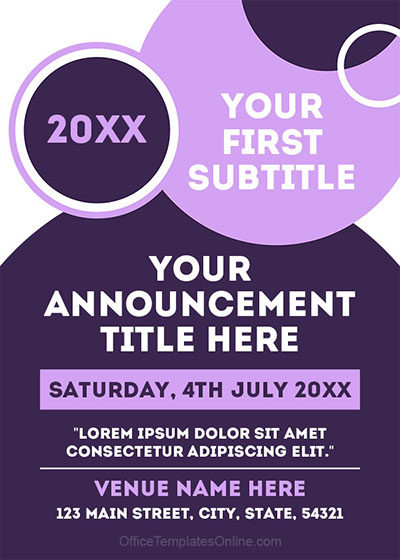 We are Hiring Business Announcement
Election Campaign Announcement Flyer
Funeral Announcement Flyer
Girl's Party Announcement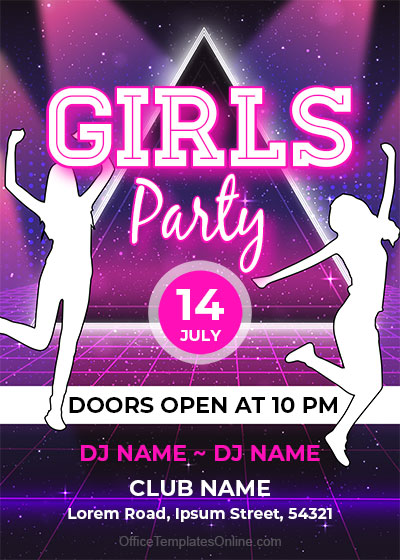 Job Announcement Flyer
Meetup Event Announcement
Wedding Announcement Flyer with Couple Photo in Heart Shape
University Announcement
University Graduation Announcement Flyer
What is the easiest way to create an Announcement Flyer?
Now, you do not need to hire a graphic designer to create such a flyer. Also, you don't need to use Adobe Photoshop, Adobe Illustrator, Corel Draw, or any other such hard-to-use and complex software. We have some exciting, professionally designed templates available here on this page, formatted in Microsoft Word, that allow everyone to make striking announcement flyers and brochures freely and quite comfortably – and that too for free. Choosing color schemes, formatting, and designing have all been made within the designs.
You just need to select and download any of these you like – personalize it the way you want, and voila! you have a perfect, catchy, and aesthetically pleasant announcement flyer ready. Believe me, this is really that simple and easy!
What information to include in it?
Depending on the information that needs to be conveyed to people, an announcement flyer could either be small or an A-5 paper. Common practice dictates that the paper size is A-5, the material used is of cheap quality, and the information should be printed on a single side. However, expensive glossy papers can also be used, it all depends on individual preferences. It must contain the following information:
Title of the announcement
Icon to grab attention – usually a loudspeaker
Subtitles
Details of the message/information
Date, time, channel, and venue – if it is an announcement related to a product launch or an event
Contact information
Organization's logo
Call for action (if required)
Name of sponsors (if required)
Mention discounts and offers (if required)
What are the elements of a good announcement flyer?
Attention-grabbing
Explanatory – must contain all the important details
Convincing
Targeted – with respect to the audience
Aesthetically pleasing
Simple but Unique
Legible
Well-designed – with respect to color schemes, fonts, and formatting
Correct use of spaces
Must contain icons and infographics
The information must be written in bullet points
Use of keywords
Use of catchy phrases
Paper material should be of good quality
What are some reasons to use an announcement flyer?
Effective tool for promoting information or getting the message across
Easy to create with little effort
Reaching your target audience is easy
Tangible – hard-to-miss information when it is handed to you, naturally, you are tempted to look at it – at least once. This is why it is important that flyers must be eye-catchy. 
Distribution of flyers opens doors to building attachment with people – your efforts are easily noticeable while distributing flyers, thus, people show empathy and are more likely to respond to the information written on the flyer.
Cost-effective – as there are a lot of free tools available online to create flyers. The cost of printing, however, is something to consider. If you own a printer then this cost can also be reduced greatly.
Gaugeable – the success of publicizing with flyers can easily be measured by the response received from people
A great way of announcing incentives – deals, coupons, discounts, vouchers  
What are the pros and cons of using an announcement flyer?
Pros:
Inexpensive
Easily accessible
Highlights important information/message
Easy to make – many tools are available online that help create flyers without any hassle
Concise and to-the-point information is given
Easily read
Hard to miss
Flexible designs
Saves time
Cons:
Paper is used so it is not environmentally friendly
Generates paper waste
The distribution of flyers is labor-intensive and requires time and effort
Cost-inefficient – if the target is large
It only creates a short-term impression, it only grabs attention temporarily, and once read it is dismissed easily
Printing cost
Helpful Video Tutorial