FSBO – For Sale By Owner Flyer in MS Word
What is a Flyer?
A flyer is a circular handbill or a leaflet that comes under the heading of paper advertisement used to be distributed widely around the area. It may be used by an individual and businesses.
Being used as an inexpensive way of advertising, creating an effective and brilliant flyer from a scratch is not an easy task especially with having an eye for design. Whether we call it a flyer or a listing brochure the fact is it acts as an agent, facilitating in selling whatever a person or business wants to sell.
Benefits of FSBO
For sale by the owner, flyers can be made by the owner by adding pictures of the item i.e. house, dog, cat, chair, etc. You will have to include price (optional), information both personal and about the entity that is being sold. Then one must determine the budget that how many FSBO flyers he intends to distribute.
It can be on a single A4 sheet or can be of a tri-fold format.
For sale by owner is the most overlooked method of marketing. People rely mostly on word of mouth or on online applications to do their selling. Even though online selling may have its advantages, it may attract the wrong kind of audience which the FSBO filters. You are in charge of who sees your advertisement and what means of distributing are acceptable for you. Also, since you don't rely on any third party to facilitate the sale there is a chance that people trust your product immediately to be reliable.
Tips to Make your Flyer Effective
You can take care of these tips to get an actual benefit out of your flyer advertisement.
Keep it to-the-point, simple, and brief.
Design it to properly organize all the information you want people to know.
Highlight key points with attractive Font color and size
Keep in mind your targeted market and audience.
An image has a significant impact to attract attention. So, use your images wisely.
Add the contact information on the bottom or anywhere that be seen easily.
This Template
This template is created using Microsoft Word. This is particularly designed to sell a house. The top header includes a larger image which is supposed to be the front view of your house. There are 3 other images to show other areas of the house like the Drawing room, kitchen, bedroom, garage, or any other portion that you want to highlight and like your audience to focus on. You can also list out all the features of your property along with driving directions and contact information.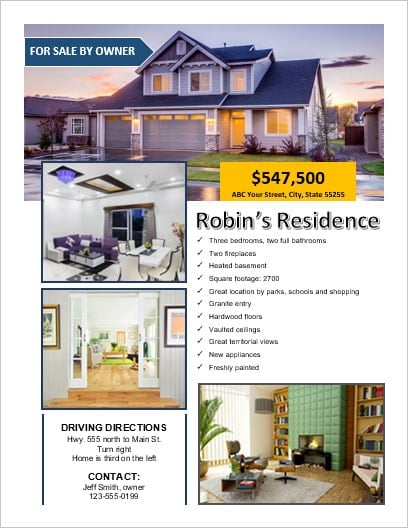 Another Elegant FSBO Flyer Template
This FSBO flyer template is created in MS word in a beautiful house structured layout and colors. Each and every part of this template is fully customizable including images, objects, text, and styles. Below are the three fonts used to stylize the text.
Adobe Gothic Std B
Doradani Bl
Calibri