You come back home from a tiring, long day at work, the moment you reach your apartment door, you see a flashy, small, rectangular card hanging on your doorknob. You take it off, take it inside, and while you take your shoes off you read and find it to be a massage center's advertisement. JUST what your tired shoulders needed at the hour, JUST how the company wanted the message to reach you.
These rectangular, printed pieces of card that are designed with a hole or hook to fit inside the doorknobs are known as Door Hangers or Door-Hanger-flyers. While many consider it a "Mediocre-company's-mail-tool" it is indeed way more than that.
Download Printable Door Hanger Templates
On this page, you can find 11 nicely designed, purposeful, and print-ready templates designed in Microsoft Word. You can use them for different events, jobs, or other purposes. All of these templates are created with both Front and Backside designs.
#1 – For Beauty Salon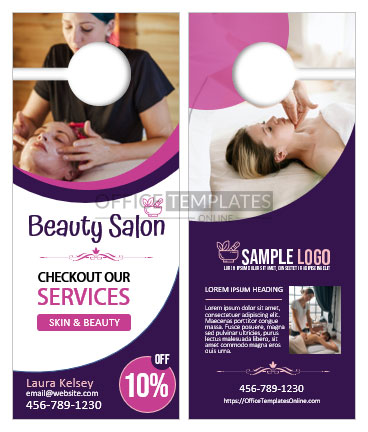 #2 – Best for Gutter Cleaning Services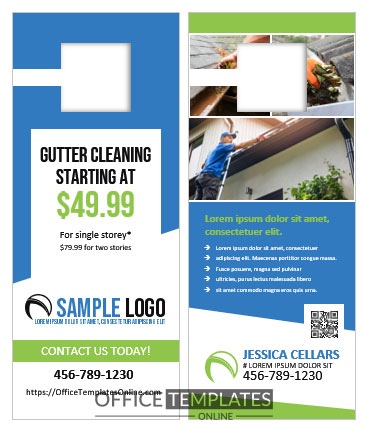 #3 – Best for Healthcare & Medical Services
#4 – Useful for Home Cleaning Business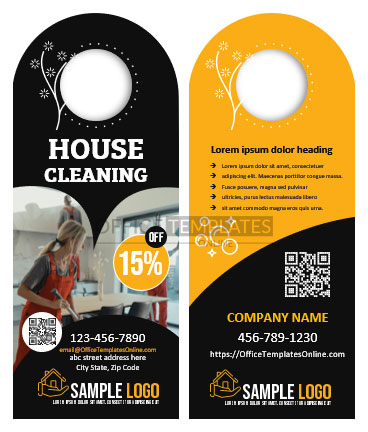 #5 – Real Estate / House for Sale Format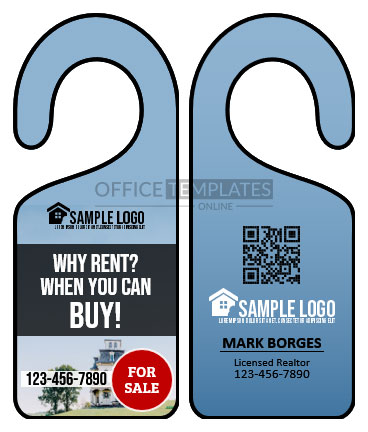 #6 – Real Estate / Just Sold Design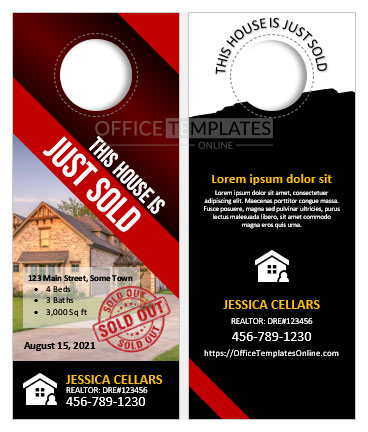 #7 – Patient Do Not Disturb (DND) Format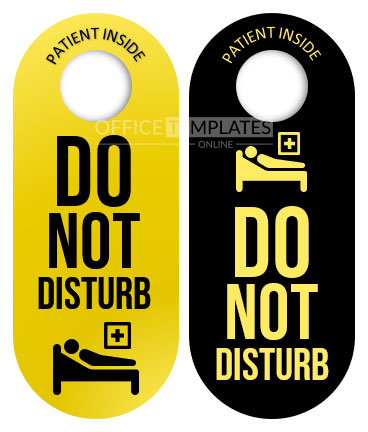 ---
Video Tutorial
Watch the video tutorial below to see how to design this Do Not Disturb Door Hanger for Patient Inside in MS Word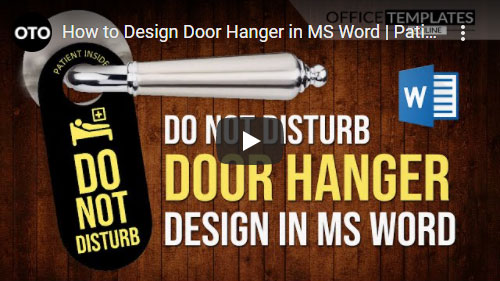 ---
#8 – Sleeping – Do Not Disturb Template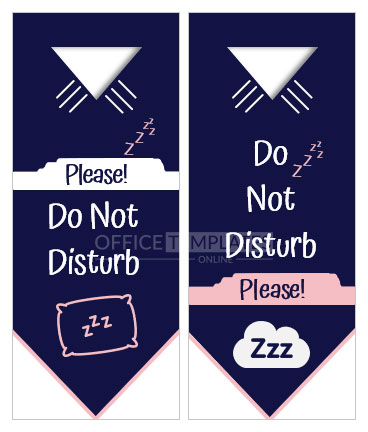 #9 – For Restaurant Menu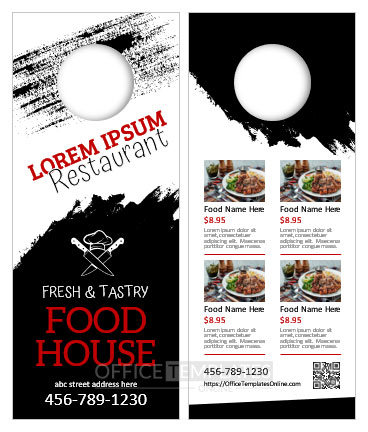 #10 – Personalized Wedding Design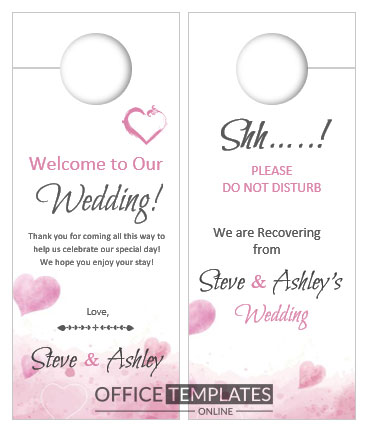 #11 – For Wedding Event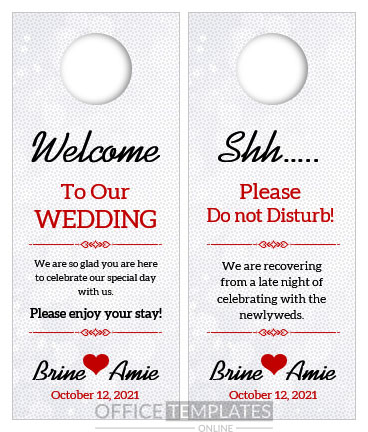 Why are door hangers created?
These are one of the physical marketing tools that in an old-school way are used to convey a company's business message. These are specifically opted for in cases when companies aim to target a local audience across a small geographical area.
While these can serve several purposes, a few are:
These are used to promote your newly opened business or newly launched offers and discounts in the neighborhood community and are considered as an efficient publicizing tool. While these are mostly used by small businesses, bigger corporates are equally probable to pick for this method too.
These can be used to communicate an event, a commercial venture, or for inviting people to social occasions, and get-togethers. Your community's mayor might ask you to come out in his political favor through a door hanger.
Hotels and residential suites have the "do-not-disturb" or "knock-before-entering" door hangers that the visitors hang on their doors to send their message across. Hotels also use these for displaying their menus, offers, vouchers, and discounts.
Real estate agents use these for advertising their buying and selling operations related to land or houses.
Are door hangers still useful in today's digital world?
These are more effective today than ever before because even when most of the marketing tools today are paperless, people are still opening their doors up. The human's curiosity never gets old, there are many chances the potential customer will get to stop by, take the door hanger off, read it, pay attention, and get inspired ? the business's chance for a marketing grasp has gone real!
One of the biggest pluses of using these hangers is that the company's salesperson would not have to indulge in introducing himself and the business and wouldn't intrude in someone else's eventful life. No one wants to listen to those lengthy sales pitches or find junk mail every day.
The public today is finding it more convenient finding PHYSICAL, small, and colorful cards hanging on the doorknobs that they may choose to hold or fling away. The company's ability to send their word across by hand shows love and concern amidst the cybernate life. This would win many hearts!
In comparison to the other direct sales methods such as postal mail, door hangers are very cost-effective. It would take you an estimated 300 US dollars for having your door hangers designed, printed, and distributed.
What factors to look into before using door hangers as a marketing tool?
Whether or not to go for door hangers is a question business might want to find an answer to depending upon the locality scale and scope of the business. If the business is aiming to go for a few hundred houses in the neighborhood, these hangers seem like a good idea. However, for bigger level sales aims, going to every door might look like a lot of tedious work.
The other deciding factor must be the time you are expecting to reach your desired results. It might take you 6-9 months, or even more getting to reach the sales level that you aimed for. Not every business tends to wait this long, therefore, a door hanger might be a no, no for many.
If a company has decided to go for door hangers, the best would be to go for a small start, avoid going overboard with the efforts, and lastly, wait for the results to show up. If they go in favor, these can be employed on a larger level in the future. If not, it is better to take a risk only if the business has the capacity to. Choosing flyers and other conventional means of advertising would be better in such a situation.
In addition, a few gated communities and societies do not allow placing door hangings on their resident's doors. Doing so might get you in trouble, therefore, taking permission beforehand is vital.
How to come up with effective door hangings?
These are a very cheap way of selling business ideas and services, however, your smallest error might snatch this opportunity from you. Try avoiding:
A non-readable, dull headline
One-sided usage of the door hanger
Bland color tones
Overly-designed and non-professional look
Weak card material
Inadequate or unnecessarily long-winded information
Missing contact details
Card sized too big or too small.
Are door hangers legal?
A company's ability to suspend door hangers on their potential customer's doors, without verbally conveying a message is considered as "Canvassing/Soliciting". In this method, a company does not need to directly sell a product or a service. This technique might look offensive, and might be rendered illegal by many people and municipalities. However, the laws around the world have declared this as a legal marketing strategy.
Things that door hangers don't promise!
Fast sales: It might take you longer than you expected to arrive at the level you set for yourself. Even then you do not have a confirmation of sales.
Larger reach: These are usually only useful for limited audiences and closer locales, and cannot be used for a mass influence
Longer use: door hanger can only be used once
Door hangers can, thus, be deemed as a convenient source of marketing. Its usefulness can only depend upon individual business cases and scenarios. Businesses that have never tried these before now is the time!!