5+ Free We're Hiring Poster & Flyer Templates in MS Word
All of us have, during at least some part of our lives wished to see the "we are now hiring" flyer from some of our favorite wishful workplaces. These flyers are very important and a great way of letting the world know that the company or firm is opening up job positions.
While many might consider such flyers posted on cafeteria walls, college campuses, roadsides, and bus stations as old school, however, they have various benefits attached to them.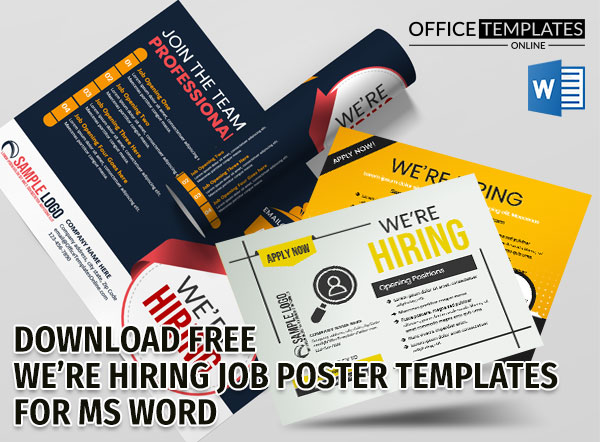 Download Templates
On this page, you can find and download beautifully designed MS Word templates to create a "We're Hiring" Poster or Flyer for your next job. All of these are available to be downloaded for free of cost. You can customize them in any way you want and print them on a US LETTER Size paper.
#1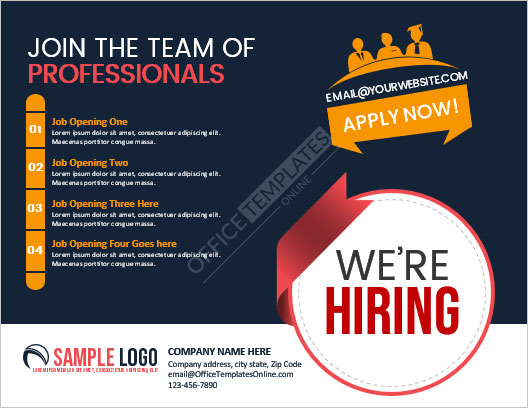 #2
#3
#4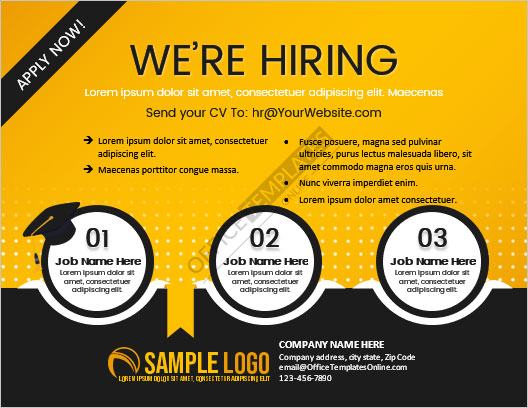 #5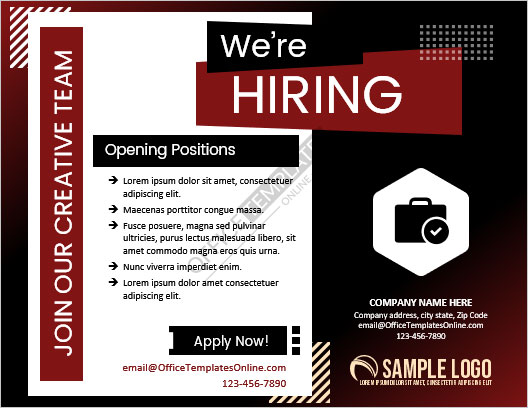 Why are 'now hiring' posters/flyers still considered effective?
When you're advertising a job opening for your company or office, you might have a thought or two coming. You might get confused for a moment thinking that a 'now hiring' post might not be very useful and might not reach the targeted group. Well, in the social media-centered world of today your concerns might be valid but these flyers have still kept their primary importance. Here's why:
These hard-printed flyers are usually kept to the local level only and thus easily achieve in reaching the local addressees. These are very likely to catch a potential candidate's eye.
They are light on the pocket. You don't have to go on hiring dozens of employees for doing the job for you or invest bucks and bucks! You can you this it yourself, such as by downloading one of the templates we have for you on the post. Download, customize, advertise! You're done with the work!
Since we are talking local, these flyers can locally help you attract candidates through word-of-mouth advertising. Even the ones who haven't seen your flyers might hear about one from the other people standing across the corner.
How can you ensure your 'now hiring' posters/flyers are good enough?
It is very essential for your flyer to look top-notch in order to impress the candidates out there. Here is a checklist for you to see if you're doing the job right:
First and foremost, the name and logo of your company to tell people who the flyer is from
The words that make all the difference: WE ARE HIRING, or WE ARE NOW HIRING or WE ARE OPENING JOB POSITIONS, etc. The words might vary as long as the message is conveyed.
The second most important thing: the details of the job vacancies you are offering. Make sure none of the details are missed out in here.
Under the previous heading comes the essential part of giving the details of the requirements you have. What do you expect from the potential candidates coming in and what skills and qualifications must they possess.
The procedure to apply.
Contact information
Factors that can make your 'now hiring' posters stand out:
Catchy colors but not too bright
An appropriate, sleek, and decent font
A style that's easy-to-read and understand
Avoiding unnecessary details that look like jumbled clutter
Matching the nature of the flyer with the mood that your company has
Clearly state the things you want in your potential employee.