COVID-19 Prevention & Awareness (SOPs) Brochure and Flyer Templates in MS Word
On this page: Download Free Brochures and Flyers for COVID-19 (Novel Coronavirus) Pandemic SOPs, protection measures, and Awareness for MS Word. All these templates are created in beautiful layouts and colors.
Table of Contents
Covid-19 Brochures and Flyers
For this very purpose, we've designed some brochures and flyers templates in Microsoft Word for you. These Coronavirus awareness readymade brochures and flyers are beautifully designed with Coronavirus images and beautiful colors and layouts. It contains a Tri-Fold brochure, Letter Size Flyer, and one-page Brochure. You can easily modify all these templates using MS Word, Google Docs, or any other text editor and print them on a letter-size paper.
COVID-19 Awareness Tri-Fold Brochure for MS Word
Coronavirus/COVID-19 SOPs Flyer Template for MS Word
COVID-19 Pandemic Protection Measures Flyer Template In Microsoft Word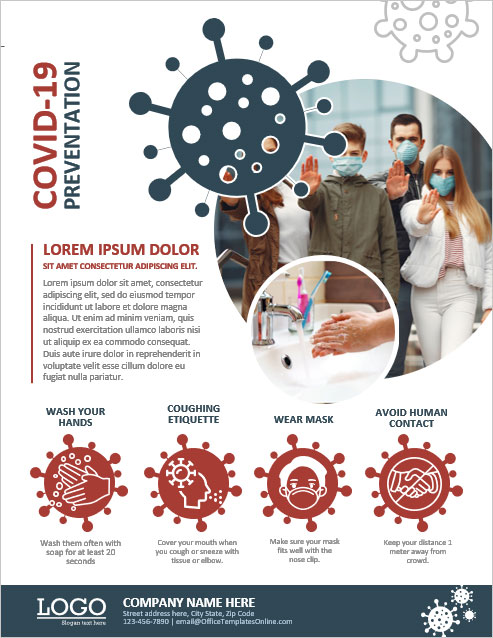 ---
Video:
Watch the video below to see how you can modify or create this COVID-19 Prevention & Awareness Flyer template in MS Word
Video Source: https://www.youtube.com/watch?v=7erkMgw5DkQ
---
What To do If Someone Around you have Got the Coronavirus Flyer Design in MS Word
What is the coronavirus for a common man?
Coronavirus (COVID-19) is the biggest and worst pandemic of this century that has had a profound effect on people's lives and has changed the way of life. While this epidemic has kept people in a state of deep fear and dread, it has pushed people living together away from each other. The main reason for this is that the disease is transmitted from one person to another very quickly. When a person with the disease breathes, coughs, or sneezes, the virus is transmitted from the infected person to the air and then to the body of anyone close by. ? And then when the person touches their hands or the part of the body on which the virus is infected with their mouth, nose, or ear, the virus is transmitted inside the human body. In this way, the virus is transmitted from one person to many people very quickly.
Coronavirus vaccine
For the past year or so, since the virus first appeared in our world, medical professionals around the world have been working to develop a cure for the virus. This goal has been largely achieved and many countries around the world such as China, the United States, Russia, the United Kingdom, Germany, etc. have developed vaccines. But so far the vaccine has not reached the common man. Many of these are still in the final stages of preparation or in the early stages of their use. It is hoped that in the next one or two months, the coronavirus vaccine will begin to reach the general public. But it will still take many months or a year for it to reach the people of developing and poor countries.
How to deal with Coronavirus?
One thing is very clear in view of all this scenario, that until the medicine to prevent this virus reaches the common man, we have to live with this virus in our daily life and protect ourselves from it. All rescue measures must be taken. The only way to avoid this virus in today's world is to be as careful as possible to avoid it. We need to follow the SOPs issued by the World Health Organization. Make it a point to apply these SOPs not only in your home but also in your workplace, offices, factories, markets, shops, and everywhere you live.
How to spread information about this virus?
If you work in an office, shop, or factory, print out the precautions against this virus and paste them on the walls in the form of flyers or brochures. You can also print them out in the form of a trifold brochure or a rack card and distribute them among the people so that the measures to prevent this virus reach every human being and thus every common man living in our society can be informed about this virus.